How to Fix Bluescreen 0x000000d1 Error
Imagine you are working on your system, doing some important task, updating or installing some driver and suddenly your computer screen turned blue with error message reflecting the bluescreen 0x000000d1 error code. How frustrating isn't it?
Well, if you are wondering how to rectify bluescreen 0x000000d1 issue, then go through this article. You will eventually understand better the details of blue screen of death, what causes bluescreen 0x000000d1 error and the measured solutions to fix bluescreen 0x000000d1 in the best possible way. We also dicuse how to recover data if you lost data from computer system crash due to bluescreen 0x000000d1.
So, without wasting too much of your time, let's move forward to fix bluescreen error code 0x000000d1 in an organized manner in the following sections.
Part 1: What is Bluescreen 0x000000d1?
Bluescreen 0x000000d1 error (or Bluescreen of Death Windows or STOP: 0x000000D1) is a driver related issue wherein some files get corrupted causing the system screen to turn blue with an error note which reflects bluescreen 0x000000d1 error code (mentioned in the screenshot below).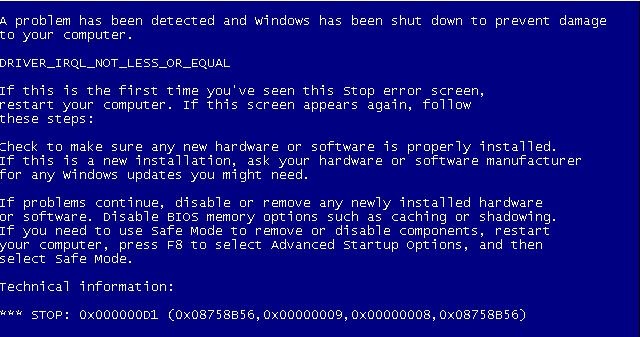 This type of error can happen on any windows version. Sometimes it occurs during windows startup process too, thus making your system inaccessible. In all probability, it occurs when the recently installed driver or software starts behaving abruptly and an error message like "DRIVER_IRQL_NOT_LESS_OR_EQUAL" appears. This reflects that the windows program has crashed or might shut down suddenly.
Needless to say, it makes the difficulty to work on the system and hence leaves you troubled. Therefore, it is obvious you will look around to find what cause to the issue. So, in the next part, you will know the possible reasons behind the difficult bluescreen 0x000000d1.
Part 2: Cause of bluescreen 0x000000d1
Getting an error like 0x000000d1 sometimes become unprecedented and before you think of rectifying the issue, it is always helpful to know what causes the issue.
Therefore, below are mentioned the cause of bluescreen 0x000000d1 error.
Install driver is corrupted
The driver was not installed properly
Some internal files of the system get corrupted
Sometimes antivirus/security also causes an error
System service issue
Incompatibility of the backup tool while upgrading of the system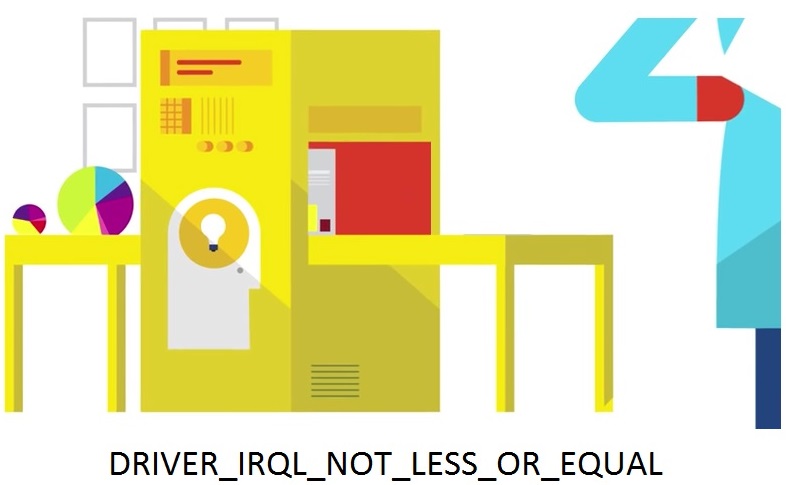 Now that you have understood what causes the bluescreen error, in the next part you are going to learn the solutions using with which you can this recurring issue.
Video Tutorial on How to Fix Blue Screen of Death Error in Windows?
Part 3: How to Fix bluescreen 0x000000d1
In this part you are going to know about different methods as per your system error, you just need to go through them one by one to resolve the issue and make your system ready to start work again.
Let's move on to learn how to resolve the issue with following methods
Solution 1: Fix the System
System file checker is the utility tool for the Windows system whose primary function is to look for any corruption of data by scanning the windows system and then restore the corrupted files.
Following are the steps to run the System fix checker tool (extension- SFC.exe)
Launch Command Prompt
On Windows 8, 8.1, you can open the Command Prompt:
Swipe in the right edge of system screen> click on Search> type "Command Prompt" and run as administrator by right clicking> Password (If any)> press Apply
On Windows Vista, 7, 10, Open the Command Prompt, for that:
Open Start menu> type CMD or Command Prompt> right click to "run as administrator"> Enter password (If any)> Apply
Important note for Windows 8, 8.1, 10 users
Before you run the System checker, first run DISM tool (Deployment Image Servicing and Management), required command for that is (Type the following command and then Press Enter to run it, which might take some time as DISM using "Windows Update File"): DISM.exe /Online /Cleanup-image /Restorehealth

In case, Windows update client file is broken, then you need to use the alternate command which is as follows:
DISM.exe /Online /Cleanup-Image /RestoreHealth /Source:C:\RepairSource\Windows /LimitAccess

Now, next step is to run System Checker file.
To do that, please go for the following command and then Press enter sfc /scannow. Once you Enter the Command, it will start scanning all the system files, check them, if it finds any corrupted one it will replace that corrupted file. Also, keep the Command Prompt Open till verification process gets completed.

You will receive the following result messages such as:

Did not find any violations
Could not perform the operation (In this case, you need to run System checker in a Safe Mode)
Corrupted files are found and repaired successfully
Corrupted files are found but were unable to fix some of them by Windows Resource Protection.
In this case, you have to go through the Manual rectification process. Also, you would have to check which file is corrupted, to do that:
Open Command Prompt
In the command prompt use following command,> then press Enter
findstr /c:"[SR]" %windir%\Logs\CBS\CBS.log >"%userprofile%\Desktop\sfcdetails.txt"
This command will let you know which file is not repaired, check date and time when the last time it ran on system checker.
Here is a sample: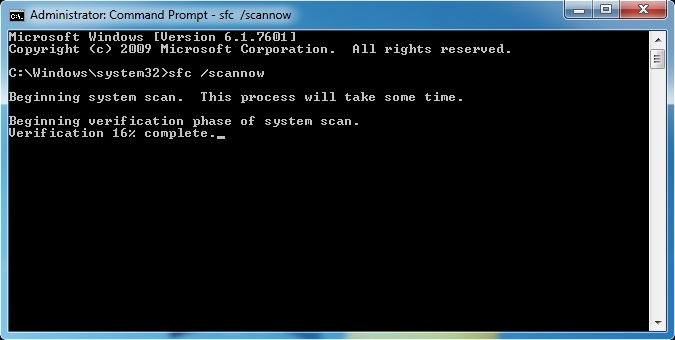 Now, the process to manually replace process to the corrupted file
Type the following code then press enter: takeown /f Path_And_File_Name
The following screen will appear with the corrupted file name and its path.
Now type the following command then enter it : icacls Path_And_File_Name /GRANT ADMINISTRATORS:F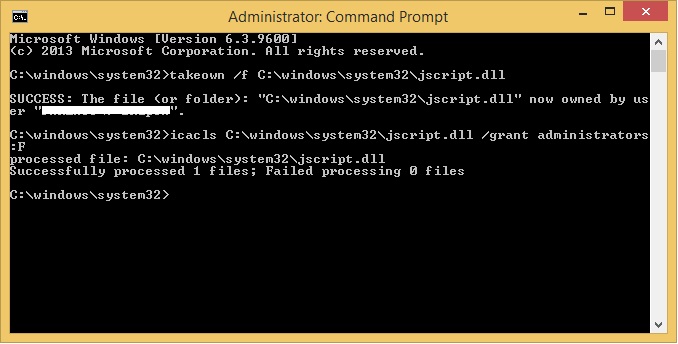 Now to replace the corrupted file with the Good known copy of the file, use the following command: Copy Source_File Destination
Here source file- Is the Good known copy from your system and Destination file- Is the corrupted file
This way you can successfully repair the corrupted file through System Fix.
Solution 2: Update Driver
What if the issue is due to some driver, how to go about? Well, the most striking fact is lies in the bluescreen itself. Actually, the driver name is mentioned next to the error, such as xyz.sys or xxx.sys. Now as you know the issue is due to that particular driver, so you need to either update or remove that driver, due to which this issue occurred.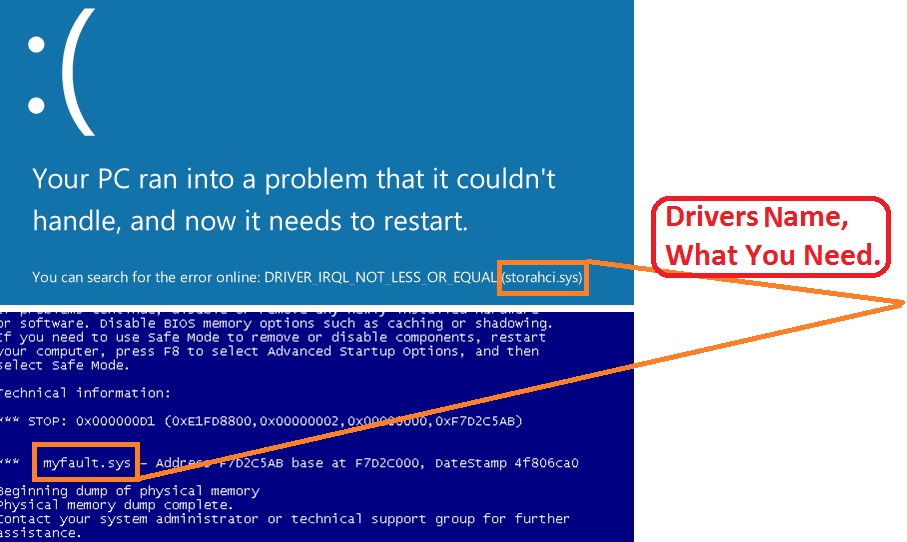 As the first thing, you get the corrupted driver/file name. Next step will be to search that driver in the driver directory to get other information such as full name, path. For that there is the link to a Website which will do the work for you to search details about the driver:
Let's take the example of a corrupted driver name as "rtwlane.sys", you need to search this driver name in the website, you will get complete detail about the driver over there, as is mentioned in the image below.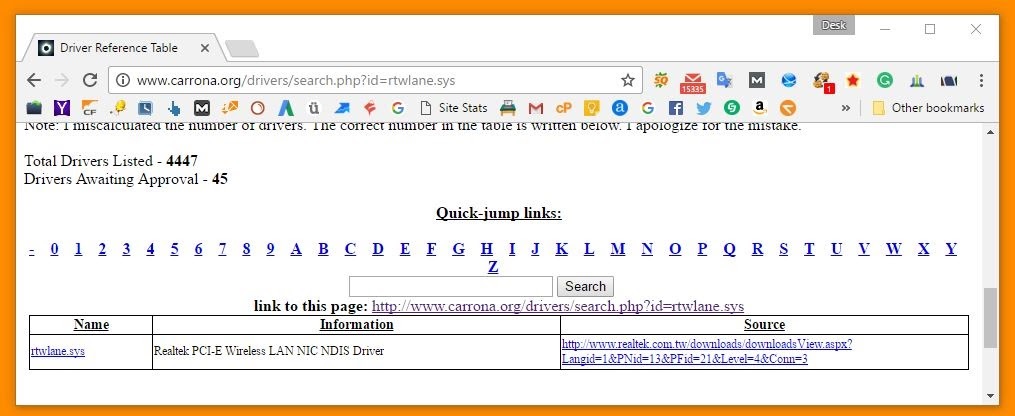 Choose the driver (Either Hardware or Windows, in your case Windows) Now you just need to update that particular driver from the internet directly. That's it.
Solution 3 : Use Driver Reviver Software
This Driver Reviver Software will scan your system automatically, check any of the outdated drivers and easily update that. To access this easy to use driver update facility visit website of Reviver software.
Solution 4: Fix Blue Screen Error by Restoring System
If the issue is due to the faulty driver, BIOS, system service issue, then you need to follow the mentioned steps
Restart System
You will see operating system choices, press F8
From Windows Advanced option Menu bar Choose "Last Known Good Configuration". (issue will get resolved if bluescreen 0x000000d1 error occurred due to single driver or service)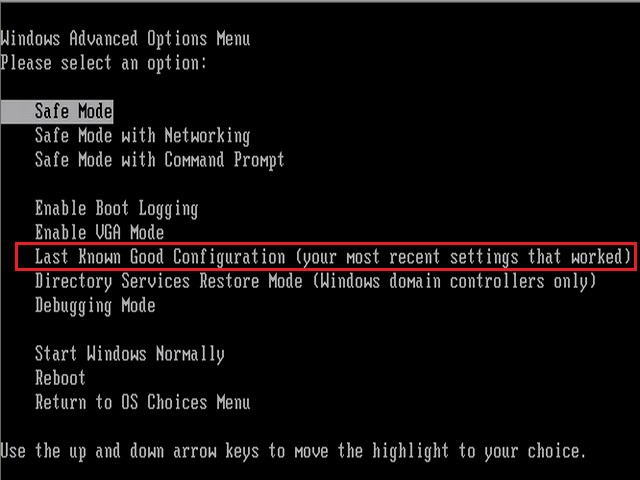 Solution 5: Check Antivirus, and other details
If the issue is due to some other reasons such as some antivirus, corrupted database registry, Hardware
Antivirus- Do a through Antivirus check, if it does not work, then keep it close for some time then once the issue gets resolved then activate antivirus again.
Clean RAM- Remove Extra Ram by Restarting the system
Run prefetch and clean manager by visiting Start menu> type run> type prefetch or type cleanmgr.
The following process is applicable if the bluescreen error occurs due to some hindrance by security checks, or some hardware issue.
Part 4: If you lost data after bluescreen 0x000000d1, how to Recover Data?
Your device data are no doubt the most precious thing to you, and in the case, of bluescreen error 0x000000d1, it may get lost. This will certainly create a chaos for you. Well, the appropriate answer lies with Wondershare Recoverit Tool, that will make it possible to get back any kind of lost data due to any system error or issues.
How that is possible? Well, in the next few lines you will be surprised to know that following just a few simple steps will enable you to have your precious data back to you.
Recover lost or deleted files, photos, audio, music, emails from any storage device effectively, safely and completely.
Supports data recovery from recycle bin, hard drive, memory card, flash drive, digital camera and camcorders.
Supports to recover data for sudden deletion, formatting, hard drive corruption, virus attack, system crash under different situations.
Launch the tool and Choose Recovery option
First, you need to down Recoverit software.After that go for data recovery mode under "All around Recovery".
Select the location to scan
If you are sure where data gets lost, so select the location otherwise choose "Can't find my Partition"
Preview the data and recover that
Now, once you got the lost data, you can preview it and after that click on the Recover option to get that lost data back to the system.
This process of data recovery is amazingly fast and simple to use. So, without waiting anymore just get any kind of lost data back using Recoverit tool.
Conclusion
Once you are done with the article you be in a situation to understand the bluescreen 0x000000d1 error in a better way as you will be aware of the process with which you can rectify the issue without going through any long or complicated process. So, without delaying any more, just follow the guide above to resolve the issue of bluescreen 0x000000d1 on your system as soon as possible.
Thus, you will have your system ready to use again without worrying about that irritating bluescreen 0x000000d1 error code. That is actually a real relief, RIGHT!
Computer Data Recovery
Windows PE

System problems

PC Errors