Q: How to sync NAS to NAS?
"Yesterday, I was thinking about making a backup of my NAS to another NAS device. The issue is that I'm not professional in creating backups this is why I need expert methods to do so. Plus, I don't have any software to use for the purpose of syncing NAS to NAS. I'm afraid that any causality can cause data loss. The data on Synchronization of NAS is very essential for me to carry out my on-going projects. I want to save the data on both of the devices, so I can access both of them. This is the reason that syncing NAS to NAS is very significant for me.
There is no denying the fact that NAS is one of the finest storage devices in the world. Millions of people use it to share data, this comes in handy mostly for professional purposes. However, you are right that synchronization of NAS to NAS is one efficient way of securing data. There is one perfect way to perform this task, which is mentioned in the guide. You will be using the third-party software to solve your situation. In this guide you will also have an overview of why people want to sync NAS to NAS, which will let you know about your situation in detail. So, follow the guide carefully to get yourself in a better situation;
Part 1: Introduction to NAS
Majority of the people around the world are not aware of NAS. This is why it is obligatory for you to know about the capabilities of it to understand the given method below easily. A NAS is known as network attached system. The NAS is a storage device, which is connected to a network that allows storage and retrieval of data from a central location for authorized clients or network users. Network attached system devices are scale out and very flexible. This particularly means that if you want to add more storage to the device you can certainly do that without any hurdle. Once you have done that, you can add anything to your network attached system. In other words, Network Attached system is more like a private cloud available in the office. There are some of the capabilities of network attached system which are widely cherish, like it is much faster and efficient, it is less expensive and gives you all the benefits of public cloud on site. You can enjoy free control on your Network attached system. people use it to create easy data backup.
---
Part 2: Why you need to sync NAS to NAS?
It was important for you to know about Network Attached System in detail. Getting to know any utility in detail makes the practice of using it more significant for the users. As you know that all the individuals can share data on network attached storage device.
The people who acquire two network attached storage. They want to keep same data on both the storage device. May it be for academic purpose or professional use, this technique surely aids in giving accessibility of data.
Well, synchronization of one network attached system to another network attached system is the finest way to do that. Sync is basically making a backup of your data on another storage device.
It surely helps you out in situations where you have lost your data due to any of the causalities. You can simply restore all your data from this backup storage device without image files.
Making NAS to NAS backup is also an efficient way to give your data an extra layer of protection. The safety of data is always the first priority of all the users around the world. Talking about sync, it can also make replica of your data with no image file, which can be accessed directly.
---
Part 3: How to backup NAS to NAS?
We have discussed about the usage of Network Attached system and all the other features of it. Network attached system holds great significance for the people running offices. As storage devices like these give you the accessibility very efficiently. However, the people who want to sync NAS to NAS need to know that the method isn't too simple but with the right steps and focus you can surely conduct your task. Well, this is why we will be utilizing the finest software for this job, known as AOMEI Backupper;
AOMEI Backupper
AOMEI Backupper is one of those software's which contain diverse features and distinctive capabilities for their users. It also contains all features of the Standard edition, provides complete and reliable PC backup and restore strategies for any of the windows version. System Clone, Backup Scheme, Dynamic Disk Backup, Dissimilar Hardware Restore, Merge Images etc. and many others diverse and useful features are available. Not only the backup, but the software allows you to you to auto sync USB drive when connected with File Sync. The software is compatible to almost every operating system. There are vast number of functions which this software contains. You can conduct incremental or differential backup for the schedule task, this software allows you to set backup schedules as hourly, daily, weekly or monthly. It is highly recommended to utilize this software to backup one Network attached storage to another network attached storage for your usage, you can utilize these steps to properly sync NAS to NAS;
Step 1: First of all, you need to download and install the AOMEI backupper on your computer. Once it is properly installed, you need to launch the software by double-clicking on its icon.
Step 2: In the main interface of the software, you need to click on the option "Backup" and then on the option "File sync" after rolling the bar.
Step 3: After that, you will have the interface of file sync, over here you need to choose the destination location and the source location for your synchronization process.
Step 4: Furthermore, you will be required to choose the option "Add folder" and click "Browse" at the top of your screen. Now, choose Share/NAS.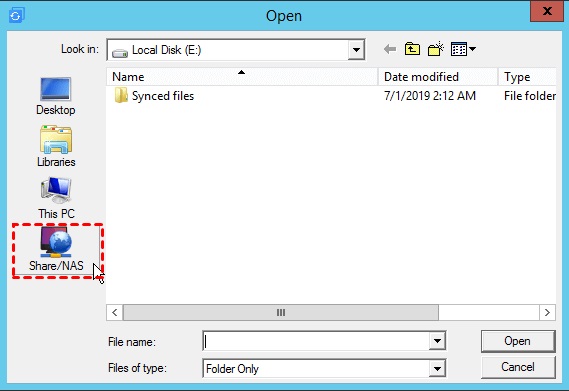 Step 5: Moving on, you need to click on the option of "Add share or NAS device", then type the IP address of the NAS device. If you want, you can also put username and password to make your data more secure.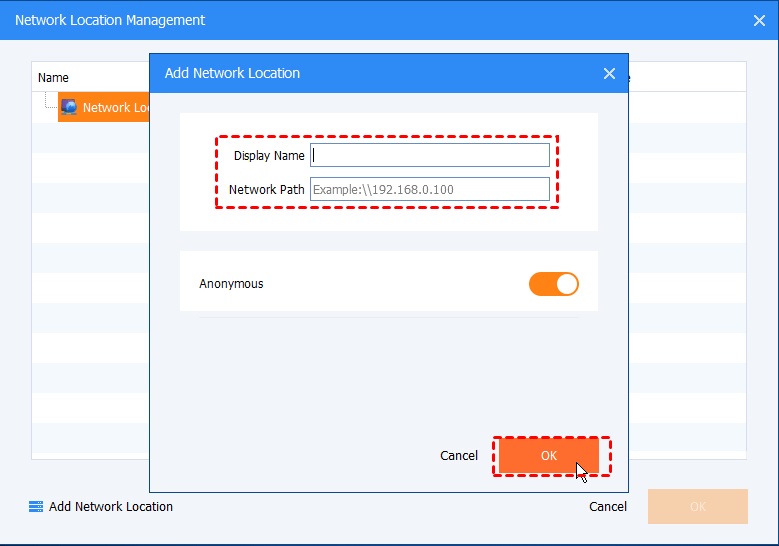 Step 6: Now, select folder on the NAS device and choose "Ok", after that you will go back to your file sync interface. Over here you need to choose the step 3 to select another Network attached system (NAS) device as the space to sync the NAS to. Follow the steps of adding the NAS as the source party, you can just type the Ip address of another NAS device.
Step 7: Once you have made all the modifications, you can choose the option of "start sync" this will launch the process. The process might take some time, it totally depends upon the size of your files, the larger the files the longer time it will take to sync from NAS to NAS. After the procedure is completed, choose "Finish"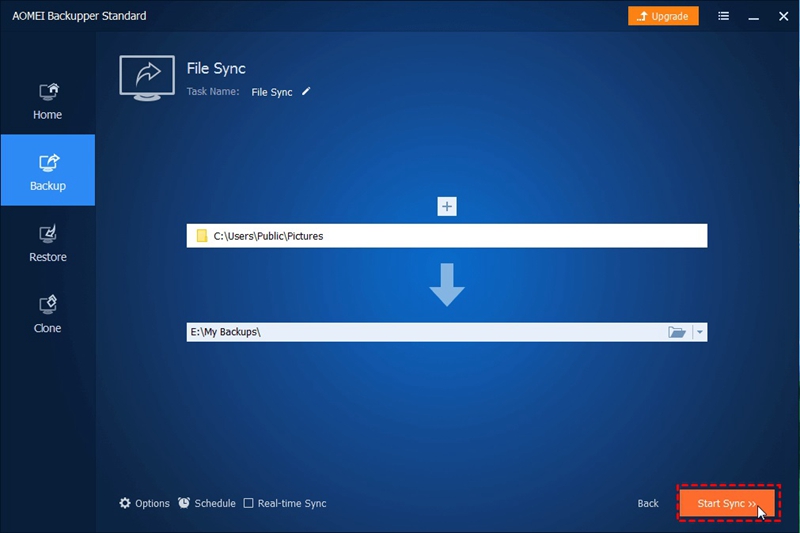 ---
Conclusion
Data securing should always be the first priority of any individual. yet, you need to make sure that you choose the right method for the right job. While taking about the synchronization of NAS to NAS, the finest software to use is the AOMEI Backupper, which allows you to easily sync NAS to NAS.
Data Backup Services
Computer Backup

Hard Drive Backup

Mac Backup

Cloud Backup