How to Fix Bluescreen code 124
It is one of the most dreadful sights to behold on your personal computer, when you are in the middle of something or just after restarting your PC, BAM!" Pops-up that dead blue colored screen with error code Stop 0x124." It is not really something you ought to be scared of, it is fixable and the fact that it has been tagged as the "screen of Death" does not necessarily mean you now have a dead PC. In this article, you will be taken through the causes and fix blue screen of death error.
Part 1: What is the Bluescreen code 124
The Bluescreen code 124 is an error code displayed on Windows Operating System that has been experienced by most Windows users. Most often than not, a simple system restart might fix the error, although with no guarantee that it would not occur again. There are several other error codes that could bring about the display of the bluescreen, such as bad pool caller 0x00000c2, bccode 50, locale id 16393, etc. However, the screen code 124 is mostly rooted in a hardware issue due to a recent hardware change or a malfunctioning hardware. Every error code displayed on Windows generates a dump file containing information on the reason behind the crash or error. But in the case of a bluescreen code 124, very little information that can be practically used is available in the dump file. Therefore it might be difficult to pinpoint the exact location from where the error sprout from, annoying right? Yeah I know, that's just the way it is.
Part 2: Cause of bluescreen code 124
This particular bluescreen error with code 124 as earlier stated is usually hinged on a hardware malfunction. However, as we all know there are quite a number of reasons that could result in a hardware malfunction.
Some of this causes includes but are not limited to:
OVERHEATING: Trust me, no one functions well under a hot weather condition. I personally get overworked when the temperature rises beyond what I can handle. So does any electrical device such as a computer system. When your personal computer is not being adequately cooled, it might just throw the bluescreen code 124 in your face as that's the way it communicates.
Although there are times when overheating displays an overheating message, but not always. When you see a bluescreen code 124 being displayed, you can quickly verify if your system cooling device is functioning properly, and that the vents are not being blocked. Alternatively, you can use an external cooling source such as a fan or try to fix computer overheat.
DRIVER UPDATE: Since this error is hardware related, it is integral to ensure that all hardware related drivers are properly installed. They should have the latest working version of the hardware to which they have been associated. Once an update for any driver such as video or audio driver, graphics, and so on is available, download and install it. New is better you know; well, maybe not always, but mostly. If you are looking for a best way to update driver, how about try updating driver in low expenditure without internet connection.
OVERCLOCKING: Just like humans, electronic devices, or in this case, computer hardware all have an elastic limit or rather, stress and work limit. I guess that's the reason for specifications in the first place, to differentiate one system's capacity from the other. The moment the hardware of a computer is being stretched with activities more than its threshold can handle, it tends to go berserk by malfunctioning. Windows might sense its state of distress and overclock it and then flashes the bluescreen error right in your face. It is important to be aware of your personal computer's specifications in order to know what it can and cannot take to avoid overclocking its hardware.
BIOS UPDATE: Another possible cause of a bluescreen 124 code error display is an outdated motherboard BIOS. When your motherboard BIOS is of an outdated version, it might start conflicting with your Windows Operating system. In order to update your BIOS, the process has to be done in adherence to detailed step by step instruction from the motherboard's manufacturer's website. This in addition has to be with respect to your Personal computer's brand and model. Please ensure you follow the instructions carefully to avoid further errors and future inconsistencies.
OTHER BUGS: Since the computer is an integrated piece of machine, all its components are connected in a way. Some are interdependent while a few can work independently. When a certain interdependent aspect of windows encounters any bug that has been sent to the dump file, windows might read the bug and interpret it as the hardware complaining. While in the real sense, it is not. Though this cause is not a common one, you cannot rule out the possibility. So in order to avoid such misconception, it is advisable to keep windows Operating system updated and ensure to take care of every other bug within the system. Mostly, this type of induced error that can bring up the bluescreen code 124 might be easily fixed by a simple system restart.
DIRT AND DUST: Crazy as this might sound, your computer loves being neat too, so it might react when there is way too much load of dirt hanging out on its hardware surfaces. You might be wondering how dirt is a factor, the crux is that dust settling on surfaces might cause partial contact with some hardware components and windows would read it as an error. You should try blowing out the dirt from the surfaces and do not open up your computer if you do not have the technical know-how. Just so you know, it might violate your computer warranty.
If after checking out all these possible causes and the problem still persist, there is the possibility that windows might be right. There might be something wrong with one of your hardware components which you might most likely have to change.
Part 3: How to Fix bluescreen code 124
There is more than one single way to fix a bluescreen error code 124 on windows operating system. However, one of the most effective methods is the use of windows utility tool known as System File Checker (SFC). This inbuilt utility tool was created for users to be able to check and scan for corrupt files and errors in windows system files and restore them as well. You can use this tool to fix a whole lot of system errors including a bluescreen code 124 error. You can follow these steps below to get you through the entire process of using the SFC tool. Don't you worry, it is not as difficult as it sounds.
First of all, you need to run command prompt as administrator, to do this, type "Cmd" or "command prompt" in the windows search box. Then right click on Command prompt to run it as administrator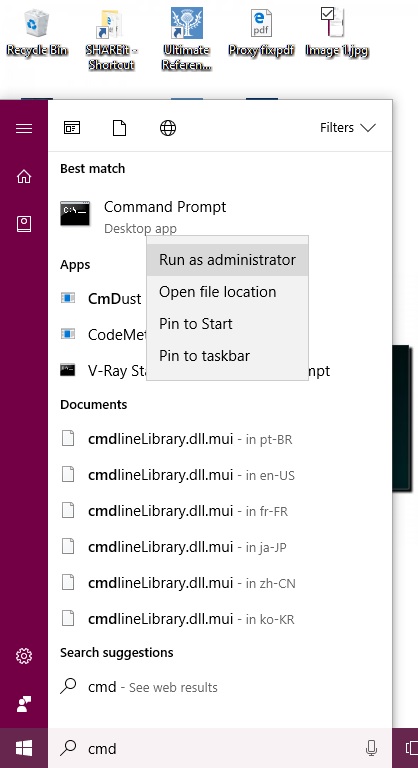 When command prompt opens, run DISM tool by typing these command "DISM.exe /Online /Cleanup-image /Restorehealth". This might take some time, but be patient until it is at 100%
Since the DISM tool makes use of windows update to provide repairs for corrupt files. If windows update client is faulty, you can alternatively use the command "DISM.exe /Online /Cleanup-Image /RestoreHealth /Source:C:\RepairSource\Windows /LimitAccess".
Replace the C:\RepairSource\Windows with a location for a windows repair image file.
Now that the DISM tool is done, type "sfc /scannow to start the System File Checker tool. The tool will immediately start to scan your computer for corrupted files. Wait until the process is complete and the scan result is displayed.
At the end of a successful scan and repair, you should see a message like "Windows Resource Protection found corrupt files" and successfully repaired them. Details are included in the CBS.Log %WinDir%\Logs\CBS\CBS.log."
This message simply means that the corrupted file has been scanned and fixed successfully. Easy right? You bet it is, the system has just corrected its error and you should not see the bluescreen error again, hopefully.
Video Tutorial on How to Fix Blue Screen of Death Error in Windows?
Part 4: How to recover data if you lost data after bluescreen code 124?
There are times when a bluescreen error occurs while you are in the middle of something and you lose your files when the system gets back up. We all know how disheartening that could be.
Don't be all worked up about it, as that is the purpose for which this amazing data recovery software was created. Blue Screen Error data recovery software is one of the best tools to recover any type of deleted file up to 550 data formats with just a few clicks in no time.
Recover lost or deleted files, photos, audio, music, emails from any storage device effectively, safely and completely.
Supports data recovery from recycle bin, hard drive, memory card, flash drive, digital camera and camcorders.
Supports to recover data for sudden deletion, formatting, hard drive corruption, virus attack, system crash under different situations.
In order to use this software, download it from Wondershare website https://download.wondershare.com/recoverit_full4134.exe install it on your system and launch it
On the home screen select a data recovery mode from the list available that best suit the type of file you wish to recover. You can select the "All round recovery"
On the next page window, you would be prompted to select a location which you want to software to scan. In most cases, it is the Disk C, which is your system's hard disk memory.
The all-round recovery option conducts an in-depth scan for several file format from your computer's hard disk which often takes a longer period of time to complete. Be patient, it will be worth the wait in the end.
Once the scan has been successfully completed, on the left side panel, you should see a list of file format set in groups. Select the file format you wish to recover, and you can also choose to preview these files on the main window. Post this you can click the "Recover" button in the bottom right corner to start the recovery process.
I think we have been able to establish that the bluescreen error 124 code tagged as the screen of death might not be as dreadful as it seems after all. So do not let the sight of it send an unnecessary shiver down your spine. Be calm and collected and trust me, it will all work out just fine.
Computer Data Recovery
Windows PE

System problems

PC Errors