How to Fix blue screen locale id 16393
For every good thing, there is a downside, maybe not always, but at least nine out of ten times. Computers are good, but they can sometimes be a pain during working when error codes happen such as the bluescreen locale id 16393. These errors keep driving a stake through your computer activities by crashing the Windows system. And you know what the worst part is, when you have no idea how to just make it stop. It just gets much more bewildering when you have tried all the tricks in your knowledge box and nothing seem to be promising. If you have been stuck in this frustrating land of infuriating misery, well I've got news for you, it is fixable and your solution is here. It is danger to meet a blue screen error, because it might cause you data lost due to system crash, keep reading and learn ahow to fix blue screen of death.
Part 1: What is bluescreen locale id 16393?
Before we head into the fixing process proper, it is good to know what blue screen of death is and what exactly a "Bluescreen Locale ID 16393" is. This is an error code that is generated by computer systems operating the Windows Operating system. This error code locale id 16393 is often accompanied by the display of a bluescreen upon which the error code and action that should be carried out is displayed. The Locale Id is a module that helps the system to identify both language and location-specific properties such as time, date and keyboard layout and so on. The bluescreen locale id 16393 can still be easily associated with several other sources of error and causes.
Part 2: Cause of bluescreen locale id 16393
When you are faced with a bluescreen locale id 16393 on your personal computer, you should keep in mind that there is no singular trigger that ignites this error code and causes a bluescreen. Some of these causes include but are definitely not limited to some of the following
1. WINDOWS UPDATE: If only you knew the importance of windows OS periodical updates. It is advisable to try as much as possible to perform regular windows update from time to time as soon as they become available for download. Updates contain a ton of fixes that were created based on crash and dump files information gathered from several windows users around the world, so it is usually better and improved.
I know we all ignore the windows update notification, don't beat yourself up just yet, I am a culprit too, sometimes even turning the notification off to avoid notification. But the truth is, we could really make use of these updates to improve windows functionality and avoid errors like bluescreen locale id 16393. Windows updates do harbor some bugs within it as well, one of its perks I guess.
2. REGISTRY ERROR: The system registry is one of the busiest locations on a computer system, it contains records of all activities that are being carried on your personal computer like keeping a register as the name implies. When the bluescreen locale id 16393 error screen pops up in your face when you least expect, there is a 90% chance that it is due to a misconfigured system registry file.
When your registry is messed up, the computer might find it difficult to locate what it is looking for. It is just like a Librarian might get confused about the location of a particular book after a Library user places it in the wrong location or probably misplaced it. That's the dilemma your computer finds itself when a registry file is misconfigured and one of the ways it can cry for help is locale id error. This registry problem can be solved by performing a simple registry fix via command prompt or making use of registry fix or repair tools for windows.
3. INSTALLED SOFTWARE ISSUE: A bluescreen locale id 16393 error code can also be traced back to an installed or uninstalled software. The installation of some programs on your computer can mess with the configuration of the system and the same goes for when you remove some programs.
Annoying right? You get rid of a software, it might complain, you add a program, and it might be an issue.
This type of cause has been discovered several times to occur after the installation and removal of some Antimalware programs such as McAfee. There are users who have complained of noticing the bluescreen locale id 16393 after the installation or removal of their previous Antimalware software and when a rollback changes to before the program, everything went back to being normal again.
4. DRIVERS BUG: Sometimes, an installed program is to blame, other times it might just be the utmost fault of a driver software causing a clash in activity and issuing a quick bug that results in you getting a glimpse of the Blue screen of death. During a system restart, a driver or computer service may not start up correctly which can also result in a bluescreen error.
Part 3: How to Fix bluescreen locale id 16393
When you encounter bluescreen locale id 16393 and you are being looked in the face by the Blue screen of death, there is no need for a pandemonium or an uncalled for fear of the unknown just yet. Most times, a quick restart can just easily fix the problem if it is a first-time occurrence. It simply means windows operating system has taken care of the threat on its own while restarting. But just in case the threat persists or keeps reoccurring, you can perform a clean system boot up, here are the steps you should follow.
Solution 1. Disable applications and restart computer
Click on the search button of your windows or just press Windows key on your keyboard, type in "msconfig" you should see an application named "System Configuration", launch the program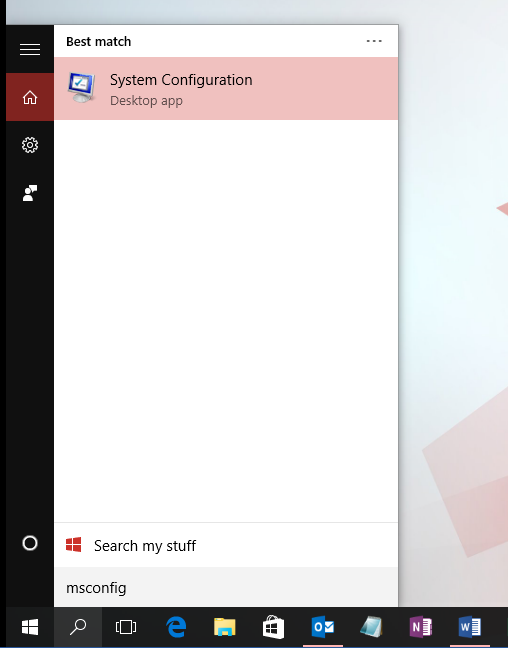 Alternatively, you can press ctrl+R on your keyboard to initiate the "run" command box. When the run box appears, type in "msconfig" as a command and hit the enter button on your keyboard.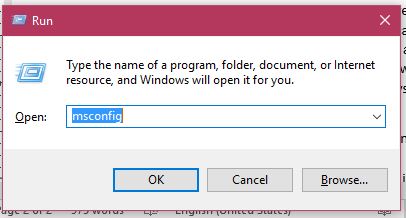 On the System configuration dialogue box that has been launched, click on the "Services" tab. At the bottom left corner of the dialogue box, ensure that you check the "Hide all Microsoft Services" box in order to avoid disabling services that your computer requires to perform successful startup.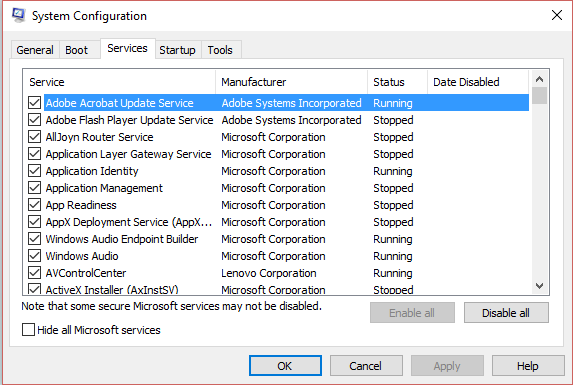 After all Microsoft services have been successfully hidden from sight, you can now click on "disable all" to disable all other non-Microsoft related services. This is to ensure that only required services and drivers are launched on startup.
Now click on the "Startup" tab of System configuration dialogue box and click on the option to open task manager. Task manager would be automatically opened to the Startup tab.
On System configuration dialogue box, click on "Ok" after which you can then go to task manager.
On Task manager's startup tab, for each of the startup app seen, click on it and disable it from the bottom right corner.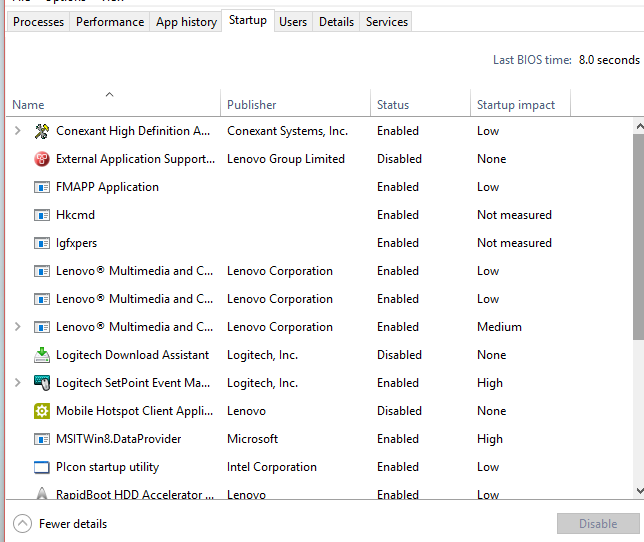 After you have disabled all the startup applications from task manager, you can now restart your computer
Other Processes which you can follow to rectify bluescreen of death issue are as follows:
Solution 2. Restore system
If the blue screen of death came from a recently installed application, users can restore their system to a previous version. Restoring an older version of the system will eliminate data; hence make sure to back up any crucial information onto an external drive. To perform a system restore, go to Programs > Accessories > System Tools > System Restore. There will be a window with a list of dates. Select a data and click 'Next'. Select 'Finish' and 'Yes' if prompted to restart.
Solution 3. Update Drivers
Make sure that all drivers are updated and properly installed. To update drivers on Windows 7 go to Device Manager. Select the driver you want to update and click on 'Action'. Select 'Update Driver'. The system will search for updates online.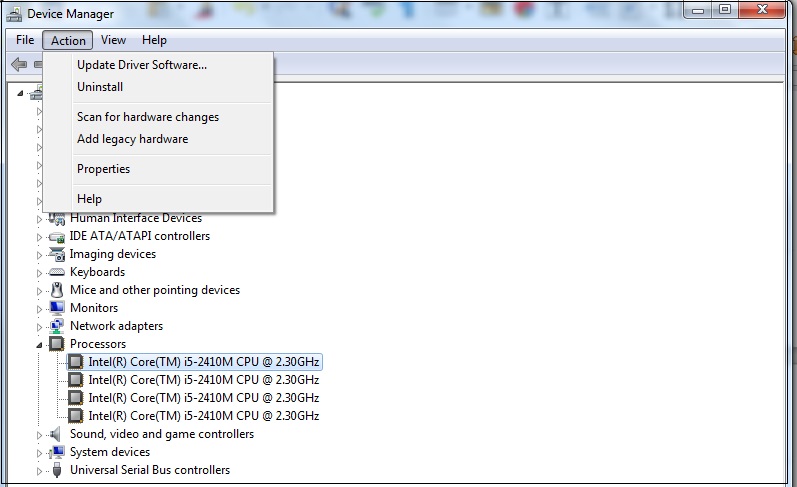 Solution 4. Run anti-spyware, anti-malware and registry scans
There is sleuth of third-party applications that can sift through files and programs to identify corrupted/missing data. Malware and spyware are known to infect the system, which leads to locale id 16393. Installing and running anti-malware and anti-spyware cleanses your system of these intruders.It is neccessary to delete malwares and virus to avoid blue screen error. Registry scans can check the computer's registry for any problems or missing data. To perform a registry scan, download the open source application call Little Registry Cleaner.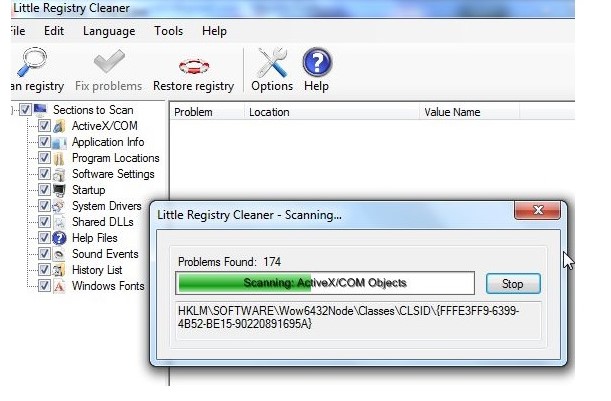 Video Tutorial on How to Fix Blue Screen of Death Error in Windows?
Part 4: If you lost data after bluescreen locale id 16393, how to Recover Data?
A bluescreen locale id 16393 error code might lead to loss of files or data on the blue screen of death madness. When this loss of data occurs, and the user does not have a backup, they are usually gone for good, but thanks to innovation in the form of an awesome data recovery tool known as Recoverit from Wondershare. This data recovery tool is the ultimate tool for recovering any type of data file from almost any storage device including formatted storage devices and corrupted once as well. In the case of a system crash such as the bluescreen locale id 16393 error crash, Recoverit can retrieve back any data that was lost due to the system crash. Prior to this recovery process, you should get a blank USB drive or a CD/DVD storage and connect it to your computer.
Recover lost or deleted files, photos, audio, music, emails from any storage device effectively, safely and completely.
Supports data recovery from recycle bin, hard drive, memory card, flash drive, digital camera and camcorders.
Supports to recover data for sudden deletion, formatting, hard drive corruption, virus attack, system crash under different situations.
Download the program from Wondershare, then install and launch it on your computer.
On the homepage of the program, select a recovery mode to start with, in this case, click on "System Crash Data Recovery" Mode
The program is useful for creating a bootable media from which data such as dump files can be easily extracted from a crashed system. The next window displays a message to "create bootable media when the system is unable to launch". Click on "Start" button at the bottom right corner to start creating a bootable media
On the next window, select which mode you wish to create a bootable drive either a USB bootable drive or CD/DVD bootable drive and then click on "Create" to commence the process.
If you select "USB Drive" as your desired bootable drive, you would be prompted to format the drive, click on "Format Now" to confirm.
After some time, the bootable drive would be created, ensure that you do not take out the drive to which the bootable media is being created during the process. After a successful creation, you should receive a success page.
You should also receive a guide retrieve your data back by adjusting you BIOS setting while booting to boot your system from a USB drive or a CD/DVD drive.
At last, you can now restart your computer and the rest should take care of itself.
Conclusion
Thus, when you find out that some of your files are missing after a bluescreen locale id 16393 error, just get Recoverit program and choose any of its recovery method that best suits you to retrieve your lost data. You will have your files without any hassle whatsoever and with a higher success rate. So, just sit back to your seat to start your system and start working on it, without having any fear about error locale id 16393 or any kind of data loss.
Computer Data Recovery
Windows PE

System problems

PC Errors