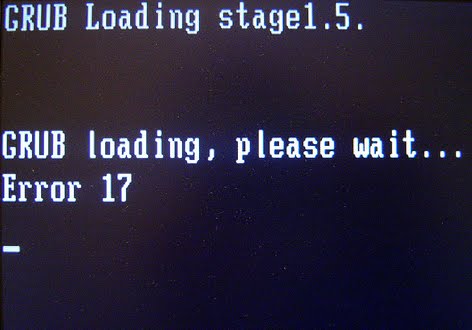 Part 1. What's GRUB and GRUB Loading Errors?
GRUB stands for GRand Unified Bootloader, which is invoked by your system's BIOS to load kernels and display a boot menu for users to choose from. It's similar to NTLDR or BOOTMGR for Windows, but support both Windows and Linux kernels, and comes with more features. However, if you haven't configured Grub properly, you will encounter GRUB errors like those described below.
Grub Loading Error 15, 17, 21, 22
For Grub Stage 1, there are no error numbers, just "Hard Disk Error", "Floppy Error", "Read Error", or "Geom Error". Hence, if you get an error number, you are probably using Grub Stage 1.5 or Stage 2.0. So, what does the Grub loading error number mean? Let's find out below:
Grub Loading Error 15: File not found. This error is displayed when the specified file name cannot be found.
Grub Loading Error 17: Cannot mount selected partition. This error is displayed when the partition requested exists, but the file system type is not be recognized by GRUB.
Grub Loading Error 21: Selected disk does not exist. This error is displayed if the disk is not recognized by the BIOS in the system.
Grub Loading Error 22: No such partition. This error is displayed if a requested partition isn't on the selected disk.
Part 2. How to Fix Grub Loading Error
Here are some simple solutions for all popular Grub loading errors.
Grub Loading Error 15: Make sure the kernel exists. To find out what the exact kernel name is, boot from the Live CD, and mount /boot on your partition and then do the following: cd /boot | ls
Grub Loading Error 17: Make sure your root(x,y) settings are right in your Grub.conf. You could use a distribution CD or Live CD to set up Grub as shown below. (h0,0) means the first hard drive and the first partition on that drive.
sudo grub
root (hd0,0)
setup (hd0)
exit
Grub Loading Error 21: Make sure the disk is correctly connected and detected by the BIOS.
Grub Loading Error 22: You can use the Windows Installation Disc to run a Startup Repair and fix MBR.
The Grub loading error generally occurs when Grub is trying to load a non-Windows system. So you can fix the MBR with the Startup Repair option on the Windows Installation Disc and then re-install Grub. For Unix-like systems, use the distribution CD or Live CD.
Part 3. How to Recover Data from the Unbootable Computer Caused by GRUB Loading Errors
When your computer encounters GRUB loading errors, you can't boot the computer if the above solutions fail. However, how can I recover data on the computer when this occurs? Don't worry. If this happens, you`ll need a powerful data recovery tool to make sure no important photos, videos, emails, or documents are lost because of the GRUB loading errors.
Recoverit Data Recovery can help you out on this issue. It can create bootable media for you to boot the unbootable computer and recover all kinds of data. For the detailed steps, check its guide.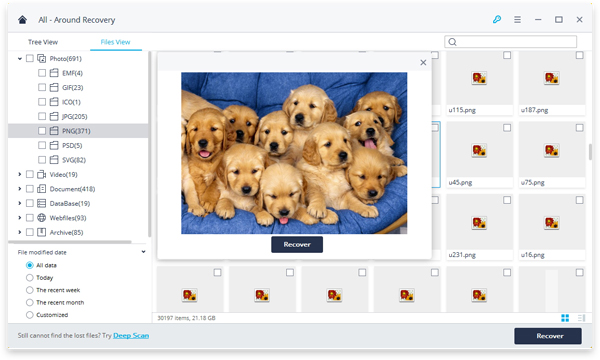 Recover lost or deleted files, photos, audio, music, emails from any storage device effectively, safely and completely.
Supports data recovery from recycle bin, hard drive, memory card, flash drive, digital camera, and camcorders.
Supports to recover data for sudden deletion, formatting, hard drive corruption, virus attack, system crash under different situations.
Recoverit Data Recovery is capable of restoring deleted, lost or formatted partitions and files from a hard drive (HDD and SSD), external hard drive, USB flash drive, memory card, digital camera, camcorder, iPod, Music Player and many kinds of mobile devices (Nokia, Blackberry phones and Phones with older Android OS than ICS). It also offers advanced recovery modes like Raw Recovery or Deep Scan Mode. Thankfully, it`s pretty easy to use:
Computer Data Recovery
Windows PE

System problems

PC Errors