Q. I think there is some problem with my memory card as it is not showing all my photos and videos that I am sure should be there. Is it possible for a memory card to get corrupt? What are the causes of memory card corruption? How can I repair my damaged card?
Answer. Yes. It is definitely possible for an SD card to get corrupt or damaged. In fact, it is a very commonly occurring phenomenon. There are a lot of reasons that could be behind the damage. But don't worry, with Recoverit Data Recovery Software, you will be able to retrieve your data in no time.
Follow the steps stated in this post and you will find your SD card repaired in a new like condition.
Summary
SD cards are a very important part of our lives. Even when today our phones come with such a great in-built memory, SD cards or memory cards have not lost their essence.
SD cards are small removable storage devices which are best when you have to transfer data, especially photos and videos. If you have a camera, then your SD card must mean the world to you. It is this little piece of plastic that has all your moments captured for you to look back after years.
However, what a great pain it would be if your SD card gets corrupted? A damaged or corrupt SD card is not a new issue.
This post will cover the most thought after and asked question when it comes to a corrupted or damaged SD card. Here you will find the best free SD card repair tools on Windows, along with the best of them all, Recoverit Data Recovery software. Also, you will get to know the easiest, do it yourself solutions to repair SD card.
Part 1. What are the 5 best free SD card repair tools on Windows?
All of us are well aware of the fact that SD cards get damaged all the time. And Windows realised the same way before we did because Windows offers us many different free SD card repair tools which work best when you are not in any mood to spend money.
Secondly, these free tools work most of the times and should be your first resort when you come across the situation of a damaged or corrupt SD card.
Here are the 5 best free SD card repair tools on Windows which you can try to repair your SD card:
Tool 1. Windows Disk Management
Anyone who uses Windows knows about Disk Management and also its importance. Disk Management is an in-built disk partitioning tool that enables the users to manage disks and its partitions with basic features such as creating partition, extending partition, formatting partition, shrinking partition, delete partition, etc.
Disk Management can also be used when and if you are trying to fix and repair you corrupt or damaged SD card. It is done by changing the Drive Letter with Disk management.
Here are the steps telling you how you can do it:
Step 1 – Right click on Windows Start menu & select 'Disk Management' from the pop up window
Step 2 – Right click on 'SD card partition' & choose 'Change Drive Letter and Path'

Step 3 – Click on 'Add' on the pop up window. This will add a new drive letter for the SD card partition

Step 4 – A new drive letter will be assigned by Disk Management

Step 5 – Click on OK
Tool 2. Windows Explorer
You can take to another route if Disk Management did not seem to help you repair your SD card. Windows Explorer is a file manager that helps its user in checking and repairing the user's SD card if it is corrupted or damaged.
Here are the steps you can follow to recover your card with the help of Windows Explorer:
Step 1 – Connect your SD card to your PC
Step 2 – Open Windows Explorer by pressing Windows + E
Step 3 – Open the SD's properties by right clicking on it
Step 4 – Click on the Tools tab
Step 5 – Click on the Check button
Step 6 – Let the scan process finish.
Step 7 – Close the Scan window after completion
Tool 3. DiskPart
Many a times you will find yourself at a point where your computer will deny you to format your SD card. While most people believe that this is a situation that cannot be remedied, it does, indeed, have a remedy.
The simplest way of going through it is with the help of a tool called DiskPart which is available for Windows, 8, 7, Vista, and XP devices.
Here are the steps you can follow to repair your SD card with the aid of DiskPart:
Step 1 – Press Windows + R keys
Step 2 – Type diskpart in the space on the pop up & press Enter

Step 3 – Type list disk in the black window & press Enter

Step 4 – Find your SD card, type select disk & enter the number of the SD card

Step 5 – Once you have found your SD card, type clean or clean all if you have more than one partition

Step 6 – Type create partition primary

Step 7 – Type select partition 1 & enter command active

Step 8 – Type format fs=fat32 quick.
Tool 4. PowerShell
Windows PowerShell is an object oriented, task based command line scripting language that helps IT professionals automate and control the administration of Windows operating systems.
If you keep on seeing the message 'please insert SD card' even when it is inserted, it can mean that it is corrupt or damaged. You can repair your SD card using PowerShell with the following steps:
Step 1 – Open Start
Step 2 – Search Windows PowerShell & right click on it
Step 3 – Select 'Run as Administrator' from the pop up
Step 4 – Type Get-Disk > Get-Disk 1 I Clear-Disk –RemoveData > Y
Step 5 – Press Enter > type New-Partition -DiskNumber 1 -UseMaximumSize | Format-Volume -FileSystem NTFS -NewFileSystemLabel myUSB
Step 6 – Press Enter > type Get-Partition -DiskNumber 1 | Set-Partition -NewDriveLetter F
Step 7 – Press Enter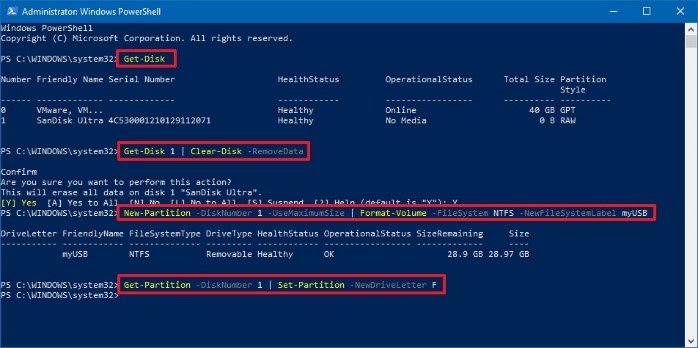 Tool 5. CHKDSK
Like any other removable storage device, SD card too has a limited lifespan. Bad sectors tend to grow once it had been used for a long period of time. A good way to find errors in SD card file system is through CHKDSK cmd. Also, if you are looking for a way to repair your SD card without formatting it, then these are the steps you should follow:
Step 1 – Using a card reader, plus your SD card into computer
Step 2 – Go to the Start menu and type 'cmd' in search bar. Hit enter and a list of programs will appear. Find 'cmd.exe' in it
Step 3 – Click on 'cmd.exe'. The following command window will appear that will allow you to fix your corrupted card

Step 4 – Type 'chkdsk /X /f (SD card letter)
Though it will take some time, you will see 'windows have made corrections to the file system.'
---
Part 2. How to recover and repair data from corrupted SD Card with Recoverit Data Recovery Software?
Recoverit Data Recovery is an efficient and potent data recovery software. It helps you get back all your valuable data including emails, documents, photos, audio files, and videos, swiftly and easily from laptop, recycle bin, external storage media, internal hard drive, and even a crashed computer, that you thought you had lost forever.
Even a fragmented, corrupt or damaged video can be repaired with the help of Recoverit Data Recovery Software.
Here are the steps you can follow:
Step 1. Select a location from where you want to start recovering your corrupted files.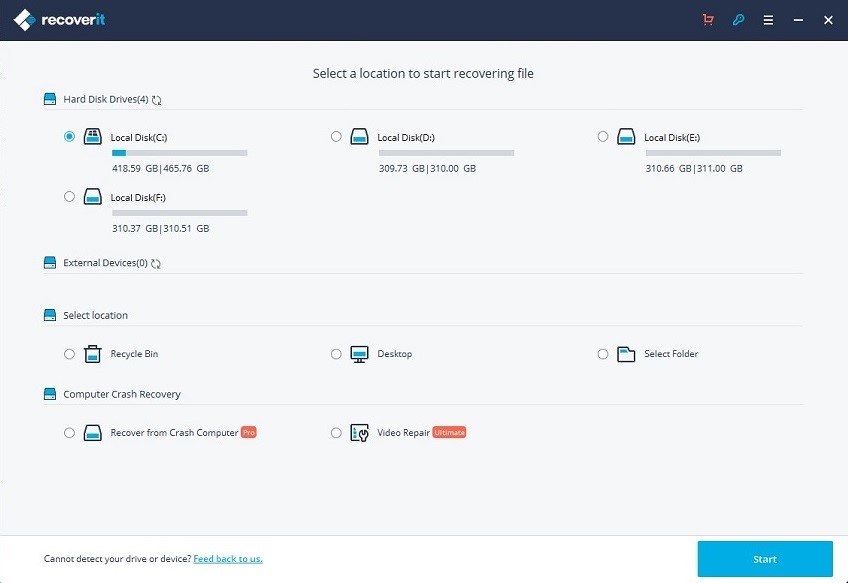 Step 2. Scan the location for all the files that are corrupt. You can select multiple files at once.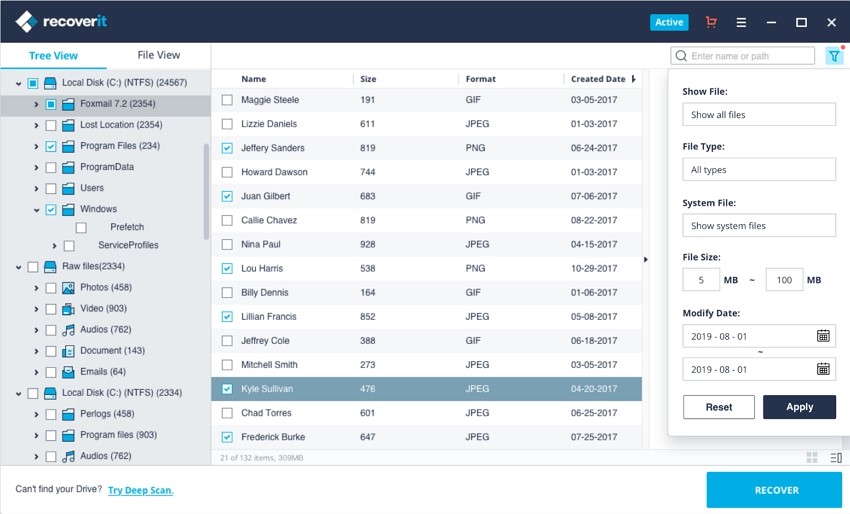 Step 3. Wait for scanning process to complete. Once the process is completed, click on the 'Got it' tab to close the pop up.
Step 4. Preview the file / files that have been scanned. Once you preview your file / files and are satisfied, click on the recover tab.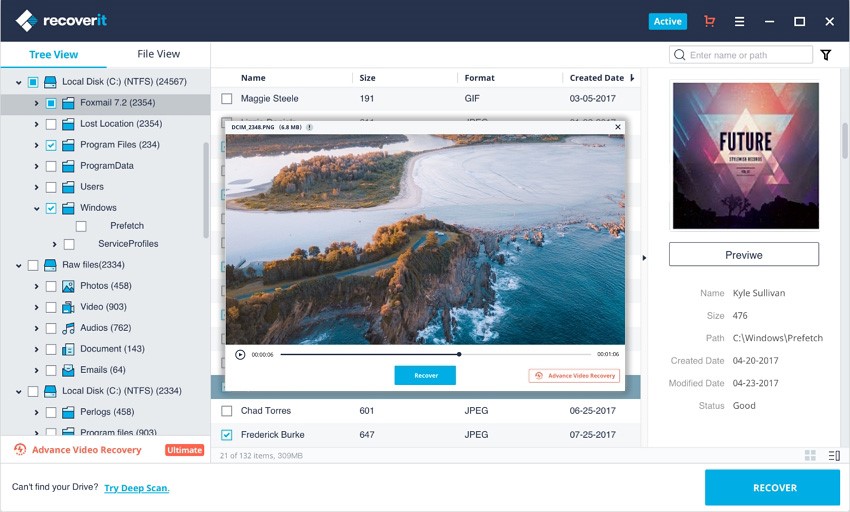 Introduction to Advanced Video Recovery function of Recoverit
Another type of data are Video files. Many a times, you might find that video is corrupted or damaged. The most common sign is when you try to play a video and find yourself unable to do it. Recoverit Data Recovery Ultimate supports an Advanced Video Recovery feature that scans, gathers, and matches the fragments of your corrupt videos. Thus ensuring most of your videos are recovered from your Drones, DSLR, Action Cameras, Digital cameras, camcorders, Dashcams, HDD, SD card, PC, etc.
Here are some of the benefits of using Advanced Video Recovery function of Recoverit:
Scan and match your video fragments
Merge the fragments from the same video
Recover your videos and keep 95% of them intact
Recover unlimited video files without corruption
Just click Advance Video Recovery option to recover fragmented video file easily.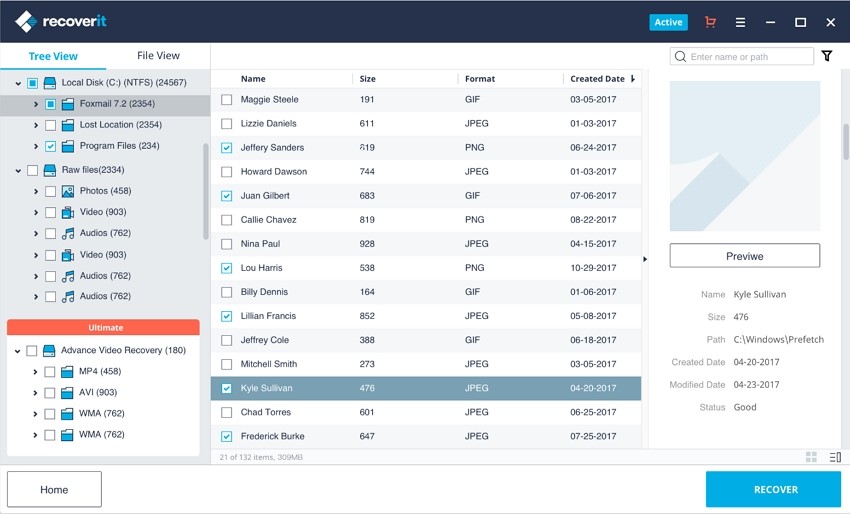 Steps to Repair Corrupted Video with Recoverit
Recoverit's Video Repair is a dominant video repair software used to repair broken, corrupt or damaged MP4, MOV, MKV, M2TS, 3GP, MTS, FLV, and AVI file formats.
Two repair modes are supported by it:
Quick repair – it is used to repair various video errors.
Advance repair – it can repair your corrupt videos by analysing the data and technology of the sample video shot by the same device.
Here are some of the benefits of using Recoverit Video Repair:
Repair multiple formats of videos simultaneously
Free scan for corrupt videos and preview repaired videos before saving them
No limitations on size of Video files for repair
Repair any number of corrupt Video files
You can follow the below written steps for a smooth data recovery:
Step 1: Add your corrupted videos
Launch the application on your computer. To repair your corrupted video files, you can add it through clicking Add button or "Add video and start repairing" area.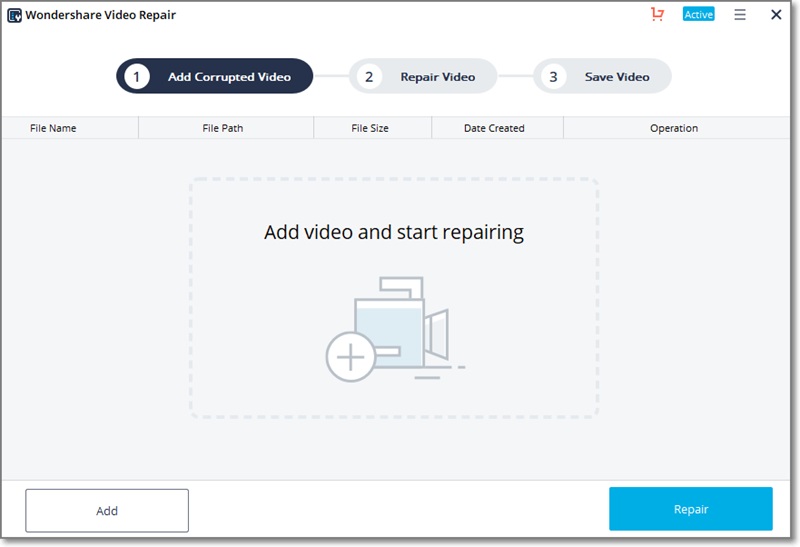 Step 2: Repair your videos
As soon as you have added all the corrupted videos, click on the Repair option to start the video repair process.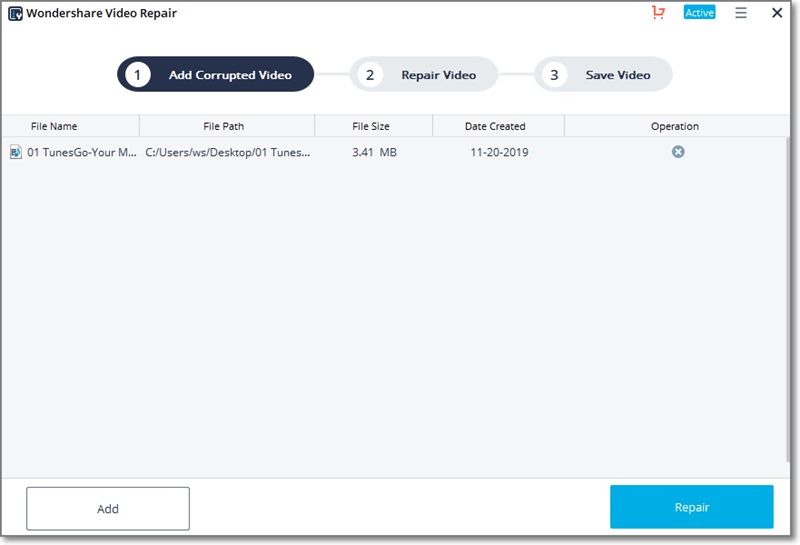 Step 3: Preview the videos
It will take some time to repair and once it has finished the repair process, a reminder showing info of successful fix will pop up on the screen. Press OK to close the operation.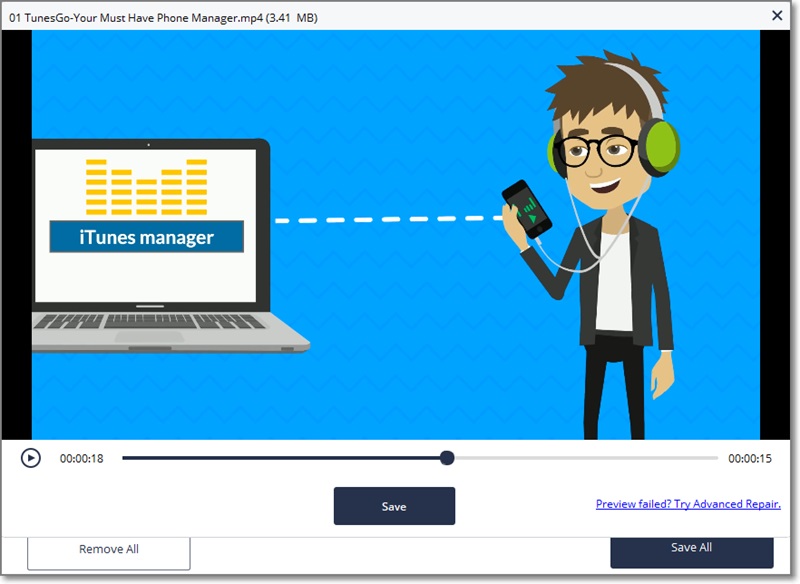 Step 4: Advance mode for severely corrupted video (optional)
If the videos are severely corrupted and not repaired successfully, please go to the advance repair mode. Just click Advanced Repair button.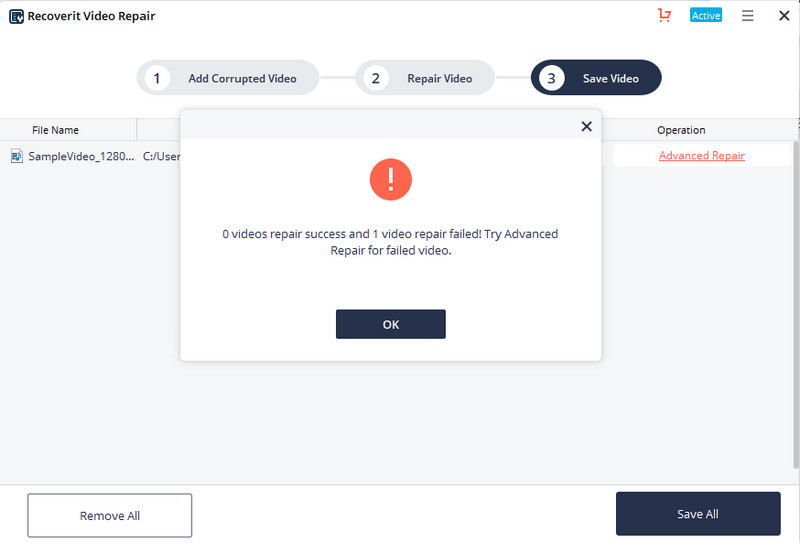 Then add a sample video and repair it now.
Step 5: Save repaired video
The advance repair will perform the repairing process and prompt a success message when the process is completely done. Now, you can play these videos and you will not see any error on the screen.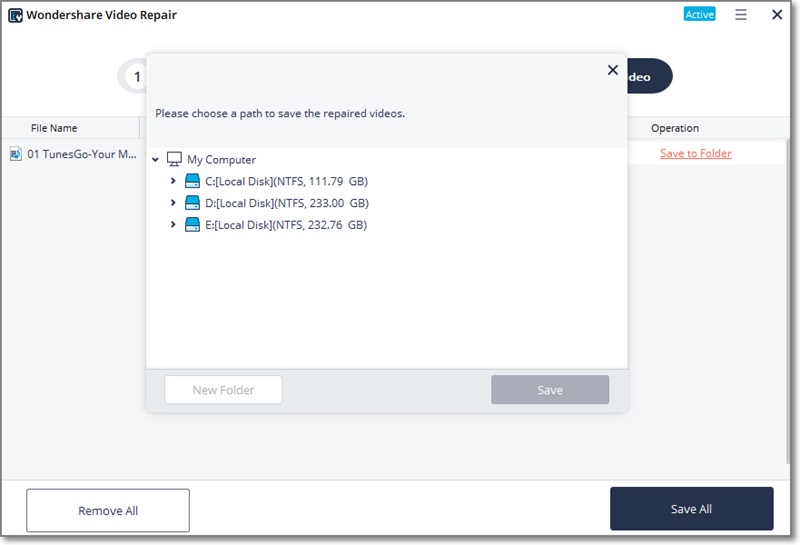 ---
Part 3. What are some more solutions to repair SD card?
Apart from the above mentioned solutions and fixes, there are certain other things you can try to repair your SD card.
Solution 1. Test SD Card on another PC or A New Card Reader
Sometimes, the problem might lie in your computer, thus rendering your SD card as unreadable. Under such circumstances, you can resort to testing your SD card on another PC. You can take any other PC and try on its various USB ports.
Also, you can try a different card reader, preferably a new one.

Solution 2. Turn Off Write Protection
You might be able to see your SD card on your computer but you might not be able to modify it or make changes to it. If the situation persists, then you might have turned on write protection.
SD cards have a tiny switch kind of thing at their sides. You might have unknowingly turned on the switch which is for write only protection.
If your SD card does not have a switch and still happens to be write protected, then follow the following steps:
Step 1 – Access Device management
Step 2 – Press Windows key + R. this will launch Run Window
Step 3 – Type devmgmt.msc in the given box & click OK button
Step 4 – Locate & expand 'Disk Drivers' option
Step 5 – Find your SD card
Step 6 – Right click on your card & choose 'Properties'
Step 7 – Under 'General Tab' or 'Policy Tab', you will find an option related to write policy. Turn the tab off & click OK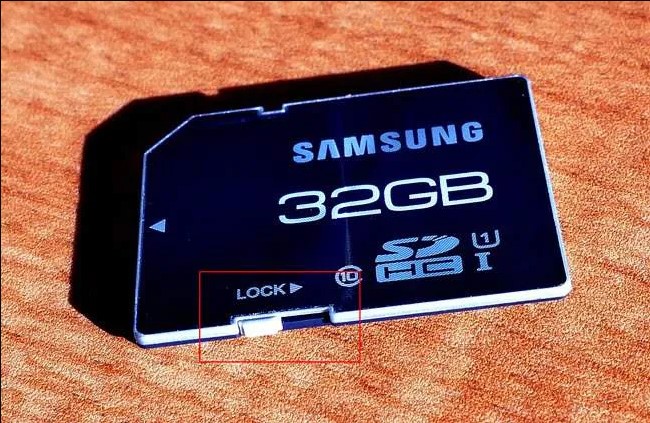 Solution 3. Update the SD Card Driver
If you see a yellow sign beside the card reader (on going to Device Manager), then your SD card issues are basically a play of driver issues.
Here is how you can update the SD card driver:
Step 1 – Connect your SD to your computer
Step 2 – Carry out the following. Control Panel > System > Device Manager > Disk Drivers
Step 3 – Find your SD card. Right click and 'Uninstall'
Step 4 – Choose 'Scan for hardware changes'. This will refresh the drivers
SD Card Recovery
Recover Card Data

Repair Card Errors