"Hi all! Actually this morning, I got really astonished when I found out that my SD card has been corrupted. It really has some crucial data. Can anyone help me knowing how can I repair corrupted SD card? Any help would be appreciated. Thanks!"
Knowing memory card corrupted is never a good news. On finding such problem, one can never get relaxed and thinks for the ways to solve it as soon as possible. After all! We live in a digital era where such portable storage media is no less than a blessing and we completely rely on it. The best thing is its convenience as well as affordability. With the evolving technology, we are now offered higher storage as well as high quality with the latest SD cards. On the contrary, these storage devices are likely to get damaged or corrupted if not handled properly. This may cause you data loss. However, before you lose your nerves, we are here to help you. In this article, we will list some of the potential solutions to fix corrupted SD card.
Part 1: What Symptoms when Memory Card or SD card is Corrupted
When SD card fails to work properly, examining it and assuming it to be just corrupted seem to be jumping to the conclusions. Just because you are assuming or your friend, so non tech-savvy has said you that the card is corrupted might lead you to the wrong way. So, how would you know if the memory card is corrupted actually? We are solving this for you as well. In this section, we will be writing down the symptoms with the help of which you can know the condition of the SD card and there is a need of repairing corrupted SD card. Check out the list below:
If you see the black screen on your system which is having an error message that says, "SD card is not accessible. The file or directory is corrupted and unreadable". This is enough as a hint that your SD card is corrupted.
You know your SD card is corrupted when the photos in the SD card are missing. If you are unable to get your pictures, you know where the problem is.
When you are using SD card in PC and it is detectable properly and still brings the message "SD card is not formatted. Do you want to format it now?". This brings you the clarification that your card is damaged or corrupted.
Another symptom could be when you try to look for the items in the SD in your system or camera and can't copy it. Furthermore, an error message comes saying disk is "write-protected", and then your SD card is damaged.
The SD card doesn't let you add, remove or save anything in it when it is damaged or corrupted.
When you try to use camera and it turns completely black. Also, when SD card seems to be so slow, it's time to understand that your SD card is not healthy enough to work properly.
Another error message on your system could be "Read/Write error on SD card" and no folder in the SD card opens. This basically denotes that your memory card is not able to be read by the system.
---
Part 2: Possible Causes of memory card corruption
After knowing the symptoms, you should also know the basic reasons for the issue. These are the points that can be responsible for a corrupted SD card.
One of the reasons for the issue could be the virus infection. As a digital device, it is easily prone to get virus and thereby causing such issue.
If you don't take care of the SD card and eject it improperly from the SD card slop or port, this can surely trigger the problem.
There might be some physical damage to the SD card.
The power surge on the USB port may also damage your SD card.
Next cause maybe the connection. In simple words, perhaps the USB port and SD card are not connected appropriately and that's why the problem is occurring.
A sudden shut down of laptop or computer while some task is in progress over SD card can also cause the problem.
---
Part 3: 6 Fixes for corrupt memory card or SD card
Now that you know the causes for the problems as well as the symptoms, it is the perfect time to make you aware with the solutions to repair corrupted SD card. Let us move to the fixes.
1. Change Drive Letter
Many times, your SD card is not assigned a drive letter by the Windows system. And as a result of this, the drive or the SD card is not able to be detectable or get conflicted with other drives thereby making the files unable to be accessed. This makes the SD card to act corrupted. Therefore, the first solution to fix corrupted SD card is to change the drive letter. Here is how to do it.
Step 1: Start with pressing the Windows key along with the X key. A menu will open from where you need to click the "Disk Management".
Step 2: Now, look for your SD card and right click on it. Choose the "Change Drive Letter and Paths…" option.
Step 3:hit on "Add" and pick out a drive letter. Now, confirm the actions and click "OK".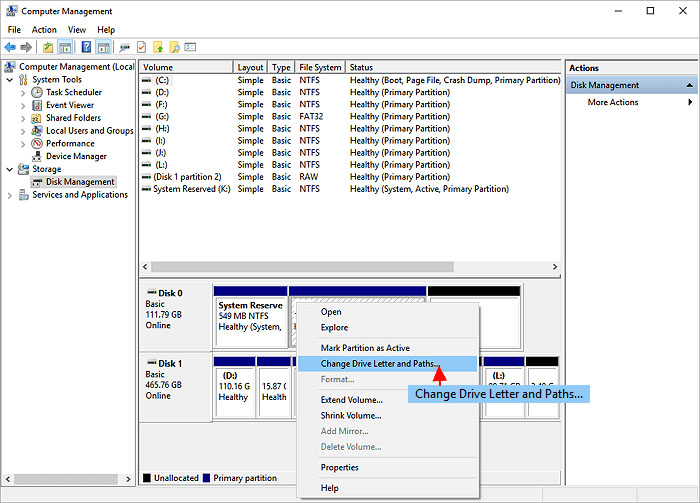 2. Run Windows Repair Tool
The second troubleshooting step we would like to suggest will be Windows repair tool. Here is what you need to do to repair SD card.
Step 1: Connect SD card and open Windows Explorer by pressing Windows and E keys.
Step 2: Right click the SD card and go to "Properties".
Step 3:Hit on the "Tools" tab followed by "Check".
Step 4: This will begin the scanning process. Let it finish and close the window. Check if the problem is gone.
3. Try another Port/Device/PC
As the next tip, we would like to suggest you to make use of another port to connect the SD card. Or use another card reader. This is because a lot of times there are connection issues, for instance it can be possible that the used USB port is defective. Therefore, you need to take this advice if the above solutions didn't work.
4. Reinstall the SD Card Driver
If still your SD card is corrupted, here is the next solution. You should try reinstalling the SD card driver as perhaps the system is not able to detect the SD card due to the corrupted drivers. So to fix corrupted SD card with the method, the steps are as follows:
Step 1: On your desktop, right click on "This PC" option and choose the "Manage" option.
Step 2: Hit on "Device Manager" given at the left side of the screen.
Step 3:Double click on "Disk Drives" option. Subsequently, give a right-click on the removable drive's name.
Step 4: Tap on "Uninstall" followed by "OK".
Step 5: You can now disconnect the SD card and restart your system.
Step 6: Plug in SD card once again and it will be detected by the computer.
5. Use CHDSK to Repair SD Card
If formatting SD card is not your choice, this is what you can do for repairing the SD card. We will directly list the steps for this.
Step 1: Firstly, connect your SD card to the system. After that, note the drive letter of your SD card.
Step 2: You now need to open the command prompt window. For this, click the Start menu and type "cmd" in the search bar. Right click on the "cmd" and then choose "Run as administrator" option.
Step 3:The command window will open now where you have to enter the following command – "chkdsk #: /f" (Here, the # symbol the drive letter of your SD card).
Step 4: Once done, press the Enter key and this will begin to scan for the possible errors and will fix your corrupted SD card. If you see "Windows has made corrections to the file system", everything went well then and issue is repaired.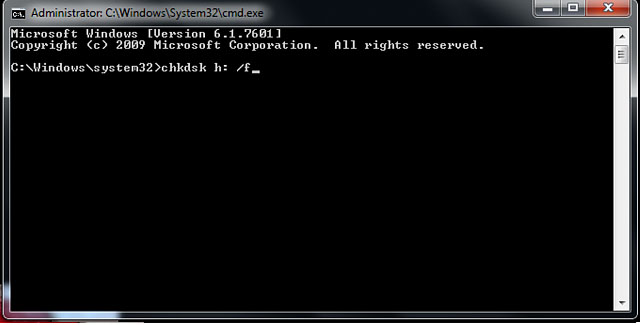 6. Use CMD
Here is the last option that you could try to fix damaged SD card. This will also involve the command prompt window. Please follow the steps carefully as the process will be having some commands. Here is how to do this:
Step 1: Once the SD card is connected, right click on the Start button.
Step 2: Choose "Command Prompt (Admin)" to open command window.
Step 3:Type in "diskpart" and hit Enter key.
Step 4: Now, type "list disk" and hit on Enter key. This will bring the connected storage devices on the screen.
Step 5: Next, you need to type "select disk and hit Enter key.
Step 6: After this, type "clean" and press Enter key.
Step 7: Once this is done, type "create partition primary" and press Enter.
Step 8: Type "active" afterwards and then type "select partition 1".
Step 9: Lastly, type "format fs=fat32" and then press Enter key. Wait for the process and exit when it finishes.
---
Bonus Tip: How recover lost data from corrupted memory card or SD card
If unfortunately, you have lost a significant file or data from your damaged SD card, do not stress it anymore. We have a perfect solution for it. You need to have Recoverit Data Recovery by Wondershare. This tool comes with the power of recovering a wide range of data types from any storage media. Trusted by millions of users, it has our heart and works efficiently like you have never thought. To know more about it, here are the features.
Key Features:
It is completely reliable and perfectly safe to use.
One can recover the data from nay storage media.
It makes the data recovery possible under any data loss circumstances.
Before recovering, you can preview the files and get satisfied.
With a few steps data recovery process, it can help your photos, videos, audios and more make recoverable easily.
Step by Step Tutorial to Recover Data from Corrupted SD Card
Step 1: Download the program on your computer and install it to begin. Connect your SD card with the PC and open the program. Ensure that SD card is recognizable by the PC.
Step 2: From the main interface of the program, you can choose the SD card and click on the "Start" button.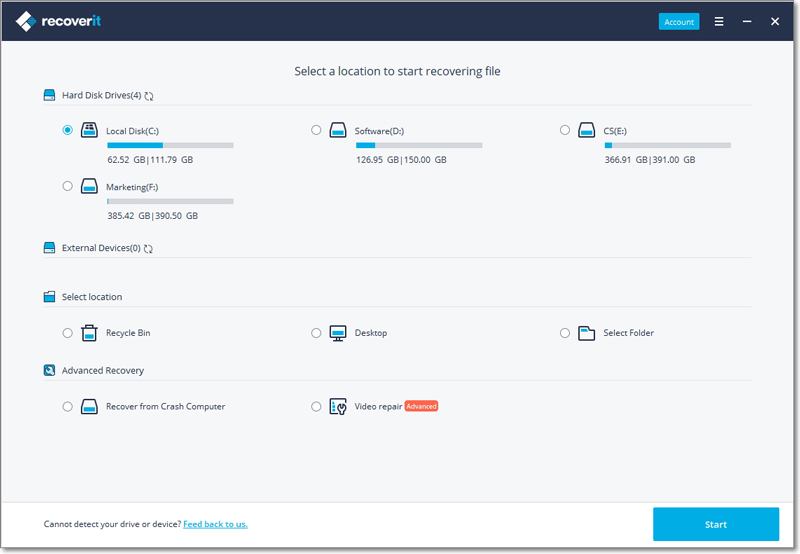 Step 3:As soon as you choose the external storage, the program will start scanning of the SD card. You need to hang on for a little time until the process is finished.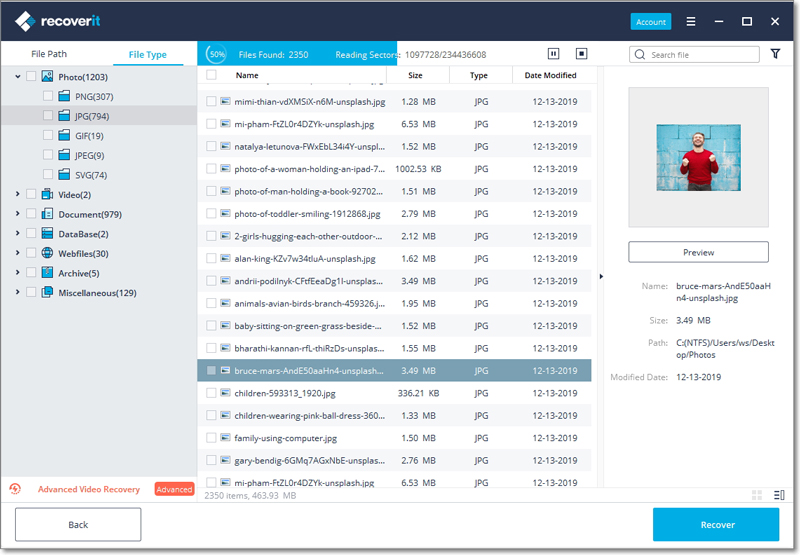 Step 4: You will now notice the results on the screen. Start choosing the files that you want to recover. Preview it once and when you are satisfied, hit on the "Recover" button. And this is how you recover data from corrupted SD card.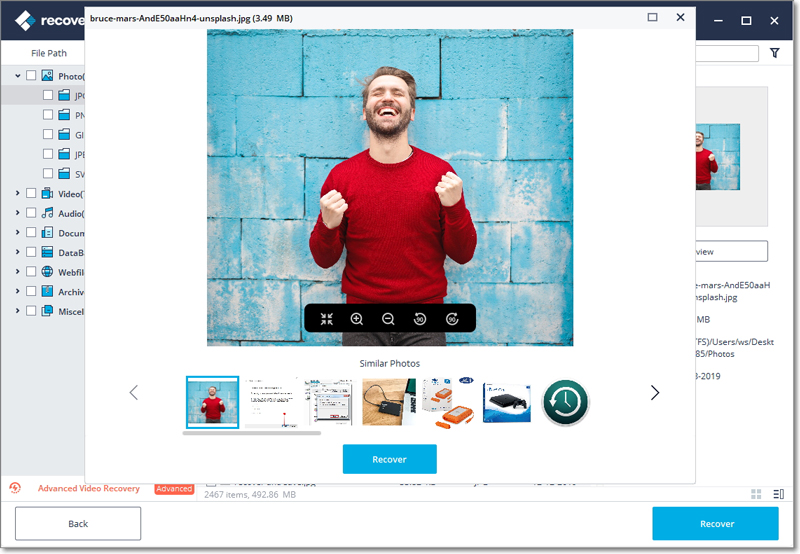 ---
Bottom Line
The situation of damaged SD card is not acceptable and one can't afford it to happen for it contains a great deal of vital information. After reading this article, you can know when your memory card is corrupted and when you need to take actions. Also, you know the possible reason behind it as well. So we hope that from next time onwards, you will be careful and handle this tiny device with full protection to avoid this situation. Besides this, we know and never deny to the fact the data in our SD card is really dear to us. Therefore, we have shared a very useful tool to you that can help you retrieving your data from a damaged SD card easily. You can use this helpful information and help yourselves to repair corrupted SD card. Please share us what you think about this post. Also, if you have questions, please drop us a comment below.
SD Card Recovery
Recover Card Data

Repair Card Errors