Finding the best solution to help you recover data from Sandisk storage? The following guide we all talk about the best free SanDisk data recovery software, also with the specific steps to help you recover deleted or lost data from SanDisk SD card.
SanDisk SD Card is fast and reliable storage device use for digital camera, but some plausible scenarios that usually cause SD card data failure. You will get some error message told you that all your data on SD card cannot be accessed. Data failure issues can be caused by deleted, formatted or other SD card RAW error. Before you start to recovering data, you should stop using your SanDisk SD card and do not save any new data on it. It can be the data be overwritten. To get the powerful Recoverit Free Data Recovery program to help you recover data from SanDisk SD card.
Part 1. The Best Free SanDisk Data Recovery Software
The powerful and reliable SanDisk Recovery Software, we recommended Recoverit Data Recovery Software. It can easily and effectively to help you recover deleted data from SanDisk SD card like photos, office documents, music, email and other file types.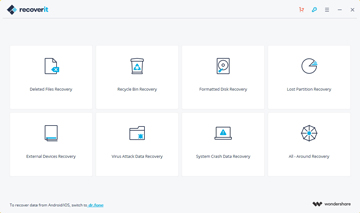 Recover Data from SanDisk Device like SD card, USB flash drive effectively, safely and completely.
Recover data due to accidental deletion or lost, formatted SanDisk Card, virus attacked or device damaged.
Recover any data and file types with high success rate and without any quality loss.
Supported OS: Windows 10/8/7/XP/Vista, Mac OS 10.13, macOS 10.12, OS X 10.11, 10.10, 10.9, 10.8, 10.7, 10.6.
Video Tutorial on How to Recover Data from SanDisk SD Card
---
Part 2. How to Recover Data from SanDisk SD Card
Download and install Recoverit SanDisk Recovery Software on your computer. Please connect your SanDisk SD card to the computer, launch Recoverit Data Recovery and follow the next guide to recover deleted data from SanDisk SD card. (This guide we will focus on SanDisk data recovery on Windows computer, if you are using Mac, please get download Recoverit Data Recovery for Mac.)
Step 1. Select "External Devices Recovery" Mode
Launch Recoverit Data Recovery software. To recover deleted or lost data from SanDisk, you need select "External Devices Recovery" mode to get started.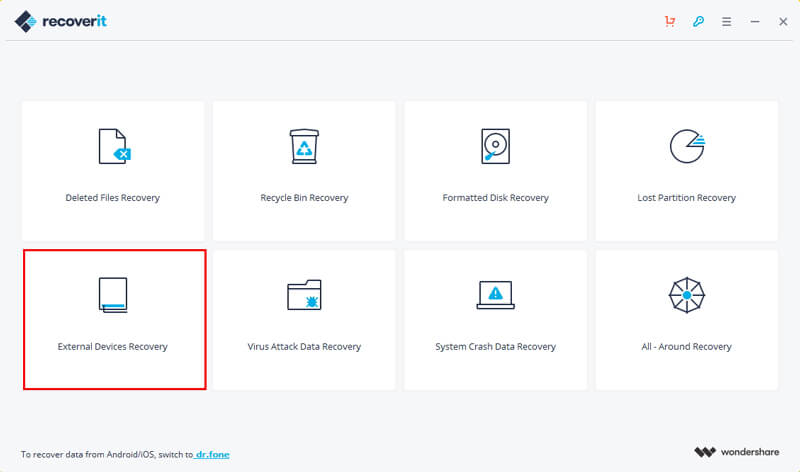 Step 2. Select your SanDisk SD Card
Make sure your Sandisk card have detected by the computer. Select the disk of SanDisk SD card and click "Start" to begin SanDisk data recovery.
Step 3. Scanning your SanDisk SD card
Recoverit Data Recovery will start a quick scan. If the quick scan can't find your lost data, go to deep scan with "All-around Recovery" mode which will search more files from SanDisk SD card. While it will take more time.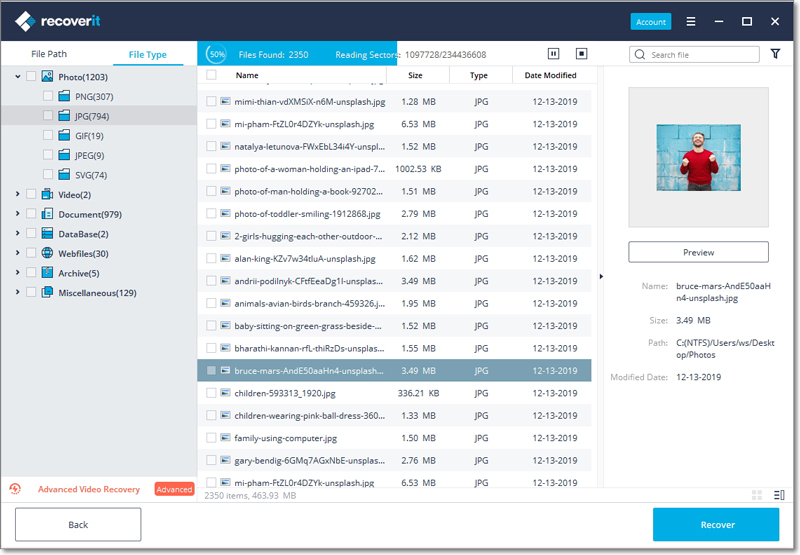 Step 4. Preview and Recover Data from SanDisk Card
After the scan, you'll get a scan result as follow. You can preview some recovered photos. Click "Recover" to save them all on your computer with one click.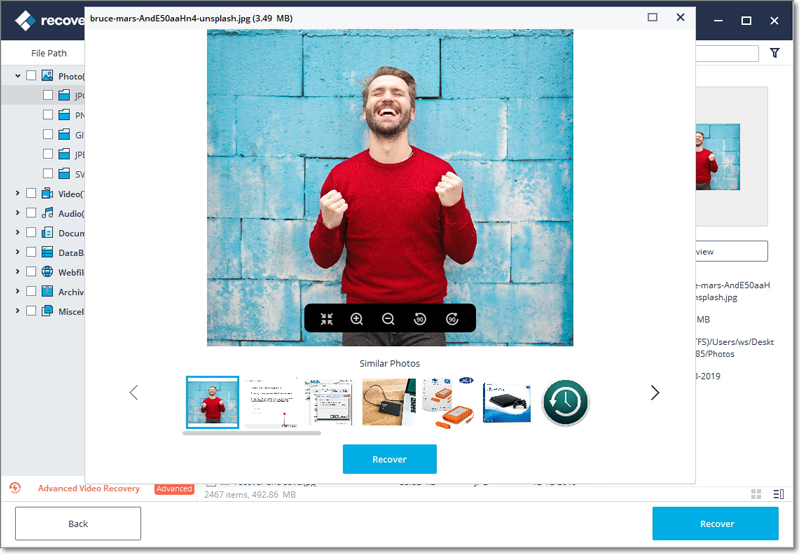 Note: When recovering files, don't save them on the same partition or device where you lost them before. Choose another partition or disk to store them. If you want to recover files later after the scan, remember to save the scan result and you can directly recover them by importing it instead of rescan.
Part 3. How to Fix Corrupted or Damaged SanDisk Device
1. Fix Corrupt SanDisk SD card using Command Prompt
Press the "Windows" button, type "command" and hit Enter
Now, take a look at the memory card letter by selecting "This Device" using the vertical three menus in the File Explorer Window
Switch to Command Prompt window and type "chkdsk", followed by the drive letter two dots and "/r" (the "r" stands for repair). For example, if your drive letter is "G" then you should type "chkdsk g: /r"
Hopefully, after the repairing process is completed, your memory card will be again usable.
2. Change Drive Letter on Disk Management
Another method is changing the Drive Letter using the Windows Disk Management Utility.
Press "Windows" + "X" simultaneously and select "Disk Management" from the Vertical Menu. The utility opens up Scroll down to find the Memory Card and choose "Change Drive Letter and Path…" from the menu after right clicking the item

Click the "Change" button and select any new letter and tap "Ok"
Now, if the operation was successful, your memory card should open up. However, if your memory card is still unavailable after applying these two methods, you must use a recovery software to recover damaged SanDisk SD card.
Part 4. SanDisk Mantain Tips and Tricks
Having a reliable SanDisk recovery tool or applying any other decent alternative method is a prerequisite for any successful recovery attempt session. What you could do to prevent data loss or get some awesome maintenance tips for SanDisk SD card.
If you find your files missing, immediately stop doing anything to your card. Use a recovery method instead. Not following this rule, will shrink your data recovery chances to minimum.
If you ever have to delete any pictures on your SD card, do it on the computer. Should you ever need to erase everything on your camera card, use your camera to format it in its own file format.
Always safely remove your card after using it with any computer. Pulling it out just like that can make your card unavailable.
Avoid taking new photos when your card is almost full. This could create errors with some types of cards and always turn off your camera before pulling out the card. Likewise, letting your battery die is also bad for card healthy.
One of the best advice I could give someone is always backup your data. What if you lose your card some day?
Never use two SanDisk card recovery software at the same time. This could override data and cause permanent data loss.
Part 5. More Info About SanDisk Device
SanDisk, previously named SanDisk back then when it was founded in 1988, was the pioneer company that invented and patented the flash memory back in the 1999. At first, they were radicalized by the industry, but finally they proved everyone wrong. Today flash memory technology is used in almost any smart device from cameras, to smartphones, computers, game consoles, music players and so on.
Standardized Format using Flash Technology Memory Cards were introduced by the company in 1994. What makes this company so popular is products superiority and reliability. Who'd you go for a high-quality product other to the inventor itself, especially because of this company's successful history in patenting more than 120 patents and having developed 16th generation of the flash technology?
Today SanDisk is the thirst largest manufacturer of flash memory products including sd cards, card readers, USB flash drives, solid state drives and other similar products. SanDisk products were more than just mere storage data. SanDisk was a revolution starter that helped dramatically reduce the overall cost of storage that was exorbitant back then in the 90s. The increase in Internet usage was the perfect catalyst for propagating this new technology and getting the market ready for it.
Finally, with Recoverit SanDisk SD Card Recovery to recover your data back easily. Download Recoverit Free Data Recovery and try it or now.