Case: Phone not detecting SD Card
In order to extend the storage space of my Android phone I added an external SD card to save my data such as documents, photos and videos. However, my phone stopped detecting SD Card when I was trying to access some data saved on SD Card.
I restarted my phone several times, but it's still not detecting SD Card.
Summary
SD card is famous extended storage space for Android Phones with insufficient built-in memory and for people who like playing games, or taking photos and videos. However, "Phone not detecting SD Card" is a common problem due to various reasons such as Fake SD Card, Improper use of SD Card, mishandling etc. If the android phone is not detecting SD card some solutions can be tried to fix the problem. Foremost thing is the trouble location and then tiring several simple fixes such as rebooting the phone, cleaning SD Card, formatting SD Card etc. Though if the problem is still unsolved then Android SD Card Recovery solution is needed to access the files on SD memory Card. Recoverit is one such data recovery software that helps retrieving the data in three simple steps i.e. Select, Scan and Recover.
How to Fix SD Card not detected on Android Phone Problem
Part 1: Trouble location for Micro SD card not detected on Android
The most important thing to do is to locate the problem location. Whether it is a problem with the micro SD Card, Android phone or something else. Trouble-location save time and effort.
1. Causes by SD Card
It is most likely the problem is caused by SD Card. Following are the three tips that help to identify.
Insert the SD Card into another mobile device that is able to read the SD Cards. See whether the memory card can be detected.
Check whether the computer can read SD Card with a card reader.
2. Causes by Android Phone
It is possible that the problem lies within the Android phone. Insert another SD card in phone, which is detectable on another device and see the results. If the phone cannot detect the new SD Card, the problem lies within the phone in software or hardware level.
3. Other Reasons
May be the Android phone and SD Card are working fine separately, but just won't work when combined. It is a rare case but still possible. Some SD Cards require stable power supply. In this case, try an original battery.
---
Part 2: How to Fix SD Card not detected on Android Phone Problem
1. Try Several Simple Tricks
Reboot Android phone
Remove battery and SD Card from phone, and then plug them back.
2. Clean SD Card lightly
Poor contact can cause SD Card not detected or recognized problem. In order to make it work again, remove the SD Card and then gently rub the metal piece and if necessary also clean the SD Card slot on the phone.
3. Unmount and Remount SD Card
On Android phone go to Settings > Storage, find SD Card section. If it shows "Unmount SD Card" or "Mount SD Card" option, perform these operations to fix the problem. During this process make sure the phone is not connected to Computer.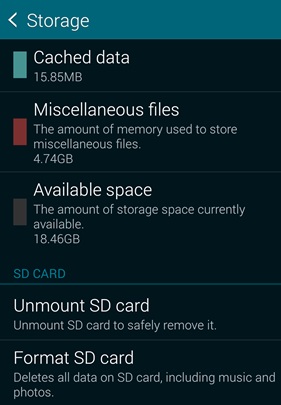 4. Use Computer to diagnose
Windows can repair some errors on disk drives, so you can mount your SD Card to computer to check errors. However, this solution only works if computer can detect SD Card.
Step 1. Insert SD card into a card reader, and then connect to a computer.
Step 2. Open My Computer, and find the disk drive of SD card.
Step 3. Right-click the disk and choose Property.
Step 4. Click Tools tab
Step 5. On Error checking section, choose Check> Repair drive.
Step 6. When the drive is repaired, eject SD card and insert it back to phone.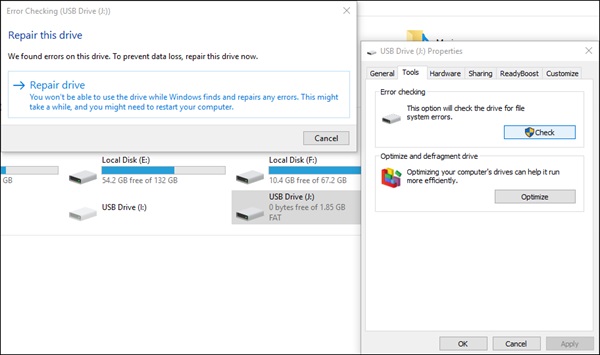 5. Format SD Card
This solution is also only applicable when your computer can recognize the SD card.
Step 1. Connect SD card to computer via a card reader.
Step 2. Create Backup of SD Card on computer.
Step 3. Right-click SD card drive, and then choose Format…
Step 4. Click Start to format SD card.
Step 5. Insert the SD card in your phone.
6. Factory Reset Android phone
Sometimes due to software problems on Android phone SD card is not detected. Factory reset can solve some software errors on Android phone.
7. Repair Hardware Problem
If all of the above mentioned methods fail to solve the SD Card not detected problem for you, then most likely it is hardware problem. Either the SD Card is damaged or the mobile phone.
---
Part 3: How to recover and Repair Data from SD Card not Detected
1. Introduction to Recoverit Data Recovery
Recoverit Data Recovery is a powerful data recovery software that helps to retrieve lost and deleted files under different scenarios. It recovers all file types including documents, graphics, photos, videos, emails and other files.
It also retrieves data from all data loss scenarios, including emptied recycle bin, accidental deletion, disk formatting, and corrupted external device and even crashed computer.
Recoverit provides different modes of data recovery. Simple scan can be performed to access inaccessible data. And to get more detailed results, "all-around recovery" can be performed as well.
To selectively recover the data, the application provides the preview of recovered data.
It recovers all file types including photos, videos, compressed files etc.
Supports the data recovery from laptop, internal hardware, and all the major secondary data storage units.
Recoverit Data recovery desktop application is available for both, Windows and Mac.
Recoverit Ultimate even helps you recover fragmented video and repair corrupt/broken/damaged video.
2. Steps to Recover data with Recoverit
Recoverit helps to recover data lost from an external device on windows computer. External device can be an external hardware, memory card, SD Card, USB Flash Drive and so on.
To recover files it is important to launch Recoverit on Computer.
Steps to recover data
Step 1: Select the Location
To recover lost or deleted files select the target location. And click Start to scan it.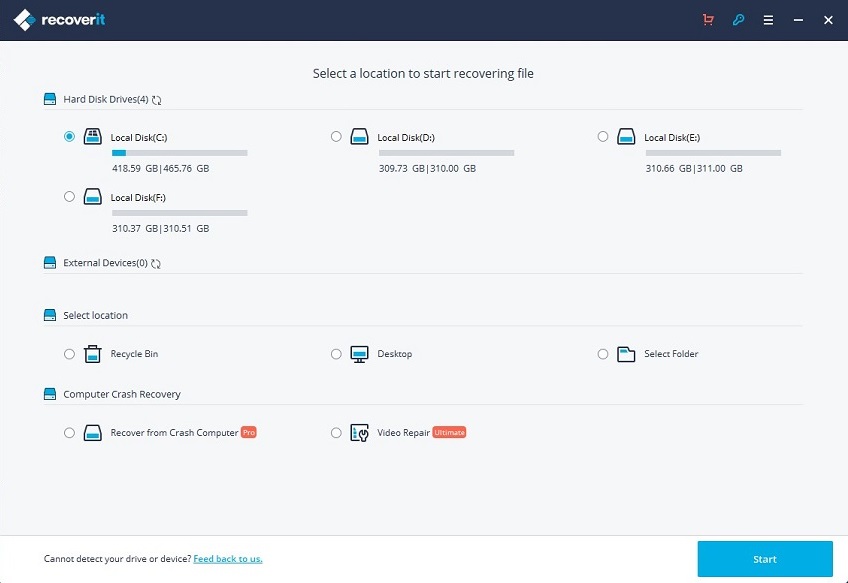 Step 2: Scan the Location
It will start an all-around scan on the targeted location. It will take few minutes to complete the scanning. During the process, you can pause or stop the scanning process if you find your data at any time.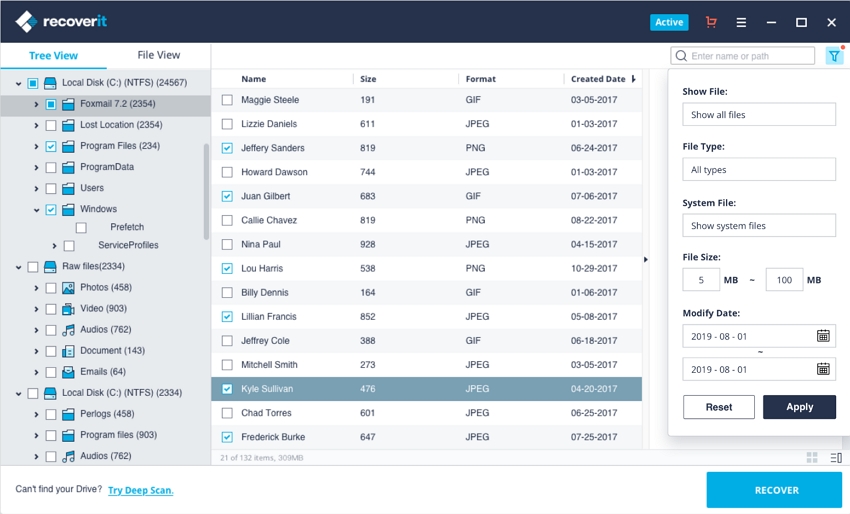 Step 3: Wait for Scanning
Data scanning is in progress. Wait while the scanning process completes.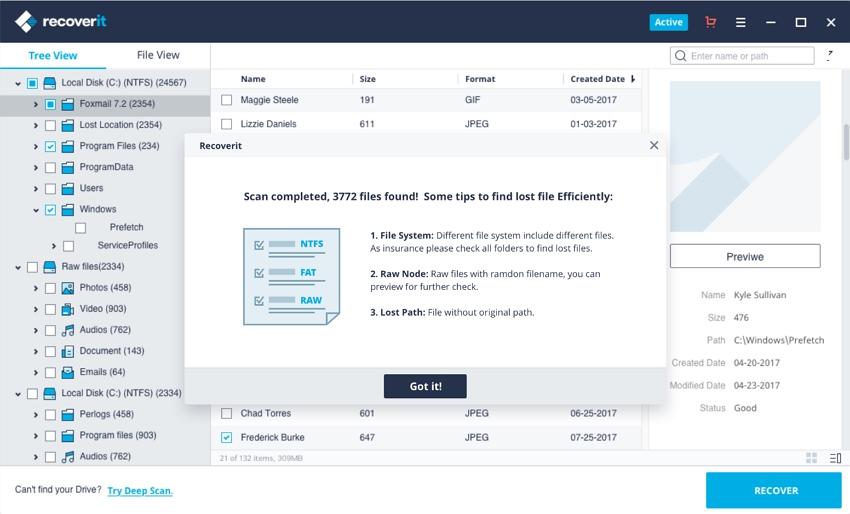 Step 4: Preview and Recover files
After scanning it will show you all lost data and you can find and select the target data. Click the recover button and it could be retrieved at once.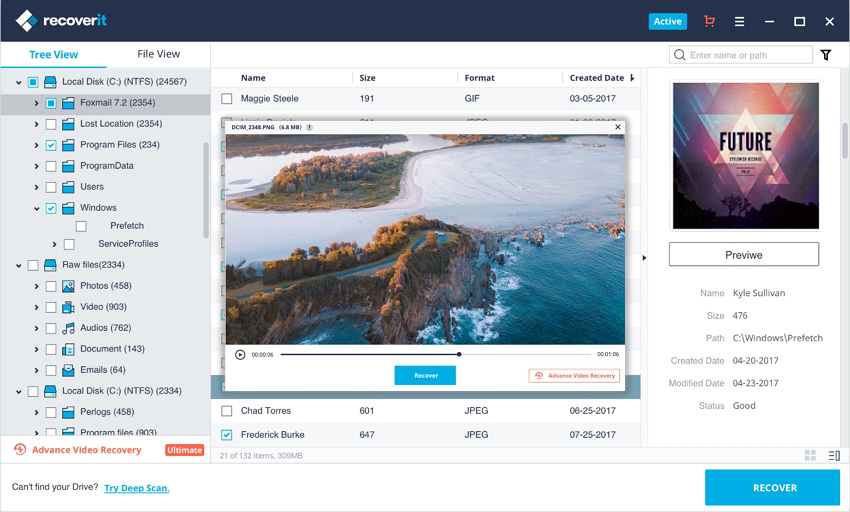 3. Introduction to Advanced Video Recovery Function of Recoverit
Recoverit Data Recovery is a powerful video file recovery program, it can easily get deleted videos back. Video files are different from any other type of data. Sometimes, you might find the video corruption after the preview using software. If so, Recoverit works for you. Recoverit Data Recovery Ultimate supports Advance Video Recovery feature. It scans, gathers and matches the fragments of your corrupt videos, and thus ensures most of your videos are recovered from DSLR, Digital cameras, Drones, Action Cameras, Dashcams, camcorders, SD card, PC, HDD, etc. Recoverit supports all video formats: AVI, MOV, MP4, 3GP, 3G2, ASF, SWF etc.
Steps involved in advanced video recovery process are as follows:
Scan and match your video fragments
Merge the fragments from the same video
Recover your videos and keep 95% of them intact
Recover unlimited video files without corruption
Click Advanced Video Recovery option to recover fragmented video file.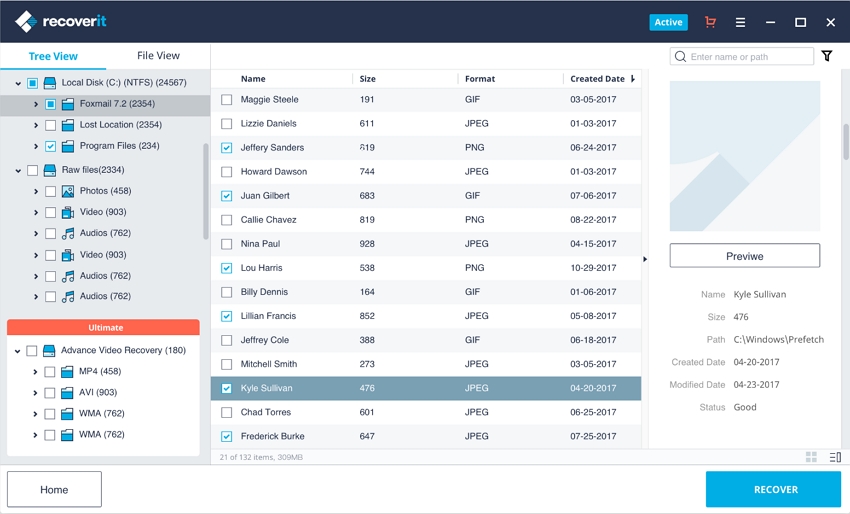 4. Steps to Repair Corrupted Video with Recoverit
Video files can get corrupted for various reasons. For instance, if you care not careful while shutting down computer and a video file is running in the background then that file will have the risk of corruption. Or if no good antivirus program installed on your computer. Another reason that might cause corruption of video file is a device error while the video was being recorded.
Video Repair is powerful video repair software for repairing corrupt, broken or damaged MOV, MP4, M2TS, MKV, MTS, 3GP, AVI, and FLV file formats. It supports two repair modes. Quick repair is to repair various video errors. Advance repair can repair your corrupt videos by analyzing the data and technology of the sample video shot by the same device.
Recoverit Video Recovery has following features:
Repair multiple formats of videos simultaneously.
Free scan for corrupt videos and preview repaired videos before saving them
No limitations on size of Video files for repair
Repair any number of corrupt Video files
Steps to Recover Corrupted Video
Step 1: Add your corrupted videos
Launch the application on your computer. To repair your corrupted video files, you can add it through clicking Add button or "Add video and start repairing" area.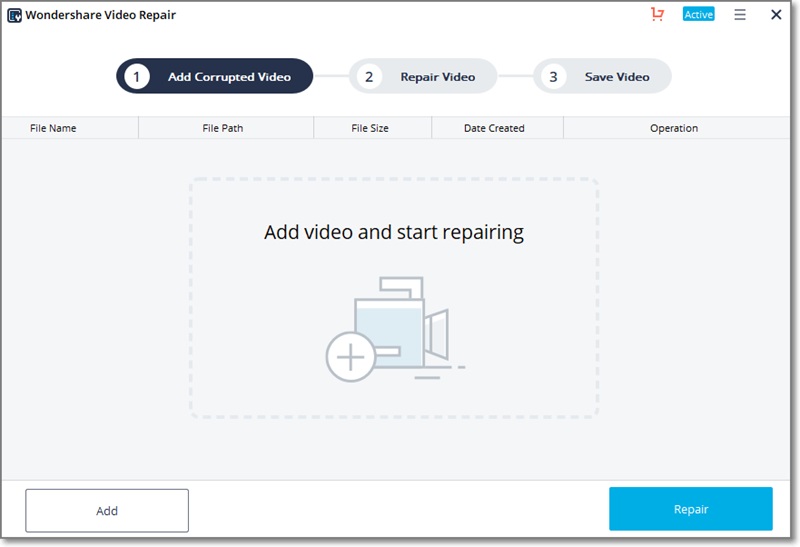 Step 2: Repair your videos
As soon as you have added all the corrupted videos, click on the Repair option to start the video repair process.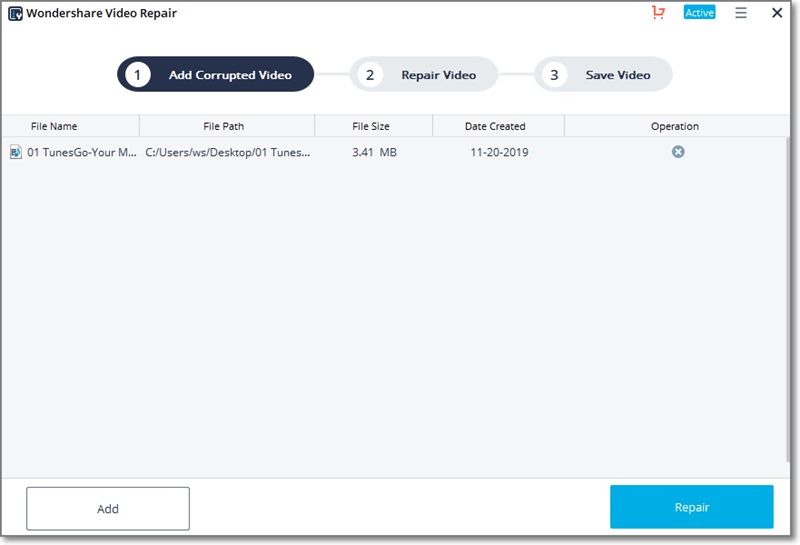 Step 3: Preview the videos
It will take some time to repair and once it has finished the repair process, a reminder showing info of successful fix will pop up on the screen. Press OK to close the operation.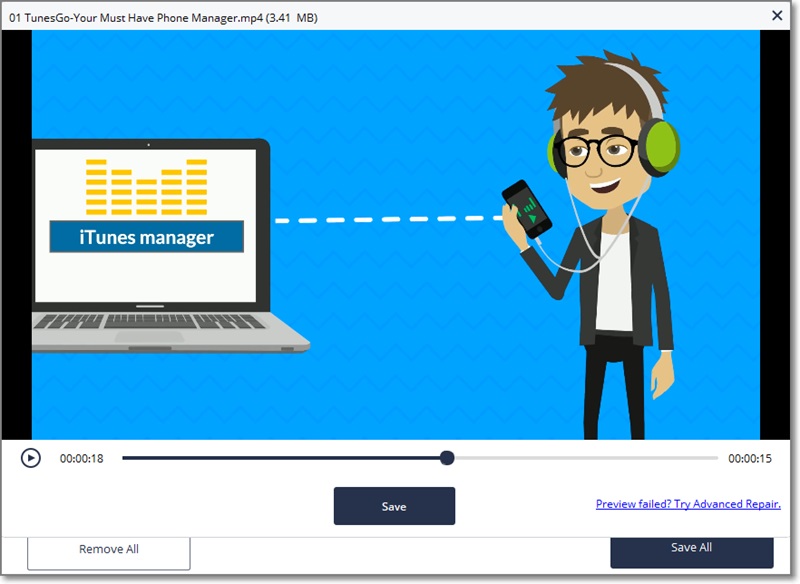 Step 4: Advance mode for severely corrupted video (optional)
If the videos are severely corrupted and not repaired successfully, please go to the advance repair mode. Just click Advanced Repair button.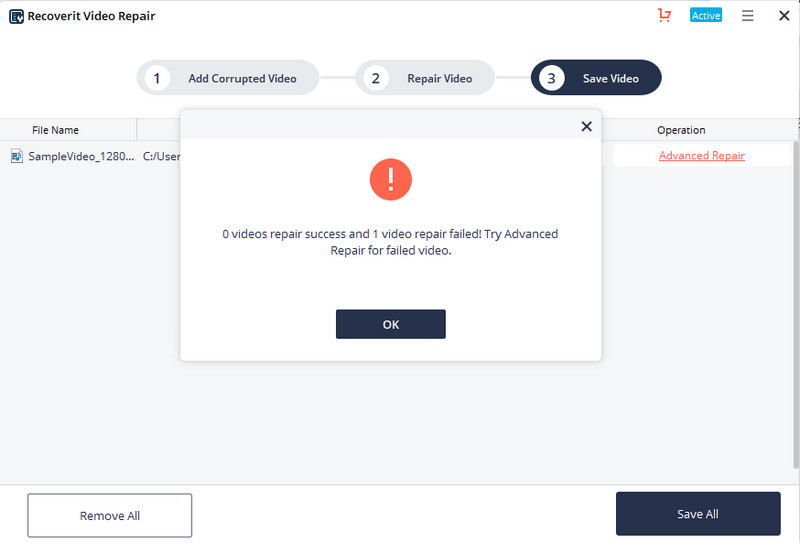 Then add a sample video and repair it now.
Step 5: Save repaired video
The advance repair will perform the repairing process and prompt a success message when the process is completely done. Now, you can play these videos and you will not see any error on the screen.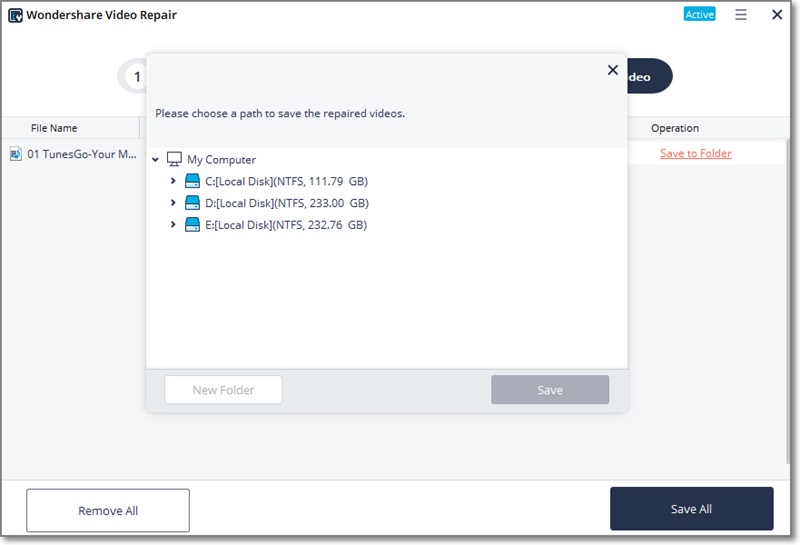 SD Card Recovery
Recover Card Data

Repair Card Errors