Q: How can I recover deleted files from SD card?
I deleted all my precious photos, some important document files stored on SD card. Is there any solution to get my data back? how do I recover accidentally deleted files from SD Card?"
Accidentally deleted or lost data and files from SD card is the common reason. But don't worry about the data and files permanently lost from SD memory card, all your data still store on the SD card if you do not save any new data on it. The following guide we will offer you a professional SD Card Data Recovery software to help you recover deleted files from SD card easily and effectively, and the best solution to help you fix damaged or corrupted SD memory card and get the data back.
Part 1. Recoverit SD Card Data Recovery Software
We recommend the most powerful Recoverit Data Recovery to help you recover files from SD card. It can easily recover deleted or lost data and files from SD card. Even the SD card is corrupted or damaged, it can help you get all data back.
Recoverit Data Recovery is a professional SD card recovery software, it can easily and effectively help you recover lost or accidentally deleted data and files from SD memory card device.
Video Tutorial on How to Recover Files from SD Card
---
Part 2. How to Recover Deleted Files from SD Card
Just download and install Recoverit Data Recovery Software on your Windows computer. This tutorial we will focus on how to recover deleted files on Window computer, if you are using Mac, you can go to this guide to perform SD card data recovery on Mac. Also, with the steps you can start memory card data recovery.
Step 1

Select your SD Card or Memory Card Storage

Make sure your SD card connected to the computer. Select your SD memory card on the disk list, click "Start" button to process.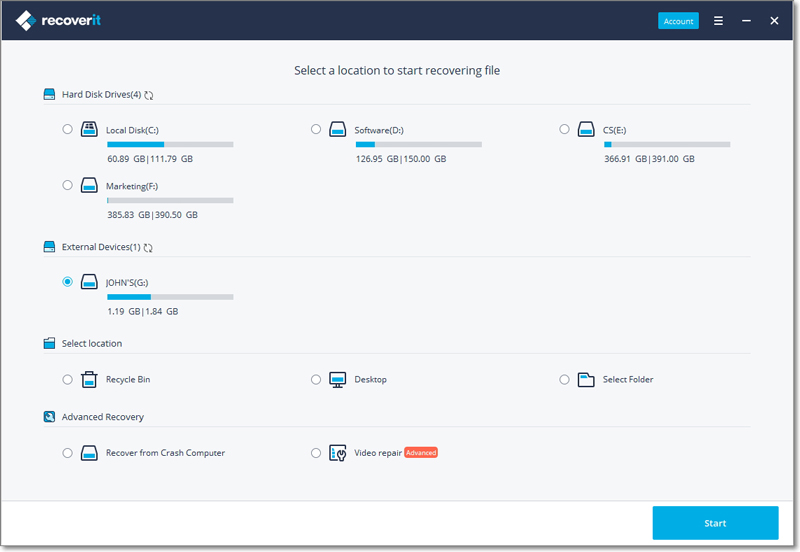 Step 2

Scan the SD Memory Card and Search Data

Recoverit SD Card Recovery Software will start scanning your SD card, it will take minutes to completly the scan.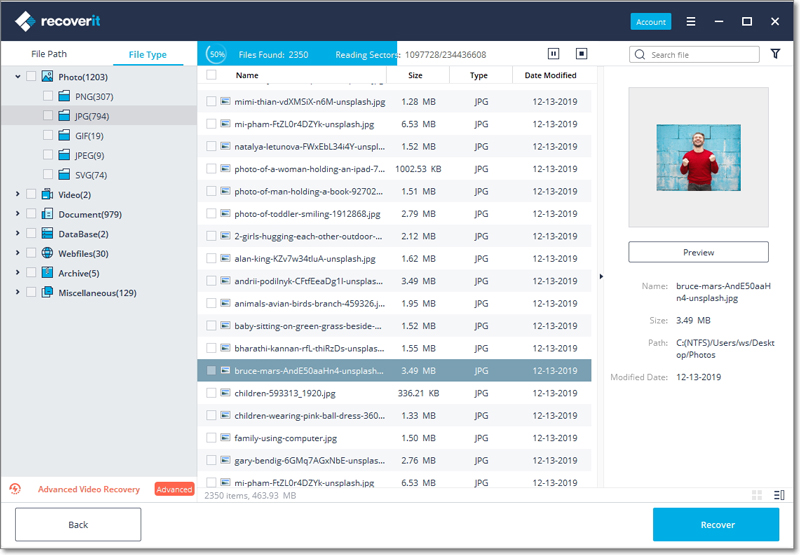 Step 3

Preview and Recover Deleted Data

After the scanning, you can check all recovered data and files. Go to preview some recovered files like photos, video and offcie files, select your files and click "Recover" button to get them back.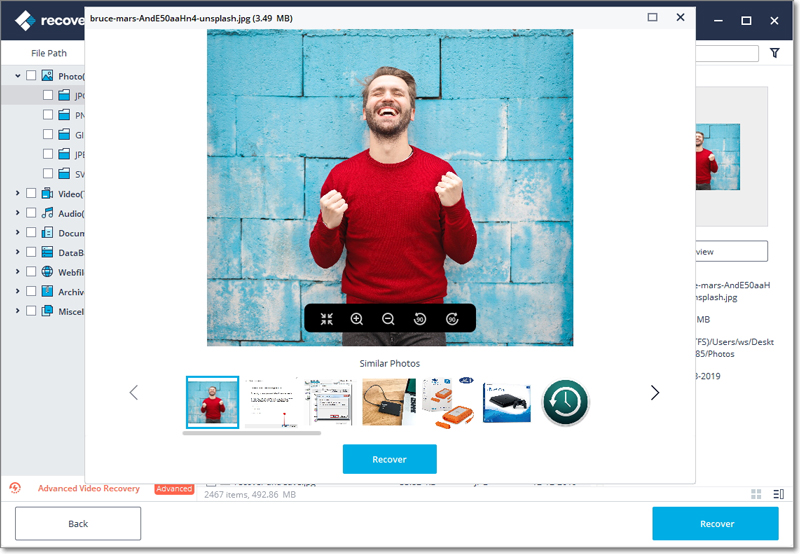 Note: Please do not save any recovered files to the SD card which your lost data before. It can be caused data lost again or overwritten the data, you need get a safe external storage to save.
With simple steps Recoverit Data Recovery can easily and effectively to help you get lost data and files back. It is the best data recovery solution to help you recover deleted files from SD memory card. Download it and try it now.
---
Part 3. How to Fix a Damaged or Corrupted SD Memory Card
Recoverit Data Recovery also can help you recover data from corrupted or damaged SD card, the corrupted or damaged SD Card storage cannot save any new data and files, or it will cause data loss again. You can try to fix the damaged and corrupted SD memory card, the next guide we will show you three ways to fix damaged SD memory card, all will help you get the SD card for normal use.
Symptoms of a corrupted SD Card
When the SD memory card got damaged or corrupted, there is a symptom for it. SD card is usually used for mobile phone (Android Phone), digital camera, camcorder and other devices. These devices also can cause SD card get corrupted and data loss. We can learn more about the the symptoms of a corrupted or damaged SD card, in case it can avoid data loss.
Some or all data and files are missing from SD memory card;
SD card error message cannot access and cause data unreadable;
Write or Read error of SD card, the system cannot read the SD card device;
Accidentally formatted the SD card when it asking format error;
Other Error messages like "memory card error" or "corrupt memory card";
The error of "Disk is write-protected" and cannot edit data on SD card.
All these SD card error, we can manage it well. Make your SD memory card live a longer time, or you can fix it as following solutions.
Solution 1. Try an SD card on a different device/computer
Sometimes, it is not the SD card which is at fault, but it is the computer or device which causes the problem. Connect an SD card to a different device or computer and check if it works. If it does work, it could very well be the case that the card is incompatible with your device.
Solution 2. Format Corrupted SD Card
One easy way to fix a corrupted SD card is by formatting it. To do this, simply connect an SD card to your computer and follow these steps to format SD card in Windows:
Connect your SD card to the computer with a card reader.
Open up My Computer, select your SD card and right-click on it
Click on Format from the drop-down menu to open a pop-up
Select on 'Restore device defaults' and uncheck 'Quick format' for a deep scan
Click on start and Windows will begin formatting an SD card
Solution 3. Fix an SD card with the "Chkdsk" command
You can try using the Windows Chkdsk command to try and fix a corrupted SD card. To do this, connect an SD card to a PC and follow these steps:
Press Windows + R to open the Run Window
Type cmd and press enter to open the command prompt
Type chkdsk followed by an SD card's location, a colon and /f (ex: If an SD card is located on drive H, type 'chdsk h: /f)
Press enter and Windows will begin fixing the corrupted SD card
The above-mentioned solution to help you fix corrupted or damaged SD card, the safest way to keep your data avoid loss, you should get your data back first with the reliable Recoverit Data Recoverysoftware. Or you can get a new SD card instead of fixing.