About SD Card Recovery Issue
"I deleted all my precious photos, some important document files stored on SD card. Is there any solution to get my data back? how do I recover files accidentally deleted from an SD Card?"
SD cards are wonderful portable storage solutions that are both inexpensive as well as convenient. Unfortunately, SD cards are very unpredictable, and they are prone to accidental formatting, corruption or damage. When an SD card gets damaged, you will see an error notification. In most cases, you won't be able to access your data on a damaged, formatted or corrupted SD card. If you don't handle this situation correctly, you may even experience permanent data loss.
Fortunately, you'll be glad to know that you can get a SD card recovery to retrieve your data back. Recoverit Data Recovery is a reliable data recovery software. It will be able to recover your data easily and effectively including photo recovery from SD card.
Symptoms of a corrupted SD Card
Before we take a look at how you can use Recoverit SD card data recovery, let's take a look at the symptoms of a corrupted SD card. You can consider an SD Card to be corrupt if you notice any of the following signs and symptoms:
Some or all files are missing.
You see an error notification which prevents you from accessing an SD card. The message may notify that the directory or file is unreadable and corrupted and is accompanied by a black screen.
You cannot access folders within an SD card if you browse using a system file manager/explorer. This is usually accompanied by an error notification saying Write or Read error, which is an indication that the system is unable to read from an SD card.
You are unable to copy contents from an SD card, and you see an error notification saying 'Disk is write-protected'.
You see an error notification asking you to format an SD card upon connecting it to a computer.
You see error messages saying "memory card error" or "corrupt memory card" if you access files.
You cannot delete, copy, add or save anything.
When you accidentally lose data from your SD card, immediately stop using your SD card. Remove the SD card from the device it is connected to like a digital camera, camcorder, mobile phone computer or even a game console, and store it in a safe place.
Recoverit - The Best SD Card Data Recovery Software
Recoverit is a leading data recovery software trusted by millions of users worldwide. Recoverit SD card recovery software offers you the benefit of free SD card recovery. Whether an SD card has been damaged, formatted or corrupted, you can count on Recoverit to restore your data. With Recoverit data recovery software, you can recover data from SD card whether you have faced accidental data deletion, unexpected power/application failure or a damaged/corrupted card.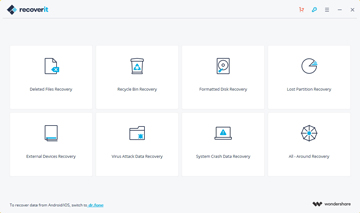 Recover lost or deleted files, photos, audio, music, emails from SD card effectively, safely and completely.
Supports data recovery from recycle bin, hard drive, memory card, flash drive, digital camera and camcorders.
Supports to recover data for sudden deletion, formatting, lost partition, virus attack, system crash under different situations.
How to Recover Data from SD Card
Just download and install Recoverit data recovery on your Windows computer and follow the next simple steps guide how to recover data from your SD card. Connect your SD card to the computer, launch Recoverit data recovery software to perform SD card recovery and memory card recovery.
Please select a data recovery mode

To recover data from SD card, you can select the specific data lost scenario: "External Device Recovery" or select the option "All-Around Recovery" to start.

Make sure your SD card have connected to the computer, click "Next" button to process.

Choose the SD card to scan your data

Once your SD card is recognized by the program, you can see it displayed in the list of drives. Choose the drive containing your SD card and click "Start" to search for lost or deleted files on it.

Quick scan to search deleted files

Recoverit data recovery will start a quick scan to search deleted files. You can simply preview some recoverable files after the scan. If quick scan can't find your lost data, you can go to "All-Around Recovery" scan your SD card. It is a deep scan which will deeply search your SD card but it will take more time than quick scan.

Preview and selectively recover SD card data

When the scan finishes, you will be able to preview the files found. Here you can see if the files you were looking for are recovered or not. If they are there, then select the files and recover them with just one click.
Note: Please do not save any recovered files to the SD card which your lost data before. It can be caused data lost again or overwritten the data, you need get a safe external storage to save.
Video tutorial on how to recover data from SD card
How to Fix a Damaged or Corrupted SD Card
Once you have successfully restored data, you can look to fix your damaged or corrupted SD card. There are three ways you can do this:
1. Try an SD card on a different device/computer
Sometimes, it is not the SD card which is at fault, but it is the computer or device which causes the problem. Connect an SD card to a different device or computer and check if it works. If it does work, it could very well be the case that the card is incompatible with your device.
2. Format Corrupted SD Card
One easy way to fix a corrupted SD card is by formatting it. To do this, simply connect an SD card to your computer and follow these steps to format SD card in Windows:
Connect your SD card to the computer with a card reader.
Open up My Computer, select your SD card and right-click on it
Click on Format from the drop-down menu to open a pop-up
Select on 'Restore device defaults' and uncheck 'Quick format' for a deep scan
Click on start and Windows will begin formatting an SD card
3. Fix an SD card with the "Chkdsk" command
You can try using the Windows Chkdsk command to try and fix a corrupted SD card. To do this, connect an SD card to a PC and follow these steps:
Press Windows + R to open the Run Window
Type cmd and press enter to open the command prompt
Type chkdsk followed by an SD card's location, a colon and /f (ex: If an SD card is located on drive H, type 'chdsk h: /f)
Press enter and Windows will begin fixing the corrupted SD card
Once you restore data and fix corrupted SD card, you can prevent your card from failing in the future by following some simple tips. Always make sure to remove your card safely from any device or computer. Never use a card to its full capacity and keep your card in a safe environment. Stop using a card the moment you see errors and format your card from time to time. These tips will reduce the chances of failure of an SD card. And, when your card does fail, you can always rely on Recoverit SD data recovery.