Free SD card recovery: How to recover SD card data without difficulties
How to recover data from an SD card for free? How to recover the micro SD card if the card got corrupted? If your data files get lost from a damaged or corrupted SD memory card. The first thing you need to do is get the best free data recovery software to help you retrieve your data back. The following guide will show you the best free SD card recovery program or memory card data recovery software to help you recover SD card data for free. Also, the solutions to fix damaged or corrupted SD memory card.
Part 1. The Best Free SD Card Data Recovery Software
The best free SD card data recovery software, we recommend Recoverit Free Data Recovery. It is a reliable SD memory card recovery software, and it can help you recover data files from Micro SD card and memory card easily.
Recover deleted or lost data from Micro SD card for Free.
Recover SD card data due to accidental deletion, formatted, virus attack.
Recover any data files from SD cards with a high success rate.
Supported OS: Windows 11/10/8/7/XP/Vista; Mac OS 10.10-Mac OS 12
Video Tutorial on How to Recover Files from SD Card
---
Part 2. How to Recover SD Card Data for Free
Download and install free SD Card Recovery software on your PC. Connect your Micro SD card to the computer and follow the next guide to perform SD card recovery. If you are using Mac, you can download Recoverit Mac Data Recovery and follow the guide on how to recover data from an SD card on Mac.
Step 1. Select your SD card media
Launch Recoverit Free Data Recovery to recover SD card data. Select your SD card, which is detected on your computer, select it, and click the "Start" button to process.
Step 2. Scanning the micro SD card
Recoverit Data Recovery software will start a quick scan to search your data. After the first scan, if you cannot find your files, you can scan again with "Deep Scan," which will search for more files from the SD card.
Step 3. Preview and recover SD card data
After the deep scan, you can check all recovered data files. Preview some recoverable photos, select your data, and click the "Recover" button to get your data files back.
Note: to avoid overwriting on other files, save the recovered results on another hard disk.
With Recoverit Free Data Recovery software, you can quickly get your data files from the SD card. Download the best free SD card recovery software and try it for now. By the way, maybe you also need pen drive data recovery software.
---
Part 3. The Other Solutions to Fix SD Card and Recover Data
Solution 2: Try the chkdsk command
Step 1 Connect your android device to your computer and mount it as a disk drive (select the mass storage mode)
Step 2 Open My Computer on your PC and take note of the drive letter assigned to your SD card.
Step 3 On your computer, click on Start -> All Programs -> Accessories -> Command Prompt.
Step 4 Enter this command: chkdisk (letter assigned to your SD card):/f.
Step 5 Lastly, just tap enter, and the computer will initiate the process to fix your corrupted SD card.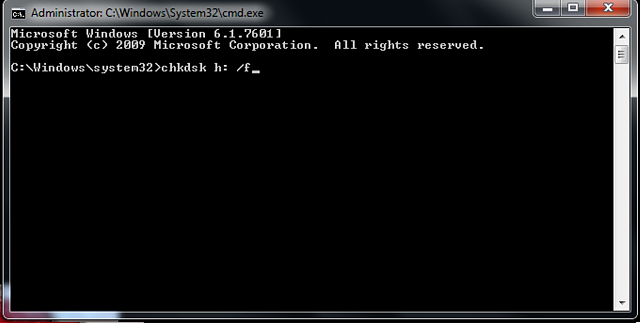 Solution 2: Rename a new drive letter
In another way, your computer may find it hard to read your SD card when connecting it through a card reader. This is because the computer cannot read drive letters like C, D, E to the reader you are using. In this case, you need to assign a drive letter manually on the window to solve this problem. Follow the steps below to assign a new drive letter:
Step 1 Unplug the SD card from your digital camera or Android device first and connect it to your PC.
Step 2 Right-click on My Computer and click on Manage.
Step 3 Next, click on Disk Management on the left-hand side of the page. This will load the Virtual Disk Service.
Step 4 Right-click on your SD card when the loading finishes and choose Change Drive Letter and Paths.
Step 5 Select the drive letter and click on Change.
Step 6 Lastly, choose the right drive letter from the drop-down list. Click on OK to see if the computer can recognize the SD card now.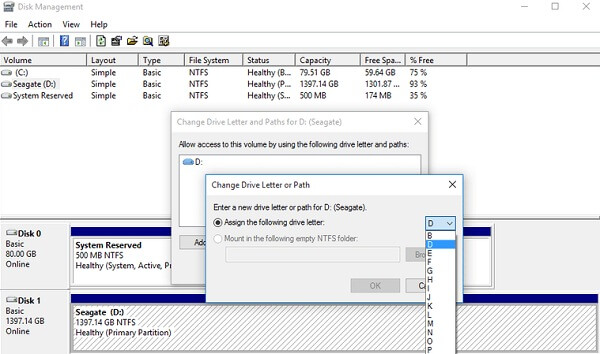 Solution 3: Reinstall the driver
Reinstalling the driver of the SD card is another solution to try. This will also repair the SD card and give you access to your data. Follow the steps below to reinstall the driver:
Step 1 Right-click on My Computer and choose Manage from the list.
Step 2 Select Device Manager from the left.
Step 3 Double click on the Disk Manager and right-click on your SD card (use the name to identify it).
Step 4 Click on uninstall and tap OK; this will uninstall the driver from your computer.
Step 5 Unplug your SD card from your computer after this and restart the PC.
Step 6 Lastly, reconnect your SD card to your PC via a card reader. The PC will detect it and reinstall the driver.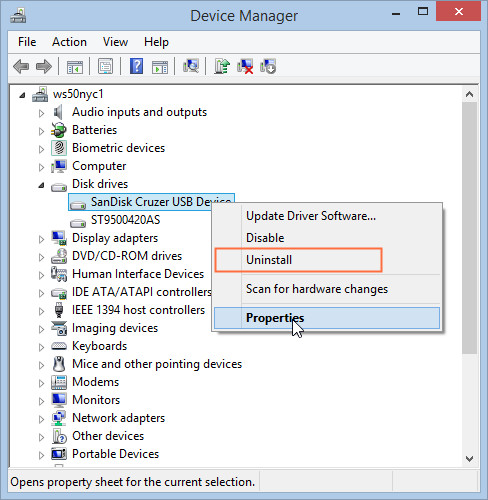 ---
Part 4: What Are the Reasons Leading to Lost Data from SD Card
The reasons for lost data from SD cards are as numerous as the number of photos an SD card can accommodate. Data loss can sometimes be due to user error, but other times can be that the SD card's fate was entirely out of your hands. Below are some of the reasons for lost data from SD card:
Accidental deletion: This happened when you deleted files accidentally from your SD card without having a backup on your computer. This can happen either by formatting the entire SD card or by deleting the files individually.
Errors resulting from moving files: This might occur while trying to transfer files from your electronic device to your SD card.
Partially overwritten files: When two or more files look alike, and you decide to delete one or overwrite one for the other. You may lose some files this way too.
Reformatting SD card: You may lose files while reformatting your SD card. Always backup your data before formatting or reformatting your SD card.
Damaged files due to storage failure: If you do not have enough space on your SD card before moving files into it, you may lose the file, or the file may end up being corrupt.
---
Part 5: How to Extend SD Card Life and Prevent SD Card Damaged and Losing Data from SD Card
Whether you love them or hate them, memory cards are and will always be part of electronic devices, especially cameras, phones, games, among several others. No matter the brand, the commonly used memory cards (including SD cards, memory sticks, CF cards, Micro SD cards, and the likes) are meant to use five years. However, it may get damaged, corrupt, or failed in months or even days if you are using it wrong. You can use your SD card for five years or more if you use it rightly. Below are some tips to extend SD card life and prevent SD card damaged.
Shut down your electronic device before inserting or removing the SD card.
Keep your SD card away from cold, hot, dusty, wet, or fascinating places or fields.
Use a single SD card per electronic device (do not share one among two or more devices).
Copy files to your SD card (do not download directly to your SD card from the internet).
Keep the SD card device fully charged all the time.
Do not burn, bent, or damaged SD card.
Do not make some changes or edit SD card content directly on your computer.
Scan or format the SD card rightly.
Extract SD card out from your computer rightly.
Keep an SD card with enough free space.
The above tips, when followed rightly, will extend the life of your SD card. It will prevent your SD card from damage, and you will never lose data from your SD card (whether due to a damaged or corrupt SD card). However, if you have any issues with the SD card that leads to losing data, you can still use our free data recovery software or corrupted sd card recovery tool to help you solve problems.
SD Card Troubleshooting
Recover Data from SD Card

Card Repair Solutions