1What is BOOTMGR?
Similar to the NTLDR for Windows XP and earlier versions, BOOTMGR the abbreviation for Boot Manager helps operate the system menu to manage unique systems.

The "BOOTMGR is compressed" error is very common, because of which you might not be able to enter the desktops of any of the operating systems. The Error may be as follows:
BOOTMGR is missing. Press Ctrl+Alt+Del to restart
Your windows installation disc provides an option to fix this error. All you have to do is install the DVD, and select "Repair my Computer". Upon this you will have OS installation, and after browsing into "Load Drivers" all you have to do is deselect the "Compress my Computer" option! Apply the changed settings onto your files and subfiles, and then reboot your system, the error will hopefully be gone now.
2Repair a "BOOTMGR is Compressed" Error in Windows 10/8/7/Vista DVD
Your Windows Installation Disc provides system recovery options to fix a "BOOTMGR is Compressed" error.
1. Boot from the Windows Installation DVD. Set CD/DVD-ROM as the first boot device if not set already.
2. Select "Repair My Computer"
3. Select the OS installation; click the "Load Drivers" button to bring up a drive browser.
4. Right-click on the system drive, and deselect "Compress This Drive", which should still be selected (That's why the "BOOTMGR is Compressed" error has occurred).
5. Click "Apply", in the pop-up dialog box, choose "Apply to Subfolders/files".
6. Reboot your computer and the "BOOTMGR is Compressed" error should be repaired.
By the way, ntldr compressed error also occurs sometimes.
3Repair "BOOTMGR is Compressed" Error with Bootable CD/DVD/USB
Another way to fix this error for those who don't use Windows Vista/Windows 7 is also present. Firstly, burn a bootable DVD/CD with LiveBoot. A window such as the follows will appear:
1. Burn a bootable CD/DVD/USB with LiveBoot included in PowerSuite Golden. It's an all-in-one PC toolkit. The screenshot is shown as below.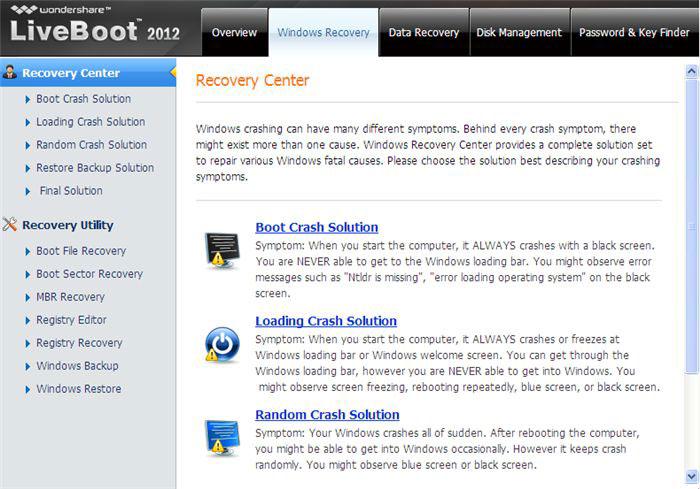 2. Boot your computer with CD/DVD/USB.
3. Now boot your computer with it. Channel into Boot Crash Solutions and there you'll be able to repair "BOOTMGR is compressed" error. It's easy as that!
"BOOTMGR is Compressed" Repair Tips
You are also recommended to use the Registry Cleaner included in the TuneUP kit to scan your registry and fix the problems to get a healthy and faster PC.
4Recover Lost Data caused by "BOOTMGR is Compressed"
As do other errors in our computers, it has often been seen that this error as well, messed with our computers. It is highly likely that when this error is developed into your computer, you might lose a lot of important files on your hard drive. Even at times when you're trying to fix the issue, a lot of other files get formatted, and your data is lost.
If you do find some data loss after you've fixed the "BOOTMGR is compressed" error, make sure you download a powerful data recovery tool. Only through that will you be able to regain the data lost on your computer.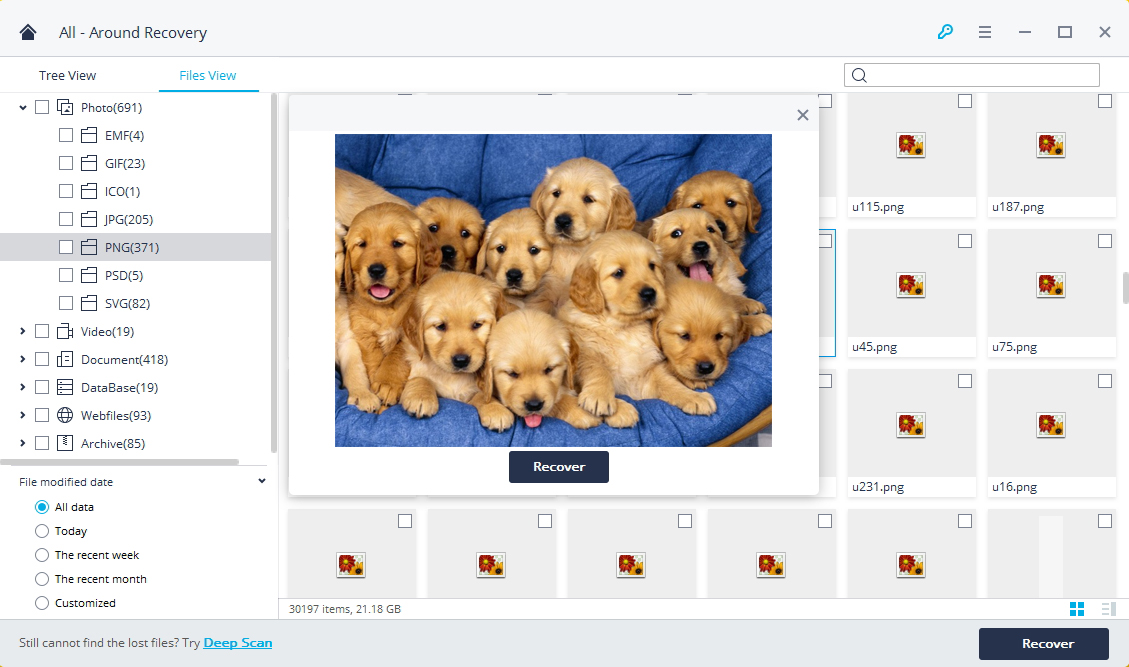 Recover lost or deleted files, photos, audio, music, emails from any storage device effectively, safely and completely.
Supports data recovery from recycle bin, hard drive, memory card, flash drive, digital camera and camcorders.
Supports to recover data for sudden deletion, formatting, hard drive corruption, virus attack, system crash under different situations.
Recoverit hard drive recovery is capable of restoring deleted/lost files or formatted partition from hard drive (HDD and SSD), external hard drive, usb flash drive, memory card, digital camera, camcorder, iPod, Music Player and many kinds of mobile devices (Nokia, Blackberry phones and Phones with older Android OS than ICS).
Computer Troubleshooting
Win System Crash

Windows Tips

Computer Problems

Blue Screen Errors