How to Fix blue screen stop 0x0000003b
Windows operating system is one of the most user-friendly operating systems, but it is still a program that can encounter errors performing various operations. There are numerous types of errors that you may encounter while using Windows environment, like Runtime Error, MBR Error, Error 15 file not found. But the most dreadful ones belong to the category of the blue screen of death errors like 0x0000003b stop. These errors got their name because they halt all functioning of the computer and abruptly shutdowns the computer. Blue screen stop 0x0000003b is one of these Blue screens of death errors that users may encounter using Windows. If you are frequently experiencing these errors and don't know how to fix it, this guide is just for you to fix blue screen error of death. Here, we have provided easy and effective methods to fix the 0x0000003b system_service_exception errors.
Part 1: What is blue screen stop 0x0000003b?
The blue screen stop 0x0000003b system_service_exception is a system error caused by corrupt or incorrectly configured Microsoft IEEE 1394 device drivers and system files. Wrongly configured system files on the computer results in the blue screen stop 0x0000003b. But even this error may be a result of series of action by the user like installing an outdated software or corruption of driver files. The symptoms of stop code error 0x0000003b include periodic freezes of computer, sluggish response, frequent system crashes etc. These types of errors mainly occur when you install a new hardware or software that may interfere with other system processes.
Part 2: Causes of blue screen stop 0x0000003b
There are many reasons that may give rise to BSOD 0x0000003b error. These causes may be closely related to each other and may also become responsible for causing other errors. Below we have briefly discussed all the causes of the stop code 0x0000003b.
1. Misconfigured or corrupt drivers
Misconfigured system files and device drivers are the primary reason for the system_service_exception 0x0000003b.
Device drivers are programs that allow hardware devices to interact with the operating system. These devices include printers, audio devices, video card, scanner and others. Installing device drivers are very important if you want to use that device on a system. But what happens when you install corrupted or outdated device drivers? They will interfere with other system files and programs and result in the 0x0000003b system_service_exception. So, abstain from installing outdated or corrupted drivers and always keep the drivers up to date to prevent 0x0000003b blue screen error.
2. Corrupted registry entries
Corrupted registry entries are another reason for the 0x0000003b system_service_exception. Windows registry service is a database that keeps the entry of all the installed software on a system. When new programs are added, a registry entry is made in the database particular to the program. But if by some chance the entry in the Windows registry got corrupted, it can result in the system service exception 3b. Windows registry may get corrupted when users install some malicious tools or programs like malware or adware whether intentionally or unintentionally that changes or corrupts the registries.
3. Damaged system files
System files are those files are very crucial for the functioning of the operating system. Corruption or damage to system files can give rise to a lot of serious errors which also includes blue screen stop 0x0000003b. System files may be damaged due to a lot of reasons like virus attacks, installing a software update or windows update. Primarily Windows update or downgrades are responsible for damaging system files and give rise to BSOD 0x0000003b in Windows.
4. Memory errors/corruption
The primary memory of a computer performs the read/write operations. Every program is stored on hard disk but is transferred to primary memory or RAM for execution. If the RAM is corrupted or damaged, it couldn't perform the execution of program codes and this may give rise to system_service_exception 0x0000003b windows. Aside from encountering blue screen stop 0x0000003b, the system may stop working entirely. You need to replace the malfunctioning RAM with a new RAM to solve the stop 0x0000003b error.
5. Virus or malware invasion
Viruses or malware can also corrupt the Windows registries and give rise to blue screen stop 0x0000003b. These are the programs that corrupt the data present on the computer. This includes system files, driver files, program files or other data stored on the computer.They latch on to the program codes and change them in a way that makes it easier for them to replicate themselves. Viruses can also change important file information and links to the files with their own address so that when the user runs the program, the virus program is run instead. The blue screen error code 0x0000003b may be appearing because viruses have replaced the link to a file that is necessary for the execution of various other important system files. Windows will encounter an error while executing the program and show the stop code 0x0000003b.
6. Hard disk damage
You now know that corrupted RAM can give rise to blue screen 0x0000003b stop errors. But the same is also true for the hard disk. When the hard disk has bad sectors, the operating system will not be able to read the data on the corrupted sectors. The blue screen error 0x0000003b may be caused when a program stored in the corrupted sectors is executed and the system is unable to retrieve the necessary files.
Part 3: How to fix blue screen stop 0x0000003b
Since there are various reasons for the 0x0000003b system_service_exception, the solution to the error will also be many. Below we have discussed some of the methods to fix the 0x0000003b bluescreen error on Windows.
Method 1: Performing a malware/virus check
Viruses or malware are harmful programs that may corrupt the system files, Windows registries, and the software programs. All these can hamper the normal functioning of the Windows, resulting in system_service_exception 0x0000003b. Thus, if you think that the frequent blue screen stop 0x0000003b is due to possible virus attacks, run a virus check with an anti-virus software. The Anti-virus software will find all the infected files and viruses and remove them, cleaning the system of harmful programs. It is recommended to perform a full system check than a quick scan as it would scan the hard disk for viruses deeply. Quick scan only performs a layered check and may leave some viruses in the system which would again cause problems and delete all malwares and viruses on the computer.
Method 2: Uninstalling defected programs or applications
If the blue screen stop 0x0000003b exception starts occurring after installing a particular program or software, it is better to uninstall that program. These types of problems happen when you install outdated or corrupt software on your computer which results in the malfunctioning of various programs. After uninstalling the program that caused the system_service_exception 0x0000003b, perform a restart and this should fix all the blue screen problems. Uninstall the program by going to Start> Control Panel> Programs> Program and Features> Selecting the defected program and finally clicking on the Uninstall button displayed at the top.
Method 3: Repair the corrupted system files using SFC command
Corrupted system files are one of the reasons for the stop error code 0x0000003b. System files are very important for proper functioning of the system and corruption in them may involve serious problems including the system_service_exception 0x0000003b blue screen stop.
It is very easy for system files to get corrupted due to various reasons, so, Windows has been integrated with a utility that lets users restore the system files to their original condition. This utility is called the System File Checker or the SFC command. This command works in command prompt and its function is to scan and repair the corrupted system files. You can use SFC to repair the corrupted system files by following the below steps.
Search for Command prompt in the Start menu and right-click on it.
Click on Run as administrator to run the command prompt using the administrator account.
Then, type "sfc scannow" in the command prompt and hit enter.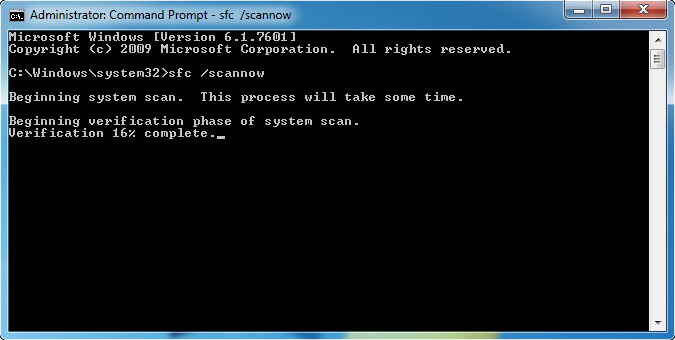 This will start the system file checking process. The system file checker will find and repair all the corrupted system files with a cached copy of the same files saved in the Windows folder.
Method 4: Scan hard disk for errors
Errors or corruption in the hard disk can ultimately lead to blue screen stop 0x0000003b errors. The hard disk may get corrupted due to many reasons but improper usage over time that accumulate and cause bad sectors.
If the file system on the hard disk gets corrupted due to viruses or other reasons, Windows will start showing the 0x0000003b blue screen. You can use the Check Disk or chkdsk utility on Windows to find and repair bad sectors errors on the hard drive. If the above fixes didn't help in solving the blue screen stop 0x0000003b, then you can try the chkdsk to solve the hard disk problems which in turn fix the BSOD 0x0000003b problem.
Click on Start and search command prompt.
Launch the command prompt as an administrator by right-clicking on it and then select Run as Administrator.
Type "chkdsk /f" in the command prompt and press enter. It will begin scanning the hard disk for corruption and repair any errors found on it.

Note: If the errors are irreparable, it will mark the corrupted sectors as unreadable so that no read or write operations are performed on it, preventing system_service_exception from occurring.
Method 5: Checking RAM for corruption
A faulty RAM can also cause the blue screen error 0x0000003b and other system crashes. In fact, most of the errors in Windows is caused by a faulty memory. But before replacing the RAM, you need to make sure that the system_service_exception 0x0000003b is caused due to faulty RAM. You can use the Windows Memory Diagnostics Tool to check the RAM for any errors -
Launch the Run command by pressing Windows + R keys simultaneously.
Type "mdsched.exe" and click the option that says "Restart Now and check for problems".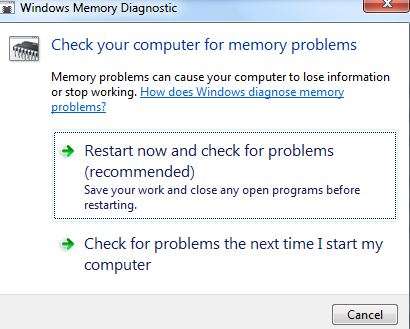 Wait for the computer to restart and diagnose the memory for errors.
If the test displays that the RAM is faulty, you can replace the RAM, otherwise, move to next fix.
Method 6: Restore the system to a previous condition
Windows has a utility program called System Restore that lets users revert any changes made after a certain time period, often referred to as Restore point. You can use the System restore utility if the cause of the BSOD 0x0000003b is software errors and you can't pinpoint the faulty program or drivers.
Press Windows + R to open Run dialog box.
Enter "rstrui.exe" in it and click OK to start the System Restore process.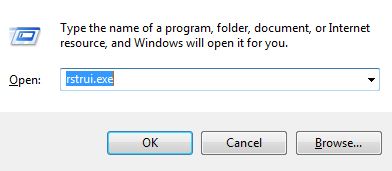 Click "Next" on the first screen and then select a restore point prior to when the Windows start experiencing bluescreen 0x0000003b errors and click Next.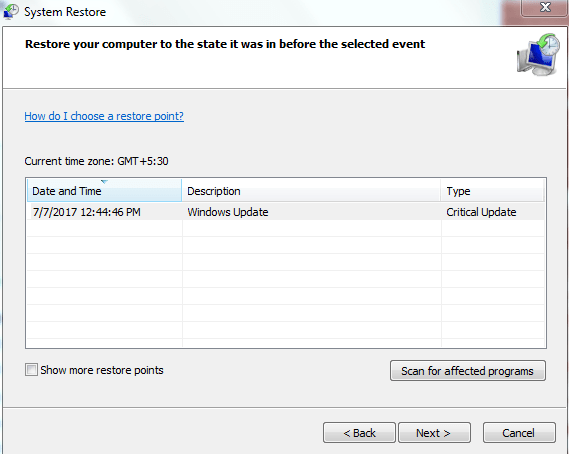 Then, Click on the Finish button and it will start the restore process. By undoing changes to a previous condition, the blue screen stop 0x0000003b should be fixed.
Video Tutorial on How to Fix Blue Screen of Death Error in Windows?
Part 4: How to recover data if you lost data after blue screen stop 0x0000003b?
Data deletion after blue screen stops 0x0000003b error is very common as the files may be lost when you try to recover from the crash. When you aren't able to boot into the Windows after the crash and the only thing you can do now is to reinstall the Windows, it can result in loss of potential files. In that case, why not use a recovery method that lets you recover your data first before installing the Windows.
Yes, it is possible to recover data from your computer hard disk without installing Windows with Recoverit Data Recovery tool. Using this tool, you will be able to create a bootable media on a different computer and use the recovery method to recover your important data.
Features
You can recover files with over 550 formats including documents, audio, video, photos and much more.
Recoverit supports a variety of data loss scenarios like System crash recovery, virus attack recovery, Accident deletion/Formatting recovery etc.
You can recover data even when the system doesn't boot up.
Your Safe & Reliable Files Recovery Software for Blue Screen Error
Recover lost or deleted files, photos, audio, music, emails from any storage device effectively, safely and completely.
Supports data recovery from recycle bin, hard drive, memory card, flash drive, digital camera and camcorders.
Supports to recover data for sudden deletion, formatting, hard drive corruption, virus attack, system crash under different situations.
How to recover data from the computer after blue screen stop 0x0000003b using Recoverit?
Download and install Recoverit Data Recovery on other computer and launch the application.
Select the "System Crash Data recovery" from various recovery modes.
Connect an empty USB drive to the computer and create a bootable USB media.
Boot into the bootable USB media by changing the BIOS settings and start recovering data from the crashed computer.
Data loss due to blue screen stop 0x0000003b can be very frustrating. Many people have suffered data loss due to these errors. If you have also lost data after a blue screen of death, then you would want to recover it. Here in this article, we have shared you the best method to recover data from the computer.
Computer Data Recovery
Windows PE

System problems

PC Errors