How to Fix Stop 0x000000f4 Blue Screen Error
Getting any kind of error while working on your system is quite frustrating, especially while in the mid of something urgent such as installing some software, working on a project etc.
It is important to know what blue screen of death is and what kinds of effect will bring to your computer. If during such process you see that your computer screen has turned blue, showing Stop 0x000000f4 error, then it might seem to be an unknown error to you. Thus to assist you to fix Stop 0x000000f4 Blue Screen Error we have prepared this article.
So, rather than just waiting, move ahead and read this article to understand the issue, possible causes and the best ways to solve blue screen of death easily.
Part 1: What is Stop 0x000000f4 Blue Screen Error?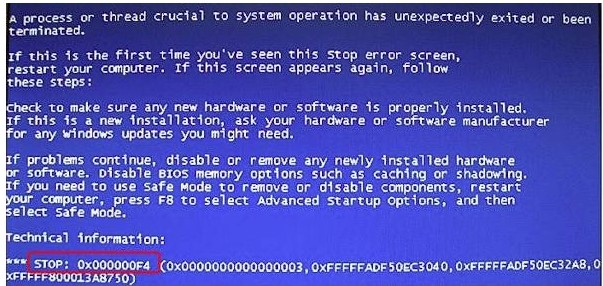 Stop 0x000000f4 Blue Screen Error is a serious error that affects computer function. The error occurs when a process vital to computer function stops working. When important processes die, Windows will modify its function because it must adapt to a new state. When the adjustment happens, the computer will not function as it did. You will not even see the home screen of the laptop/desktop computer. Instead, you will get a Blue screen (as the name implies) telling you that something is wrong with the system. When this error occurs, you cannot use the computer normally. Even if you reboot the computer, it does not guarantee the error has been fixed. In fact, you will need to run an external program to fix the error.
Part 2: Cause of Stop 0x000000f4 Blue Screen Error
The Blue Screen Error occurs when a vital process shuts down or stops working as intended. Hence, the cause can be anything ranging from software to even hardware issues. To fix this error, users must check if the hardware is connected properly or if the software is not infected with malware. This is a rather complicated process but using utility fix software eases the process immensely.
Users are more likely to get the Blue Screen Error after they have installed new hardware on their computer. There are occasions when the process of installing new hardware can go wrong. Not every aspect of a hard drive or processor meshes smoothly with the rest of the hardware. When this happens it has an adverse effect on how the computer works. The adverse effects can shut down vital processes, which lead to Stop 0x000000f4 Blue Screen Error.
Another potential cause of Stop 0x000000f4 Blue Screen Error is hard disk (HD) configuration. A hard disk can be configured to run as a slave. If there are no other devices on the controller channel, it can lead to blue screen error. Ideally, an HD running on slave should be supported by other devices on the PATA, SATA or IDE controller channel. Slave HDs are configured so to bring them under the control of another periphery. If the slave drive is not connected/supported by another device, it leads to blue screen problems.
The cause of Stop 0x000000f4 varies. For example, if computer drivers are corrupted/outdated or not updated wrongly, it might be the trigger for blue screen. Taxing programs (video games) that are too large, incompatible or corrupted files could be the cause. If the OS system is not upgraded/installed correctly, it may be the cause of the blue screen error. Troubleshooting Stop 0x000000f4 is a lengthy affair. However, after the cause has been identified, it is now possible to fix blue screen error.
Part 3: How to Fix Stop 0x000000f4 Blue Screen Error
Fixing Stop 0x000000f4 Blue Screen is a complex process for the average user. Unlike some errors, the problem is not solved by simply rebooting the computer. The user must first troubleshoot the cause of the error before implementing a fix. The problem is hardware or software, due to the causes of Stop 0x000000f4.
Fortunately, there are different methods to fix Stop 0x000000f4.
Solution 1: Check Your Computer System
System Check is the utility tool built into the Microsoft Windows. System Check is ideal for solving a wide variety of problems including the blue screen error. System File Checker is best used if the cause of Stop 0x000000f4 is corrupt or missing system files. Fixing errors with System File Checker involves the following steps:
Open the Command Prompt, the process varies depending on the Windows OS system, but you should get the following window:

Once Command Prompt is running, enter the following code: DISM.exe /Online /Cleanup-image /Restorehealth. The command uses Windows Update to find and fix corrupted files. If Windows Update is corrupted use the following command instead: DISM.exe /Online /Cleanup-Image /RestoreHealth /Source:C:\RepairSource\Windows /LimitAccess

At the command prompt, enter the following code: SFC /scannow and press 'Enter'. The following command prompts the system to scan for corrupted files.

I. Once the scan is complete, you will get one of the following results:
II. No missing/corrupted files.
III. Could not perform the requested operation – If you get this option, run System File Checker in 'safe mode'.
IV. Windows Resource Protection found corrupted files and fixed them (If you get this result, you can fix the files manually.
VI. Windows Resource Protection found corrupted files and could not fix them.
Solution 2: Use Utility Software to Fix Stop 0x000000f4 Blue Screen Error
The other method to fix Stop 0x000000f4 is utility software. Software like Driver Easy is perfectly suited to fix Stop 0x000000f4. However, Driver Easy works only if the drivers are the main cause of the blue screen error. Driver Easy is an excellent tool because it is easy to use. Functions like finding the right driver are automated, saving the user a lot of time when fixing the error. To fix the error with Driver Easy, follow these steps below:
First of all, download and install Driver Easy.
Now, run Driver Easy, and you will get a homepage like the one below:

Click on 'Scan Now' to detect problems with drivers.

Once the drivers are scanned, click on 'Update' to download and install the correct version of the driver. Alternatively, you can click on 'Update All' to install the correct version of all drivers.

Restart your computer and check if the blue screen error is gone.
If the problem is your hard disk, then there are internal tools for the Windows OS to fix it. Simply follow the steps below:
I. Turn on 'Command Prompt' in the box.
II. Run the 'cmd' as an administrator.
III. Type chkdsk /f into the Command Prompt. Finish the process by following the onscreen instructions.
IV. Restart the computer and check if the blue error is gone.
Driver Easy is your best chance of fixing hard drivers. The software is used by more than 3,000 users. It is great for someone who is not familiar with computers. Working with hard drives is a long, hard process, especially for someone who does not know computers. Users can fix driver issues and keep drivers up to date with Driver Easy.
Solution 3: Uninstall Software
If the problem of blue screen error lies in programs, your Anti-Virus software could be the problem. Simply uninstall the software and restart the system. However, if the blue screen error is gone, reinstall the anti-virus software because the computer must be protected.
Thus, using above methods, it becomes easy to solve the issue of Stop 0x000000f4 Blue Screen Error. Follow them to solve the issue as soon as possible.
Video Tutorial on How to Fix Blue Screen of Death Error in Windows?
Part 4: How to recover data if you lost data after Stop 0x000000f4 Blue Screen Error?
It is so inconvenient to lose your precious data after Stop 0x000000f4 Blue Screen Error. In this situation, if you are worried that "Is there any way to get back that data?", the answer is a definite "YES". Indeed it is possible with the help of Recoverit tool from Wondershare. This tool is specially designed to resolve any data loss issue, whatever be the reason. As a result, you will have your data back as it was before facing the Bluescreen error code 0x000000f4. To understand that in detail here we are covering the process in following steps:
Recover lost or deleted files, photos, audio, music, emails from any storage device effectively, safely and completely.
Supports data recovery from recycle bin, hard drive, memory card, flash drive, digital camera and camcorders.
Supports to recover data for sudden deletion, formatting, hard drive corruption, virus attack, system crash under different situations.
Get the tool for Recoverit

First, of all, you need to visit the official website, download and then install it to open the main interface. From there select all-round recovery option

Select Scanning location

Now select the location where you lost your data to start the scanning process.

Preview and Recover

Finally, once you see the data which you had lost, press the Recover button to get data back.
Conclusion
Therefore to conclude, hopefully, now you stand in a well-organized position to deal with Stop 0x000000f4 Blue Screen Error on your system. Hence, without delaying any more, go ahead and follow the steps above and in case you face data loss use Recoverit software to get back all your lost data due to the Bluescreen error 0x000000f4.
Computer Data Recovery
Windows PE

System problems

PC Errors