Q: I found Facebook Images broken?
"I am surfing through Facebook but this annoying problem of "Facebook Images broken" is taking away all the fruitfulness of my surfing. That is not really it, I am in some groups and I have followed some pages which I use for my academic assistance they also are showing this error. What is the point of using Facebook when you can't even view image."
You are experiencing a problem which millions of Facebook users have faced somewhere in their life and is not that unusual. The issue of "Facebook images broken" can be seen in any of your devices either if it is old or new. No doubt this is a real headache, using Facebook without pictures and there is no debate that you might be lacking in your academic progress as compared to your colleagues. Still do not stress yourself there are some small and easy ways to tackle this problem. All your questions have the answers in the guide given below.
Why are my Facebook images broken sometimes?
So the issue which is encountered by you does not have a particular cause, there can be different reasons of this problem. Firstly the device which you are using has an important role to play for causing this problem. The issue is faced on laptop/pc as well as any mobile devices. Numerus tiny reasons can cause this trouble for the Facebook users all around the globe. I will elaborate some causes for you:
Your Facebook app may not be updated or installed properly.
You may be having a poor connection of internet which is the most usual cause of this trouble.
There are chances that your Facebook caches are not clear.
On your Pc, your browsers cache would be stuffed.
Incompatible plug-ins on your browser can also cause this problem for you.
Your browser would not be efficient enough.
---
Part 1: How to solve Facebook fails to load photos/videos problem on android / iPhone?
Okay so now it is time to solve your problem, the causes of the trouble are not so complex so do not stress yourself. The methods to get rid of this issue are simple and short.
1: Restart your android / iPhone
As restarting your device can solve multiple problems, solution to this problem also might be this.
Step 1: press the power button for 15 seconds.
Step 2: press the restart button.、
Step 3: turn on your application and see if the problem is solved.
2: Adjust your network connection.
Your connection has an important part to play in your Facebook surfing, if the connection is not fast enough, the images would be broken.
Step 1: go to "settings"
Step 2: choose the connection you desire to use.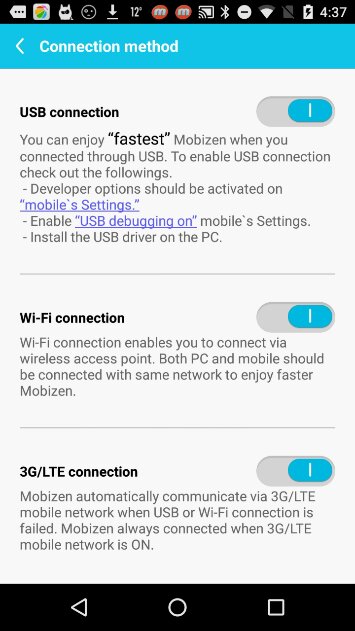 Step 3: open your Facebook application again.
3: clear Facebook caches
If you have not cleared your Facebook caches there is this chance that this problem might seek its way to your device.
Step 1: open your device "settings"
Step 2: slide down to the option of "storage" and open it.
Step 3: open "Apps"
Step 4: touch "Facebook" app
Step 5: press the option of "clear cache"
Step 6: open your Facebook application again and see if the problem of "Facebook images broken" is vanished.
4: update or reinstall Facebook app.
Your device might not have updated your Facebook app automatically, which can become a cause of this issue, so update or reinstall your application.
Step 1: go to "play store/ App store"
Step 2: search "Facebook"
Step 3: press "update / delete"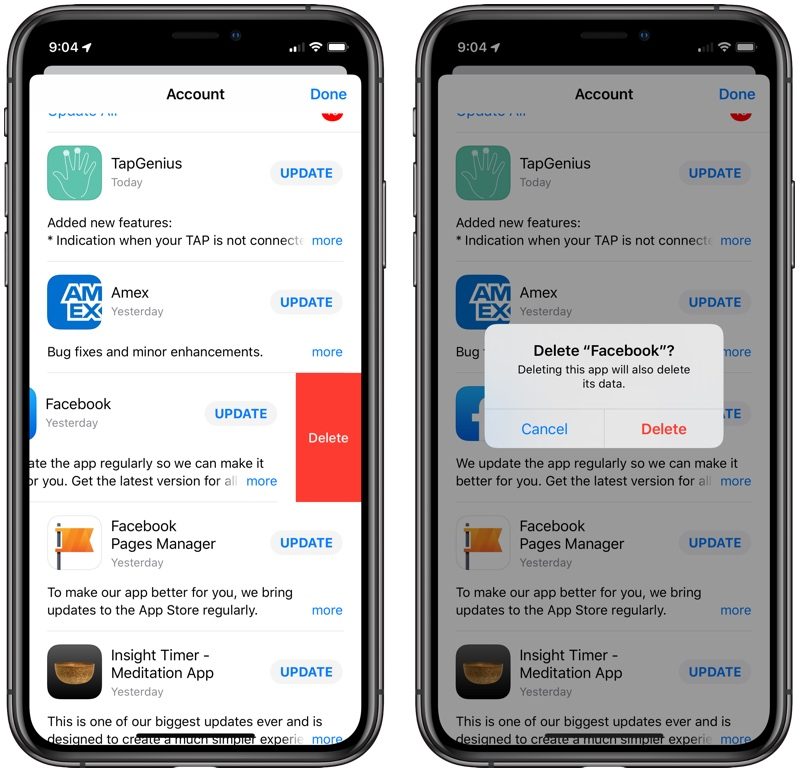 Step 4: wait for the application and then you are on your way to opening the application again to see if the issue occurs.
5: factory reset your android / iPhone
If you have already tried all the above given methods to solve "Facebook images broken" issue, the only option you are left with is to factory reset your device. Doing this may clear up the viruses in your device and finally your application would run smoothly.
Step 1: go to "settings"
Step 2: open "back up and reset" option.
Step 3: look down and see if there is the option of "reset device" press that setting-backup-reset-reset-device
Step 4: it may take a while to factory reset your device, after it is done reinstall Facebook application and your issue will hopefully be gone.
---
Part 2: What should I do if the problem of "Facebook images broken" occurs on pc?
As like mobile devices this issue can also arise in pc and laptop. They may have similar causes and similar solutions to this problem.
1: re-login to your account
Login in to your account again may solve this tiny issue.
Step 1: log out of your account
Step 2: log in back to your account in a while.
Step 3: see if the issue occurs.
2: delete the browser cache
Loaded browser cache is also a major cause of the "Facebook images broken" dilemma. Clear your browser cache by following these steps.
Step 1: open your browser
Step 2: press key "control", "shift" and "delete"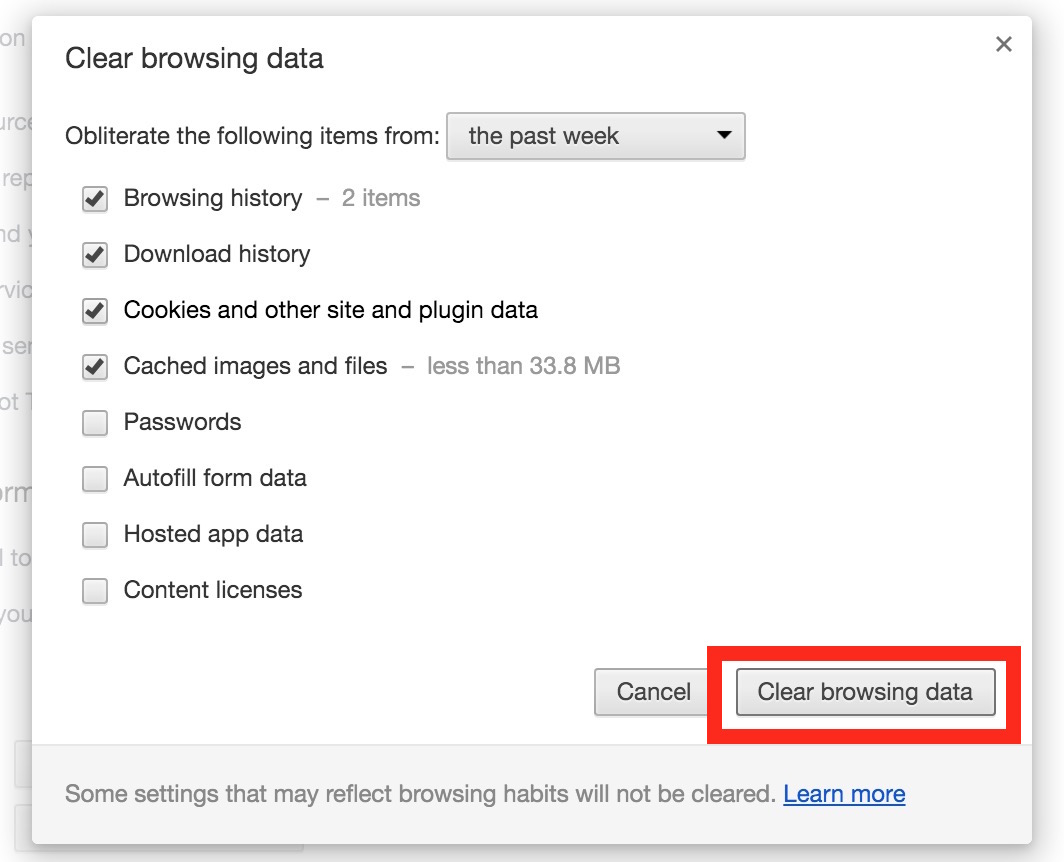 Step 3: select the period you want to empty in browser cache.
Step 4: check the option images and files in "cache"
Step 5: click "delete browsing data"
Step 6: refresh your page.
3: remove incompatible plug-ins
Plug-ins can also play a role in initiating this issue, remove the incompatible plug-ins to get rid of the issue.
Step 1: open your "browser"
Step 2: go to "settings"
Step 3: open the "extensions"

Step 4: uncheck the "enabled" options under all the plug-ins you want to remove.
Step 5: open your bowser again and login.
4: try other browser
Sometimes your browser is not updated enough to support a particular website properly. If you have tried all the methods above and are still caught by the problem. Try using a different browser.
Step 1: close the bowser already open
Step 2: open a different browser.
Step 3: login to see if the problem occurs.
---
Part 3: How repair broken images from online sites?
Broken images of all formats can somehow be repaired by online sites varying from one to another. Online sites can help you repair your images in no time.
Stellar photo repair is remarkable tool corrupt and broken/damaged photos. The software is offers a complete solution for the issue of corrupt and broken images. If your images appear split, blur and distorted the software will help you preserve your memories.
Key features
Supports JPG and JPEG formats plus almost all raw formats.
In a single repair cycle can repair batch of image files.
Option to extract thumbnails if the file is not repairable.
It also has an option to preview the image before you save it.
Compatible with windows 10, windows 8, windows 8.1, windows 7.
Fix corrupt photos from corrupt storage media.
Steps for repairing jpg/jpeg photos with stellar photo repair
These following steps can help you out in repairing your jpg/jpeg images. A sample file is created to repair your existing corrupted/damaged file.
Step 1: run the software
Step 2: in the list of images file, "advance repair" is the option you are required to click.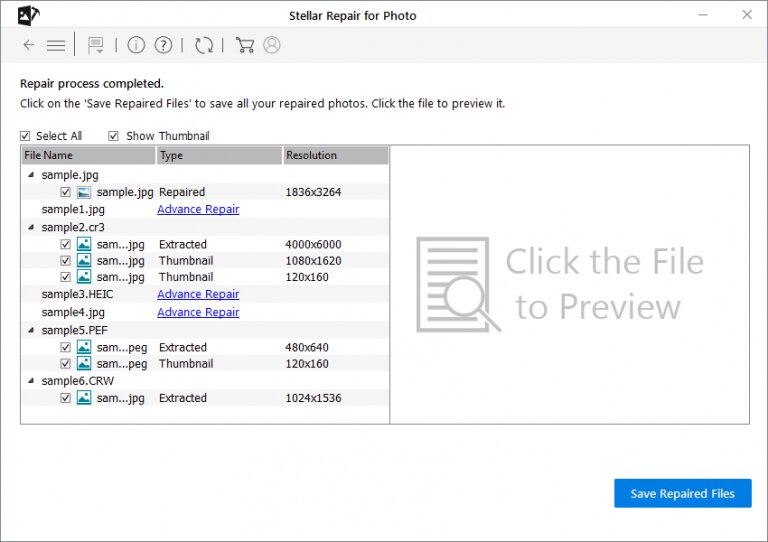 Step 3: a new box will appear with two options of "cancel" and "next" press "next"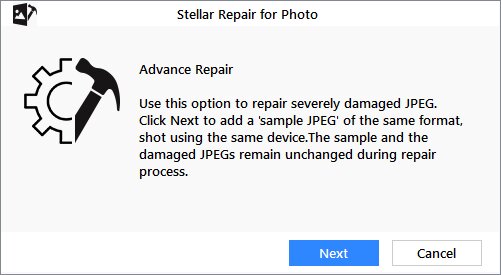 Step 4: browse the location of your file from the given option.
Step 5: choose the option "apply to all jpeg of same format" to repair your corrupted file using a sample file.
Step 6: click the "repair" button to initiate the process and wait for a while.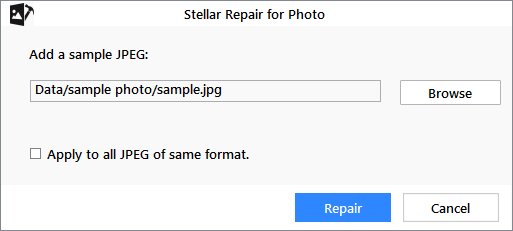 Step 7: after the repairing is done a dialog will appear press ok.

Solve Media File Problems
Recover & Repair Photos

Recover & Repair Videos

Recover & Repair Audios

Recover & Repair Cameras