A digital camera digitally stores images rather than having them recorded on a film so as to easily manipulate the picture using graphics and print it later at the desired time. With the digital camera, it has been very easy to keep records of family and friends especially during important events like taking photos on birthdays and anniversaries. The digital cameras are limited by the amount of memory they have; the cameras are fitted with SD cards so as to expand the storage space.
The SD cards are great although very fragile, because they can also be inserted into other devices like phones and computers, and in this process, some photos may be lost completely while others may be corrupted. In case this happens there is no need to worry because we will show you how to overcome this problem in a few minutes using jpg corrupted file repair software like Recoverit and Stellar Phoenix photo repair and also let you know how to repair damaged or corrupted files in a digital camera.
Part 1. How to Repair Corrupted File from Digital Camera
Here we recommend that you should use Stellar phoenix photo repair. Stellar phoenix photo repair is free advanced professional software that is a right solution for you when your digital camera happens to lose some data or they are corrupted; we are going to lead you through on how you can use this repair software.
Step 1: Install Stellar photo repair
You need to download and install the jpg corrupted file repair software on your computer. After installation launch the recovery application for use. Insert the external storage devices e.g. digital camera or SD cards which contain the files to be repaired into your computer.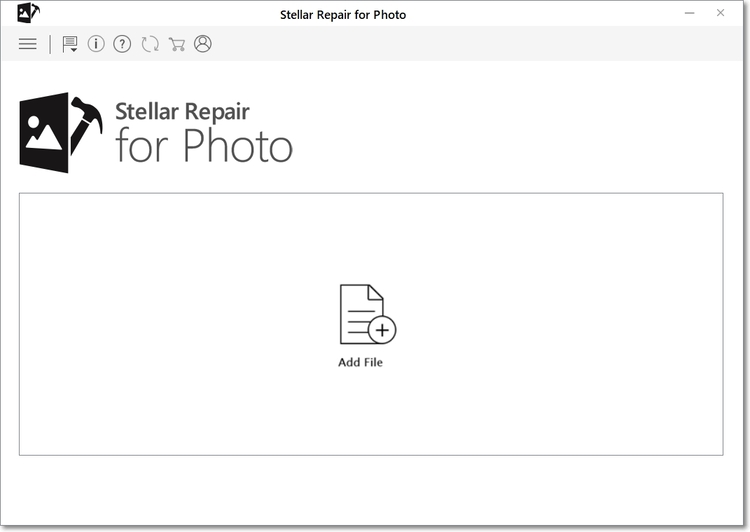 Step 2: Selecting the file to repair
Once the application is launched you will be requested to select what files to recover then select next option on the bottom right side of the application interface. The recovery application will display all the external and internal volumes which are attached to the computer system.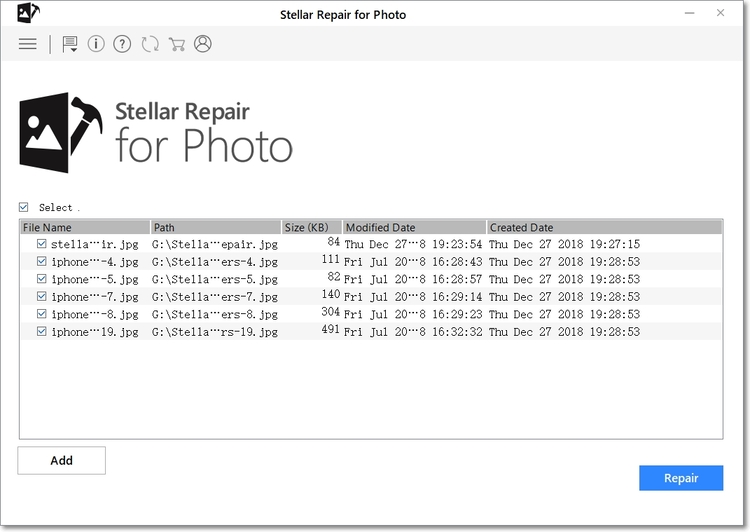 Step 3: Scanning the selected files
Select the drive from which the corrupted file with the data was stored and click the Scan button. A dialog box to show the scanning was successfully completed will appear. The scan results will show the number of the data found and their size. If your desired photos do not appear, we recommend you have a deep scan.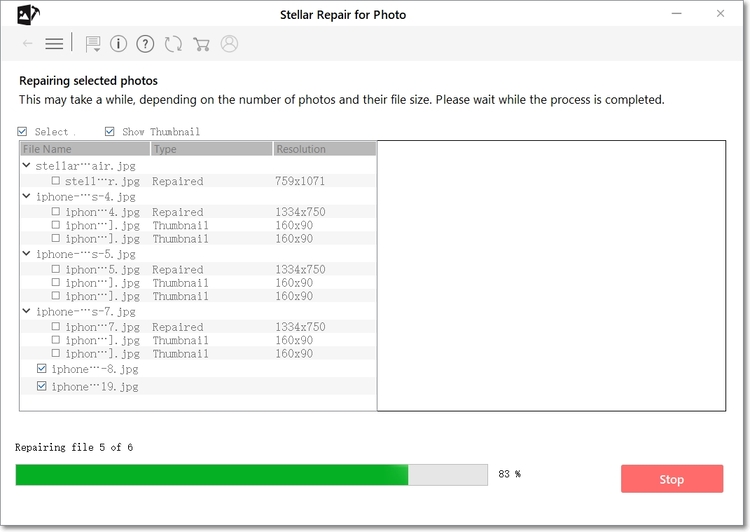 Step 4: Repairing and storing file
Click on the recover option and select the photos you need. A dialog box will appear requiring you to specify the location to store your images. When you click save the images will be saved to the location you had selected. We advise that with Stellar photo repair application you should not save the repaired images to the same folder you had used to store before they were corrupted; this is so because there might have been some virus that corrupted the file and they might yet be there. It is always good to have a data backup always.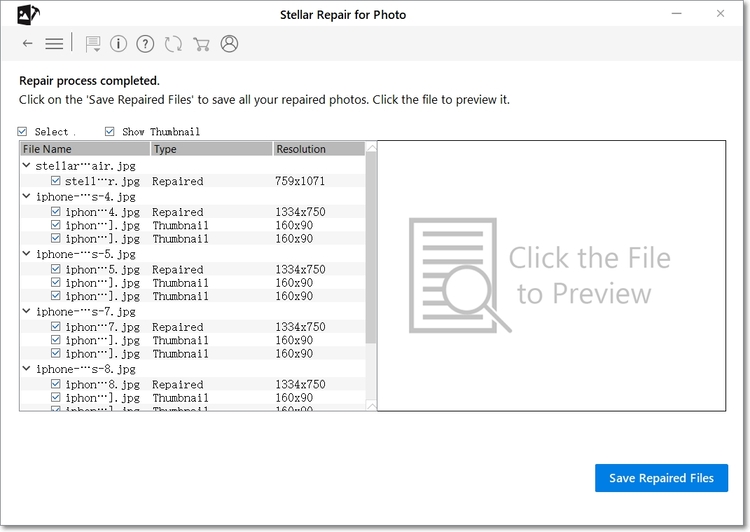 ---
Part 2. How to Recover Files from a Digital Camera for Free
Recoverit Data Recovery is a free application used to recover corrupted and lost files from any storage electronics e.g. digital camera. With the existence of jpg corrupted file repair software like Recoverit, it has been very simple and easy to recover corrupted files from a digital camera.
To use jpg corrupted file recovery software (Recoverit), you need to connect the digital camera or SD cards bearing the file to be repaired as an external storage device to the computer. After it, let's follow the steps to recover photos from camera.
Step 1: Select your digital camera
Recoverit will show you all the found internal or external hard drives. Select your digital camera where the photos corrupted or lost. To recover files, click on the start option.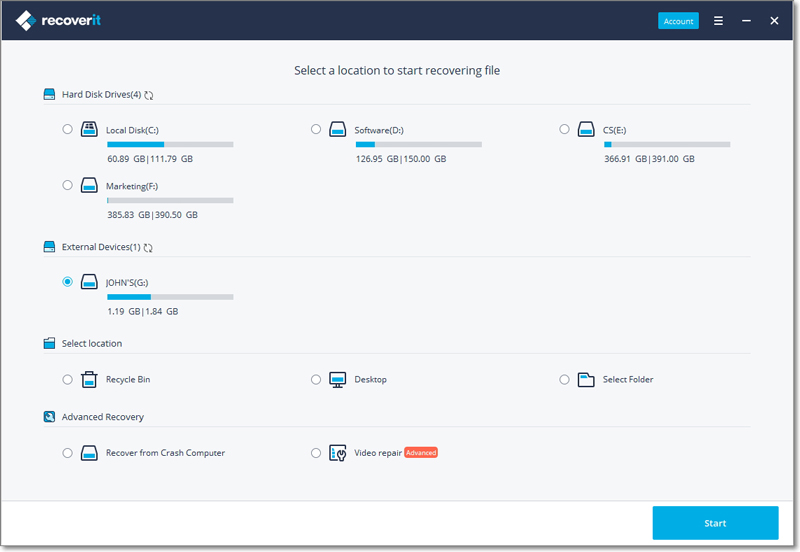 Step 2: Scan your external device storage
The jpg corrupted file recovery software will start the all-around scan in the aim of searching corrupted files; this will take some time to complete scanning.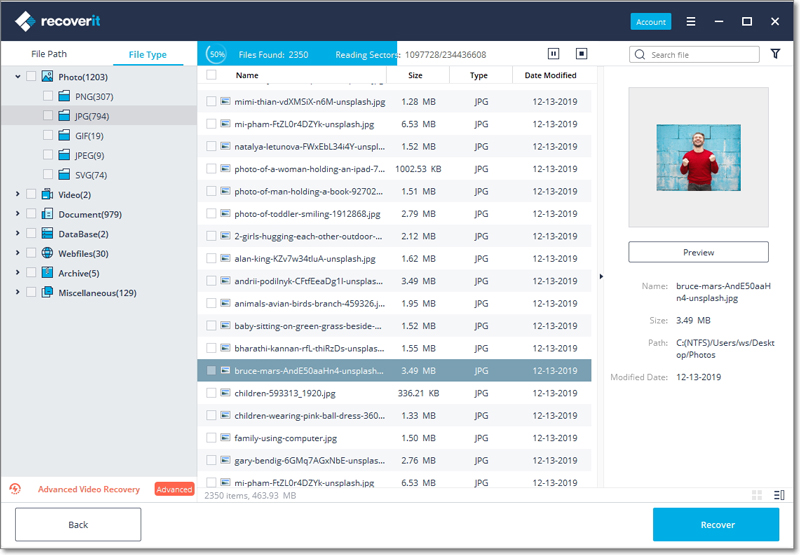 Step 3: Preview and recover your data
After the full scan, the recovered files will be outlined on the left side on your screen together will the files types. You will be able to preview the recovered files then click on the recover button so as to get back your corrupted files. We always advise that you should not save the recovered files in the same device you had lost your data.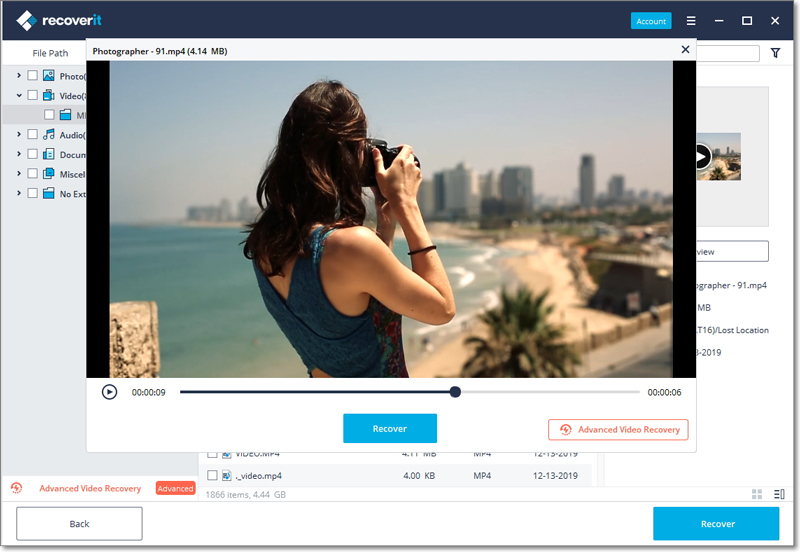 ---
Part 3. Tips to protect file on the digital camera
We should understand that files in a digital camera are very important and should be protected. These files contain photos that mark memorable and important moments in our lives that will never happen again. Files in a digital camera may be damaged by many forces e.g. virus infection and hardware damages of the storage devices like SD cards. The following are simple tips on how you can protect files on your digital camera. Digital cameras use memory cards for storing photos; we advise that one should choose a quality SD card so as to ensure that the files will be kept safe.
Tip 1. How to Use SD Card for Digital Camera?
Always ensure that your SD card is safely mounted in your camera and in case you remove it to have it stored safely stored in its case. Ensure that the SD card you have is compatible and usable with your digital camera. Your SD card should be formatted regularly and this should be done with the low-level formatting option in your digital camera; before you format your SD make sure you have safely backed up the photo files you wish to keep.
Tip 2. How to Maintain Your Digital Camera?
Keep your digital camera covered always so as to secure it from cold or hot conditions or water; this should be done because some cameras are not tropicalized and extreme weather may cause damages on the SD card electronics hence making you lose your photo files. Also, secure your digital camera in a proper case or backpack when you are not using it so as to prevent it from an accidental drop and interfere with the cameras internal storage memory.
Ensure that your camera is out of some dangers like sand and water. The sand may scratch sensors and the lens glass; hence making the images to be taken by the digital camera appears unclear and corrupted. The digital camera should be kept in a safe place so as to ensure the security of the data saved in them. Besides, the digital cameras should not be handled by unauthorized persons especially those who have no knowledge of their usage. This will be of great help to ensure that important files in the digital camera are safe from external threats and that nobody will have malicious intentions on the file in the camera.
Tip 2. How to Protect Your Camera Files?
Regularly download and backup your files to a computer. As you are downloading the photos make sure that you strictly stick to the procedures; and do not disconnect the USB cable when a download is taking place or remove your SD card when carrying out this exercise. When downloading files change your digital camera settings to copy; we recommend that you should not delete your image files from the camera until you are sure that the files can open in the final destination. In case you realize your files in your digital camera issues we advise you should look for a jpg corrupted file repair software which is simple to install and use.
Conclusion
We strongly feel that you will not be at risk of having your digital camera files corrupted and make you lose your photos when you follow the recommendations we have made above. Nevertheless, there is no need to worry when you realize your digital camera photos are corrupted or damaged because we have jpg corrupted file repair software like Recoverit Data Recovery and Stellar photo repair software which are free for use and get you sorted within no time. To be on the safe side ensure that you have a secure backup of your files; when connecting your digital camera or SD to your computer or other devices makes sure they are not infected by the virus. Keep your digital camera safe and personal so as to be able to have your files safe.
Solve Media File Problems
Recover & Repair Photos

Recover & Repair Videos

Recover & Repair Audios

Recover & Repair Cameras