10 Free Folder Recovery Software 2023
What to do when you deleted a important folder? Can we recover the deleted folders? If it does, then how. Fortunately, there is a solution for every tech problem, and free folder recovery software is there for this issue. The article will discuss the deleted folder recovery software which can help you recover the data. Those tools can get the files back and you're likely to be able to use them again. The article addresses the advantages and disadvantages of those resources that will help you decide which suits your needs.
Why the Deleted Folders Can Be Recovered
In case of accidental deletion of different files, you can lose directories, photos, or anything important. Sometimes the reason for deletion is beyond our control capacity like hardware failure, malware attacks, etc. The deleted folders may contain your office important files, or any significant business document, or your dear to heart pictures or some books that you have written, or any vital information for your client.
Sudden deletion of such an imperative object cannot be clarified to anyone, especially if those are the only copies you have. There is a sense of anxiety that comes about in those situations. It can be so stressful, but luckily some resources can save you instead of living in shame and phasing the damage penalties. These free folder recovery software enable your deleted data to be recovered even from the disabled hardware.
---
10 Free Folder Recovery Software 2023
We often lose data on Windows or Mac, because of many certain or uncertain factors. Without the data that we lost, sometimes we can't handle the operations and we find ourselves in a great mess. But some deleted folder recovery software will help us escape from such a puddle. Please note the no matter how efficient a software may be for data recovery, make sure that your data files are securely backed up. It will help you to prevent frequent data loss but the accidents are exceptions. We reviewed a list of 10 Free Folder Recovery Software 2023 and compiled it for you. How you can find the best tool for yourself? Follow the article!
Here is the list of 10 Free Folder Recovery Software 2023:
1. Recoverit Free Folder Recovery
(https://recoverit.wondershare.com/data-recovery-free.html)
Owing to its incomparable features, the data recovery software which tops our catalog in 2023 is the Recoverit Data recovery. Recoverit Data Recovery is the robust folder recovery software and it works on both platforms Windows and Mac. Recoverit is a free folder recovery software with a 100 MB data recovery option. It has a high recovery rate and is the best folder recovery software with a user-friendly interface and extensive support file types. Recoverit provides data security and can recover the data from external devices and even a crashed computer. It has dedicated features that make the best suited for the folder recovery.
Pros and cons of the Recoverit Data Recovery software are discussed below:
Pros
Comprehensive support for the device
Attractive user interface
Extensive support for the files
A free version for the testing
Enhanced preview ability of files
It supports both operating systems
Cons
It has no portable version.
How to recover deleted folder with Recoverit Data Recovery
Losing data is not what we want, but if it gets lost, the supporting software will help to sort this out. Recoverit Data Recovery supports more than 1000 formats and devices. Therefore, it can almost provide a solution to the needs of everyone. The use of Recoverit Data Recovery is very simple and it needs very easy steps to complete the deleted folders recovery process. These steps are divided into 3 different steps to make the process easy for understanding.
Step 1. Select a location:
After the launch of Recoverit selection of the location where data had been lost is required in the first phase. After the selection of location now you need to click on the start and the process will start.
Step 2. Scan the location:
In this step, Recoverit will scan the selected folder and it will take time from minutes to hours based on the size of the recovery folder. During the process of scanning, you can pause and restart at any time.
Step 3. Preview and save:
After performing the scan process the tool lets you select the recovery files that you want to recover. When you have made a selection of the related files you can save them and those files are recovered. Thus the process is completed in these three simple steps but it also includes some advanced features that make video recovery possible.
2. Wise Data Recovery
(https://www.wisecleaner.com/wise-data-recovery.html)
Wise data recovery is a free folder recovery software. If your files got deleted by accident or because of a system crash, Wise data recovery can recover the deleted folders. It is the best folder recovery software with a portable version which is essential for file overwriting through the recovery process. Pros and cons of the Wise Data Recovery software are given below:
Pros
The data recovery software has a portable version.
All the Windows platforms are supported by the software.
It is very flexible to perform an advanced search.
The installation process of the tool is very easy.
Cons
The folder structure of recovered files gets disturbed.
The software does not support Linux or Mac.
3. Orion File Recovery Software
(https://www.nchsoftware.com/data-recovery/index.html)
Orion File Recovery is a folder recovery Software with very usability features. This is an efficient deleted folder recovery software from NCH Software. Supports music, pictures, documents, and other file types recovery. Orion File Recovery offers a free trial, but the number of files you can recover is limited. It has different pros and cons that are enlisted below:
Pros
It is an easy-to-use software with a user-friendly interface.
The most affordable choice for users who only need regular folder recovery feature.
Comes with permanent data erase tool.
Cons
It does not provide many configurable options.
No preview option before file recovery.
4. UndeleteMyFiles Pro
(https://seriousbit.com/undeletemyfiles)
The tool offers very attractive and handy features for the deleted folder recovery. It keeps the system clean by not allowing to override the files and it is free folder recovery software. UndeleteMyFiles Pro is a very significant tool for the recovery of deleted folders with some pros and cons that are given below:
Pros
It supports deep cleaning.
Completely free.
Cons
Supports media file preview only.
It cannot recover the data from a damaged hard drive.
5. Recuva
Recuva is another free folder recovery software that you should try. Apart from hard drive recovery, Recuva also supports data recovery from external hard drive, computer systems, and other storage devices. The software is developed by Piriform and offers several features and functionalities to help you recover deleted or lost folders.
Pros
Completely free
Offers versatile recovery options including quick and deep scan, corrupted file systems recovery.
Cons
Recuva includes ads, which can be annoying while perform data recovery.
Customer support is not efficient.
6. PC Inspector file recovery
PC Inspector file recovery deleted folder recovery software supports Windows PC. Moreover, it is a free folder recovery software and has various tools including Clone-Maxx, PC Inspector Smart Recovery, FS Guard, and Task Manager, etc. Pros and cons of PC Inspector file recovery are mentioned below:
Pros
Free to download
Supports saving the recovered files on network drives
The software can recover the partitions that have been lost
Cons
Can't detect any system viruses
Can't solve bios-related errors.
7. iCare Data Recovery
(https://www.icare-recovery.com/)
iCare Data Recovery is one of the best folder recovery softwares you can't miss as it does not permit overwriting of files. It is a free folder recovery software and available for download without any license. There are two scanning modes in the free version of folder recovery software in which it recovers data from the recycle bin. It has an advanced scan as well. iCare Data Recovery software supports Windows operating system. The pros and cons of iCare Data Recovery software are given in the below section.
Pros
Free trial supports recovering 1GB data
Allows advanced scanning, such as specific file type scanning
Supports scanning disks with no file system
Cons
No S.M.A.R.T. to monitor and analyze the health of a disk
Free version does not allow a deep scan and RAW/Deleted Partition recovery.
8. OnTrack EasyRecovery
(https://www.ontrack.com/products/data-recovery-software/)
OnTrack EasyRecovery deleted folder recovery software recovers files in both OS Windows and Mac. This is the best folder recovery software regardless of the reasons for data loss.
It is a free folder recovery software with a data limit of up to 1GB. It includes different options for data recovery as a professional, home, toolkit, technician, and premium, and all these options can be tried in the free version. Apart from recovering data from hard drive, EasyRecovery also supports extracting data from cloud servers. In the below section different pros and cons of OnTrack EasyRecovery are mentioned.
Pros
Supports cloud servers data recovery
Supports restoring deleted volumes
Supports pause and resume
Cons
It has a slow-scanning speed.
It has no portable version.
9. Stellar Phoenix Data Recovery
(https://www.stellarinfo.com/)
Stellar Phoenix folder recovery software recovers lost or damaged data and deleted files from different storage devices. It is very easy and flexible to operate with user-friendly UI. It supports both operating systems Mac and Windows. Every step of this deleted folder recovery software includes a detailed explanation so it can be operated without technical knowledge. The ability to repair files makes it the best folder recovery software. Given below are the pros and cons of Stellar Phoenix Data Recovery.
Pros
Supports optical media data recovery like CDs and DVDs
It can recover more than 5TB data from the devices
It provides multiple file support
There is up to 1GB recovery of data is free in the free version
It has an intuitive user interface
Cons
On the free version, it does not have optical drive support
It does not support both OS complete rather it supports few systems in both
10. Data Rescue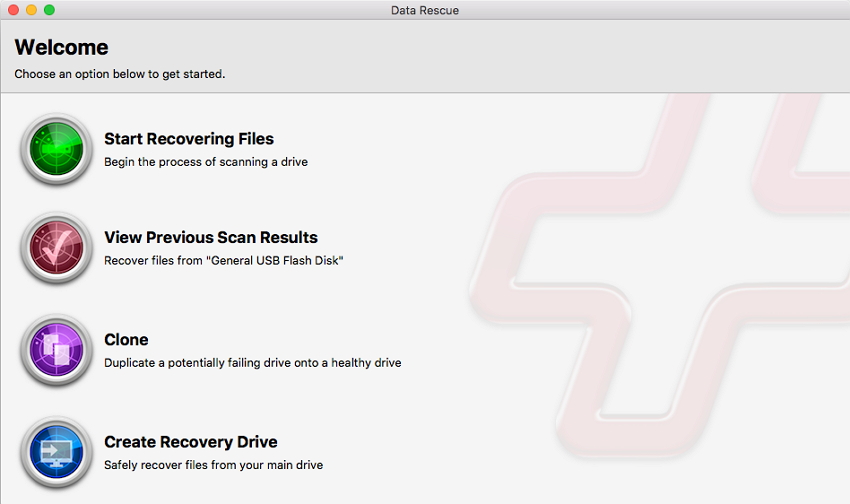 When it comes to folder recovery software, one that can't be missed out is Data Rescue. This program allows users to recover lost, deleted or corrupted files from various storage media, including SSDs, USB drives, and memory cards. The software uses advanced algorithms to scan and recover data from damaged drives and lost partitions.
Pros
Supports RAID recovery
Available to both Windows and MacOS with the same license id.
Supports file preview before recovery
Supports only paying for the files that you need to retrieve
Cons
No refund policy
No trial recoveries
---
The Bottom Line
There are lots of tools for data recovery and through this reading, we have made you able to find the tools that suit your needs. The article lists ten free folder recovery software, as all for testing purposes are available free. Every software mentioned above has its hits and misses. Recoverit Data Recovery is not an exception either but it is found very promising after careful comparative analysis. It offers extensive device support and a very attractive user interface. Especially it offers advanced video recovery and video repairing. I can't guarantee you're going to get back what you're looking for but it's a fantastic place to start with Recoverit and let us know about your feedback.
Free Recover Data
Top Recovery Freeware

Top Recovery Solutions