How to Solve Hard Disk Error 303 and 305
Q: How to solve hard disk error 303 and 305?
"I have been receiving an unusual yet annoying error whenever I start my laptop. The error reads something like hard disk 1 quick 303. Is it possible to resolve this error? What are the steps to do so?"
HP System Diagnostics gives the hard disk 1 quick 303 error, and in most cases, it happens after a massive impact on a laptop. It could be after being hit by a heavy object or falling to the ground. The hard disk operation starts experiencing issues. After this happens, when you first start your computer, it may fail to boot, or the OS may be damaged. Your videos, crucial documents, pictures, and music is some of the data that you risk losing.
Your data is at risk, and there is a possibility of workflow stopping when the hard drive fails. Thus, to prevent this, the right method of resolving hard disk error must be used. Below we are going to look at this specific error and how to fix it.
Part 1. Overview of Hard Disk Error 303 and 305
Computer hard drives have an integrated monitoring system known as SMART. It means "Self-Monitoring, Analysis, and Reporting Technology." The system monitors the health of the disk, detects issues, and reports the drive reliability indicators. Whenever it detects hardware failures or other problems, it will prompt a message. That gives you the chance to save your data before you lose it completely.
The SMART 301 Hard Drive error indicates that your solid-state drive (SSD) or Hard disk drive (HDD) is failing. It is regardless of whether you are using Windows 8, Windows 8.1, or Windows 10. In most cases, it happens when the system or the laptop is turned on.
Whenever this happens, there are two points that you need to keep in mind.
Soon, the device will undergo a failure.
Device failure has happened.
A diagnostic tool is included in HP computers to test hardware for errors. When the computer is booting, and the HP Splash Screen appears, go ahead and press the Esc key. Once the "Startup" menu shows up, press F2 to access System Diagnostics. This tool is versatile as it does a lot. It will not only perform startup tests, but it will also display system information, perform hard disk and run-in tests.
In some cases, when starting an HP PC, it may redirect you to the System Diagnostics. It cannot boot successfully, which can be frustrating. Hard disk 1 quick 303 error appears running the Primary Hard Disk Self-Test. It will display on the screen, and besides this, the error may come in other forms. You could get the hard disk 1 SMART (301) error or the hard disk 1 full (305) one.
---
Part 2. Common Causes of Hard Disk 1 Quick 303 Error
Several reasons cause the hard disk 301 error. Below here, we are going to take a look at some of these errors.
There might be a broken IDE/SATA controller chip in the motherboard.
When the hard drive is physically damaged
There could be a virus attack.
When there is a failure in SMART hard disk check
Maybe, BIOS is misconfigured or outdated.
Accidental shutdown
You must solve the Smart hard disk error regardless of what caused it. You need this vital device.
---
Part 3. What to Do When You Get Hard Disk 1 Quick 303?
According to HP, when this error occurs, it means that the hard drive has failed. Thus, the best solution is to have it replaced. Without this, it will no longer do its work. If your PC is still running under warranty, you are on the safe side. All you need to do is to talk to HP support, and they can replace the hard drive for you.
Once this error appears, you must act fast. The first thing that users need to do is back up crucial data to avoid losing it. If the computer is not running under warranty, you can replace the hard drive yourself. Backup data with HP recovery disc and to replace the hard drive, purchase an HDD. You don't need to have a recovery disk. You can still backup your data using free backup software.
The issues may still be there even after trying different methods to fix it. It becomes even more frustrating, but you should not worry about it. When the issues keep coming up, AOMEI Backupper will come in handy. It is a reliable backup and restore software that helps with hard drive failures. It is safe as it has been in use for years.
There are two options to do this:
1. The first option is to take out the hard drive with issues and connect it to another computer. With AOMEI Backupper, go through the data backup operation.
2. The other option would be to boot the computer that gives you the hard disk 1 full 305, quick 3030, or SMART 301 error. To boot it, use the AOMEI Backupper created bootable rescue media and after this, click on start to back up the files.
---
Part 4. How to Back Up Data on Hard Disk With 303 or 305 Error?
AOMEI Backupper will help in this case. You can use this free backup and restore software in backing up the failed drive. Just like the options mentioned above, there are two ways to do this. Whether you opt to use AOMEI Backupper's bootable rescue media or install the failed hard drive to another computer, you will fix the problem. The most important thing is to follow the process, and this will boot your computer hassle-free. Boot the PC that experiences the HP Hard drive failure and then start it to backup data.
Whether the computer you are using is 32 bit or 64 bits, you can create a bootable media by downloading the freeware. It does not have to be a specific computer. After forming the bootable media, there are detailed steps to back up the broken hard drive. Below are the six simple steps that you should follow.
Step 1. Connect Bootable Media
The first important thing to do is to connect the newly created bootable media to the laptop with issues. After that, start your device.
Step 2. Choose Bootable Media
There is a specified key that you should press in this step. It is to enable you to choose the first boot device which should be the bootable media. In most laptops, F10 is the specified key.
Step 3. Connect Hard Drive
An external hard drive should be connected to store the backup image. It is when the computer reboots into the AOMEI Backupper's screen.
Step 4. Choose Disk Backup
In the "Backup" section, you will see the "Disk Backup" option. Go ahead and click on it.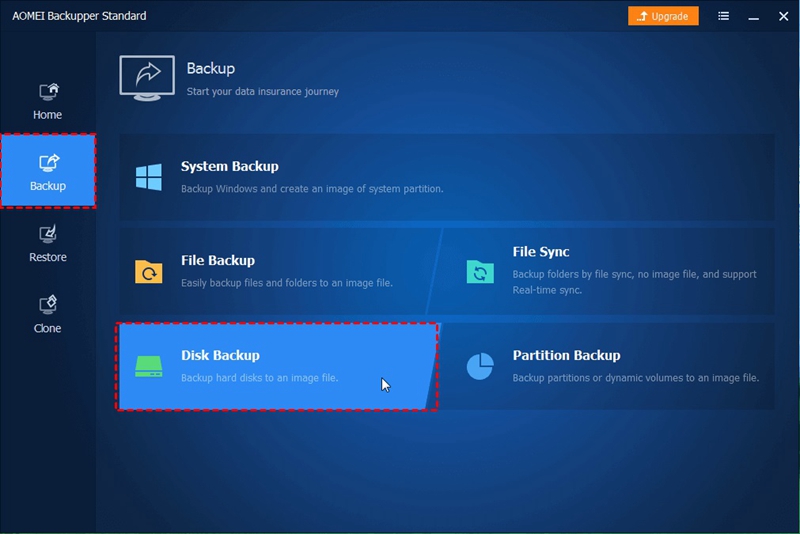 Step 5. Click Add Disk
To select the laptop hard drive as your backup source, select the "Add Disk" option.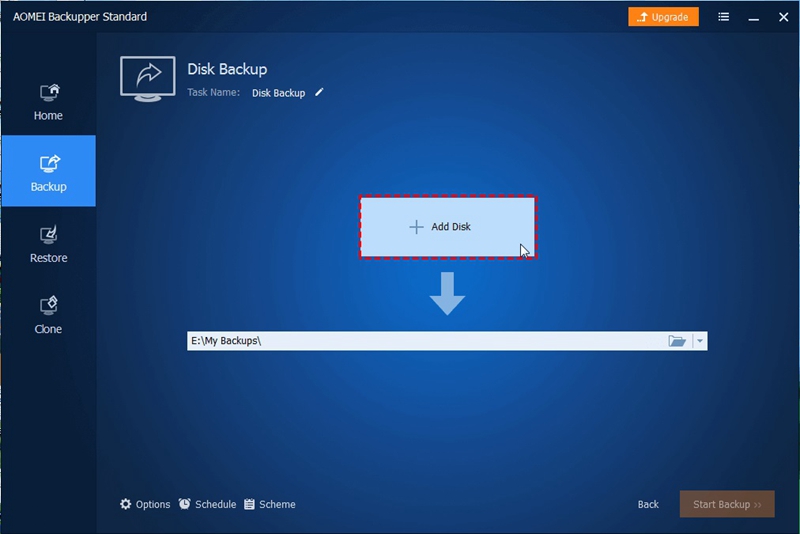 Step 6: Choose Destination
Proceed to choose the backup destination disk which should be the connected external hard drive.
Step 7. Start Backup Process
To start the backup now, click on the "Start Backup" option.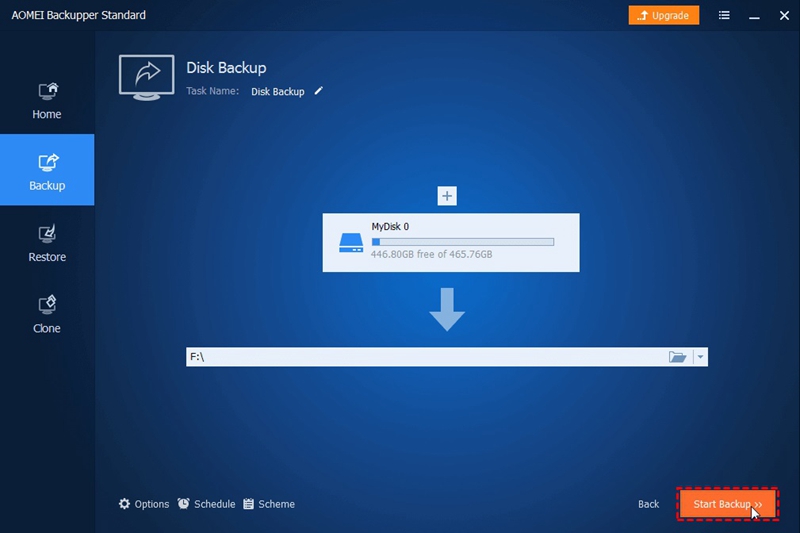 Once you perform step 6, you can proceed to shut down the PC. You then proceed to replace the failed hard drive, and you must use a new one. To boot the same computer, you need to use the same bootable media. It will perform the task without issues. At this stage, go ahead and start to restore to back up to the new disk. It is how easy it is to fix the 303 error as long as you follow the given rules it should not be an issue.
When the backup operation completes, the next thing is to load Windows. During the loading, if the process was successful, you should not experience the hard disk 1 quick 303 error.
If you buy a brand-new computer, you can still restore the backup to different computer hardware. It again should not be an issue with the simple steps laid above. In some instances, you may require more advanced features to undertake the task successfully. Here, you can go for the AOMEI Backupper Professional Edition.
---
Conclusion
As a user, when you experience the 303, 305, or 301 errors on your hard drive, it means it is almost retiring. There is no other viable solution apart from replacing the hard drive. When this device is in this condition, the system will not boot, but you can still backup your data.
The professional data backup software, AOMEI Backupper will help you boot the system even when you get the hard disk 1 quick 303, 305, or 301. You can back up your photos, documents, files, and videos.
Perhaps, several computers are experiencing the SMART test failed error codes, especially in an organization. So, AOMEI Backupper Technician version will be ideal as it comes with a built-in Image Deploy tool. It allows users to deploy/restore system image file on server-side PC. You can do it on multiple client-side computers over the network.
Data Backup Services
Computer Backup

Hard Drive Backup

Mac Backup

Cloud Backup