When it comes to the colorful history of Microsoft operating systems, you cannot ignore the fact that there is quite a long list of errors. The good thing is, a lot of users, technical experts and Microsoft technicians work together in solving them. Most errors usually come out when there are new updates; and, one that is quite new is the error 0x8007001f.
Overview of windows Update Error 0x8007001f
The error 0x8007001f is usually associated with the audio drivers of the computer. This is experienced by users that are upgrading their operating systems to Windows 10. It is usually caused by a problem with the audio driver, the link between them, the driver is defective or the hardware on your computer is not compatible with the new OS.
How to Fix
To get past this issue, here are a number of solutions that you can use.
METHOD 1: RUN WINDOWS TROUBLESHOOTER
There are times when certain problems in the system can be solved by simply running its own troubleshooter; and this error is one of them.
Step 1: Hit the Windows Key together with I on your keyboard and click on Update & Security.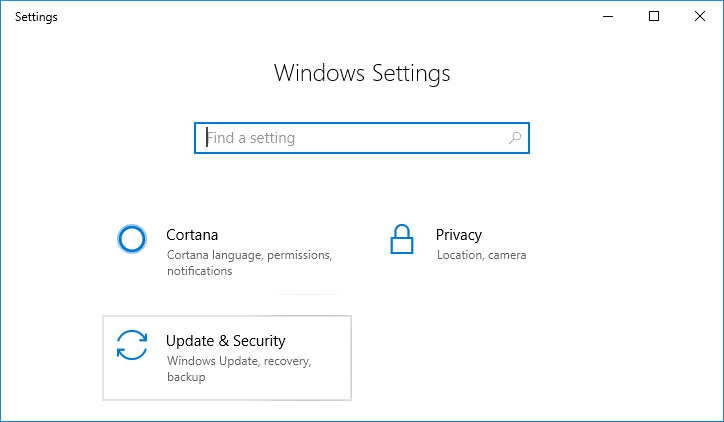 Step 2: When you are at the next page, select Troubleshoot and look for Windows Update.
Step 3: Once that is done, choose Run Troubleshooter and follow the instructions on the screen. Give it time since your system may take a while to detect the problem and solve it.
METHOD 2: USE AUDIO TROUBLESHOOTER
Step 1: With your mouse, hit on Windows Key and do a search for Audio Troubleshooter.
Step 2: Look for the option Find and Fix Audio Playback Issues and choose it. This should bring you to another window.
Step 3: Find the next button at the lower right hand corner of the box and click it. This will prompt your computer to detect issues pertaining to your audio and fix it. When it is done, you should be able to rid yourself of the error 0x8007001f.
METHOD 3: UPDATE THE AUDIO DRIVERS
As mentioned previously, it is very possible that you are experiencing the error 0x8007001f due to outdated drivers. With that, updating them can fix the issue.
Step 1: Press the Windows Key and search for Device Manager. In the search results, the first option should be the one.
Step 2: Look for Sound, video and game controllers on the left hand side and expand it. This would show you more items below, where you can see the IDT High Definition Audio CODEC. You need to select it.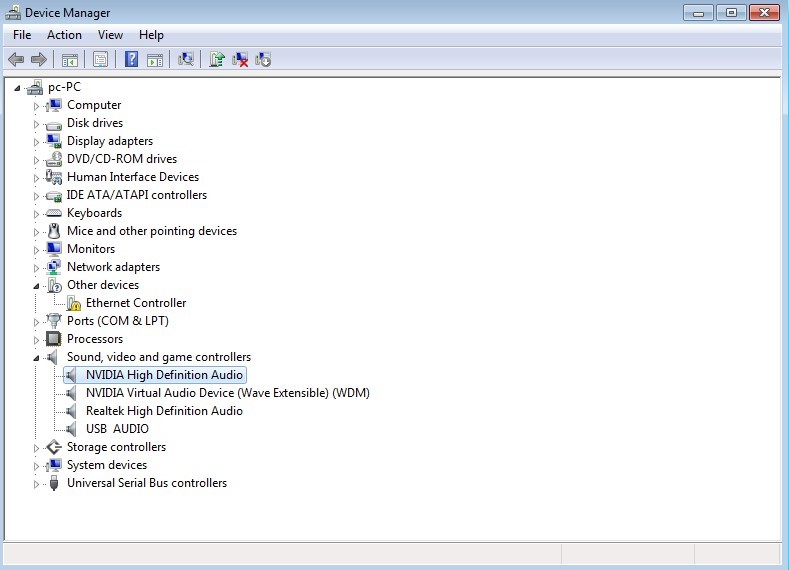 Step 3: At the upper left hand corner of the Device Manager box, you should see the word Action. Click on it and choose Update Driver Software.
Step 4: Once you are done with that, click on Browse my computer for driver software. This would bring you to a list, where you can choose High Definition Audio Device driver.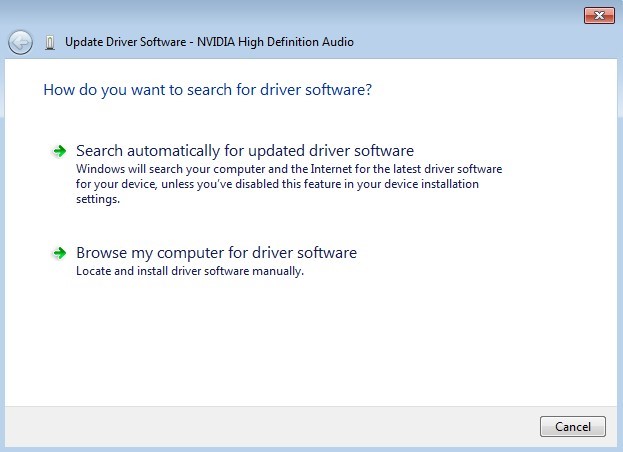 Step 5: Hit on the Next button and Yes.
Step 6: Once the computer is done updating, reboot computer to understand it is working or not.
METHOD 4: Restart the Windows Update Service
The update service on your Windows 10 computer can be the culprit behind the error 0x8007001f. Moreover, there are instances when the update service could even become a burden to the CPU for no reason. This means that your computer would seem to slow down and even cause more issues. Therefore, it is best to restart the windows update service in the attempt to resolve the error, so as to refresh the system.
To do this, here are the steps to take.
Step 1: Bring out your keyboard and press on the Windows Key and letter R. This would open a small box, where you can type "services.msc" on the space provided. Hit Enter to prompt the computer to perform your command. Don't forget to click Ok thereafter.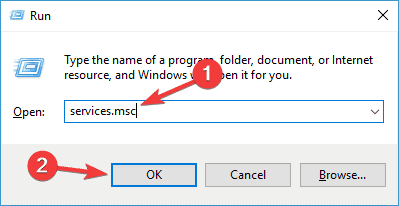 Step 2: When it brings you a list of the services, look for Windows Update and right-click on it. This brings up a number of options, in which you can choose Properties.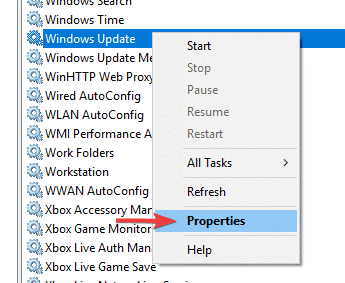 Step 3: On the Windows Update Properties box, find the Startup type and select Disabled. Save the changes by clicking on Apply and then OK.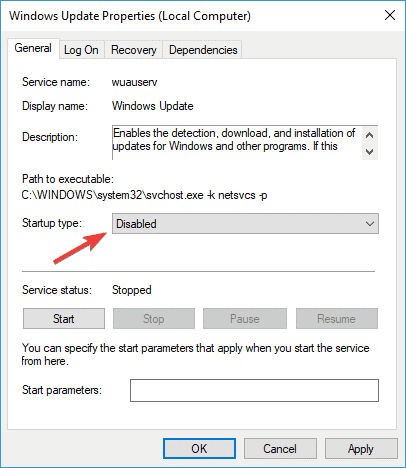 Step 4: Reboot your computer to ensure changes have been made and saved.
Step 5: Go back to the Services again to ensure that the Windows update has been disabled.
Step 6: This time, you need to go to C:\Windows and look for the folder SoftwareDistribution.
Step 7: Rename the said folder by right-clicking on it and typing the new name as follows SoftwareDistribution.OLD.
Step 8: You need to go and check Services again and look for Windows update. In the Properties, you have to change the Startup type to Manual this time instead of Disabled.
Step 9: Open computer settings by going to Start and selecting the settings option.
Step 10: You need to open the Update & Security and you have to check for updates.
Method 5. Perform SFC and DISM check
Corrupted files can be the culprit behind the error. To fix this, you need to perform SFC and DISM check.
Step 1: Open the command prompt by hitting Windows Key and X on your keyboard. Select either Command Prompt (Admin) or PowerShell (Admin) on the list provided, whichever is available.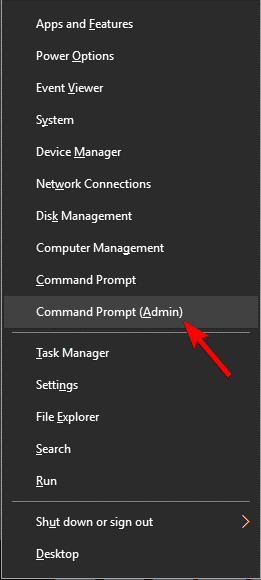 Step 2: Run the sfc/scannow command by typing and entering it in the command prompt.
Step 3: The scan will start after hitting enter, which usually takes 10 to 15 minutes. When it is done, see if the issue has been resolved.
If there are broken files causing the problem, you need to perform the DISM check.
Step 4: Type and enter this command DISM.exe /Online /Cleanup-image /Restorehealth

Step 5: If there is a problem with the update, you may need to make use of USB/DVD drive. Once the media has been inserted, just type and enter this command.
DISM.exe /Online /Cleanup-Image /RestoreHealth /Source:C:Your Repair SourceWindows /LimitAccess
Step 6: Do not forget to replace the source path with what you have.
Method 6. Perform a clean boot
Step 1: Launch the Run dialog box by hitting Windows Key and R on your keyboard. Type and enter msconfig.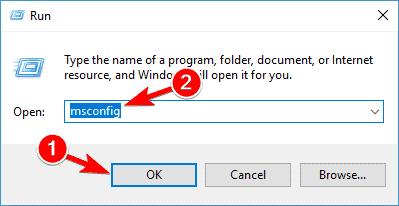 Step 2: On the System Configuration window, you have to go to Services tab and put a check mark on Hide All Microsoft Services. Hit on Disable All after.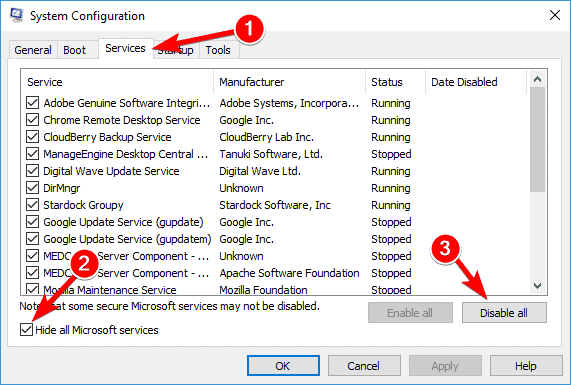 Step 3: Click on the Open Task Manager link after going to the Startup tab.
Step 4: Under the Task Manager, you will find a list of the applications. Disable all of them, by right-clicking on each one and selecting Disable.
Step 5: Save the changes you made by going back to System Configuration and clicking apply and OK.
Step 6: Reboot your computer.
Once you are done performing these troubleshooting steps, the error 0x8007001F should be long gone. You no longer have to deal with software conflicts and issues with your audio.
Partition Recovery
Partition Management

Solve Partition Problems

Partition Tips