How to Delete Partition in Windows 10
Windows 10 is basically the latest operating system that Windows offer nowadays. It has just be recently launched, so there are still issues that are found with the said operating system. There is no telling what other issues can be found with the new operating system Windows offer to their users.
Despite the fact that Windows 10 is a new operating system, a lot of users have already ventured into partitioning this. Even though the said OS is yet to be stabilized, going through the trial-and-error of partitioning it is still appealing for most users. With the creation of partitions comes other partitioning tasks like extending, resizing, formatting, and deleting partitions.
Related: What is a partition
Part 1: How to Delete Partition in Windows 10
The first option that users can utilize to delete partition in Windows 10 is its built-in tool called Disk Management. The said built-in tool has the ability to delete volumes. Here are the steps that will allow you to delete partition in your Windows 10 computer:
Way 1. Use Disk Management
Right-click on the My Computer icon you can find in your desktop and choose Manage. If this is not possible, then click on the Start Menu button on the lower right of your screen and choose computer. Right-click on this and choose Manage.

Once you got to the Disk Management screen, click on the Disk Management option on the left pane. The center pane will load information such as your currently installed partitions. Right-click on the disk you want to delete that is listed in the center pane. Options will show, and you have to choose Delete Volume.
Way 2. Use Command Prompt
Another option that a user can take advantage of to delete partition in Windows 10 is with the use of CMD. Here are the steps to follow for the said task:
Type "CMD" in the search box and right click "Command Prompt" to choose "Run as administrator".
Inuput "diskpart" and then press Enter on the Command Prompt to launch the Diskpart utility.
Then input "list volume", and all the partitions will be shown here. Confirm the Unique Identification number of the partition to be deleted, for example, Volume X.

Type "select volume number" to select the partition volume you want to delete, and then type "delete volume".
After the above steps, you can delete the partition you do not need and convert the deleted partition to an unallocated area.
Part 2: How to Recover Data from Deleted Partition
If you have deleted your partition accidentally or if it is the wrong partition you have deleted, you should not panic. There is still a way for you to recover lost partition. You can try using Recoverit Partition Recovery Module to do that. Below are some main features of Recoverit data recovery software.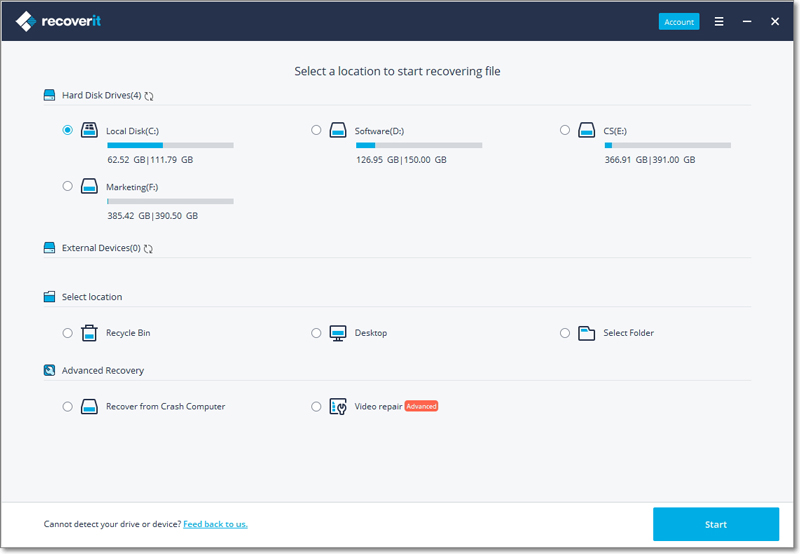 Recover lost or deleted files, photos, audio, music, emails from any storage device effectively, safely and completely.
Supports data recovery from recycle bin, hard drive, memory card, flash drive, digital camera and camcorders.
Supports to recover data for sudden deletion, formatting, lost partition, virus attack, system crash under different situations.
Video Tutorial on How to Recover Lost/Deleted Partition Data?
Why We Need to Delete Partitions?
Just like how you would need to create partitions, there are cases when you need to delete the partitions. There are certainly problems that can be solved once the corrupted or damaged partition has been deleted. For example, you can create an empty space once you delete partition and have that empty space allocated to another partition.
There are just some facts to remember when deleting a partition. First of all, you need to be using an administrator account before you can delete a volume. Another thing to remember is that if your computer only has one partition, then you are not able to delete that. Also, know that you cannot delete the partition where your system files are stored or any other partition containing your virtual memory paging files are located. Your operating system requires these information to start up correctly so it is not possible to delete the partition where these files are located.
When deleting partition which you can restore, you have to remember that this is the same as deleting data. That means that you could lose your existing data in the partition you are trying to delete. Back up the files in another location if you want to retain these data.
Tips and Tricks to Delete Partition in Windows 10
The take-away of this article is the tips and tricks you can remember when you are deleting the partitions in the Windows 10. These tips and tricks should make it easier for you to handle the task. Of course, following the right steps for the deletion of the partition should come first.
Here are some helpful tips you can take advantage of if you want to make sure that there is nothing wrong with the end result when you delete partition for Windows 10:
Opt to use the built-in function of the Windows 10 when you are deleting a partition. This is because the built-in function is specifically designed for the operating system. Thus, you can guarantee the success of your deletion process if you use the built-in function before you opt to use commercial products.
As much as possible, only use commercial products (otherwise known as a third-party program) when the internal functionality of your operation system fails.
Be really attentive when deleting partitions. It will be really troublesome if you make a mistake on what partition you will be deleting.
More Related:
How To Delete Partitions in Linux
How To Delete Partitions on Windows Using DiskPart
Partition Solutions
Manage Your Partition

Fix Partition Errors

Partition Tips
Other popular Articles From Wondershare