Internal storage is very important for portable devices such as smartphones. However, the internal storage of Android phones and such are limited in capacity and that can cause restrictions in the phone's usage. That is the main reason why it is oftentimes recommended to have an SD card installed in the device as well. SD cards are secondary storage devices that are small in size but powerful in memory.
For more advanced usage of memory, some people consider partitioning the SD card. After all, partitioning the SD card actually has many benefits. It can improve the device's performance, offers more memory, and so on.
Why We Need to Partition an SD Card
Before going through the step-by-step of how to partition SD card, it is imperative to know first what is the purpose of partitioning. The purpose of partitioning is to make task processing easier for the internal storage. Partitioning can be done on anything that has storage memory. SD cards are of no exception. SD cards is one of the storage memories available in the market nowadays and is mainly in use for portable devices.
SD cards are considered to be non-volatile memory storage formats mainly used for smartphones and other Android devices. The said devices commonly comes with a low in-built storage so having the said cards can supplement the memory space one can use. The SD card offers additional memory to be used for storing apps, files, and other important documents in portable devices.
Generally, the SD card only has one partition. It is highly recommended to partition SD cards as doing so allows for lesser burden to the internal storage and thus saving up more space to be used for important processes. Otherwise, the internal memory will not be able to do the things that it is supposed to do and that can cause the performance of the device to drop considerably.
1

Step-by-Step Guide to Partitioning SD Card

If you are new to partitioning SD cards, then you better learn the right steps to do the work. Otherwise, you might do irreparable damage to your memory. Here are the steps on how you can partition SD card for Android devices:
Download and install partition managers such as MiniTool Partition Wizard into your computer. Any partitioning wizard programs that can actually let you create as well as format ext2 partitions should do, though. Remember that ext2 is the native file system of Android. As long as the partition manager can handle ext2, then you should be good to go.

Some computers have an in-built SD card readers but others do not. If you have the in-built SD card reader, then you just have to insert your SD card in there. Otherwise, you have to plug an SD card reader into your USB port first to be able to have your computer read your SD card. Once your computer reads your SD card, make sure to back up all the data that you do not want to lose before you proceed to partitioning the said card. Partitioning the card will wipe out all the data in it so be sure to back up important files.

Run the MiniTool Partition Wizard on your computer. Once you run the partition manager, you will see in the dashboard a list of all the drives in your computer. You must pick the drive for the SD card. Be extra careful that you do not make a mistake in choosing a drive, especially if you do not want to damage your computer or permanently delete important files. Usually, the last drive on the list is the drive for the SD card.

Choose the SD card, right-click on it, and create a primary partition. This primary partition is a "FAT32" and you will be using this for media files. You can drag the slider to make changes to the size of this first partition. Once done, click on the OK button.

The next step is to create a second partition. This time, the second partition will have a file system of EXT2. Do not forget to create this second partition as primary as well since it will not work otherwise. This second partition will take up the remaining space of the memory. Once you are done, just click on the OK button.

Click on the Apply button on the upper left of the dashboard (the button with the icon of a check mark). This button will apply all of the changes made to the SD card. You just need to wait for the process to complete. Once it is done, you can then remove the SD card from your computer and plug it back into the Android device. You are good to go then!

2

How to Recover Lost Data After You Process Partition SD Card

There might be some data that gets lost after you partition SD card. Do not panic just yet! There should still be a way to get these lost data back. Using SD card data recovery programs, you still have a chance of recovering important files. The most recommended program to use for recovering lost data after partitioning SD card is Recoverit Data Recovery. Here are the steps on how to use this particular program: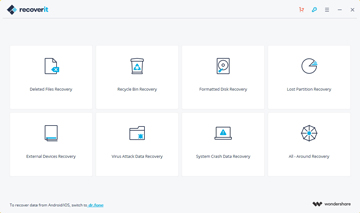 Recover lost or deleted files, photos, audio, music, emails from any storage device effectively, safely and completely.
Supports data recovery from recycle bin, hard drive, memory card, flash drive, digital camera and camcorders.
Supports to recover data for sudden deletion, formatting, lost partition, virus attack, system crash under different situations.
First step is to install Recoverit SD Card Data Recovery into the computer. You will be asked whether you will want to connect directly to the camera, to an SD card, USB drive or other mass storage devices, or the internal hard drive.
To recover deleted data from SD card, you can go to select the option "External Devices Recovery" to get started.

Make sure your SD card connected to the computer and detected. Select it and click "Start" button to preocess.

If quick scan can't get you lost data, you can go to deep scan with "All-around Recovery" mode which will deelly search your SD card.

Find the data that you want to recover and click on the Recover button. You can click on the Back button if the data you are trying to recover is not in the list and you want to select another partition or drive.