How to Fix Windows 10 Boot Loop after System Update
Last week I updated my PC's Windows10, and it worked well for few days. But since the day I have the last reboot of the system, windows installed some updates. It shows the blue screen displaying the message "Your PC ran into a problem and need to restart." After starting the system in safe mode, there is no way to accomplish that error.
Have you also encountered a related query and looking for a solution? This article is for you! Windows 10 happens to be the latest version in a long line of Windows OS used by PCs, laptops, and several other Microsoft applications. The idea behind Windows 10 was to provide users with a very stable system that had advanced features lacking in Windows 8 and Windows 8.1. This new release had several amazing features, but it also came with one baggage, such as a boot loop problem.
Overview of Windows 10 Boot Loop
With Windows 10, the developer found a way to integrate a touch-based system into desktop computers. Still, users had the luxury of deciding whether they wanted to use the feature or not. Besides the touch-based feature, Windows 10 also has several other features not found in older versions that users came to enjoy. But with all the benefits of this application, users started facing boot loop issues (PC not successfully booting).

However, if we talk about boot problems, here are some issues that people experienced:
Windows 10 boot loop
Windows 10 boot loop after reset
Windows 10 boot loop automatic repair
Windows 10 continuous reboot
Windows 10 boot loop BSOD, blue screen, and black screen
Therefore, this led to Microsoft issuing several solutions to users looking to fix this problem. Here are Some of the ways users of Windows 10 have managed to fix boot loop issues in their computers.
How to fix Windows 10 Boot Loop
Windows 10 Boot Loop can be quite problematic and prevent you from accessing Windows. However, here we have provided you with seven solutions that can help you to fix Windows 10 boot loop after the system update issue.
---
Fix 1. Use Command Prompt
If the Boot loop is caused by the presence of corrupted files in your hard drive, you can restore a clean copy of the same files previously-stored by Windows. To restore the files, follow these steps:
Step 1. Restart your computer and repeat the process few times until you get the Preparing Automatic Repair screen.
alt – preparing_automatic_repair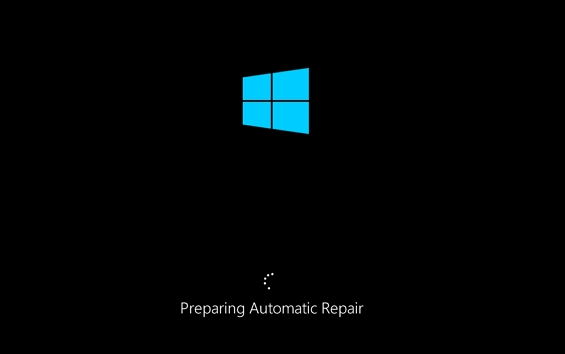 Step 2. Now, you will see the Automatic Repair screen, click on the advanced option.
alt – automatic_repair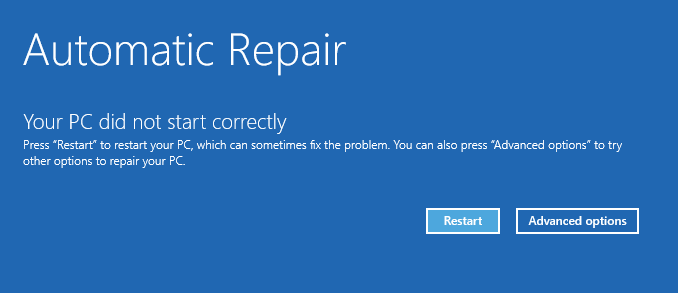 Step 3. Navigate to Troubleshoot, open Advanced options, then select command prompt from the multiple choices.When you open prompt, input the following codes:
C:
dir
cd\Windows\System32\config
MD backup
copy*.*backup
CD regback
alt – type_command_lines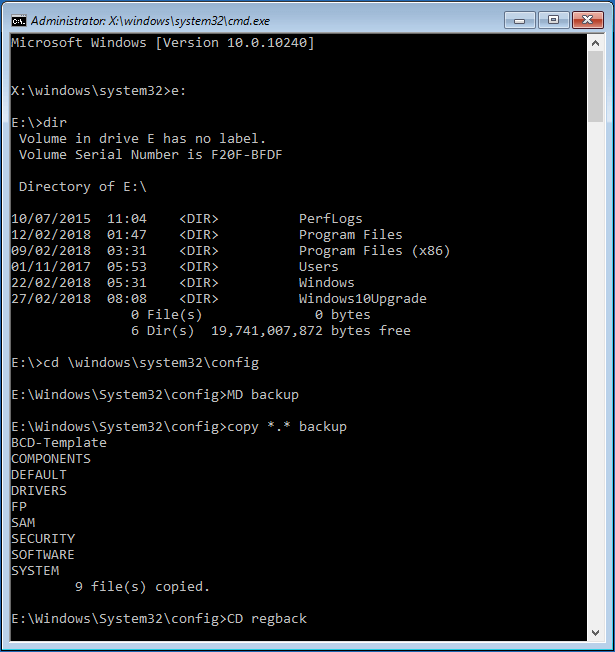 Step. If the system asks you to overwrite files, tap "A," then tap Enter. Then, type exit to complete the process.
alt – type_exit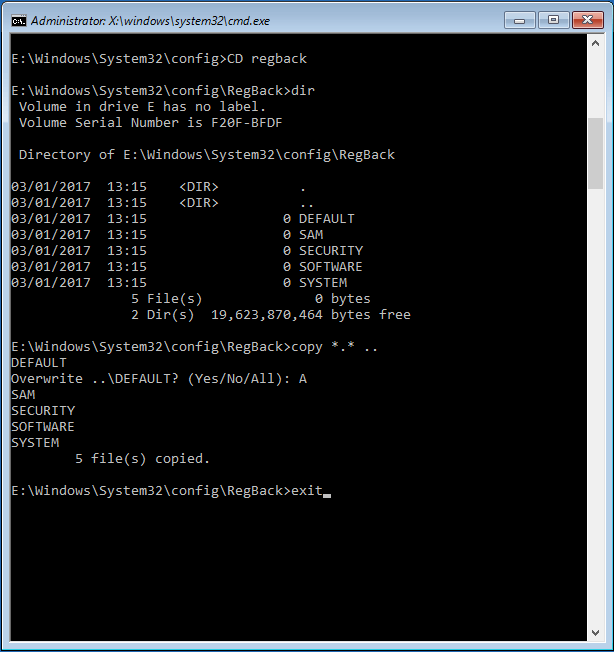 ---
Fix 2. Use Safe Mode
Placing your system in safe mode, you can fix a boot loop issue. Safe mode is a section on Windows that runs on a default setting and can aid a successful troubleshooting process. To enter into safe mode:
Step 1. Allow your computer to restart a few times while booting. During the repeated reboot, it will provide you with several options.
Step 2. Click Troubleshoot – Advanced options – Window Startup settings then click Restart
alt – advanced_options
Step 3. After the Restart, you will see several options on your screen. Click on the Enable Safe Mode with Networking.
alt – startup_settings
With your PC in Safe mode, the boot loop issue will disappear, but if it doesn't, use the Troubleshooter option to check and fix errors.
---
Fix 3. Ensure that drivers are up to date
An outdated driver can also cause a boot loop problem. To be on the safe side, make sure that your drivers are updated to the latest version. Updating drivers manually can be very stressful since you will have to search online for the correct ones, but with driver update software, you can update your drivers automatically.
There are several tools online you can download and install on your device. A driver update software like Recoverit comes to mind. Recoverit is easy to use and will help you scan the web for updated drivers for your device. After installing Recoverit or any other software of your choice, launch it, and follow the instructions provided to update drivers.
---
Fix 4. Disconnect unnecessary Devices from your PC
Using all sorts of external devices such as USBs can cause boot loop problems. If you want to be sure that an external drive is not the cause of the problem, consider disconnecting all drives from your device and see if the problem will be resolved. As a general rule, disconnect external decide from your system when performing an update, including WiFi adapters.
---
Fix 5. Disable Boot in BIOS
You shouldn't be surprised if your BIOS is the reason why your PC is failing to boot. A secure boot feature in BIOS, for instance, can prevent a successful boot. If the secure boot in BIOS is the cause, disabling it will fix likely fix the error.
Step 1. Allow your PC to Reboot sequentially a few times. Select sTroubleshoot – Advanced options – UEFI Firmware – Click sRestart

Step 2. Your PC will boot in BIOS. Now locate the secure Boor feature to disable it. Disable TPM too.

With these changes made to your BIOS, your PC should reboot successfully if the secure boot was the cause of the boot loop bug.
---
Fix 6. Disable internet network
Some users who have suffered this problem claim that the boot loop problem started after connecting their PC to the internet. This allegation may be true because if there are available updates for download, for example, Windows will attempt to download the updates when you connect to the internet, leading to system reboot problems.
For wireless networks, switching off the router will break off the connection, while for Ethernet networks, a simple unplugging of the cable from your PC will do. Try disabling your internet network and see if this fixes the error.
---
Fix 7. Erase problematic updates
If an internet connection is a probable reason why your system is failing to boot, some previously installed updates can also cause problems of their own. Removing such updates is quite easy.
Step 1. Start Windows in safe mode. Open Settings with Windows button and I. Go to the Update and Security menu.
Step 2. Click View update history
Step 3. You will see a list of all recent updates. Make a list of all of them, then uninstall them all.
Step 4. updates will appear in a list. You will have to double-click the ones you want to remove. Follow instructions to uninstall.
On a final note, some Windows 10 users believe that KB3081424 is to blame for boot loop issues, but even if they are right, you also need to bear in mind that other updates may also cause the problem. For the avoidance of doubt, you can install KB3081436 and then see if the problem will go away.
Closing Words
We hope you can now fix the Windows 10 boot loop problem using any of the solutions listed above, and your PC is running normally again.
FAQ's
What is a Boot Loop?
Boot loop unable the Windows to load up correctly after turning on your PC. Instead, the system fails to reach the login screen before resetting to the boot screen and attempt to reload Windows. The main reason of the error is problematic Windows system registry and without booting into Windows the error cannot be resolved, leaving the OS unreachable.
What causes the Windows 10 boot loop problem?
If your system is stuck restarting after a Windows update, the root cause could be a collective update. Windows 10 update KB3081424 does not install, and the computer was unable to complete the updates, reverting the changes. Then the Windows 10 registry might get corrupted by this operation.
Besides, many other events can cause a boot loop for your Windows
Improper shutdown
Damaged system files
Outdated driver
Secure Boot feature
Partition Recovery
Partition Management

Solve Partition Problems

Partition Tips