You would agree that it is a nerve-wracking moment when your device shows the "SD card won't read" message. In fact, this is the moment everyone dreads when dealing with SD cards. At that moment, you think of the myriads of videos, pictures, and files you might never get to recover. This could mean a life's worth of research and efforts went down the drain.
Well, that's not the end! As it turns out, you can safely recover your files even when the memory card cannot be read. In this article, I will show you simple and effective methods with which you can rectify those error messages.
Part 1: How to Fix SD Card That Won't Read
No doubt, SD cards are an inexpensive and convenient means of storing your data. However, these storage devices are prone to corruptions which might lead to permanent loss of data. To avoid such devastating occurrences, here are a few fool-proof methods of fixing "SD card won't read" message.
1. Use CMD to Fix "SD Card Can't Be Read
Also referred to as Command Prompt, the cmd.exe is a Windows application used to execute commands to execute certain tasks. Mind you, dealing with the cmd.exe is considered tedious as a single mistake can result in the deletion of important files.
More so, a misspelling could cause the command to fail. Now, you understand the intricacies involved in this procedure, let's delve into the business of the day. Let's get to work!
Connect your SD card to your system.
You can either insert it into the slot provided by your system or attach it to a memory card adapter. Type in cmd in the search bar when you open the start menu. Better still, use the shortcut: windows + R, and type in "cmd". You will see the Command prompt software a list of programs.
Place your mouse over "cmd.exe" and right-click. This will show you the following command window that will aid you in repairing your SD card without formatting.
Don't rush since this part is very vital. Don't make the mistake of typing another designated letter for your SD card. If your SD card is designated with the letter "E", ensure you type in the same letter. For this step, type in, "chkdsk h: /f E"
Once you input this, the Command prompt will execute your command. In other words, it will start to repair your corrupted or damaged card.
2. Scan and Repair the Unreadable SD Card
There are so many reasons why your memory card is unreadable. Sometimes, it is due to physical damage or long-term use. So, don't despair if your memory card is unreadable.
Connect to your computer and scan with the aid of an SD card diagnostic software. This will bring up options on how to repair it. Conversely, you can also change the drive letter, since your system might not be able to read your SD card's format, hence the error message.
Simply go to disk management and right click on your memory card.
Select Change Drive Path and Letter. Click on your drive letter and select change option.
Select a new drive letter and click OK.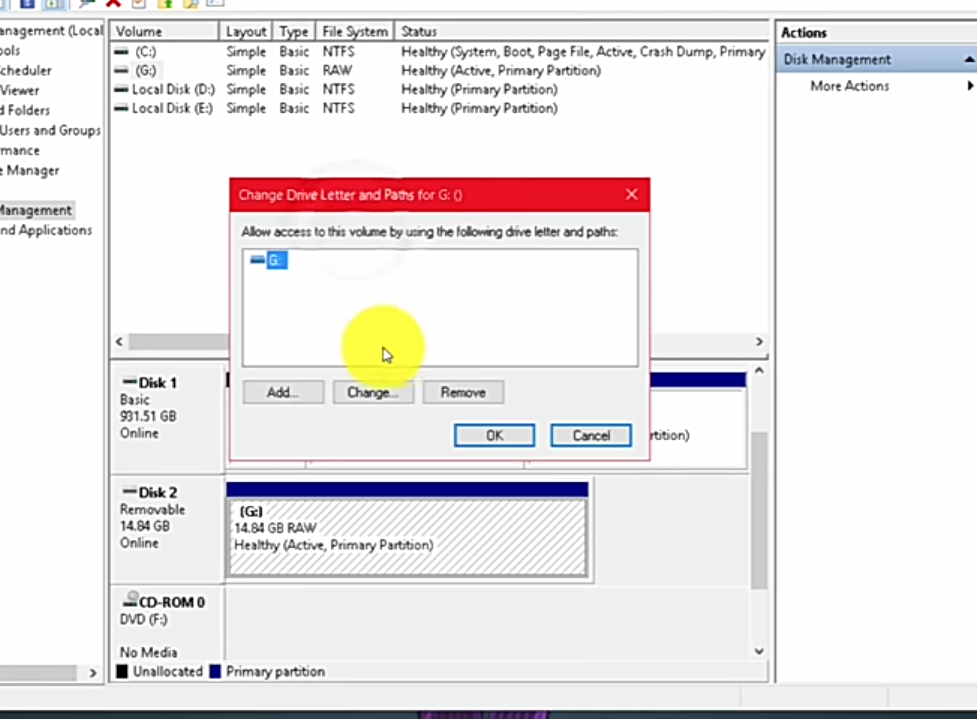 3. Update Driver for Micro SD Card
Here's another way to fix your memory card. An outdated driver could be the reason why you can't access your micro SD card. In fact, the memory card error is common after a Windows 10 update.
To remedy this malfunction, connect your SD card to the system.
Click on Control panel and open the Device Manager.
Expand the device entries to see if there's an exclamation mark in a yellow triangle.
This means the SD card is not working properly due to an incompatible or outdated driver. Download a new SD card driver and install it. Mind you, ensure you install the new driver from a trustworthy source.
3. Format Micro SD Card Not Working
The best option is to format your memory card when you are still receiving the same error message after trying different fixes.
Once again, connect your SD card to your computer.
Open This PC or my Computer. Right-click on the corrupted memory card and click Format option.
Click on start to commence the Format process. Mind you, it takes time depending on the capacity of your SD card.
4. Access SD Card Photos with Recoverit Photo Recovery
Recoverit Photo Recovery is the solution to access lost photos from damaged SD card. With a user-friendly interface, the Recoverit Data Recovery will help you to recover lost photos without a hitch. More so, it's effective for retrieving any file format and works on Windows 11/10/8/7/XP/Vista and Mac OS X 10.10 - macOS 13 (Ventura).
---
Part 2: How to Retrieve Photos from Corrupted SD Card
Corrupted SD cards are quite commonplace than you think. Due to its delicate small size and large capacities, it's easy for people to corrupt or damage it. In fact, micro SD card problems are triggered by seemingly inane actions such as unplugging from a system without using the safe removal option.
Here comes the question: how can you effectively retrieve your pictures from a corrupted file? No doubt, there are lots of data recovery systems that can help you to regain those lost files. However, this section features solely on the Recoverit Photo Recovery due to its high success ratio of recovering lost photos.
Recoverit Photo Recovery software, no doubt, stands in a different niche. It comes with advanced file algorithms that help recover files without a decrease in quality. Most data recovery files are often inefficient when it comes to recovering files with the same quality. However, this software offers you a 96 percent success rate irrespective of the file format you want to retrieve.
There's more! Recoverit, as mentioned earlier, is compatible with multiple devices without a glitch inefficiency. In addition to this, they offer users 7-day money back guarantee if dissatisfied with the service quality.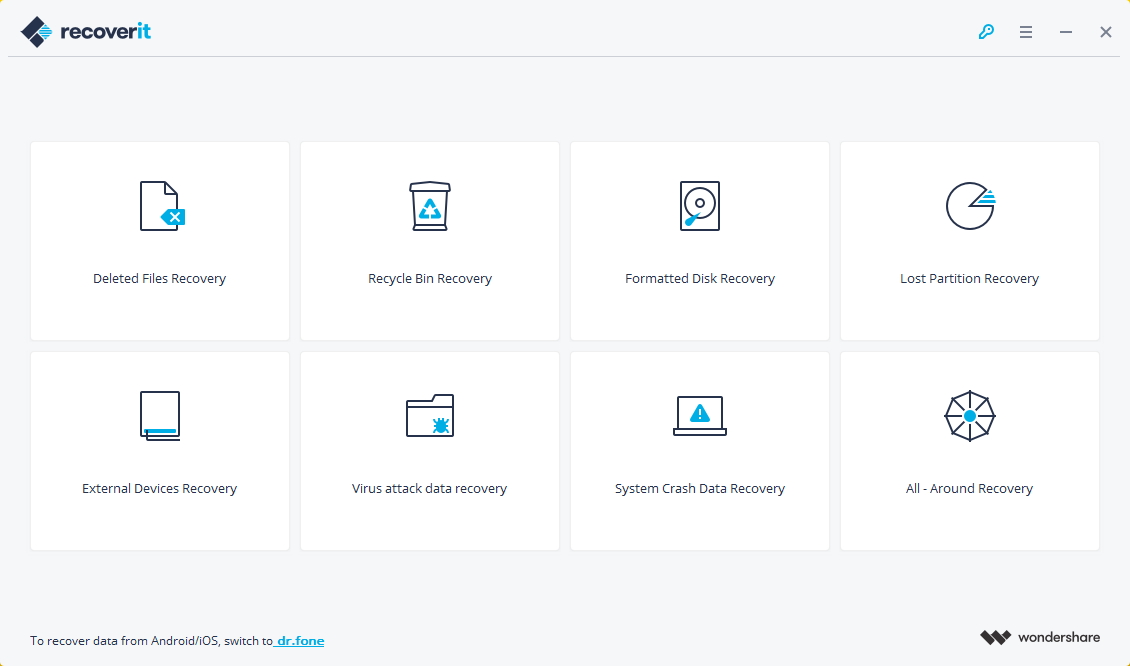 Recover lost or deleted files, photos, audio, music, emails from SD card effectively, safely and completely.
Supports data recovery from recycle bin, hard drive, memory card, flash drive, digital camera and camcorders.
Supports to recover data for sudden deletion, formatting, hard drive corruption, virus attack, system crash under different situations.
1. Video Tutorial on SD Card Photo Recovery
---
2. How to Perform SD Card Photo Recovery
You need the aid of third-party software like Recoverit to restore data from corrupted SD card. In this section, I will show you a step by step guide on how to recover your lost pictures from damaged or corrupted SD cards. So, let's explore these steps together!
Step 1. Select the SD card as a scanning location
To recover lost picture from your SD card, you need to choose the specific location where your photos got lost. Here, choose your SD card's designated letter and click on start to continue. Ensure you click on the right drive in order to save time and effort.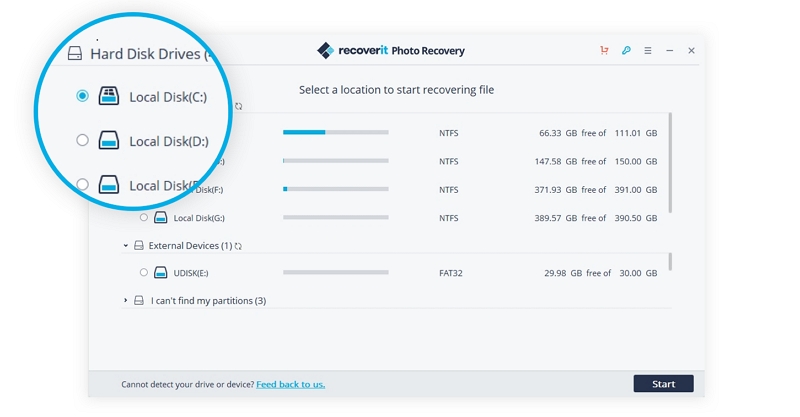 Step 2. Scan the selected SD card
Start the scanning process. Recoverit uses a deep search algorithm to retrieve your file irrespective of the time of deletion. Sometimes, you might need to scroll down to get your desired file.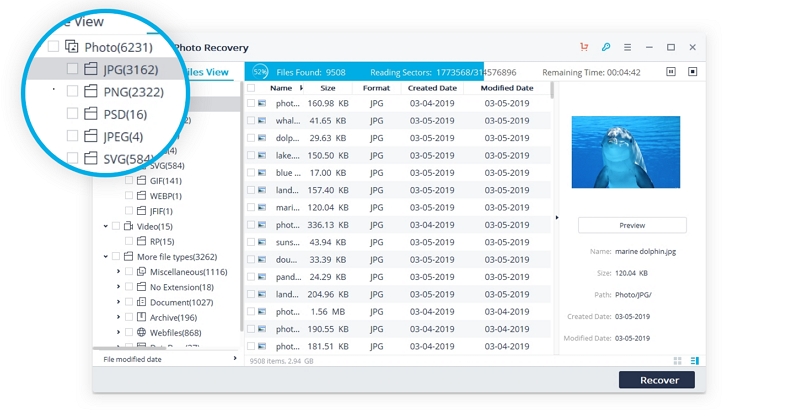 Step 4. Preview and restore photos
You can preview your desired file before recovering it. Yes, the scanning is finally complete. Select the pictures or files you wish to restore and preview them. Once you've identified the file, click on "Recover" to retrieve deleted photos from your SD card.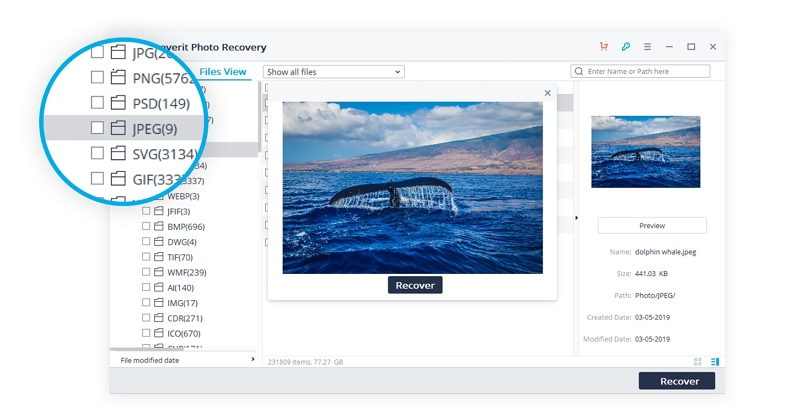 Don't Rush! The next part is very crucial as most people make the mistake of placing the restored file in the same SD card. Always save the restored file to another external drive or to your computer. Not every file will work. There's a high chance of getting your files intact if it was recently deleted.
---
Part 3: What Does an SD Card Do?
SD cards are a form of flash storage that allows you to store vast amounts of data on it. It's an efficient and mostly fool-proof way of storing your data without worrying much about damages through physical damage. More so, SD cards are small with an approximate weight of 2 grams and stores data via its NAND chips. Furthermore, SD cards can transmit data at huge speeds since its chips have no moving part.
Here comes the juicy part!
What is a memory stick? No doubt, many people mistake the flash drive for memory sticks. For the record, memory sticks are different from flash or pen drives. Introduced by Sony in 1999, memory sticks are similar to SD cards in functions. It's different from an SD card, however, lies in its build. For instance, the Memory Stick Pro Duo is 1.6mm thick and 20 mm wide by 31mm long.
---
Part 4: How Does an SD Card Become Corrupted
No doubt, this is a question that's on the mind of every SD card owner. Due to its small size, most people think the storage device is exempt from malfunction. However, just like all external storage devices, the SD card can become corrupt due to a lot of reasons.
1. Physical Damage
Yes, the SD card is vulnerable to physical damage since it's tiny. In fact, it's easy to bruise these small storage devices or even bend them without breaking a sweat. Although some memory cards are waterproof, they can become damaged if put in water for a long time. What's more? SD cards also suffer from electrostatic discharge and this might damage it permanently.
2. File System Corruption
The Operating system of your device plays a huge part in the proper function of your SD card. You will always pass the operating system before accessing your SD card. Therefore, if your operating system malfunctions, your file system becomes corrupts. Consequently, your SD card will become corrupt.
3. Improper Removal of SD Cards
Memory cards become corrupted when you violently remove them from your device. You need to plug in and plug out your SD card frequently especially when transferring files. Therefore, frequent or violent removals can compromise the proper functioning of your SD card.
4. Malware or Virus Infection
No doubt, this is a common reason why SD cards become corrupted. When you unknowingly download a Malware-infested file, the malware will affect the data stored on your device. In this case, this will result in an SD card crash.
5. Manufacturing Defects
SD cards differ in costs and quality. Cheap memory cards are often of lower quality, hence they become corrupted easily.
---
Part 5: How to Keep SD Card Healthy
The role of an SD card cannot be underestimated since it's the life-blood of so many digital devices. Therefore, it's paramount to know how to maintain your SD cards in order to avoid nerve-wracking moments.
You need optimal performance from your memory card. Therefore, you need to clear away previous images on your memory card. Although some cards are sold as "pre-formatted", it's a good idea to format your card before use. Formatting will restore your card to a format easily recognized by your device.
Never Fill Your SD Card Completely
Always keep an eye on the storage capacity of your SD card. So, while taking new pictures or videos, make sure you never get too close to filling your card. Adding a file when your memory card is already full, might trigger a write error.
Reformat Your Card and Don't Delete
Reformat your card instead of deleting the files on it. By doing this, you are restoring your SD card to an easily recognizable format. More so, it reduces the chances of getting a "memory card not showing" message.
Always Use Good-quality SD Cards
I would admit that it's tempting to want to save cost when buying SD cards. However, it's important for you to go for quality SD cards from reputable brands like Lexar and SanDisk, irrespective of the cost.
Don't Switch Off Your Device Immediately
You can corrupt your memory card if you switch off your device suddenly. Take note of this tip, especially when you are downloading a file on your SD card.
It's been quite an eventful journey as we traversed ways to avoid and correct the "SD card won't read" message from our devices. With these nuggets, you don't need to throw away your SD card when it becomes corrupt. More so, it saves you the stress of worrying about restoring photos from SD card.
SD Card Recovery
Recover Card Data

Repair Card Errors