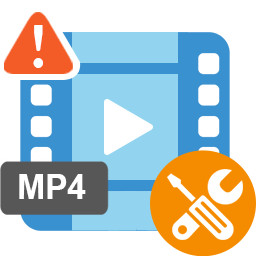 Q: "How to repair damaged MP4 ile on PC or Mac? Is there any MP4 video repair software?"
If, when trying to play a video file, your player warns you that "the file cannot be opened", "an error occurred while loading the file" or "the file does not contain information" even though the file indicates that it contains the correct weight, it is probably that your video file has been damaged. Here you will learn how an Mp4 video can be damaged and I will give you some tips to prevent your Mp4 files from getting corrupted. If you have a damaged Mp4 file I will show you how to easily repair it while preserving its original quality.
Part 1. Why MP4 Files Get Damaged?
Part 2. How to Repair Damaged MP4 File With Wonderhsare Video Repair?
Part 3. How to Fix a Corrupted MP4 File with VLC Media Player?
Part 4. How to Protect MP4 Video from Corruption?
Part 1: Why MP4 Files Get Damaged?
Video corruption is a common problem that occurs due to the loss or improper structuring of information in a file. An Mp4 file may be damaged due to any of the following reasons.
Interruption during information transfer
If you downloaded the file and lost internet connection during the process, the download may have omitted some data during the transfer.
If during the recording of the video you ejected the storage unit or the camera turned off inappropriately, the information writing process may not have finished properly.
If your storage unit is damaged, it may have trouble writing or reading information.
If your computer or storage medium is infected with a virus, it can alter the information in the file and make it unusable.
If you were editing the content of the video or converting its format and the writing process was interrupted for some reason, it is likely that the file is incomplete and therefore illegible.
In today's world where videos are rampant and easy to create, you may have come across MP4 format file. Do you know what MP4 format is? In this article, we shall discuss what is MP4 and the devices it supports. MP4 format is an abbreviation of MPEG-4 Part 14 where MPEG stands for Motion Pictures Expert Group. MP4 is based on Apple QuickTime file format commonly known as MOV although it has enhanced with MPEG features. This format was first released in 2001 and has become a widely used video format.
Have you ever come across the problems mentioned below with MP4 files?
Unable to play MP4.
MP4 files fails to respond.
Recording video file when device is indicating low battery. (Steps on repairing unplayable recorded videos.)
Memory card formatted accidently.
MP4 files get infected by virus.
File stops suddenly while playing.
If your answer is "YES", you are unable to play your damaged MP4 files. In order to recover damaged or corrupted MP4 files, you need MP4 repair tool software which will help you to restore all the corrupted files easily.
---
Part 2: How to Repair Damaged MP4 File With Wonderhsare Video Repair
MP4 provides high-quality and highly compressed digital video, but we usually experienced the corruption of our favorite or important MP4 videos. Actually, this often happens if the MP4 file gets damaged. That's why the MP4 video fixer - Recoverit Video Repair is here for you. It is the best application for repairing MP4, MOV, 3GP. Which could help you repair damaged mp4 files in any common causes: changes in format, file header corruption, improper system shutdown, file read and write errors, virus attacks, improper download and compression issues.
Repair Damaged MP4 Files
Repairs corruptions in the MP4 video header, sound section and movement.
Repairs corrupted data and errors in MP4 video slider movement and frames.
Repair Damaged MP4 File on Windows 10/8.1/8/7/Vista and macOS 10.9-10.15.
Add Damaged MP4 Video File
Step 1Add Damaged MP4 Video Files to the Video Repair Tool. Add damaged MP4 video files from your hard drive folder or drag them here.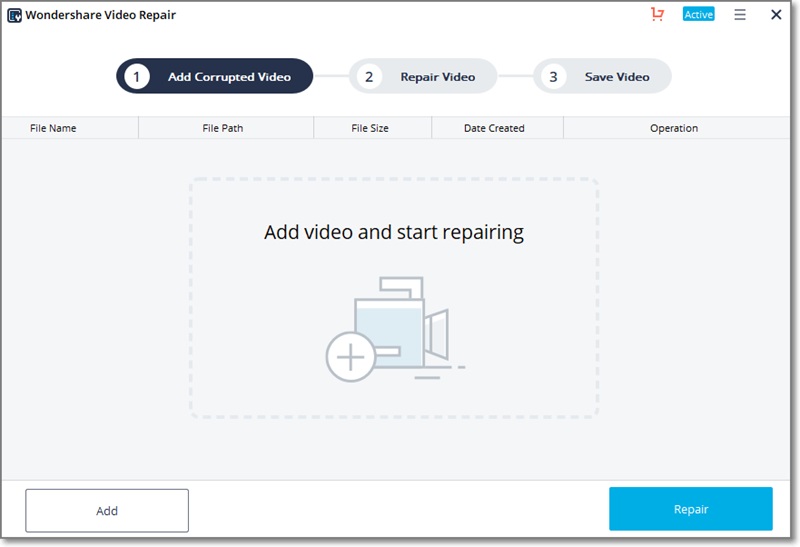 Repair Damaged MP4 Video File
Step 2 Select the damaged MP4 video files from list and click "Repair" button. Recoverit Video Repair will start a quick repairing process.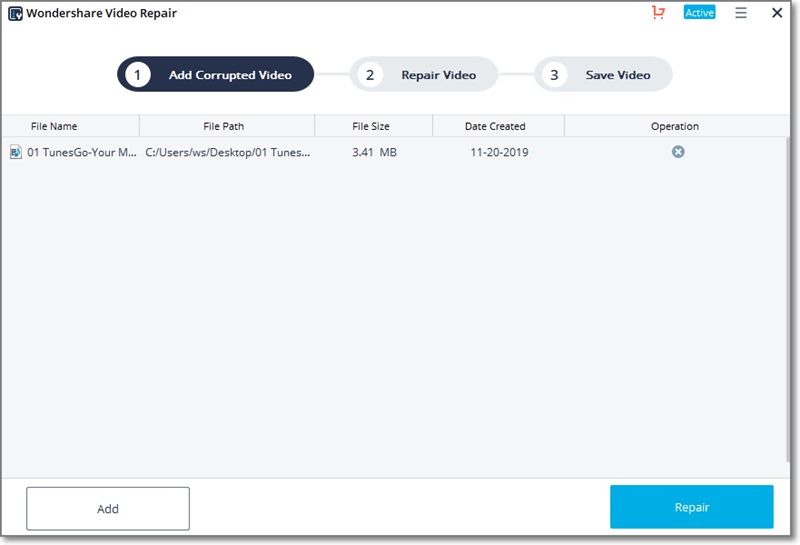 Preview Repaired MP4 Video File
Step 3 Preview and Repair Damaged MP4 Video Files. After a little while, you can preview the MP4 videos to check whether they are well-repaired or not.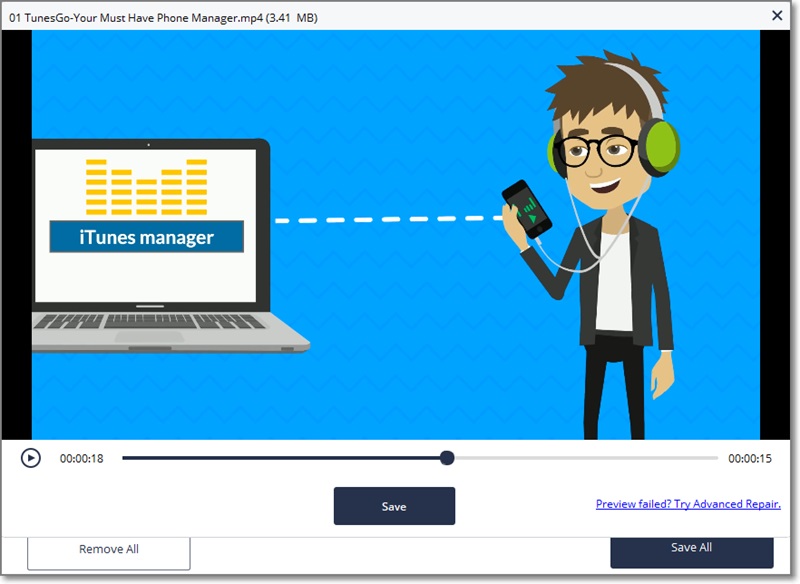 Add A Sample MP4 video
Step 4 If not, please go to the "Advance Video Repair" mode, where you should add a sample MP4 video to be analyzed by Recoverit. The sample should come from the same storage and in the MP4 video format.
Save Repaired MP4 File
Step 5 Finally, let's save the repaired damaged MP4 Files to PC or to a preferred destination.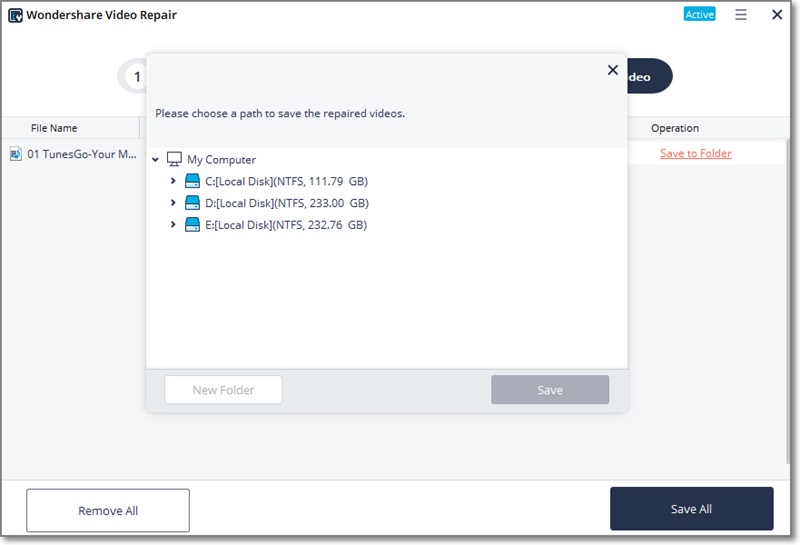 Simply download and have a try the best Video Repair Tool to help you repair damaged mp4 file.
More about MP4 Video Files
MP4 is a digital media container that is used to store audios, videos, graphics, and subtitles and still images. Furthermore, MP4 is a designed in a way that supports the advancement of context and texts such as 3D graphics. It is file size low and also has high video quality output. Due to its low bandwidth; it can be able to support different operating systems, devices and media players. It supports Mac and Windows operating systems. When it comes to media players, it supports QuickTime Player, Windows Media, VLC, KM player, Mplayer Real player and others. It also supports storage devices like USB drives, iPhones, iPods, iPads, Android phones, external hard drives and memory cards. What is more exciting about MP4 is that, is works on play stations and DVD media players.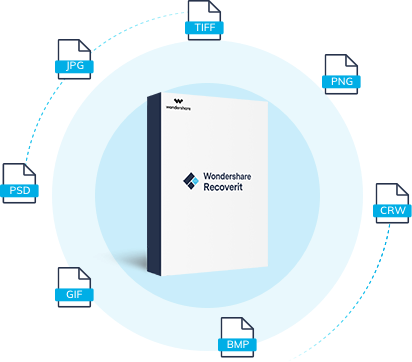 Recover deleted or lost video from digital camera, computer, USB drive, SD memory card, Android phone.
Recover lost videos due to accidental video deletion, formatted memory card, virus attack, human errors, etc.
Supported Video formats: AVI, MOV, MKV, MP4, M4V, 3GP, 3G2, WMV, ASF, FLV, SWF, MPG, RM/RMVB, etc.
Part 3: How to Fix a Corrupted MP4 File with VLC Media Player?
Q:"How do I fix a corrupted .mp4 video file?"
There are several programs that can repair an mp4 file, however, one of the easiest ways to repair an mp4 video is with VLC. The VLC player has the possibility of converting a video to optimize playback compatibility, during this process, the player reorganizes the information in the file and encodes it again, so this process is often used to repair a damaged video.
Here I will show you how to perform the repair process by converting the video step by step.
Step 1

Open VLC and click on Media
This will open the format conversion tool.
Step 2

Add a corrupted video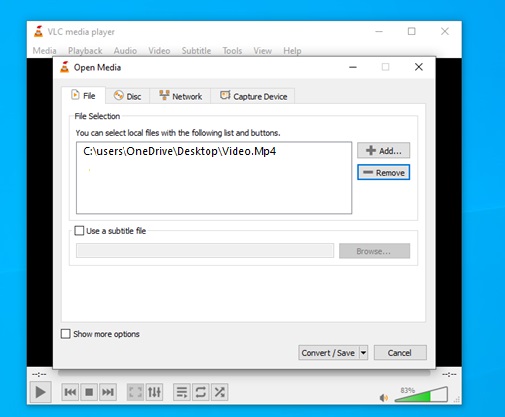 Here you will have the option to add the damaged file that you will convert, once added the file click on Convert / Save.
Step 3

Choose the conversion settings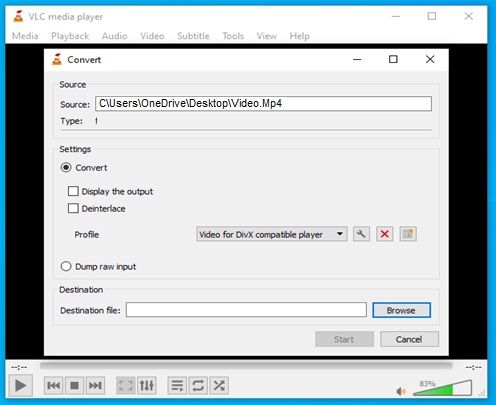 Choose a Codec and set a location for your video and click on "Start".
---
Part 4: How to Protect MP4 Video from Corruption?
Although repairing a damaged file is not difficult, it is always better to take precautionary measures and thus prevent your files from being damaged. For this you can take into account the following recommendations.
Make backups of your videos on storage media in good condition
Make sure you have a stable internet connection before downloading or uploading a video file
Use only reliable video editing and conversion programs
Keep your operating system and antivirus updated
Do not interrupt the import or export information processes
Make sure your camera has a battery in good condition and sufficiently charged
---
Conclusion
MP4 files can be damaged for many reasons and therefore it is important to know how to prevent them from being damaged and be prepared in case you have to repair them. The VLC video player is a very practical tool to repair damaged video files, however, there is a possibility that it will not be able to repair a file if it is badly damaged, fortunately, with Recoverit Video Repair you can repair Mp4 files damaged regardless of the magnitude of the damage preserving its original quality, in addition, Recoverit has an easy-to-use interface so it will only take a couple of minutes to repair your videos.
Video Tutorial on Video Recovery
Solve Media File Problems
Recover & Repair Photos

Recover & Repair Videos

Recover & Repair Audios

Recover & Repair Cameras