Q: How to back up and migrate user profile in Windows 10?
"Dear friends, can you tell me how to back up a user profile in Windows 10? Will it include user files too? Is there any tool that can do both tasks like backup and restore?"
When you just bought a new Windows PC, you will need to set it up. Setting it manually with the same user folders and settings that the old one had can be quite frustrating, but there are simple ways to do so. It is by copying windows 10 user profiles and transferring it to another computer, which is a manual method, or using Windows backup software.
Using variable profiles on a Windows PC, it is easy to create multiple user accounts. It is as per the Windows system User Profile, and thus when you have issues with this, there are two leading solutions.
How to Back Up and Migrate User Profile in Windows 10? What is a user profile? The visual presentation of personal data that is associated with the customized desktop environment or specific user is known as a user profile. In the local user profiles, there is data stored in them, and access must be from the current PC.
You must know how to migrate the user profile when you want to customize the new computer with the original user profile in the old one. You do not have to worry at all about data loss as you can get back up by migrating user profiles to another PC, and there are two efficient ways you can do this.
Solution 1. Backup User Profile with a Windows Backup Software
It takes a lot of time to backup user files manually, and it can be annoying considering that you can only back up some data on the desktop when you opt to copy User Folders. If you have a local computer where you need to use a backup user profile to back up Windows OS and transfer to a new computer, you must use free Windows backup software.
The AOMEI Backupper Professional software is an excellent user profile backup software that restores and is well-advanced in performing this task. It will not only help in restoring the system without issues, but it will also help in recovering any lost data. The advantages of this software are that it offers reliable and complete computer backup, standard edition full features, and strategies for restoring Windows 10/8/8.1/7/XP/Vista.
Features:
File Backup: Well, to keep your data safe, it is necessary that you back up folders and files either manually or automatically.
Partition Backup: To save your time and effort, you should not backup the entire disk. Instead, back up the specific volume or in a compressed image file, back up multiple partitions.
System Backup: With this feature, you do not have to interrupt your work when copying contents in the system drive. You can copy applications, Windows OS, and configuration settings efficiently.
Disk Backup: For all the hard drives that are recognized by Windows, you can back them up. They include but not limited to an external disk, USB flash, and internal disk.
File Sync: Even in the background, you can backup sync with this feature. It allows you to sync folders and files to USB flash drives and external hard drives in real-time.
1. Back-Up Your Windows System with User Profile in Windows 10
The AOMEI Backupper Professional user profile backup software helps you to protect data security and your current system in Windows 10/8/7. The Windows System backup feature creates a complete backup of Windows system and User Profile data.
Step 1: Download and Install
Download and then install this backup and restore software for free.
Step 2: Select the File
Click "Back Up" in the main interface and then select the "File Backup" option.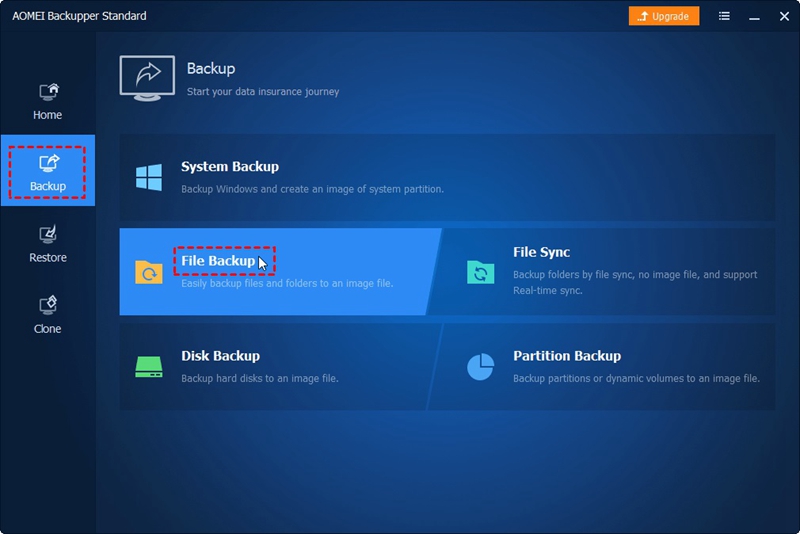 Step 3: Adding a Folder
The user profile folders should be incorporated in the backup, and to do so, you should click the "Add Folder" button.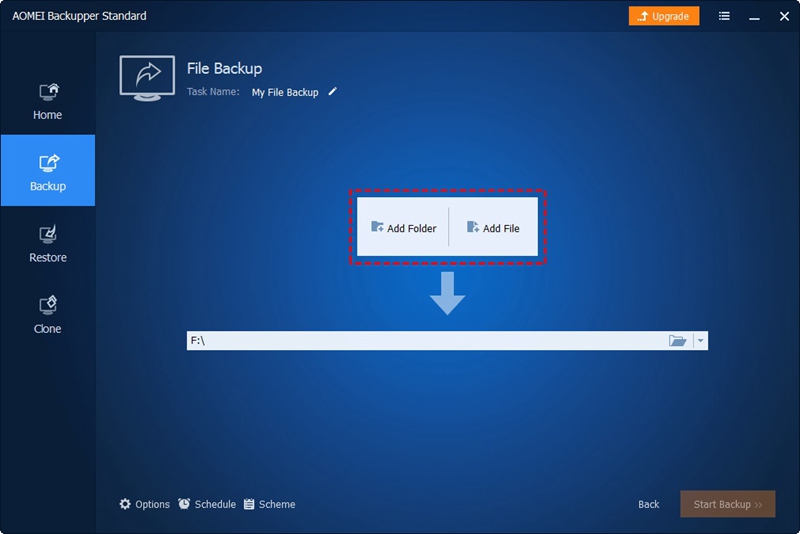 Step 4: Select Destination
Click to specify where you want the image back up saved.
Step 5: Scheduling a Backup
If you need to configure a time, click the "Schedule" button. Do you want the backup to be differential, incremental or full? You should specify this under the "Advanced tab." If you want to utilize the Windows Task Scheduler to perform the backup, you can set it up at this point.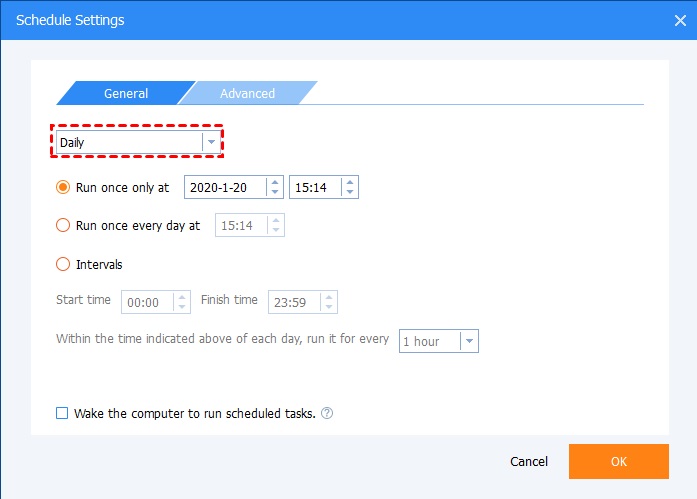 Step 6: Initiate the Process!
To run the backup, you are required to do so using one of the options given. You need to click "Start Backup" and choose either "Only add the Schedule" or "add the schedule or start back up now".
Important Points:
Go to Home, click on the backup task, then the tab for more options, and then click Restore to restore the backup user profile.
The Disk Clone feature helps in moving the hard drive to an SSD or another hard drive. The move includes the Operating system. Just like the name suggests, with the feature, you clone or replicate MBR disk into GPT disk and large disk into a small one.
For the current computer, you can create a full system backup and restore it to the new PC using the AOMEI Backupper Professional user profile backup software. It is when you need to move the customized system.
2. Back-Up and Transfer the User Profile to a New PC
To restore the user profile from the USB, you need to connect the disk to the new PC after you have created the backup.
Step 1: Restore Profile
Click "Restore" on the main interface.
Step 2: Select Image Backup
To pick the image backup on the USB, click Path and then Next.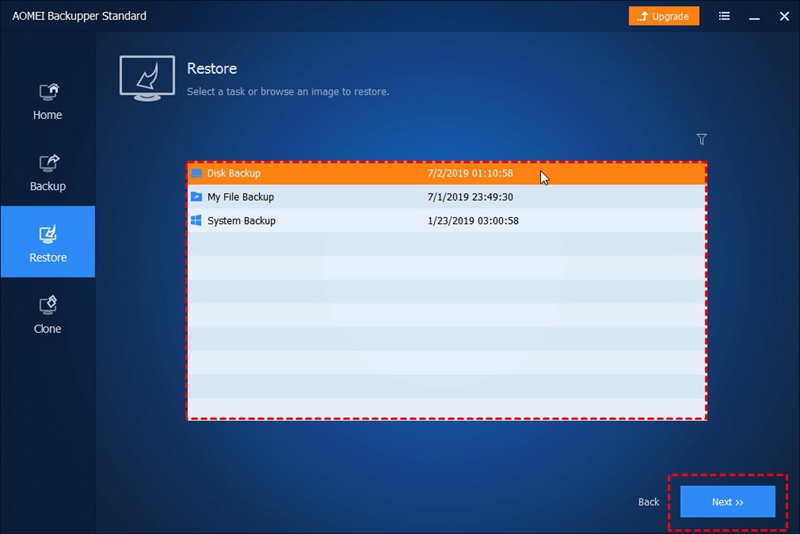 Step 3: Start Restoring
To restore, select a backup time point and then click the "Next" option.
Step 4: Choose the Backup Destination
The final step is to select a destination for the partition image that you want to be restored and hit "Next." Lastly, click the "Start Restore" option.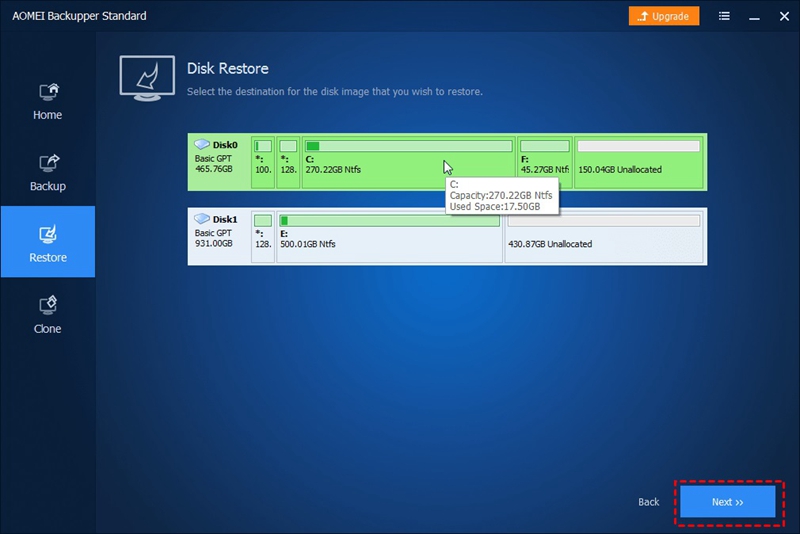 ---
Solution 2. Copy User Profile by Using Backup and Restore Tool
Well, the Backup and Restore (Windows 7) or the Backup and Restore is an in-built tool in Windows. As a user, you can copy manually and create a backup user profile or Windows system.
It allows you to not only create a complete copy of data and all other files associated with the User Profile in Windows 10 but also to move the backup to a new computer.
1. Copying and Creating a Backup of the Windows 10 User Profile
Step 1: Everyone wants to save some storage space on the computer. To do so, you should first connect the computer with the USB or an external hard drive. It is where you can save the backup image of a User Profile.
Step 2: Now, choose the "Start" option. After that, go to the "Control Panel." There you will find the "Backup and Restore (Windows 7)" option.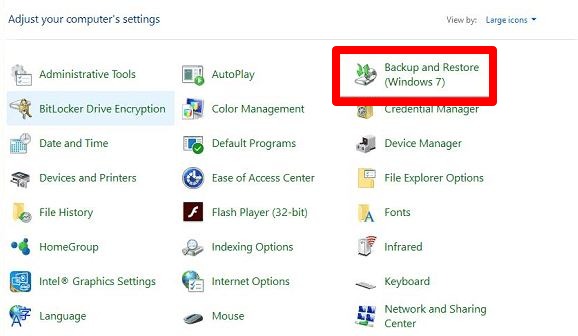 Step 3: On the screen, choose "Set up backup" option.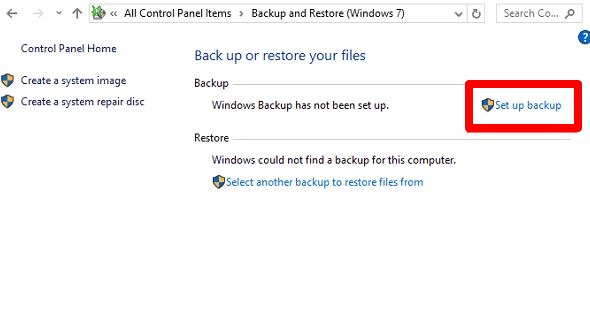 Step 4: To save the backup image, choose either the local drive or the external device as the location before clicking the "Next" button.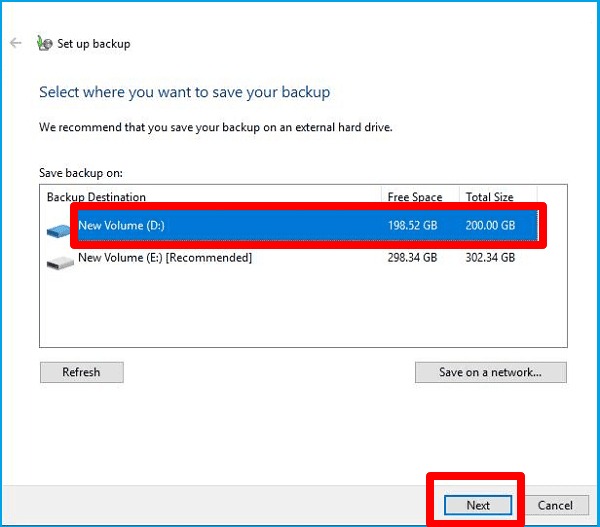 Step 5: Click on "Let me Choose" on the new screen and select "Next."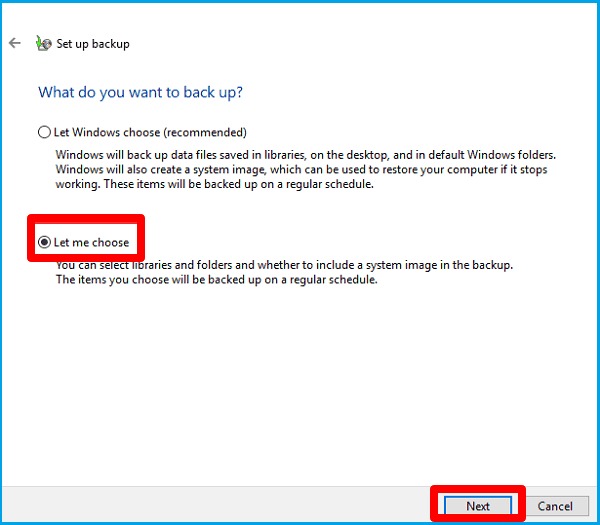 Step 6: At this point, there is a specific user library that you need to transfer. Select it or all the user profiles that you have created. Uncheck the "Include System Image" option if you want to backup the user profile only and then click the "Next" button.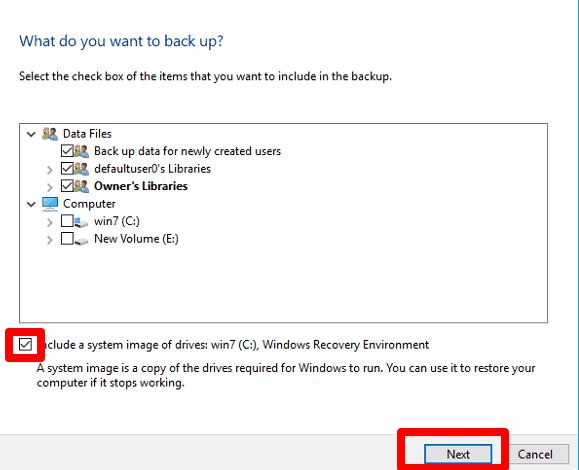 Step 7: At this stage, you can review the backup summary. Click to save the settings and run backup process.
The process needs to complete; thus, you have to wait. Below are the guidelines when you need to transfer a backup user profile image to a new computer.
Important:
Ensure that both the new and the old computers are using Windows operating system. Remember that the User Profile must be recognizable and readable, and if the OS is different, then it may not be attainable.
2. Transferring User Profile to A New PC in Windows 10/8/7
Step 1: Switch on the new computer. After that, connect the storage tool. Then, select the "Open Backup and Restore (Windows 7)" option.
Step 2: There is the option "Select another backup to restore files from," click on it.
Step 3: Click on the option "Select the backup that you want to restore User Profile from" and then select the "Next" button.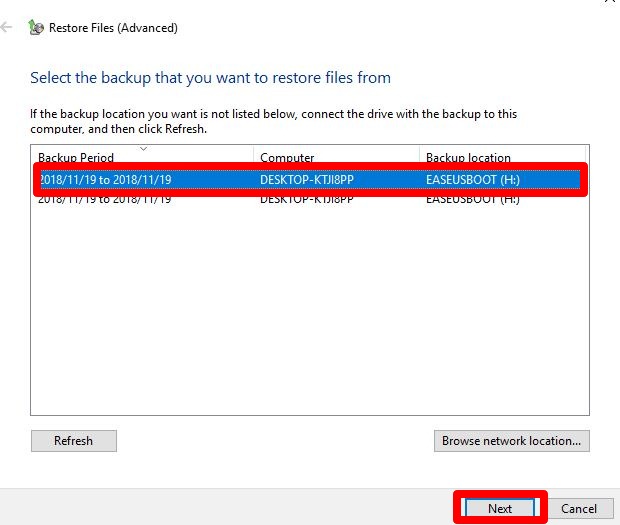 Step 4: To choose the backup user profile image, select 'Browse for folders' and then click the "Next" option.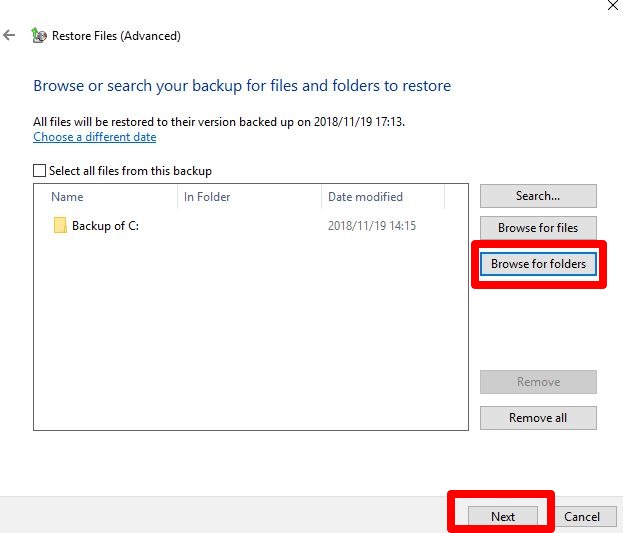 Step 5: You need a location to store the files. To specify where you want the user profile saved on the new computer, click on "Browse," or select "In the original location" as the location where the files should be restored.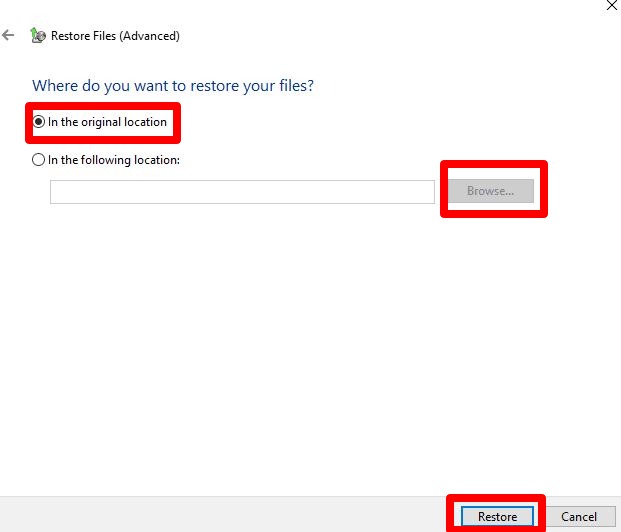 To make sure that all is in order, check 'In the original location'. Moreover, to start the restoring process and ensure that it is completed successfully, click on "Restore" and wait. Once this is done, restart the computer. When it is on, on the desktop, you will see the backed files, documents, pictures, user profile folders, and music, etc.
---
Conclusion
For the smooth restoration of the user profile in a new Windows 10 computer, most users prefer to back up the user profile before they can move to the new PC or reinstall Windows 10. With Windows 10, no Windows Easy Transfer feature that allows you to move, transfer settings, or files from one computer to the other. This feature is available on Windows 7 and the versions before it. Despite this, while reinstalling, you do not have to worry about user profiles. The reason is, you do not lose data when reinstalling Windows 10.
You can use the AOMEI Backupper Professional user profile backup software when you need to transfer user profiles from Windows 10/8/7 to another one.
Data Backup Services
Computer Backup

Hard Drive Backup

Mac Backup

Cloud Backup