How to Fix Blue Screen 1033 Error
Computers have become an essential part of our daily life. They have taken over human labor to a very high degree. But, they are also just mere machines who are prone to technical flaws and mishaps. Blue Screen 1033 Error is one of those numerous technical problems(including error bccode 50, blue screen 0x0000000a error, blue screen stop 0x0000003b etc. ) that we might face while using a computer. Many people tend to freak out when they encounter this error.
In this article, we are going to educate you about the error of Blue Screen 1033 and also mention the best possible solutions to fix it. The entire article has been kept in the simplest of form so that everyone can benefit from this. So, let's begin!
Part 1: What is 1033 Error?
This 1033 error is a situation when the display of the computer shows a blue screen error with lots of text written on it. The user will also get a message that will inform him that something has gone wrong with the computer. The Windows will shut down the computer in order to prevent any sort of damage to the computer or to the data stored inside. After this, your computer will either proceed to restart or it will shut down on its own.
The Blue Screen 1033 Error is one of the most common error situations that computer users might face on their regular usage of the device. Now, let us proceed to the causes of this error.
Part 2: Cause of 1033 Error?
You should always remember that trivial problems cannot trigger the 1033 error message. So, if this error message has been triggered on your computer then, it most likely is some serious issue that has caused your operating system to shut down or restart unexpectedly. However relax, you have nothing to worry so much, in most cases the operating system fixes it on its own. And even if it doesn't, there are some very simple system fixes that will help you get your computer up and running in no time.
So in order to start, let us first understand the basic causes of the Blue Screen 1033 Error. We have listed some of them below for you:
Crash in Graphics card driver
Hardware or driver issue
Missing, damaged or corrupted system files
Virus scanner or incompatibility of backup tools
These are some reasons which might cause the error 1033 due to which the system can unexpectedly shut down. Now that we know what causes the 1033 error, you should now proceed to the next section which will talk about the solutions to it.
Part 3: How to Fix Blue Screen 1033 Error?
There are lots of simple system fixes that will help you to get rid of this annoying blue screen. We are going to mention some of them:
Use the Action Centre to check for possible solutions
This is a built-in feature available on all windows computers and it helps you to check for a possible solution to Bluescreen 1033 error automatically. It scans your hardware and software to find the issue that has been causing the error and then suggest the best solution to fix it. You have to go to the System and Security option that will be available in the control panel of your computer. After this, you have to navigate to "Check for solutions to problem reports" that will be available under System and Maintenance options. Finally, you have to choose "check for solutions" and your computer will search for solutions to the most recently reported errors.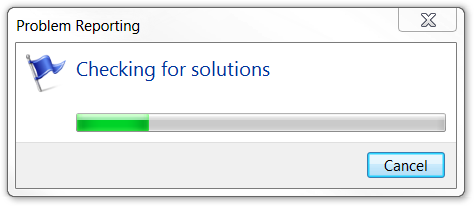 Restart your computer by unplugging the power source
Shutdown your computer if it hasn't done it by itself. Now, for desktop, unplug the power cord from your computer. In case of laptops, remove the battery from your device. Now, you have to wait for at least 30 seconds before plugging the power source. After you have plugged the power source, run your computer to check if the 1033 error problem has been successfully eradicated.
System Restore
This process involves the use of Windows utility known as System Restore and basically restores the recently made critical changes if any to the registry, new software or driver installation. You have to select system restore from the start menu. After that, click on "Reset this PC". You have to choose "Keep my files" from the next screen. Finally, follow the rest of on-screen instructions to complete this process successfully. This will remove the software or drivers that might be causing the error. After successful completion, restart your PC to verify that the error has been removed.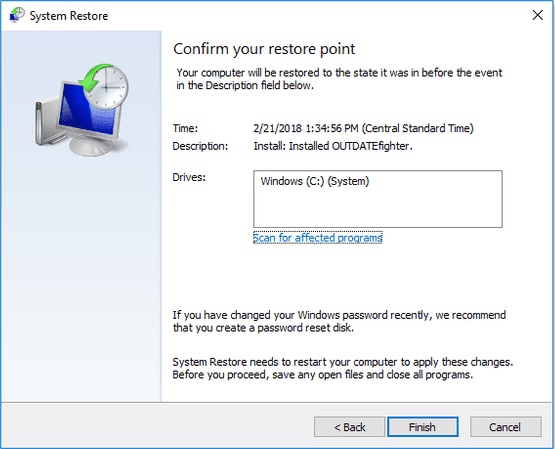 Roll back your computer drivers
There is a very high possibility that a newly updated driver might be causing hardware issues which in turn may be the reason for Blue Screen 1033 Error. In this case, the best possible fix is to roll back the drive to its previous version and check whether the problem still remains. For this, you simply have to open the manufacturer's website and download an older version for the driver and install it. Now restart your computer and check whether the problem has been fixed or not.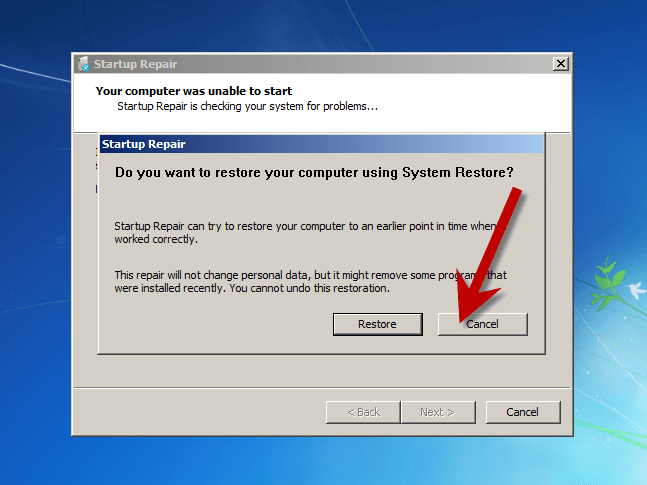 Uninstall any recently installed software.
The final, however, a very important reason for 1033 error could be the installed software that you have recently installed on your computer. So in order to rectify that, you simply have to uninstall any recently added software from your PC. Once you have successfully uninstalled, restart your computer and check if your issue has been dealt with.
However, in case you have installed a number of apps within a short span of time, you need to follow this method to find the faulty one. Doing so will remove any chances of error caused due to faulty driver/software installation which was unknowingly causing an error to the system.
For this, simply open the Control Panel of your PC, then Programs > Programs and features. There choose the recently added programs and uninstall them, one time each.
Easy right? Just, check out the screenshot below for a better idea.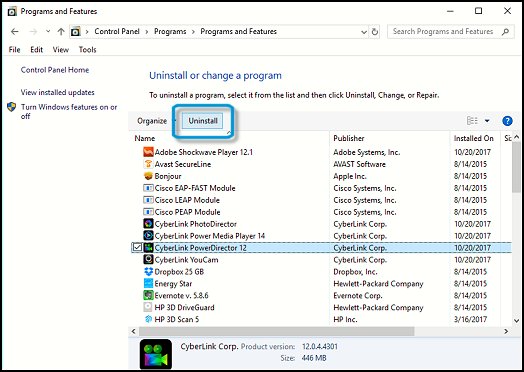 Video Tutorial on How to Fix Blue Screen of Death Error in Windows?
Part 4: If you lost data due to Blue Screen 1033 Error, how to recover data?
It is a known fact that dealing with software and technology is pricky. You may end with losing one data or the data fixing the blue screen 1033 error. This is mainly due to improper methods and no backup data to fall back on.
Most of the people have a misconception that this data can never be restored, but that is completely false! Amazing, right? You can recover this data very easily. For this, you just need to use the right third-party toolkit that will help you to recover your data. Now, there are thousands of toolkits some even fake that will do nothing but simply waste your time. So, we have done the research for you and we recommend Recoverit by Wondershare. Wondershare as you all know is one of the most trusted developers all over the globe.
Recover lost or deleted files, photos, audio, music, emails from any storage device effectively, safely and completely.
Supports data recovery from recycle bin, hard drive, memory card, flash drive, digital camera and camcorders.
Supports to recover data for sudden deletion, formatting, hard drive corruption, virus attack, system crash under different situations.
Now you simply follow all the steps given below to know how to use this amazing toolkit to recover your data from Blue Screen 1033 Error:
Firstly, you would have to install this toolkit on your computer.
Note: After you order this toolkit, you will receive your registration key by email. You need to register this toolkit to unlock all the features.
Now, launch the toolkit and you will be able to see all the features offered by it.
After this, you need to select "System crash data recovery" from the main menu.
Now you have to create a bootable media storage device. You need to keep in mind that your selected device will be formatted and all data will be removed, so just make sure you have to keep a backup of important data before formatting the USB drive.
The process will be automatically launched by the system. Please remember you will not be able to eject the USB flash drive or any DVD drive till the completion of the entire process.
Now the final step is to adjust your bios to remover data from the bootable drive. For this, you have to restart your crashed computer and enter the BIOS. Now connect your created bootable media drive with your computer.
Finally, restart your computer and it will automatically begin to recover data from the crashed system.
There you go, this was the entire process to recover the lost data from your computer that has faced Blue Screen 1033 Error. Wasn't that simple and easy?
Conclusion
Hence, in this article, we talked about Blue Screen 1033 Error. We discussed everything about the error and also how to fix it. We also discussed the best method to recover your data (if it is lost due to the 1033 error). We would love to recommend you the Wondershare Recoverit toolkit. It is one of the best and most trusted toolkits that you can find on the web. Lastly, we really hope that you enjoyed reading this article on how to fix Blue Screen 1033 Error on your computer.
Computer Data Recovery
Windows PE

System problems

PC Errors