How to Fix Blue Screen 0x0000000a Error
Your Computer is your workplace, whether that is your office or at home. Keeping it updated will always be beneficial, but sometimes due to unprecedented events or situation, it becomes hard to work on the system. One such situation is when the system suddenly faces the bluescreen 0x0000000a error, which keeps you away from using your device optimally.
Let's go with the article to understand this blue screen of death error in depth and its viable solutions so that at the end you can have your system back in working condition. Also, you will know how to fix bluescreen error when any data loss occurs due to this bluescreen error code 0x0000000a.
But before we start with the solutions, first of all, you will understand what is this blue screen error 0x0000000a and why does it happen.
Part 1: What is bluescreen 0x0000000a?
If you want to know what actually bluescreen error 0x0000000a actually is, then here is a quick guide: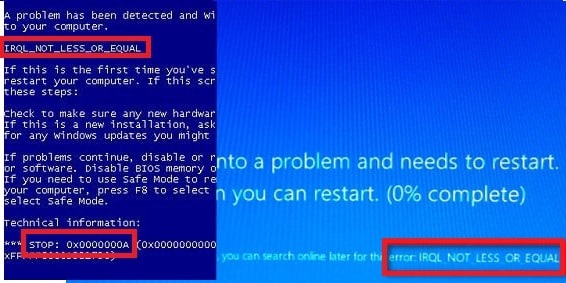 Bluescreen 0x0000000a error is considered as windows startup error that occurs usually during the installation process. This is also referred to as STOP 0x0000000A or IRQL_NOT_LESS_OR_EQUAL.
Whenever any driver or Windows Kernel Mode uses incorrect memory address, it results in bluescreen error code 0x0000000a due to which your access to the system will get denied. Popularly known as the blue screen of death this error reflects that something wrong occurred to windows OS (to any version of windows). The main issue with this error is that the system failed to recognize which particular file is causing it. This eventually may result in extra efforts from your end to identify and thus rectify the issue accordingly.
The format of the error is as: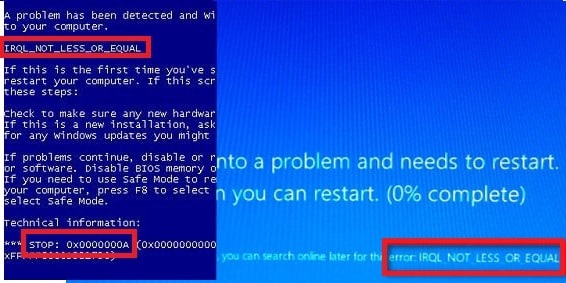 You can say that primary reason for the issue is memory leak by the power manager due to which sometimes the system gets freezes up or respond slowly.
In the next section will know more about the causes of bluescreen error. Keep reading to know more.
Part 2: Causes of bluescreen 0x0000000a
Behind every issue, there has to be some reason right? That's what we are going to discuss as the most important thing before rectifying the issue of STOP: 0x0000000a error is to understand what made this error to happen and the exact area of concern.
Some causes are listed below to bring your attention to the issue:
During installation wrong address accessed by Operating System
Corrupted Driver (Previous or newly installed one)
Hardware Incompatibility issue
Corrupted Registry Database
Overclocking of the processing
Some PC Hardware or driver broke down
Installation of a driver or software does not go well
Malware infection which should be delted, result in windows files getting corrupted
Actually, these are some of the causes that made the blue screen of death occur and let you avoid direct access to the system.
Therefore, to know how easily you can start working on your system, in next part you will know about various solutions that will fix bluescreen 0x0000000a error with detailed guidelines. So, without any delay move on to the next part.
Part 3: How to Fix bluescreen 0x0000000a
Fixing the issue of bluescreen 0x0000000a on your system is important to restart the working process. For that, some methods are mentioned below. You need to go through them one by one and after each solution, it is advised to restart the system, to see whether the issue is rectified or not. As if the issue is already solved, you need not move to the next process. So, here we go:
Method 1: Check your system using system file checker
You must note this point that Windows itself provides you with various system checker facilities that you can utilize time to time to get various benefits and solutions. One such facility by Windows is System Utility checker. It can scan and repair/restore the corrupted files of the system. For that required steps are mentioned below:
Open the Start menu
Type command, hold ctrl+shift> Now press enter
A dialog box asking for a permission appear> Tap yes
You will see a black box with a blinking cursor (That represents command prompt)
On the screen you need to type "sfc /scannow" and the press Enter
Soon scanning will initiate to check any system error, after few minutes you will see a confirmation message that corrupted file detetected and repaired successfully.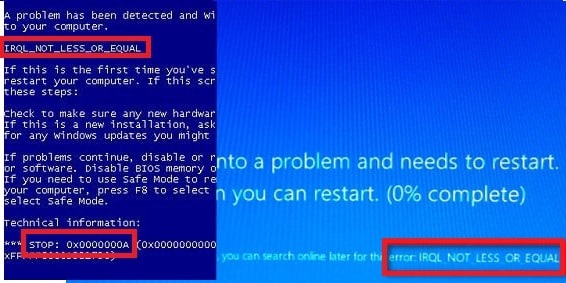 Method 2: Update Windows (XP, 7, 8, 10, Vista)
Keeping your Windows up-to-date will assist in resolving many issues like bluescreen 0x0000000a. So, below we have covered the steps that will show you how to update your system's windows.
Please select Start button >Type Update> Select Windows Update>, Click on Check for available updates> Then finally choose to Install Updates.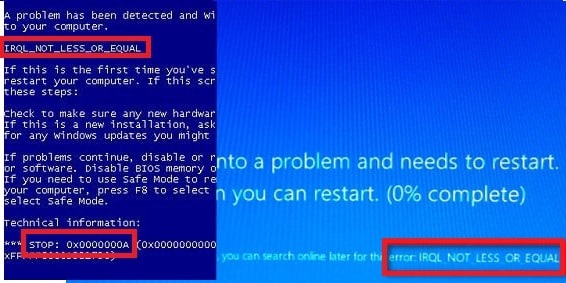 Method 3: Driver Update
If the issue of Stop error 0x0000000a is due to the wrong, faulty or outdated driver then you are required to update your device driver. That can be done easily by driver easy. That will make the process of searching, downloading and updating the device driver quite simple to you, just a few simple clicks will solve the outdated driver issue.
You can get access to "Driver Easy" by visiting the site at: https://www.drivereasy.com/. Required process is as follows:
After you visit the site and click on the download button
Run the tool> and directly press Scan Now button, doing so will start scanning of the computer system and will detect the driver causing the error.

After that Click on Update Button to download and update to the latest version of the driver.
Note: You also have the option to use the Update All button to update all missing or outdated drivers using this toolkit.
Method 4: Restoring System
Using Restore System will enable to restore back to the time when it was working fine, for that the steps needed to follow are as below:
Press Windows key+R (simultaneously) to launch run dialog box
Then type Control and press Enter Key

There you need to select the Recovery option

Now Press to open the System Restore

Follow the on-screen guidelines > after that restart your computer to finish the restoring process.
Method 5: Check Hardware drive corruption
Many times error occurs due to corrupted Hardware drive reasons might be repeated usage, improper shutdown, misuse, incomplete or fault during installation, power outage etc which may result in bluescreen error. To scan and repair any hard disk related issue, Microsoft has provided with check disk utility. Here is the process explanation.
Use Start menu
Here you need to enter "Command", hold the Ctrl+Shift key and then press enter
A dialog box will appear (Permission)
Accept it
Once Command Prompt appears, type chkdsk /f
Then press enter
Alternatively, you can Open Windows start menu> type run> then type CMD> and after that type chkdsk /f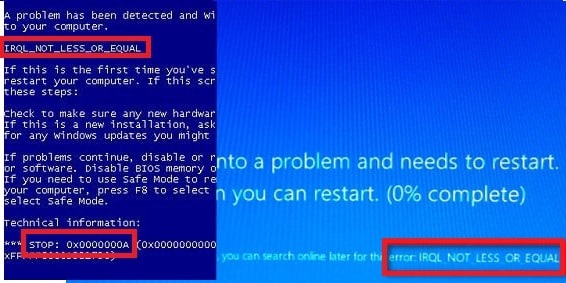 It will start scanning for any corruption to the Hard Disk, you just need to follow the instruction mentioned on the screen. Later you will receive a success message about hard disk correction error gets resolved.
Method 6: Malware Scan
Beside above all processes, let's not forget the role played by your Antivirus and Malware protection software. As it uses to provide security against any unwanted threat to the system especially while surfing online. Thus to avoid any issue due to some malware attack, do a thorough Malware scan to your system and make your system free from any attack or system error.
For that, you can choose any available good antivirus and Malware protection available online or offline such as Mcafee, Avast etc.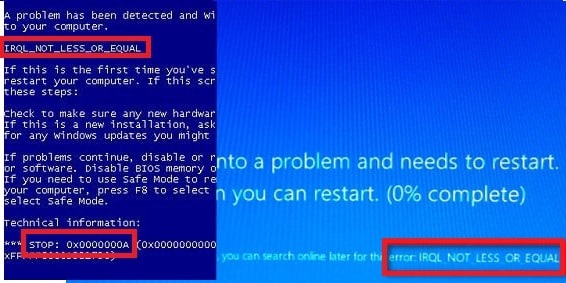 Once you are done with the above-mentioned steps and solution, be ensure that system will be free from any bluescreen error such as 0x0000000a. And your device will be ready to provide access to it again without any further delay.
Video Tutorial on How to Fix Blue Screen of Death Error in Windows?
Part 4: If you lost data after bluescreen 0x0000000a, how to Recover Data?
Are you worried about your data while your system screen is reflecting error message with 0x0000000a code or you faced a sudden loss of data due to a system error? Then this is the right place to get the appropriate solution. It's true and possible with Wondershare Recoverit tool, that makes recovery of any kind of data loss or deleted data possible.
Recover lost or deleted files, photos, audio, music, emails from any storage device effectively, safely and completely.
Supports data recovery from recycle bin, hard drive, memory card, flash drive, digital camera and camcorders.
Supports to recover data for sudden deletion, formatting, hard drive corruption, virus attack, system crash under different situations.
If you want to know how to go about, then just scan through the process mentioned below, that will guide you thoroughly. Here are the required steps:
Launch the tool, select Recovery option

Visit the site to get access to the home page of the recoverit tool, there you will see all round recovery option, you just need to select it.

Locate the location

Now you are required to select a location where you found that data gets lost after bluescreen 0x0000000a error and wait a while till scanning gets completed.

Now you got the option to scan your hard disk or any external device too using this tool.

Preview the data then recover it

After that, once scanning process gets completed just preview the file, you can select particular ones too and then finally click on Recover button to get that recover back to the system.
Using this simple guide you can easily and safely get all those precious data back without worrying any more about further trouble. So, forget any worry or trouble, just go grab this wonderful tool to get best recovery facility.
The article above is designed to consciously focus on bluescreen 0x0000000a error, what are the causes and how to fix them with the best possible solution. Thus, you should be rest assured to get the bluescreen issue rectified with any of the above solutions. And, most important part is you have nothing to worry about your device data, and you can completely rely on recoverit. All the best and you can start to work on your system without any worry.
Computer Data Recovery
Windows PE

System problems

PC Errors