How Do I Retrieve Deleted Photos
Hi, I flipped through my photos on my lapto. To move them to another path, I selected all photos, but I clicked "Delete" button. I went to recycle bin to retrieve my photos back. But, sucks! I accidentally emptied the recycle bin! Oh, how can I recover all my deleted photos back?
Many Laptop users might ever suffer from the same dilemma: accidentally deleted photos. After the accidental deletion, can you recover deleted photos? Obviously, you can. Even if you emptied your recycle bin, the deleted photos won't be gone forever and you can get them back actually.
But the important thing is, please stop using your laptop to save any new data. Otherwise, the deleted files will be overwritten. Next, you should find a reliable deleted photos recovery software to help you return deleted photos.
Part 1. Free Download Deleted Photos Recovery APP
Can you retrieve deleted photos? Is there a software to help me retrieve my photos?
Accidentally deleted your important photos from Laptop or SD card? Don't be panic! By using a piece of professional and secure deleted photo recovery software, you can recover old deleted photos with consummate ease.
However, when you search for "how to retrieve pictures" on a search engine, a number of uneven programs are listed. For those who know little about bringing back deleted photos, it is likely to download a unqualified one which can further damage your Laptop data.
Thus, we recommend you Recoverit Data Recovery that is absolutely reliable and professional. It can help you return deleted photos back from laptop, digital camera, memory card and other storage devices. It only takes you 4 steps to get your old deleted photos back.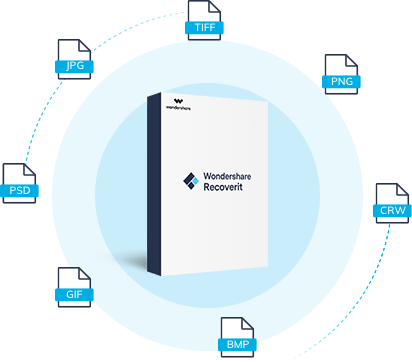 Get deleted photos from laptop, memory card, digital camera and MacBook effectively, safely and completely.
Recover deleted or lost photos due to accidental deletion, formatted, lost partition, virus attacked and system crashed.
Recover any data and file types like photos, videos and audios, with high success rate and without any quality loss.
Supported OS: Windows 10/8/7/XP/Vista; Mac OS 10.14, 10.13, macOS 10.12, OS X 10.11, 10.10, 10.9, 10.8.
Part 2. How to Recover Deleted Photos from Laptop
Those asking "how do I retrieve deleted photos" can read through the following video and text guides and get to know how to restore deleted pics from Windows or Mac Laptop.
1. Video Tutorial on How to Retrieve Photos from Laptop
The video tutorial walks you through how to get back pictures you deleted from Laptop or computer hard drive.
---
2. How to Bring Back Deleted Photos from Laptop
Free download and install the photo recovery software on your laptop. It takes only four steps to return deleted photos from laptop, or recover lost phots from memory card or other storage devices.
This guide shows you how to recover deleted photos from Laptop windows 7/8/10. If you are working with Mac, you can get the Mac version and follow this guide -
how to recover deleted photos on Mac
.
Step 1

Select a Data Recovery Mode
Launching the delete photo recovery APP, you can see eight data loss scenarios.
Go to select the option "Deleted Files Recovery" mode to recover deleted photos from laptop.
If you emptied your recycle bin, you can select "Recycle Bin Recovery" mode to start getting deleted pictures back.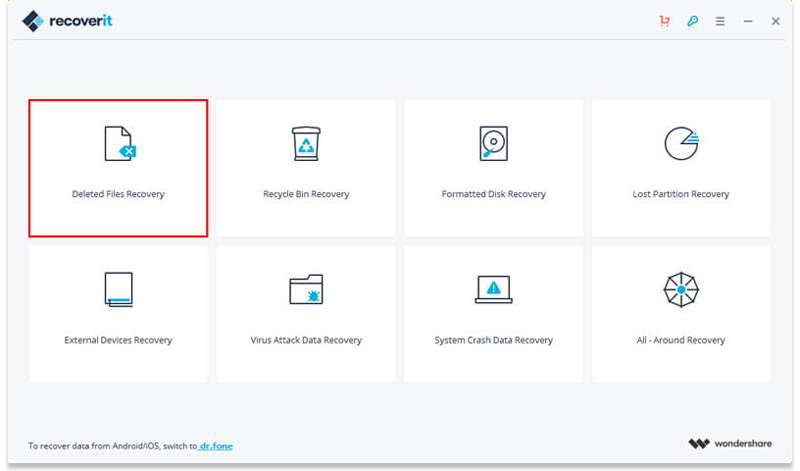 Step 2

Select a Location (Hard Disk Drive)
You will be asked to select a location where your deleted photos were stored before.
Select a hard disk drive and click "Start" button to continue the photo retrieval.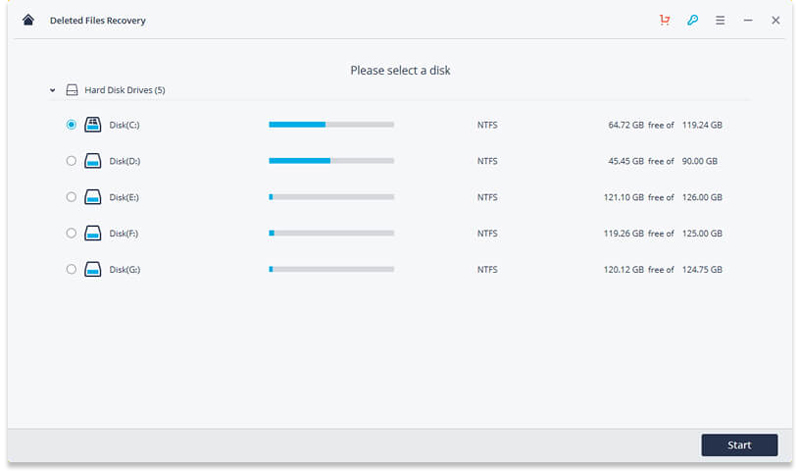 Step 3

Start Scanning Your Deleted Photos

Recoverit deleted photo recovery software will start to scan your laptop hard disk drive. The first scanning will be completed in 1 min. You can preview recovered photos and get them back.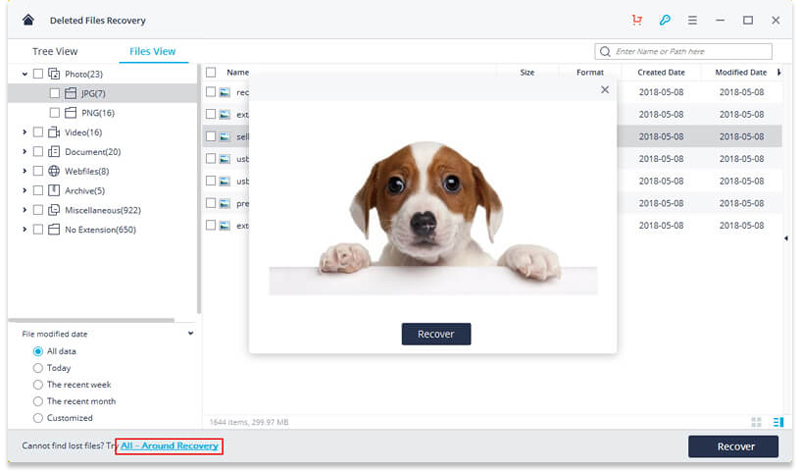 Step 4

Find Deleted Photos All Around

If you cannot find your photos from Laptop after the first scan, you can go to scan again with "All-around Recovery" mode which will be deeply scan and search more files from laptop hard disk drive. It will take more time to complete the process of lost photos scanning.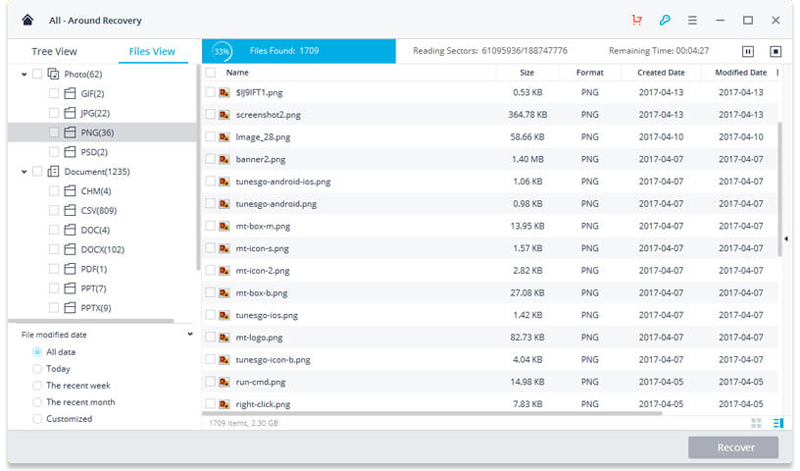 Step 5

Preview and Return Deleted Photos
After the deep scan completes, you can check all recovered files. Preview your recoverable photos and click "Recover" button to save your photos.
Note: Please save your recovered photos on the other location or get a safe device to store the retrieved images. Or it will cause data loss again.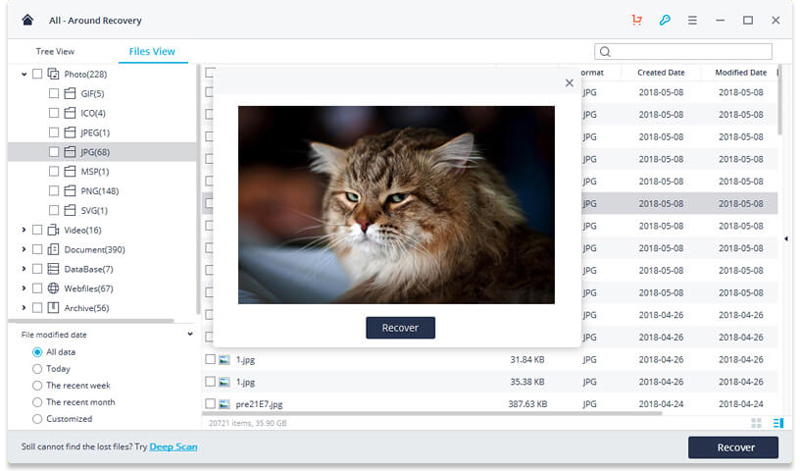 It is quite easy and effective to retrieve your deleted photos back from laptop with the steps above. Free download the data recovery software and recover deleted photos.
---
Part 3. Tips to Avoid Photo Loss on Window/Mac
Now, the guide on how to get back pictures you deleted has come to an end. Following the steps above, you can find all pictures on hard drive and get lost photos. Next time, if someone asks you, "is it possible to retrieve deleted photos", you can proudly give him or her a yes answer. But do you know how to avoid another photo loss on Laptop? There are many tips that you should know. Here, we introduce the three most important ones for you.
1. Backup your data strategically. When your important get loss, you will realize that the important of backup data. You can copy your data to another storage device like CD/DVD, USB flash drive or cloud. What if you accidentally deleted or lost your data, then you can direct retrieve your data back from backup. The easier way to backup your data with data backup software would be the best choice.
2. Install anti-virus software. Download and install a reliable anti-virus software on your computer and keep it updated. Virus attack will cause your data loss and deleted like malicious computer viruses, trojan.
3. Beware of user errors. As mentioned at the beginning, you accidentally deleted your photos and emptied recycle bin. It totally can be avoided like this error. Mistaken operation is the common reason for data loss. Just clam down and think twice before your next step.
Extra Information: How to See Deleted Photos
Many of us might have the same puzzle. Where are all my photos on computer? Generally speaking, when we delete the photos on Laptop, they will go to the Recycle Bin. Open it, make some filters, and you can see deleted photos on Laptop. The guide on how to restore recently deleted photos is also very simple, 2 steps. Right click the deleted pictures, and choose the option of "Restore". Hence, the recently deleted photos can be restored.
However, if you emptied the Recycle Bin as said above, you're unable to see deleted photos on it. And the deleted photos will be inaccessible on hard drive. To find deleted photos, you need resrot to Recoverit Data Recovery. It can help you get back deleted photos from Laptop. Looking around how to restore permanently deleted photos? Turn to Part 2 and get the detailed steps.
The Bottom Line:
Keep your data safe and backup in regularly. Even if the data gets loss, check your backup and recycle bin first. If you permanently deleted your photos from computer, you should be get the powerful data recovery software to help you. Now free download Recoverit Data Recovery get your deleted photos back.