How do I recover permanently deleted folders?
I deleted a folder by mistake after holding on "Shift + Delete". Someone told me that it was removed forever. Can I recover folder that was permanently deleted? I need the data in a folder very much. How do I get my deleted folder back again?
These days, people keep their data, like the favorite movies, E-books, photos, videos and personal information, on Windows computer hard drive or external storage. As time goes on, the Windows computer or external hard drive accumulates so much data, necessary or unnecessary. A mountain of files and folders need to be reorganized, and sometimes removed from the storage device.
Some of us like deleting a folder through the "Shift + Delete" shortcuts. It can help us get rid of an unwanted folder and all files in it quickly, conveniently and even completely. However, if we regret doing it, it would be impossible to recover the deleted folder from Windows recycle bin.
Can You Recover Permanently Deleted Files/Folders?
Once you "Shift + Delete" a folder on Windows 10 computer, it means that you delete the folder permanently. You're unable to restore the deleted folder and get back files deleted from the folder by yourself. Undelete the files and folder by pressing "Ctrl + Z"? It won't work. Restoring the deleted folder from Recycle Bin? Sorry, the recycle bin can't help you do that. However, there really are data recovery tools for recovering Shift deleted files.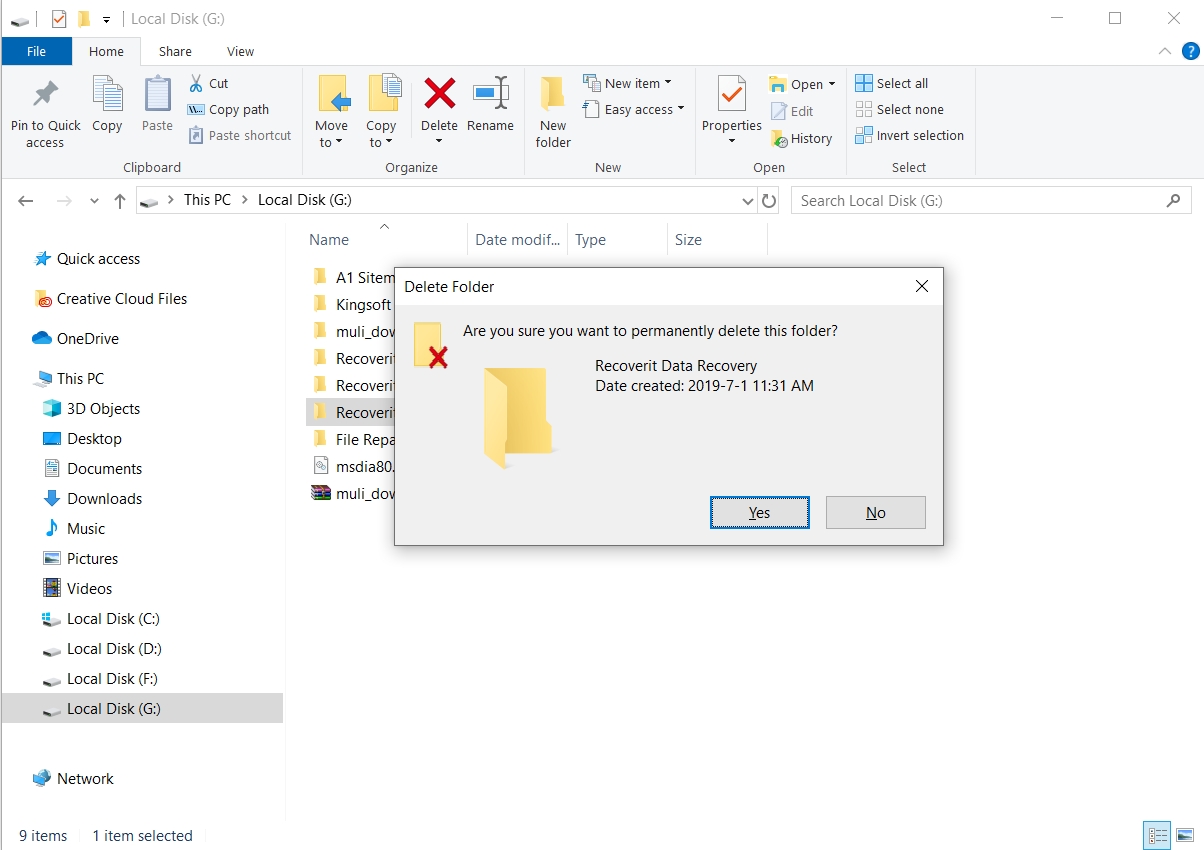 The "Shift + Delete" shortcuts are a combining option designed by the Windows computer. It is aimed to help Windows users remove unnecessary files and folders permanently. Windows users needn't delete the folder from the recycle bin for permanent deletion. So, is it possible if you want them all back? Yes, it is possible. No matter where your folder is deleted, Windows computer or external storage, there are one or more solutions that can help you undelete folders.
Part 1. How to Recover Deleted Folder on Windows 10 Computer
If you delete a folder that was originally stored on the Windows 10 PC hard drive, you stand a good chance of undeleting folder by 3 solutions.
Solution 1. Recover Lost Folders from Backup and Restore
Windows computer comes with an important feature for all users, that's Backup and Restore. It is sincerely recommended that you should set up Windows backup when you start using the computer. If you have done it, let's see how to recover lost or deleted folder from Backup and Restore.
Type "Control Panel" in the search box, which is located in the bottom left corner.
Choose "Backup and Restore (Windows 7)" and click "Restore my files".
Follow the wizard steps to recover the lost folder on Windows computer.
If there are no backups of the deleted folders and files, you can also move on to the next solution for deleted folder recovery.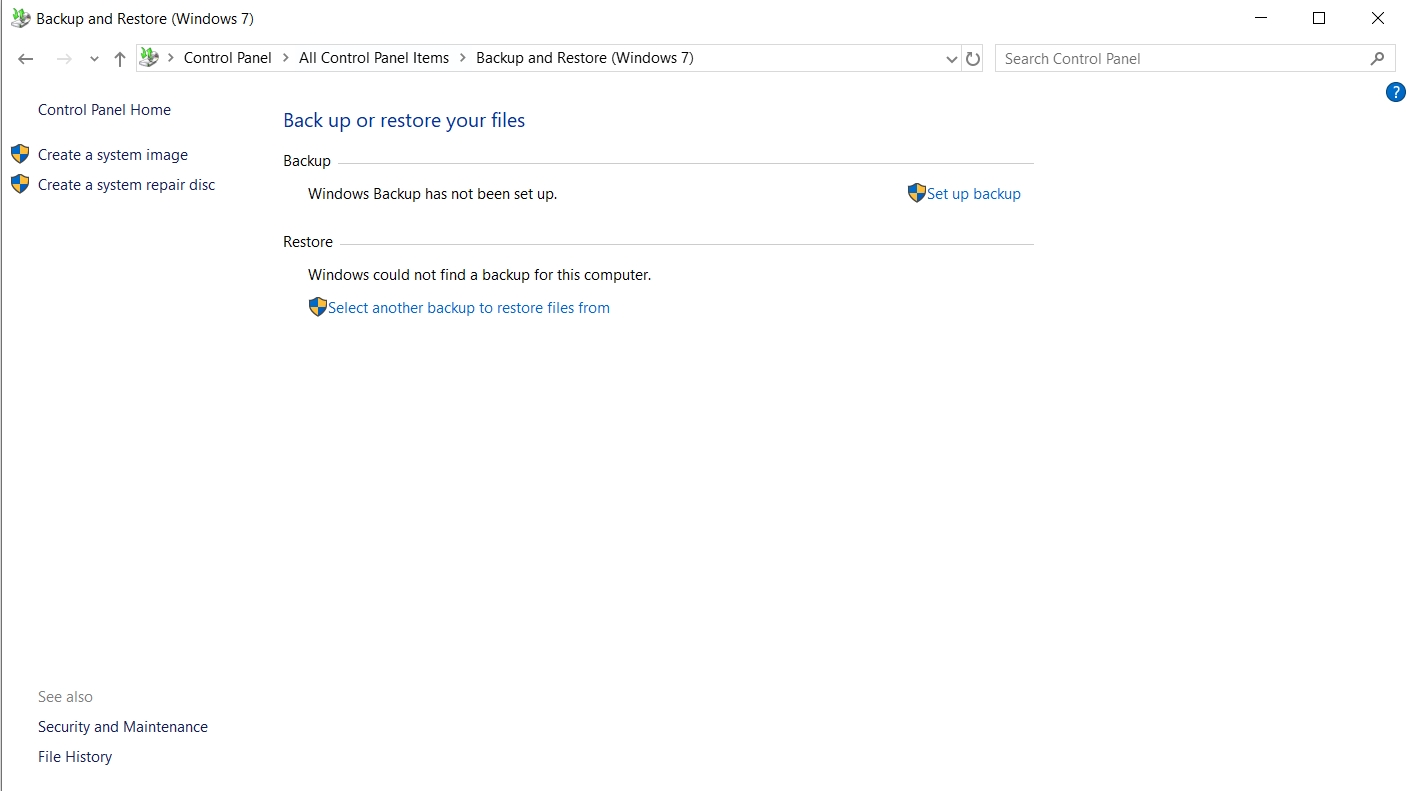 ---
Solution 2. Restore Folder from Previous Versions
When you edit a document, image, and even a hard drive, the Windows computer sometimes stored their previous versions. So when you delete a folder in Windows 10/8/7, you can follow the next steps to get them back.
Navigate the folder that previously contained the deleted folder or files.
Right click the folder and select "Restore previous versions".
Select the folder version in the list of previous folders.
Click "Restore" and save the folder and files to another location.
If the removed folder was located at the first level of a hard drive, or you find its path and address was "D:\" (D is the drive letter), right click the hard drive and follow the same steps.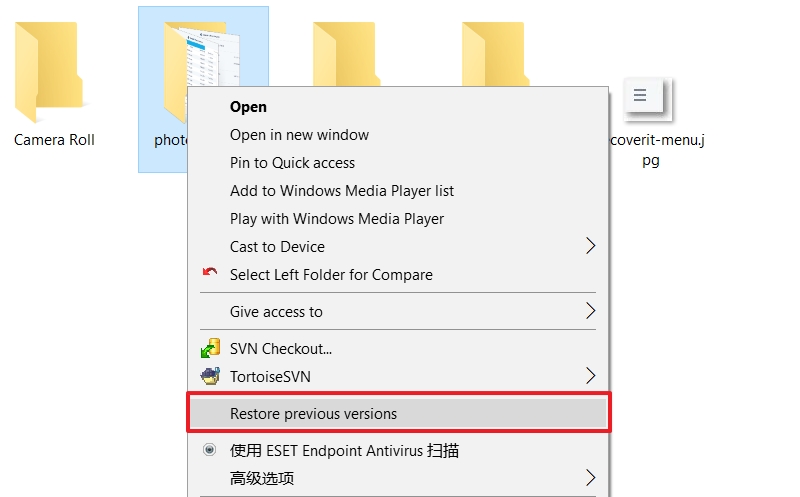 After the above steps, you should have restored the deleted folder to the previous state. If you find nothing in the Previous Versions list as the below image shows, the method is not suitable for you. Windows computer sets up the previous versions based on a system restore point, which enables the PC data to be restored to the previous state.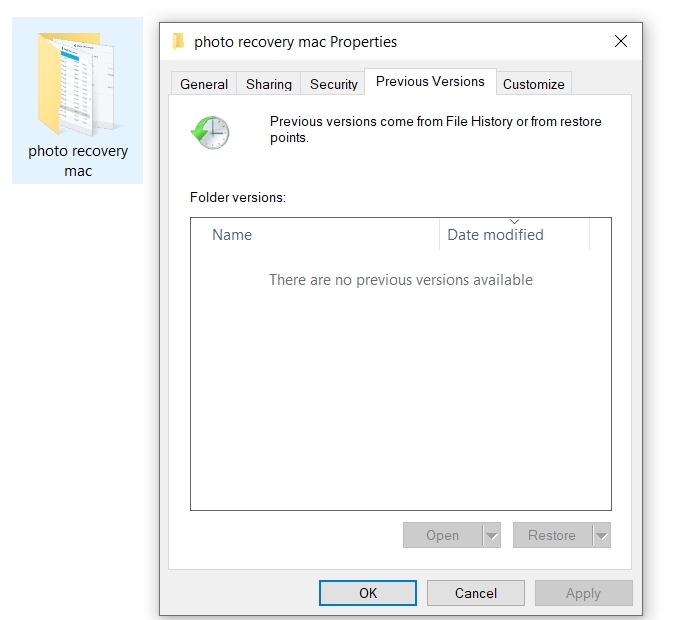 ---
Solution 3. Recover Deleted Folder and Files with Recoverit
I wanted to delete one file, but accidentally deleted the whole folder through the "Shift + Delete" options. I never did any backups of the folder and files inside it. How do I recover permanently deleted files from my PC?
Well, for those who are suffering from the same situation, a powerful deleted folder recovery program must be a nice option. For example, Recoverit Folder Recovery. It is a reliable and safe file recovery software that can easily help you restore deleted folders in Window computer or Mac.
Recoverit Data Recovery supports to recover a folder or files deleted or lost under different scenarios, like Shift Delete, accidental deletion, virus attack, hard disk formatting and so on. It offers multiple intuitive options that can help you do the recovery process more easily.
For example, you can employ the search feature to locate the folder and files more quickly. You can pinpoint the desired data according to the categorization methods - File Path and File Type. By the way, you're allowed to preview data before you decide to restore the deleted folder. Is it user-friendly, isn't it? More importantly, the lost folder recovery software supports more than 1000 formats of data, including Word document, Excel sheet, PowerPoint presentation, videos, images, sound files, Outlook emails and folders, etc. Moreover, you also can try to recover files of Microsoft apps like recovering notes in Sticky Notes.
Video Tutorial on How to Recover Deleted Files on Windows 10/8/7 Easily?
Guide: How to Recover Shift Deleted Files and Folders
When you suffered the data or file loss, please do not save any new data to that location or storage device. Otherwise, it will cause overwriting and loss. Follow the next solution to help you retrieve deleted files back. If you are using Mac, you can download Recoverit Data Recovery for Mac and follow the guide how to recover a deleted folder on Mac.
Download and install Recoverit Data Recovery on your computer. But please do not install the program on the source partition where you're going to recover permanently deleted folders.
Step 1

Select a computer hard drive

Launch Recoverit File Recovery software. Select the location where you lost your folders or files, and click "Start" to get your lost files and folders back.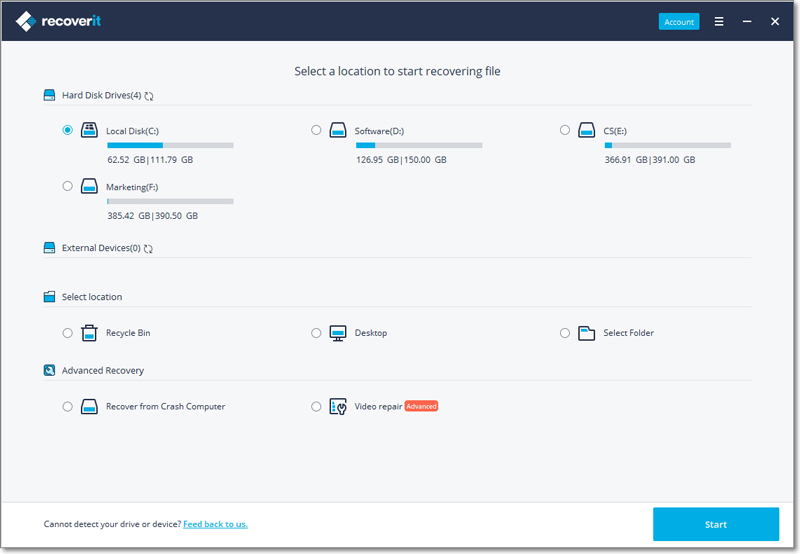 Step 2

Scan the computer disk

Recoverit Folder Recovery software will start an all-around scan. During the scanning, you can check the files and folder.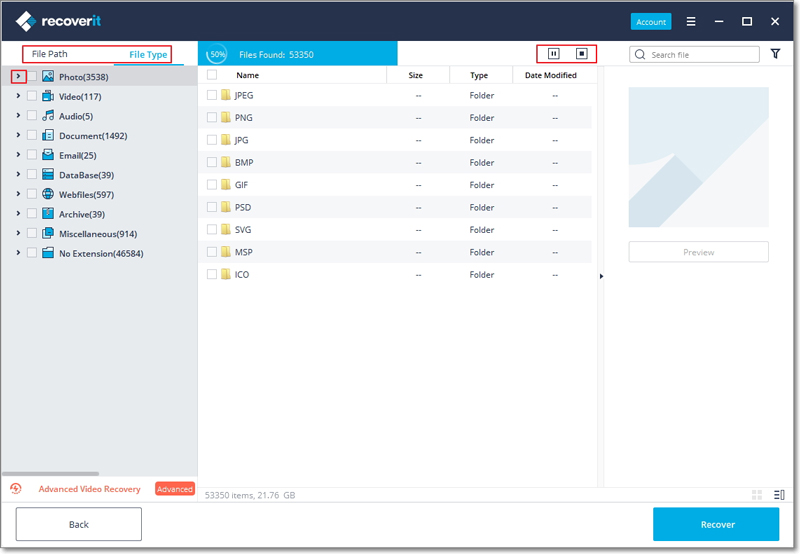 Step 3

Preview a file and recover a folder
After the scanning, you can check some types and formats of files. Navigate the deleted folder, double click it and select files to be previewed one by one. If you want to preview multiple files once, please toggle the preview angle in the bottom right corner.
Select a folder, file or several files you want to retrieve and click on the "Recover" button to get them all back.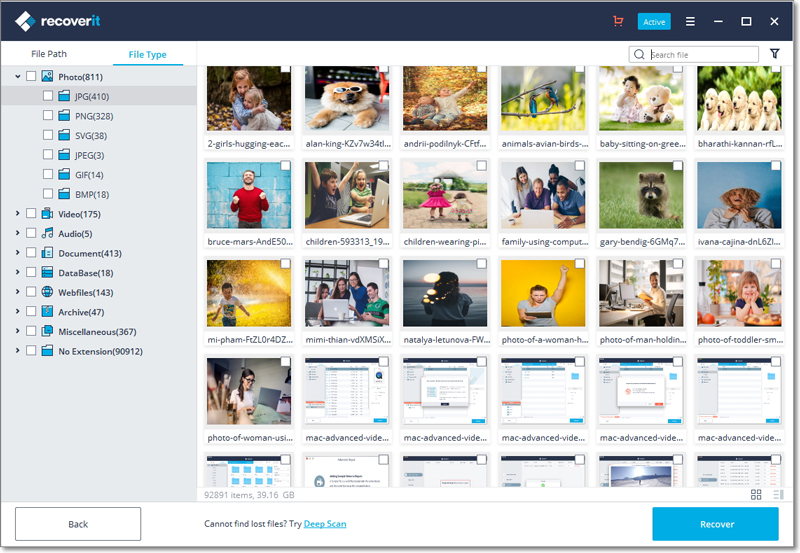 The only thing you need to remember is, do not save the recovered files to space where you lost your files previously, which could interrupt the process and permanently delete the data.
---
Part 2. How to Recover Deleted Files from External Hard Drive
If the deleted folder was stored on the external storage media, you can also retrieve the folder and files back. Usually, if a folder or files are deleted on PC by simply clicking "Delete", you can also go to the computer recycle bin to restore the deleted external hard drive data. What if you deleted them permanently? 2 solutions are provided here.
Solution 1. Restore from Backup
If the deleted folder and files were ever backed up to another external device, you can simply go the backup device, navigate the deleted folder and files, drag or copy the data to the previous hard drive. Though the simple operations, all the deleted files and folders can be restored.
And if you have ever set up a backup connection between your Windows PC and external hard drive using File History, you can also go to the backup drive on Windows computer and recover a deleted folder and files back.
Solution 2. Restore Using Recoverit
Another method we recommend here for folder recovery is also the best deleted files recovery software - Recoverit Data Recovery. It allows you to recover files and folders from all storage devices, including the Windows and Mac computer, an external hard drive, USB flash drive, memory card, music or video player, and so on. You can follow the above steps to restore files from external hard drive.
Connect the external hard drive to the computer.
Select the external hard disk and click "Start".
Let Recoverit scan your external device for lost folder recovery.
Preview files and select a folder or files to be restored. Click "Recover".
---
Part 3. Tips for Finding and Recovering Lost Folder on PC
This article is aimed to help you get back your lost files and folders. And we also offer some tips for you.
Tip 1. How do I find a lost folder in Windows 10?
If you do not perform the operation of removing a folder or files, how can you find a missing folder in Windows 10? The search box, next to the Start menu, can help you find files and folders.
Type the folder name like "Photo recovery mac" in the search box.
Or input the specific folder path like "C:\Users\ws\Pictures\photo recovery mac".
You can see the folder or files you want to appear in the result menu.
Click the right arrow or press "Enter" to open the folder or file.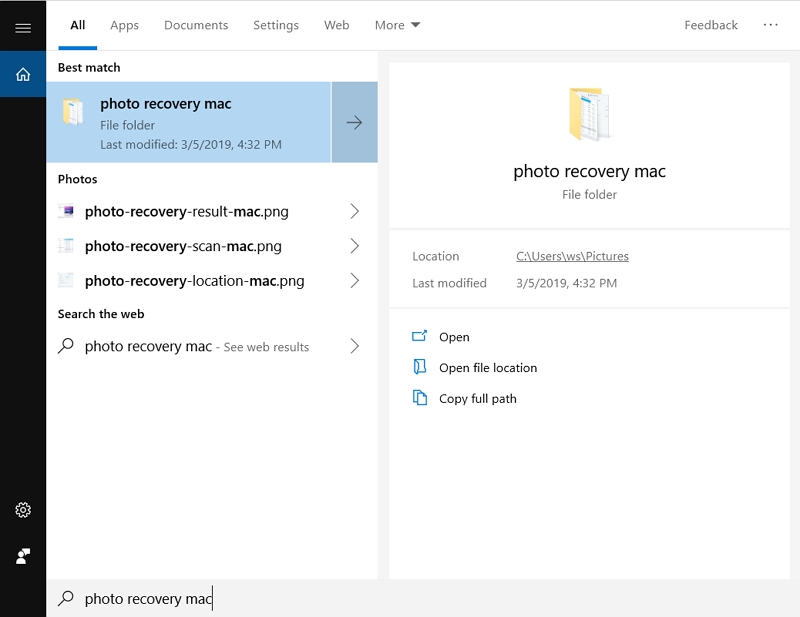 ---
Tip 2. How do I access and enable File History?
File History is an inbuilt feature in Windows 10, which can help you retrieve deleted files and folders without any limitation. And the premise should of course be that you have enabled it.
Go to "Control Panel" and select "File History".
Click "Select drive" to do some settings and choose a backup destination.
Click "Exclude folders" to avoid the backup of unnecessary files and folders.
Finally, click "Turn on" or "Run now" to enable File History.
To Wrap Up
Now, the post is going to be an end. Hope that you have recovered the deleted folder and files from the Windows computer or external hard drive. Among all the solutions mentioned above, Recoverit Folder Recovery is the ideal choice for each of you to retrieve deleted data from a laptop, a computer, an external hard drive and other storage devices.
Rescue & Fix Files
Recover Document Files

Repair Document Files

Recover & Repair More

Clear & Delete File