The computer plays a more and more important role in our life nowadays. We are working on it, shopping on it, communicating with friends through it, entertaining on it and more. The computer knows more and more about us, including the information we want to share and the privacy we don't want to be public. Generally we choose to delete the information that we abandon, and empty the recycle bin when we call the information privacy, and we think it's safe.
Unfortunately, it's not. Deleted data is actually a kind of hidden data when it comes to the computer. We can't delete any data completely out of the computer. The disk just tells you that the space is reusable after you delete something, but the data is still located somewhere. The effective way to make the deleted data unrecoverable is to choose a data shredder, which can erase data permanently and irretrievably. Wondershare WinSuite 2012 is such a tool to shred data forever.

30 Days Money Back Guarantee
Now, follow the steps below to do what you need.
Install and launch it on your computer, then go to "Privacy & Security", and choose "File Shredder", which can wipe data with nothing left.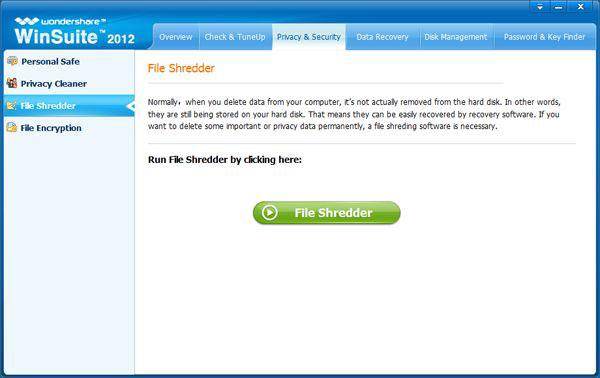 After entering the File Shredder, you only need to add your unwanted sensitive data and files or folders in. Then shred them with one click to prevent them from being recovered or stolen. This meets US army data protection requirements.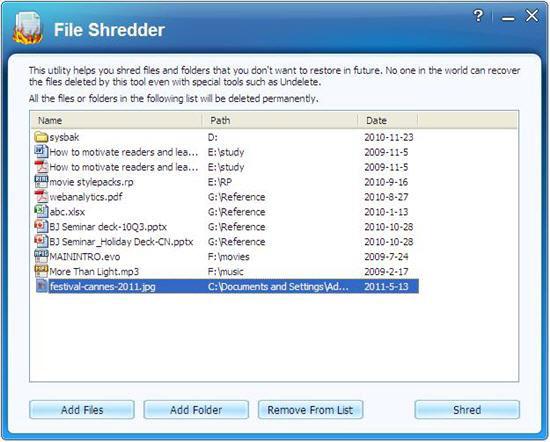 This data eraser allows you to shred various kinds of files, such as office documents, photos, videos, PDF files and more. However, if you just delete files by yourself, you can get the file like PDF back with the solution in "How to Recover a PDF File". And the tool is very easy to use and available for both computer experts and beginners. The only thing you need to confirm is that the file you add is really the one you want to shred. Because once the file is shredded, there is no tool in the world that can retrieve them back. If there is one you added in mistakenly, you can remove it from the shred-to-be list by choosing it and hitting Remove From List. Then it will be returned to your computer.
This is only one part of the work that the Wondershare WinSuite 2012 can do. If you want to encrypt your files, clean your browser cookies, history, recent URL, index files, etc, this data wiper can do all these for you to keep your personal information safe.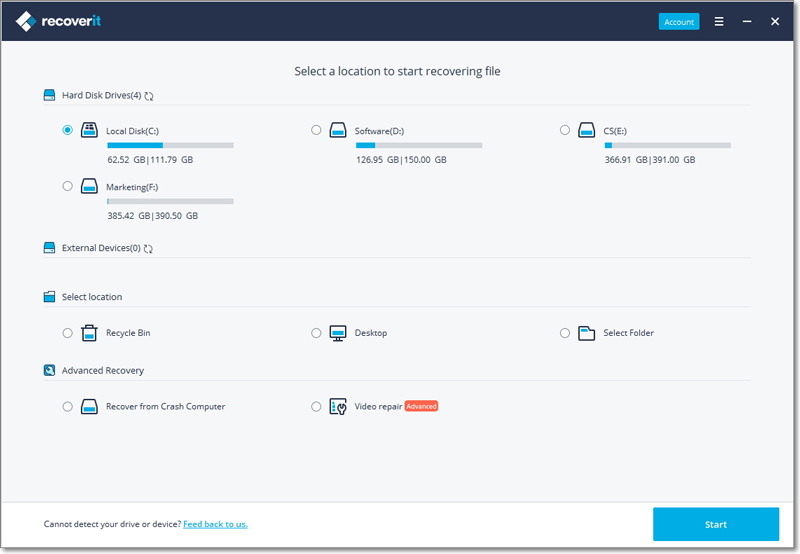 Recover lost or deleted files, photos, audio, music, emails from any storage device effectively, safely and completely.
Supports data recovery from recycle bin, hard drive, memory card, flash drive, digital camera and camcorders.
Supports to recover data for sudden deletion, formatting, hard drive corruption, virus attack, system crash under different situations.
Security Verified, people have downloaded it
Rescue & Fix Files
Recover Document Files

Repair Document Files

Recover & Repair More

Clear & Delete File