Case: Wiped a hard drive accidentally and lost data
Hi all, I have accidentally wiped my hard drive and now I'm worried that I'll never get my collection of music and pictures on that hard drive back again. How can I recover my hard drive data after a computer disk wipe? Thanks!"
Can You Recover an Erased Hard Drive?
What happens when you format and erase a hard drive? You might think that the data inside it is deleted. But actually it isn't the truth. All your data becomes unreadable and inaccessible, when you wiped your computer hard disk drive by mistake. So the answer to the question "Can a wiped hard drive be recovered" or "Is it possible to recover files from a wiped hard drive" is of course YES.
For computing professionals, it is slightly likely to get files from a wiped hard drive. For those who have no enough profound insights in computing and technology, it is hardly possible to have access to the invisible data, let alone restoring them from an erased hard disk. But professional hard drive data recovery software makes it an easy and smooth job. That's why we can tell you that you're able to recover data from wiped hard drive.
Part 1. How to Recover Wiped Hard Drive and Erased Data
It is a great pain to accidentally wipe a hard disk and lose all precious data stored on it. And you may wonder how to restore an accidentally deleted hard disk drive and get wiped data back. All you need is a powerful wiped hard drive recovery program. The hand-picked and recommended one is Recoverit Data Recovery. As a reliable hard disk data recovery program, it offers easy and risk-free solutions to retrieve almost everything you lost from your wiped hard disk drive.
Support 1000+ types and formats of hard drive data
Work in different data loss scenarios like wiped hard drive
Support thumbnails and preview of disk files before recovery
---
1. Video: How Do I Restore a Wiped Hard Drive
This video visually and vividly shows you how to recover data from hard disk. Exactly follow what it demonstrates to you and you can get data back from your wiped computer hard disk. You can also refer to the text-based guide below and restore hard drive in simple clicks.
---
2. How to Recover a Hard Drive After a Disk Wipe
Download and install Recoverit Data Recovery on your computer, launch it and follow the next simple steps to restore hard drive data. On this tutorial, we will perform wiped hard drive recovery on Windows computer. If you are a Mac user, you can download Recoverit Data Recovery for Mac and turn to this page: How to Recover Data from Mac Hard Disk.
Step 1

Select the Wiped Hard Disk

Different detected hard disk drives will be shown on the list. To recover data from hard disk, select the computer hard disk drive which you wiped, and click the "Start" button to process.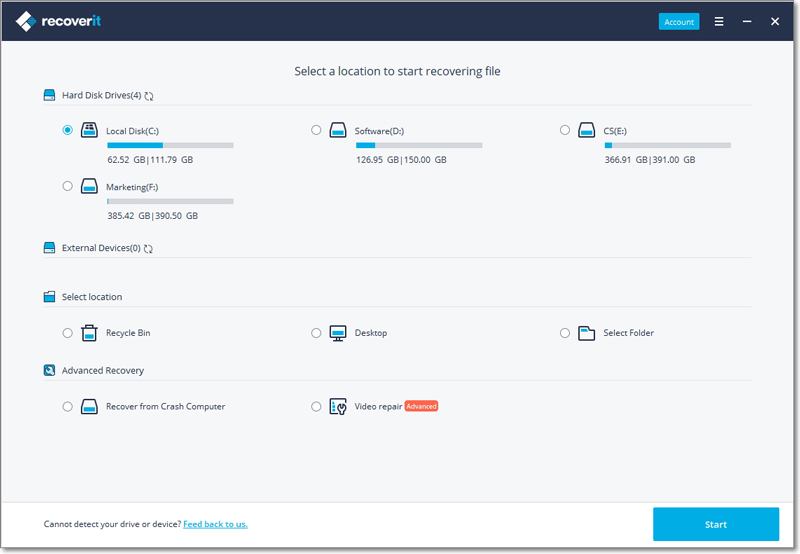 Note: What if your hard disk drive is an external storage? You can select the erased external hard drive under the "External Devices" tab. Before that, please make sure that it has been connected to and detected by your computer.
Step 2

Scan the Erased Hard Drive

Recoverit Data Recovery will instantly start scanning your wiped computer hard disk. It will only take a few minutes. Once it finishes, you can check and preview some recoverable files.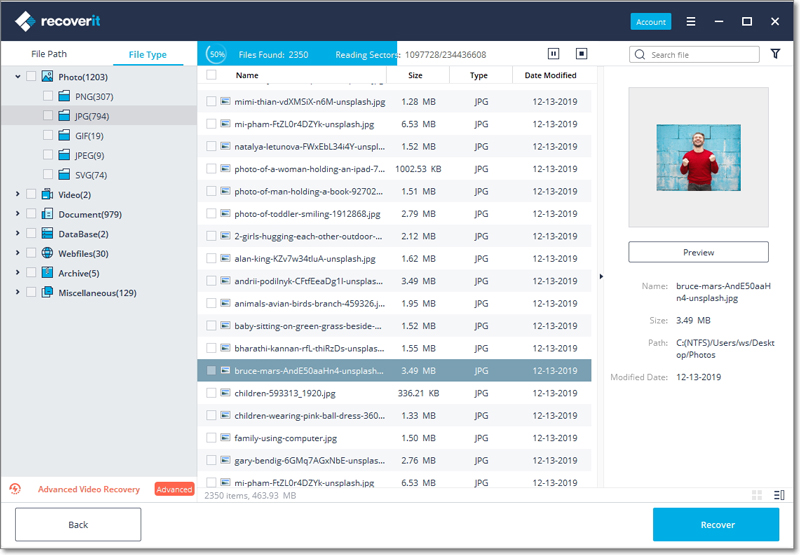 Step 3

Preview and Recover Data from Wiped Hard Drive

After the scanning, the wiped data on your disk will be displayed and categorized. Before recovering wiped hard drive data, you can preview some of them, like photos, videos and documents. Choose the ones you wiped and want to restore, and click "Recover" to get data from hard drive.

Note: Please do not save the recovered data back to your wiped hard disk after the recovery so as to avoid the data being overwritten.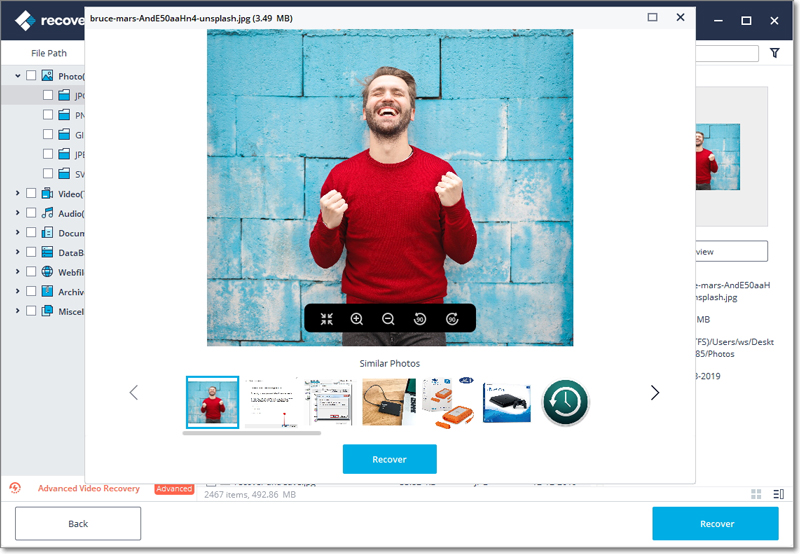 ---
Part 2. Tips Against Wiping Hard Drive Accidentally
Wiping a storage device often happen before disposing of the device like your computer hard drive, mobile phone or android tablet. But sometimes, it will accidentally wipe your hard disk that is useful and makes data unreadable without any data backup or disk recovery software. So these following tips are what we suggest to help you avoid the dilemma or fix the disk wipe issue.
1. Scenarios of Clearing a Hard Drive by Mistake
The best way to prevent an unintentional disk wipe is the precaution. So it is quite necessary to understand what can make a hard disk erased and the data inside it deleted by mistake, and then avoid the scenarios. Here we list some of the common scenarios when a hard drive is erased and data gets deleted unintentionally.
Delete hard drive data by Shift + Delete
Empty the computer recycle bin by mistake
Erase C drive by mistake when wiping D drive
Format a computer hard disk accidentally
Wipe a hard drive due to the virus infection
Reinstall the Windows operating system
Reset the computer and erase hard disk data
Just mentioned before, to avoid erasing a hard disk by accident, you should keep aware of the disk wipe circumstances and follow the above tips. But as we all know, sometimes it is inevitable. For example, empty the recycle bin to free up the computer space, reinstall the Windows OS for the better computer performance, and format a hard drive to fix the hard disk errors, etc. So what to do if wiping a hard disk must be done? The measures are to keep a habit of data backup and always wipe a hard disk securely if need be.
2. How to Wipe a Hard Drive Securely
Wiping a hard drive might be considered simple and easy. However, some improper operations can cause the abnormal computer performance as well as the loss of the data you need and want. So, how do you wipe out a hard drive in a secure way? Here are the steps working on Windows 8.1 or 10 computers.
Go to Settings (the gear icon on the Start menu)
Select "Update & Security" > "Recovery" on the left panel
Click "Get Started" under the tab of "Reset this PC"
Click "Remove everything" on the pop-up window.

Click "Remove files and clean the drive" > "Next" > "Reset" > "Continue"
Through the above steps, you can find your hard drive erased securely and quickly. However, if you regard your hard drive files important, please back them up before wiping a hard disk. But part from the secure way of cleaning hard drive, you still need some tips against data loss.
3. Tips Against Erasing Hard Drive Data by Mistake
Regularly back up your important data on at least 2 locations so that you can get lost data back easily when you accidentally wipe a hard disk. To do this job effortlessly and efficiently, you can rely on professional and reliable data backup software like AOMEI Backupper Professional. It can help you schedule automatic and incremental backup to save your time and energy.
Verify the data and hard disk to be wiped. Before you start wiping a hard disk, you should confirm whether the hard disk is what you wanna to wipe and the data on it is important to you or not.
Do not continue using the accidentally erased hard disk and overwrite the wiped data if you want to recover data from the wiped hard disk. New data makes it hardly possible to restore hard drive data.
Pay attention to S.M.A.R.T error. The occurrence of this error means that your computer hard disk is about to fail and data will be erased. Back up data and replace a new hard disk if you receive this reminder. Otherwise, what you value on the disk will be lost sooner or later.
Hope that all these tips can help you avoid wiping a disk drive mistakenly and losing your important information from a hard drive.
Closing Words
Wiping a hard disk can't be easier but it will result in the loss of what we value. Luckily, with a hard disk recovery program, it can also be a snap to recover data from wiped hard disk. Get reliable and safe Recoverit Data Recovery software to retrieve your data back after a disk wipe. Download and try it right now.