[Guide for Beginners] How to Fix Hard Drive Crash?
When you come here, you might wonder what to do when a hard drive crashes. Yes, you can find solutions to hard drive errors in this article. Before that, let's get some information about the hard drive crash to help us fix hard drive errors and recover data from the crashed hard drive.
Symptoms of a physical and logical hard drive crash
Solutions to a logical hard drive crash
Solutions to a physical hard drive crash
Basics on Hard Disk Crash
A hard drive crash is a complicated problem, but we can easily define it as a breakdown of the hard disk when it cannot function properly, resulting in data loss or inability to access information.
What is a crashed hard drive?
Physical Failure: A hard drive can get physically damaged by heat, moisture, or shock. All of these can cause serious damage to a hard drive causing it to fail. Most of the time, the inability of the fan to provide enough cooling to the hard drive owing to accumulated impurities in its filter causes heat damage to the hard drive. Water spillage on the hard drive can cause damage due to moisture while dropping the laptop can cause shock damage to the hard drive.
Logical Failure: it is software related and does not have anything to do with physical damage. Logical damage can be caused by viruses, corrupted files, and human error. The appearance of the famous blue screen of death is a clear indication of logical damage to a hard drive.
Mechanical Failure: The hard drive contains some mechanical components like the disc and the read-write head. With time, these mechanical components get deteriorated and fail to cause crashed hard drives. Clicking noises from the hard disk are a clear indication of mechanical damage, often attributed to a head crash - a severe form of hard drive failure where the read-write head comes into direct contact with the spinning disk.
There are several reasons for a typical hard drive crash: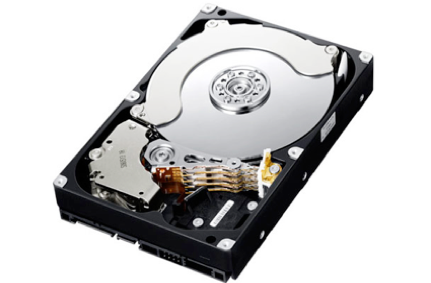 A hard drive can malfunction simply due to its old, worn-out parts.
The crash can come from the hardware overheating.
Being exposed to water, light, or high magnetic for a long time can also lead to the hard drive to crash.
Another contributing component is corrupted files (For example, improperly closing files or turning off your computer suddenly can lead to the file or hard drive corruption).
power surge (When the main power source is accidentally interrupted and then it restarts again, it will lead to the computer's malpractice ).
human errors (For example, hastily delete files which are necessary for the hard drive or erroneous inauguration and discharge of files from the computer.)
---
Symptoms of Physical & Logical Hard Drive Crash
Before you start repairing disk errors, initially you should confirm that the hard drive is really failing. The question that comes is how to tell if the hard drive crashed. Generally speaking, there are 2 main classifications of a bad hard drive: physical hard drive crash and logical hard drive crash, and luckily, both of them have their own signs for us to recognize without too much difficulty. Once you have understood the main cause of your problem, you can easily fix your hard drive crash and get your computer back to its usual state.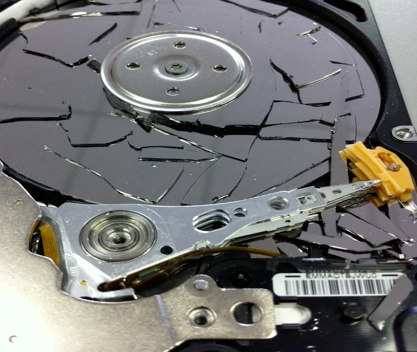 First of all, let's have an insight into the physical hard drive crash. It occurs due to your own drive's malfunction. This potentially comes from the outside impact such as water, heat, or electrical shock.
The most noticeable signs of this trouble are the computer's operating system's inability to recognize the drive, and above all, the continuous noise coming from inside your computer. You must be very careful not to mistake them for the noise from your cooling fan. If there is a physical crash, you will hear the licking, clunking, grinding, or whirring sound. If it really sounds something like those, then 100% that the physical effects have taken their tools on your hard drive.
On the other hand, the logical hard drive crash is much easier to diagnose. It happens when your hard drive spins totally fine as usual, but your operating system, for some unknown reasons, is incapable of getting access to the stored information, or sometimes it even fails to recognize the presence of the hard disk. Before it really happens, you may want to take notice of some small yet important symptoms like slow performance or sudden loss of processing data.
---
Solutions to A Logical Hard Drive Crash
1

Try to recover data to another device

If your hard drive suffers from a logical flaw, first of all, you should try to recover the data on your drive to another device. Once the situations get worse, you will see it's getting more and more complex to retrieve them. As stated before, using Wondershare Recoverit data recovery is highly recommended for you to keep your data perfectly safe.
Simple steps to recover data from Crashed Hard Drive
Now, let's take a look at how to recover data from a crashed internal hard disk in Windows. After the guide, you'll find that hard drive repair and hard drive data recovery are not that difficult.
For Mac users, you can turn to the guide on dead hard drive recovery on Mac. For external hard drive users, this page may come to your aid: crashed external hard drive recovery.
Step 1 Select a data recovery mode.
To recover data from a crashed hard drive, you can click "Deleted Files Recovery" to start.
Step 2 Select the crashed hard drive
Select the location where you lost your data and then click the "Start' button to recover lost data from the hard drive.
Step 3 Scan the opted hard drive
Recoverit Data Recovery will quickly scan your crashed hard drive. After it, if the lost data can't be found yet, go to "All-Around Recovery" for your hard drive. The data recovery mode will deeply search your hard drive, while it will take more time.
Step 4 Recover the lost files from crashed hard drive
Finally, you are allowed to preview the recoverable files that are lost from the crashed hard disk. Select the ones you want to recover and click the "Recover" button to get what you want from the corrupted drive.
2

Try to format the partition

If the logical errors you are facing are not too complicated, you can simply try to format the partition of the hard drive, and then making use of a totally clean installation of the computer. But this is only applied for common errors, because the higher level of flaw may require much more time and effort.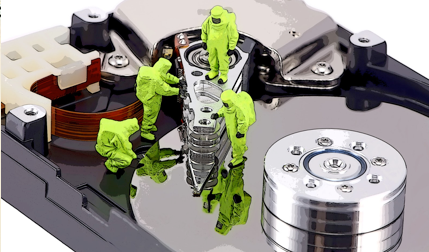 ---
Solutions to A Physical Hard Drive Crash
When it comes to a physical hard drive crash, there are a lot of possible solutions to the problem. Below are the 3 most feasible ones.
1

Try to retrieve data and backup them to another place

In case you are still able to boot the computer despite the crash, you are well-advised not to try to restart the computer and take an attempt to copy your vital data. This practice is likely to put the failing drive under too much stress and pressure. Instead, you should move your hard drive to another system, and then use a data recovery software like Recoverit Data Recovery to retrieve your important data.

Recoverit is bound to be versatile hard drive data recovery software to help you recover your files from a hard disk. This tool has its reputation for being a safe, fast and convenient way for you to retrieve the lost data after being accidentally deleted or especially after a hard drive crash. It provides users with a lot of options as well as types to search for, so you are guaranteed to be offered the best results.
2

Check the hard drive whether it could still be used

You can do it at home or you can bring it to a computer expert to determine whether the hard drive is still capable of processing. If it is not badly damaged, you can keep it for future use, but once the hard drive had suffered from a serious problem, you should throw it away for the sake of your own.
3

Send it to repair or replace your hard drive

You can ask a technical expert for advice if the hard drive can still be repaired. If the answer is yes, then sending to a computer shop is a great idea because there your hard drive will be well cared for. Thus, you may want to take advantage of the situation and reward yourself with a totally brand new hard drive for better use.
---
Tips on How to Avoid Hard Drive Crash
Pay careful attention to your computer system. Try not to bring food and drinks near the hard drive as it can split up easily and cause serious trouble.
Bear in mind to always take notice of any unusual signs of your hard drive, even the smallest ones. Be sure to keep the cooling fan function properly to avoid overheating.
Keep contact with a computer shop for a regular checkup in order to make sure that your computer is still doing its job well.
Always save your data at least in 2 places so that if there is a hard drive crash, your information is still under good storage conditions without fixing a crashed hard drive.
Bottom Line
A hard drive crash is not a welcome phenomenon for everyone since it will result in data loss or file corruption. However, the good news is that it is possible to fix a hard drive crash and recover data back. Especially regarding data loss caused by logical hard drive failure or some physical failure issues, Recoverit Data Recovery can help you retrieve files from crashed hard drive in simple steps. Free download the hard drive recovery software, and you can have your crashed hard drive fixed and lost or damaged files recovered.
Video Tutorial on Hard Disk Speed Test
What's Wrong with Drive
Recover Your Drive

Fix Your Drive

Format/Wipe Drive

Know Your Drive