Windows keeps a history of the recent documents of files that you are working on. The idea is to provide you the chance to instantly load the files and documents which had been recently closed by you. This enables you to quickly access those files without having to search for them on your system. Consider this feature as a shortcut for your recent files. However, there are times when you don't want Windows to keep this history especially when you want to keep your work private and don't want other people who have access to your system to see what you have been recently working on. In such cases, you can clear recent documents, ensuring that no one can see them.
Part 1: How to Remove Recent Files using File Explorer
The File Explorer feature of Windows can be used to clear recent documents with consummate ease. You will have to follow these steps in order to show or hide the Recent Files for your account that are listed in the Quick Access section of Windows 10.
1. Navigate to the File Explorer Options.
2. The default setting of Quick Access is to show the Recent Files. However, if it is not showing then you can turn them on by clicking the on/off switch of the show recently opened items option located on the taskbar of the Settings app or in the Jump Lists on Start menu. You can also get Windows to show Recent Files by checking the box of the option Show recently used files in Quick Access. You can find it under the Privacy menu in the General tab of File Explorer Options. Click OK to confirm and apply your action.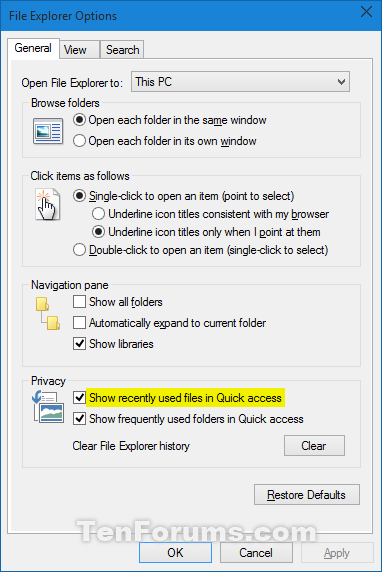 3. If you want to hide the Recent Files in Quick Access then you need to uncheck the box of the option Show recently used files in Quick Access. You can find this option under the Privacy menu in the General tab of File Explorer Options. Click OK to confirm and apply your action.
Part 2: How to Completely Clear Recent Document
Although the abovementioned method can be used to clear recent documents in Windows, it can't ensure that they are deleted permanently. The only way you can guarantee that the recent files and documents have been cleared completely is by making use of a tool capable of erasing data. While there are quite a few such tools available on the internet, most of them are incapable of providing the desired results to you. The only software which is capable of deleting the history of recent documents in Windows beyond the scope of recovery is Stellar BitRaser for File. This tool can permanently erase any kind of data on a Windows compatible storage device.
Permanent Removal of Data Stellar BitRaser for File is capable of erasing the data stored on Windows compatible machines on a permanent basis. The data deleted using this software can't be retrieved no matter what type of data recovery tool you are using.
Deletes Email Client Data Email clients store a good deal of data on the computer. This includes offline emails and information regarding the login credentials for your email account. Stellar BitRaser for File can help you delete this email client data so that no one can get access to this private information.
Erases Data of Microsoft Apps Windows installs a lot of Microsoft Apps on your PC which might contain some important data. If you wish to delete the data contained in these apps then Stellar BitRaser for File can come to your aid. It utilizes several data erasure algorithms to clear the data stored in these Microsoft Apps.
Password Protection Stellar BitRaser for File comes with password protection. This feature is added so that no one can delete files from your computer using this software except you. You can change the password anytime you want and even set an alphanumeric passcode to further enhance the security of your software.
Certification of Data Erasure This tool issues a certificate which confirms that the file or data has been completely deleted from the system. The certificate issued is tamper-proof and can be saved as a PDF file for future use.
Step 1: Download and launch Stellar BitRaser for File on your Windows computer.
Step 2: Click the System Traces option from the left panel.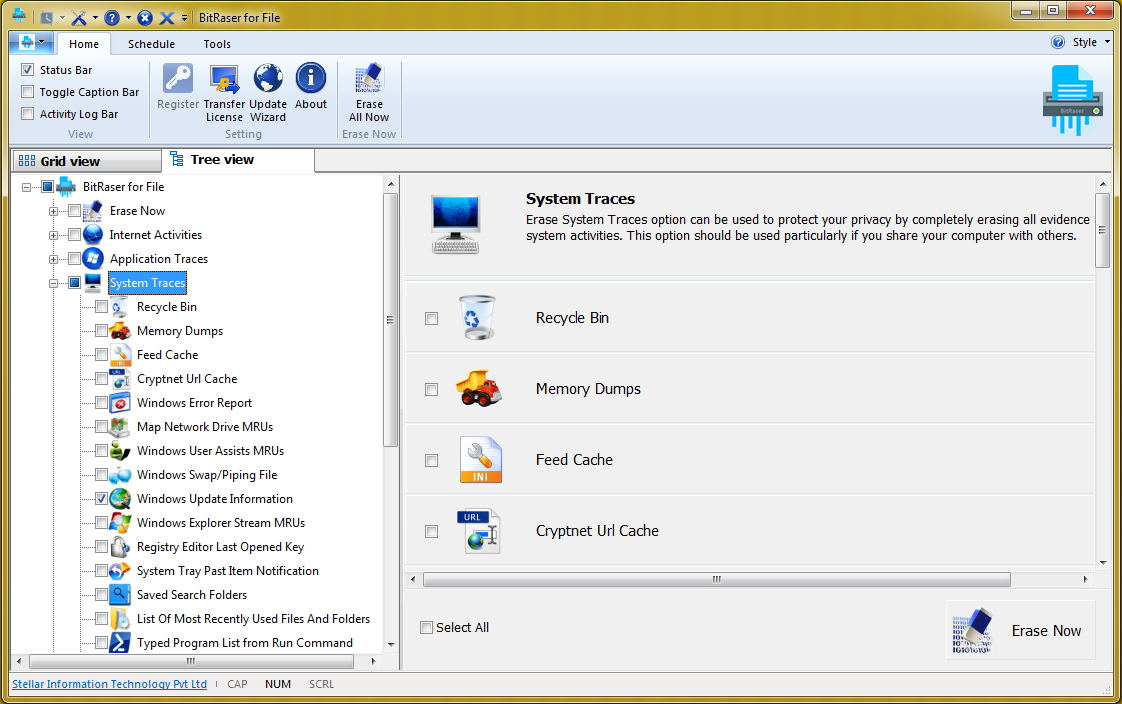 Step 3: By clicking the "Recent Document" option and click the "Erase Now" button to process.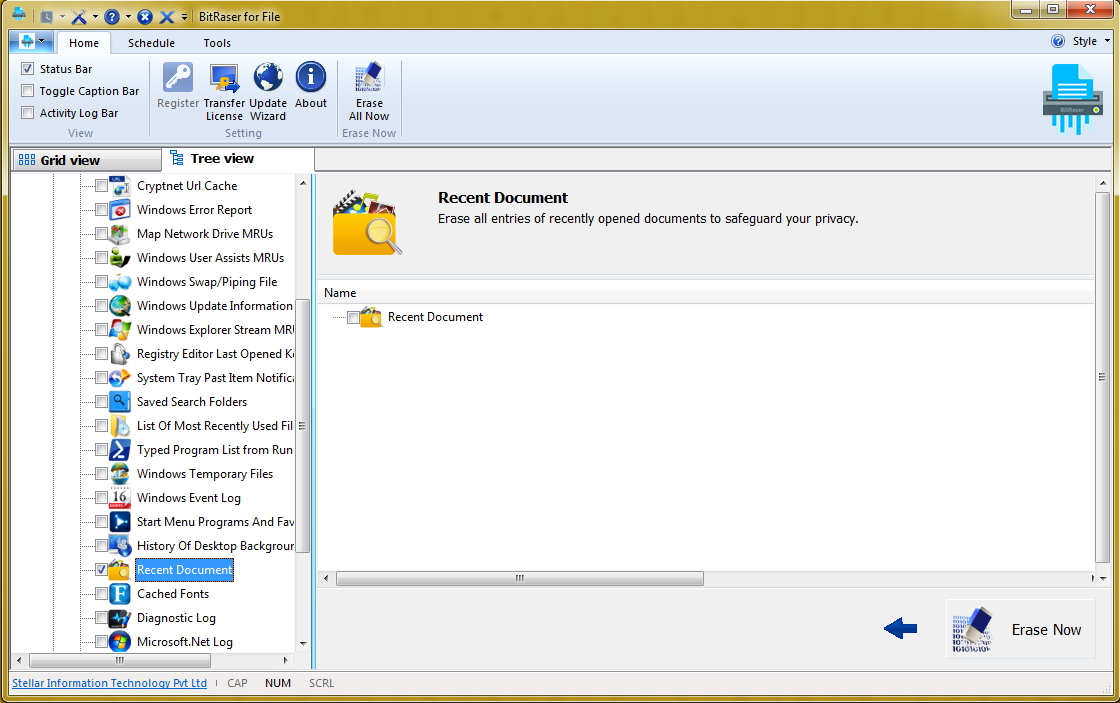 Stellar BitRaser for File can completely clear recent documents in one single pass. However, if you find it hard to believe and don't think that a single pass can remove this data permanently then you can take extra passes. In fact, you can take up to three passes for complete removal of the recent documents from the system.
In short, Windows has a habit of keeping a history of the recently closed files and documents and the most frequently visited folders. This history can be beneficial for quickly accessing the documents that you have been working on. However, if you want to clear recent documents in Windows for privacy reasons then you can accomplish it quite easily. To ensure that the recent documents have been cleared permanently, you would have to utilize the services of a data erasure tool like Stellar BitRaser for File. It can delete the recent documents history in Windows within seconds.
Deleted Files Recovery
Office Files Recovery

Restore Files on Windows

Fix&Repair Files

File Manage Tips