Q: How to backup Mac OS to external hard drive?
"I have an Apple computer at my home, which I'm using from quite some years now. I have a bulk amount of data on my system. I'm always planning to perform Mac OS updates too. I have a lot of pictures, videos and documents in my computer, that I can't afford letting go. I want to know if there is a way that I can backup Mac OS to an external hard drive effortlessly. If yes, then I want to know the easiest way to do that. I want to prepare my Mac for a system update, that is why I want to back up my Mac to external hard drive."
It is quite obvious that in this 21st century, Mac operating system is very valuable to everyone. Making backup of Mac OS to an external hard drive is essential for every individual using Apple computers. Luckily, in this guide you will have facile solution to your situation. Not only this but you will also get to know an overview of the built-in utility of time machine, which we will be using in the guide to backup Mac OS to an external hard drive. Cutting it short, this guide is a blend of all the questions in your mind related to time machine and backing up Mac OS to external hard drive, just read the guide with focus to avail the answers.
Part 1: Overview of time machine
Mac operating system consists a vast number of utilities for their users. time machine is one of those utilities which are widely cherished by individuals all around the globe. There are many questions that arise in the mind of users while thinking about time machine. Well, it's quite obvious that you must know every detail about time machine. This is a remarkable utility given by Mac OS. These are some other details about time machine;
1. Where is time machine on Mac?
The first question about the time machine is where exactly time machine on the Mac is. As you know time machine is a built-in app of Mac Operating system. This app is available ever since Mac OS X 10.5. If you want to find the time machine on Mac OS, you need to click on the Apple logo on the top left corner of the screen. After that, you need to select system preferences. In the window of preferences, there will be an app named as time machine between the two other apps of "Date and time" and "Accessibility"
2. What does time machine backup?
Once you have known the location of time machine. You would surely ask about the functions and capabilities of the software. The first prominent thing is that time machine is the finest way to backup your Mac. This app is created by Apple for the purpose to backup Mac. Once you utilize the timely backup, it is quite easy to restore all or some parts of data in case of any causality with the Mac OS. However, coming to the main question, time machine can actually backup almost every type of data. It can surely backup videos, photos, documents, applications, system files, accounts, messages, preferences and many more. All these types of data can be backup by time machine. You can also restore your data using the time machine snapshot. In order to restore your data, you need to open "finder" then "applications", and lastly choose the option of time machine to continue. The only thing that you need to make sure is that the recovery process can only be effortlessly conducted when the Mac is capable of starting normally. This is all about the astonishing time machine.
---
Part 2: How to backup Mac to an external hard drive with time machine?
Now that you are well aware of all the details of time machine, let's come to the core section of our guide. In this section, you will be given a step by step guide to properly use time machine to backup Mac to an external hard drive. The method is quite easy and simple, you just need to focus on the steps accordingly. Make sure you follow every step one by one, jumping onto steps won't give you beneficial results. These are the steps;
Step 1: Connect your external hard drive
First of all, you need to select a USB cable (or USB-C cable if you are using the newest model of Mac which has thunderbolt 3 ports). Both of them come with an external hard drive to connect to your Mac system. Once the disk is recognized by your Mac, an icon of the disk will be displayed on your screen. In case the icon does not appear, you need to open "Finder"> "Preferences" and "General", over here make sure you have checked "External disks" to make the external hard drive visible on your screen. Once done with it, start the next step. However, if it does not even show the drive after that. Your drive must have some problem, try to re-format your external hard drive to a Mac compatible file system before starting the next steps.
Step 2: Select the disk for backup
Launch the time machine app, then you need to select the disk that you wish to use. You can make the partition of the Seagate into two new volumes "backup" and "My use" or "personal use". Here chose "backup"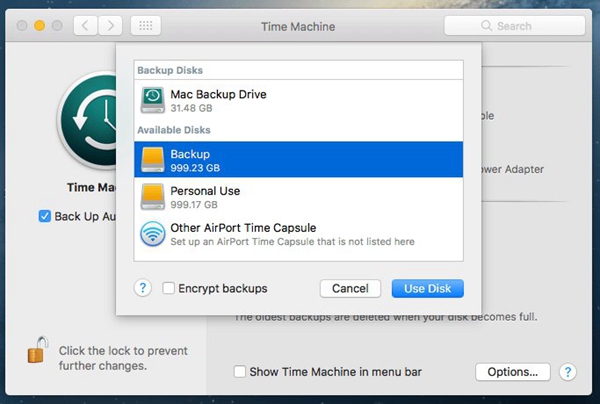 Step 3: confirm backup
There are cases when people have already used another disk for backup any time before. In this case, the time machine will question you that are you willing to stop backing up to the previous disk and utilize the new one, which is connected. You can select "replace" if you want to stop the previous backup.
Step 4: wait for the process to complete
Once you have applied the above steps, time machine will start making the backup of your Mac OS to an external hard drive. The progress bar will let you know about the estimated time left for the backup to complete. Sometimes, it informs your about 6-7 hours and completes the backup even in 2-3 hours. This only depends upon the write speed of your external hard drive. The more the write speed, the less time the time machine will require to make the backup of Mac OS on the external hard drive.
Step 5: Eject your external hard drive and un-plug it
In the last step, when the whole procedure of backup is fulfilled. Don't try to disconnect your drive as soon as possible. This is because if you eject the hard drive in a rush, it can cause potential disk problems. However, you need to go back to the main desktop, chose the icon of your external hard drive. After that, right click on the icon and select the option of "Eject". This is the safest way to unplug your hard drive.
Conclusion
Time machine is utilized by millions of users around the world. In this guide, you have been enlightened with the functions and other details of time machine. Moreover, it is up to you that how efficiently you utilize the app. Backing up Mac OS to external hard drive is very efficient move. All you need to do is follow the steps mentioned in the guide.
Data Backup Services
Computer Backup

Hard Drive Backup

Mac Backup

Cloud Backup