How to Recover Deleted/Lost Pictures in Simple Ways
How do I recover permanently deleted pictures?
I wanted to restore some deleted images in the computer recycle bin, but somehow I emptied it. Is it possible to retrieve the photos? Could anyone tell me how I can recover deleted pictures without having the files backed up?
People have a misconception that once pictures get deleted/formatted/lost, they are lost forever. It is wrong. When you delete or format pictures, those lost pictures are not erased permanently. They are still stored on the computer or the device where they were located before. Can I get permanently deleted photos back? As long as the pictures are not overwritten, it is possible to recover deleted pictures. In this post, solutions about recovering lost or deleted photos are introduced. Read a little further and get the desired results here.
Video Tutorial: How to Recover Deleted or Lost Pictures in Windows?
Part 1.Retrieve Deleted Photos from Recycle Bin
Recycle bin recovery can be the first option. Generally speaking, when a picture is deleted by clicking the delete button, you can find the deleted image in the recycle bin. Just retrieve the deleted picture in 4 steps as follows.
Open the recycle bin folder.
Navigate to the deleted picture.
Right-click it and select "Restore."
Go to the source location and find it.
But just like the case, we may remove all the files or empty the recycle bin, which will result in the loss of photos. So how do I recover permanently deleted files without any backup? Picture recovery software must help you.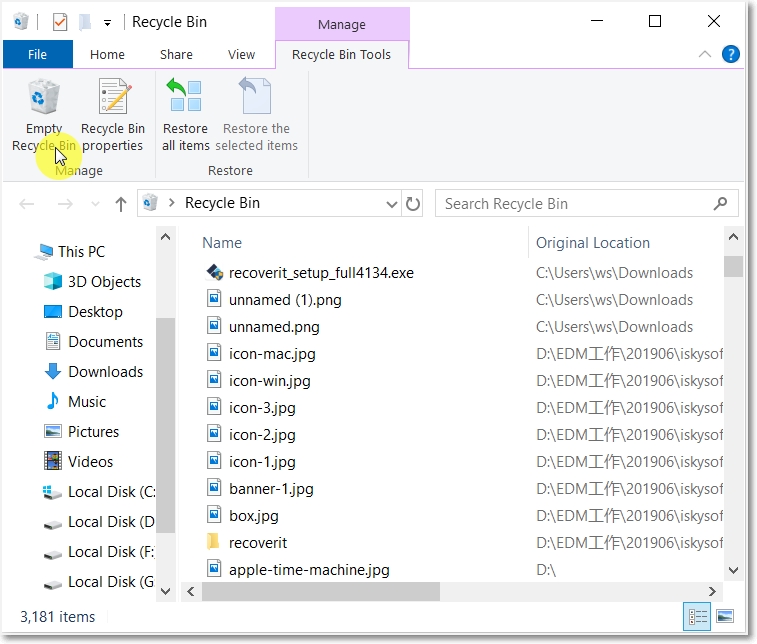 ---
Part 2. Restore from previous versions
In case you delete a photo or video accidentally, you should be able to restore its previous version as long as you are aware of its original location on your device. Windows tracks the changes you make to a file which is why this is an available option. The history related to the picture will be stored as long as your file history option is switched on.
Click on the Computer icon to open up the list of drives that you can access. Find the file or folder where you had stored the photo or video.
Click 'Restore previous versions' to retrieve the original files. After right-clicking on the drive, you could also click on 'Restore previous versions from the drop-down menu.
Once you can access the previous version of the file or folder, you simply have to drag it to a new location to stay permanently.
While this is not the most reliable photo recovery method, it is a good option if you have no other choice.
---
Part 3: Restore from Windows Backup
All of us tend to underestimate the importance of backups at some point. Unfortunately, it takes actual data loss to realize how crucial it is to back up your data regularly. You should back up all the data stored on your Windows device at least once a month so that you do not suffer from any accidental data loss.

Windows offers its backup feature, with the help of which you can back up your data to an external drive. You should back up the data periodically, at least once a month. Once you complete the backup, you can choose to shift it to a new drive on your computer. You can also opt for an external hard drive to store the backed-up pictures. With the Windows backup's help, you can restore your device's data with just a click.
On the other hand, you can also choose to back up your data on the cloud to access it whenever and wherever you wish. Microsoft Onedrive allows you to back up files to the cloud automatically. This is helpful because it will relieve you of worry. Your data will remain protected and secure. Cloud storage offers numerous advantages. You will no longer have to worry about keeping track of all your external hard drives. Once you run out of free storage, you can continue buying space on OneDrive. If you wish to save particular images and videos only, you could also use Google Drive or Dropbox to keep online backups.
---
Part 4. Retrieve Photos in Windows/Mac with Recoverit
Pre-Steps Before Full Pic Recovery
To facilitate the successful picture recovery, you should consider the following pre-steps.
Immediately stop using the disk or device which contains the deleted/formatted/lost pictures.
DO NOT write or save any new data on the disk or device.
Search for a reliable and read-only digital picture recovery software.
What is the best software for recovering deleted photos?
When searching for the best photo recovery utility, you can get tremendous information. However, to handpick the most suitable one, you need to consider the following factors.
The photo recovery software should be read-only and non-destructive. No damage are caused to your pictures. Keep all your pics safe and private.
The digital picture recovery software should support the pic recovery from the disk or devices you lost your photos, such as the computer, external hard drive, mobile phone, digital camera, USB drive, Memory Stick, etc.
Picture loss can happen due to format, deletion, virus inflection, system corruption, power failure, etc. Check if the photo recovery software you select supports all the picture loss scenarios.
Check if it allows you to preview pictures before pic recovery. The preview of lost pictures tells you whether the software can find back your lost photos.
---
Recoverit Photo Recovery is one of the best picture recovery software that matches all conditions above and is reliable and safe. You can also find back lost videos and audio files with the pic recovery software.
How does Recoverit work? The read-only picture retriever uses advanced data protection, scanning, and searching for technology to read, track, and mark your lost files. Recoverit pieces up all the marked data together and show you the resulting menu. It can scan the whole computer or the specified path and restore data more precisely.
Have a free try, install and launch the image recovery software for Windows/Mac just according to your operating system.
---
Guide: How to Recover Lost/Deleted Photos
Free download Recoverit for Windows, and then follow the following simple steps to perform lost or deleted pictures recovery.
Mac users can free download and install Recoverit Data Recovery to retrieve lost photos on Mac computers.
DO NOT install Recoverit data recovery software to the same partition where you lost data to avoid overwriting original data.
Step 1. Select a Partition or Drive
To recover deleted or lost pictures, select the location where you lost your files and click "Start" to scan lost pictures.
If you have emptied the recycle bin and lost photos, please choose it as the target drive.
Step 2. Scan the Selected Hard Drive
The file recovery software automatically initiates an all-around scan on the hard drive you select for your lost pictures.
If you are doing the recycle bin image recovery, we offer another scanning mode for you. You can turn to the deep scan mode and will get more results from the emptied bin.
Step 3. Preview and Recover Deleted Pictures
After the scan, you can preview the lost pictures, like JPG, JPEG, TIF, TIFF, PNG, BMP, GIF, etc.
Select one or more images to preview and recover them. You can locate lost photos by File Type or File Path.
Click "Recover" and save the recovered pictures in a different place or partition.
After the pic recovery, we highly advise you to select another directory that is different from the source one, in case it would eventually overwrite the source data.
---
Part 5. How to make sure that your deleted photos can be recovered?
Photo recovery can be stressful. It is best that you take some steps beforehand to ensure that your photos are recoverable. The more prepared you are, the swifter you will be able to deal with the problem of losing your media.

1. Set up the Recycle Bin properly:
Once you delete a picture, it usually goes to the Recycle Bin. You should adjust the Recycle Bin settings so that deleted media can remain there for a while before getting deleted. You can set it up so that the data in the bin is deleted every thirty days. This will give you enough time to recover a file if you realize that you need it soon. Resist the urge to Shift+Delete, that is permanently deleted, your files so that you have the chance to recover pictures from the Recycle Bin.




2. Turn on File History:
If you take advantage of the backup options provided by Windows, you can always recover deleted photos. If the File History option is on, you will have the chance to restore previous versions of the files and folders. Windows tracks the changes you make to any file or folder when you give this permission. All the previous versions of a particular file or folder will be available to you even after it is deleted. Once you locate the previous version you need, you can save it on your device again.


3. Enable the backup option in Windows:
You will find that Windows offers its backup option, with the help of which you can automatically make backups of all your files. You could set it up so that Windows backs up your data every few weeks, or you could back up your data manually whenever you feel the need.

Backing up your data is crucial if you tend to work with a lot of data. Once you enable the backup option, you will have all your pictures and videos safe from the danger of accidental deletion. You can access any file that you have deleted without any hassle.

4. Increase the chance of recovery:
Do everything necessary to keep your files recoverable and accessible. This will help you recover files faster and more efficiently.
Losing important photos and videos can be devastating; however, you might not have lost them forever in most cases. If you accidentally delete or lose pictures, they are still located somewhere in the storage. Therefore, the device does not erase them.

You can retrieve lost media directly from the Recycle Bin or use the file history feature to restore previous versions of the pictures you have lost. Photo recovery software like Recoverit will make the photo retrieval process much easier. Recoverit Photo Recovery uses a unique read-only picture retriever to read, track, and mark the files. Ensure that you back up your media files regularly.

Now that you know how to recover deleted or lost pictures in simple but effective ways, remember that panicking will only delay the solution. Use any of the above methods to get back your valuable pictures and videos.
---
Wrap it up
Getting back lost photos can be done in simple ways - Recycle bin, File Backup, the previous version, Recoverit, etc. BUT! If you write new files or destroy the hard drive, it would be less possible to retrieve pictures. So stop doing further operations in the hard drive where photo loss occurred.
Solve Media File Problems
Recover & Repair Photos

Recover & Repair Videos

Recover & Repair Audio

Recover & Repair Cameras