Q: I Got Trouble with My Fujifilm Instax Mini 9? "Good day everyone. I need your help with my Fujifilm Instax mini 9; the camera will not turn on. What do I do please?"
Summary
In a world where platforms such as Instagram reign supreme, the Instax mini 8/9 cameras provide a very fun way of taking pictures that achieve that retro look. Although these cameras have a fun appeal and seem easy to handle like toys, they are prone to problems just like other types of equipment. The good news is that you can troubleshoot the problems you face with your Instax mini 8/9. This article provides you with the right tips to apply when handling your camera. It also shows you the steps to use in recovering and repairing data with the Recoverit software.
CONTENT:
Part 1: Introduction to the Fujifilm Instax Mini 8/9 Camera
Fujifilm Instax Mini 8:

The Fujifilm Instax mini 8 is a camera that takes photos and develops them instantly. Its working is similar to that of an old school Polaroid camera. This analogue camera resembles a toy which gives it an appeal among hipsters. The Instax mini 8 looks hulky but it weighs only about 307g and it is slimmer in size than previous models of Fujifilm Instax cameras. It was launched in five different colors which include: blue, black, white, yellow and pink. Eventually more colors were added to the list. Its features include the following:
Its buttons are basic. The lens is collapsible.
The camera trigger is located on the hand grip; the viewfinder is above it with the flash beside it.
It contains five different levels of exposure. It also contains a "High Key" mode which enables you shoot photos with very high levels of brightness and a subtler atmosphere.
The flash recycles every 0.2 to 6 seconds. It uses film which is 62 x 46mm in size. This means that the photos are usually small in size.
The Fujifilm Instax mini 8 camera does not have an autofocus.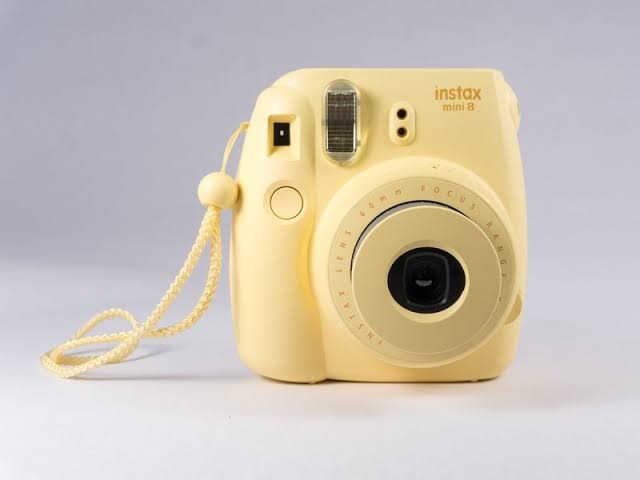 Fujifilm Instax Mini 9:
The Fujifilm Instax mini 9 is also an instant camera which produces photos in credit card sizes. The Instax mini 9 was launched in five colors which include Lime Green, Flamingo Pink, Ice Blue, Smoky White, and Cobalt Blue. Its features are enumerated below:
Its measurements are 116 x 118 x68 mm. Also, it weighs 307g when it is without film and batteries.
It uses a 60mm lens and its maximum aperture is F12.7. This is the same as 34mm lens on a camera with a full frame. In addition, it has a closed-up lens attachment that you can clip on the camera's lens. This attachment enables you to focus your camera on a subject which is between 35cm to 50cm away.
There is a mirror in front of this camera which enables you to know your position during selfies.
Both the Instax mini 8 and 9 have a constant shutter speed of 1/60 seconds. What this means is that all you need to do to shoot an instant photo is: put the camera on, use an icon-based brightness dial to choose the aperture and press the shutter button.
---
Part 2: Tips for Fujifilm Instax Mini 8/9 Camera Troubleshooting
The tips that will be provided in this part can be used to troubleshoot for both mini 8 and mini 9; they include:
The Camera Refuses to Turn On: You may be able to turn on your camera because its batteries are dead or drained. Therefore, to resolve this issue, simple check your camera battery compartment to be sure that the batteries are fully charged.
Also, check that the batteries are 2xAA batteries and that they are correctly placed in the compartment.
The Lens is Stuck: Fix this problem by extending the switch used to release the lens. Extend the lens to the point that you are sure there is an opening through it when you view from behind. Once the release switch has been triggered, your mini 8/9 camera lens should pop out. Also, a light naturally appears on the aperture ring as an indication that the camera is now ready to be used for shooting.
The Film is Not Developing or Ejecting from the Camera: The film slot may be blocked, thereby preventing the film from coming out of the camera.
Replace the film cartridge with a different one to solve the problem. If this doesn't work, check for any blockage in the ejection slot and eliminate any debris found in it.
If the film is damaged, it may not properly eject from the camera. Avoid this problem by not applying excessive pressure, bending or exposing to direct sunlight when the camera begins to self-develop the images you have shot.
Always check that you load the correct film in the film holder because if the film cartridge is not properly inserted, it may affect the workings of the camera. Ensure that there is always film in the film holder before you take a photo.
The Lens Fails to Open and Close: If the lens fails to open, it may be because you are using the wrong eject button.
To open the lens, click the button which is located at the bottom right of the front of the camera. To retract your lens, simply press it back into the camera's body without applying too much pressure. Before carrying out either action, check that there is nothing blocking the lens.
There are Issues with the Viewfinder: If the viewfinder does not provide a clear view for the images you are trying to shoot, then it could be blocked by dirt. Always ensure that your viewfinder is cleaned to prevent this problem from coming up. Use a soft and clean microfiber cloth in ridding the viewfinder of any dirt.
If the blurry images emanate from a crack in the viewfinder, then you should remove the camera's back cover and have it replaced with a new one.
The Flash Unit has Problems: In order to fix flash unit issues, ensure that the flash bulb is neither damaged nor missing in the first instance.
Also, ensure that there is enough charge in the internal flash capacitor. If it is unable to hold enough charge, get a replacement for it.
---
Part 3: How to Recover and Repair Fujifilm Instax Mini 8/9 Camera Data
Recover Fujifilm Instax Mini Camera Recordings: If you lose important data from your Fujifilm Instax mini 8/9, a great tool recommended for you to recover your data with is Recoverit Data Recovery. With Recoverit, you can recover data files from SD Memory Card, trash bin, hard drive, USB, and so on. You can also scan and merge your video fragments which are separated from the same video. You can be sure that up to 95% of your videos will be recovered in one piece.
The steps involved are quite easy as will be shown below:
Step 1: Select a Location.
Choose the location from where you wish to recover your lost files.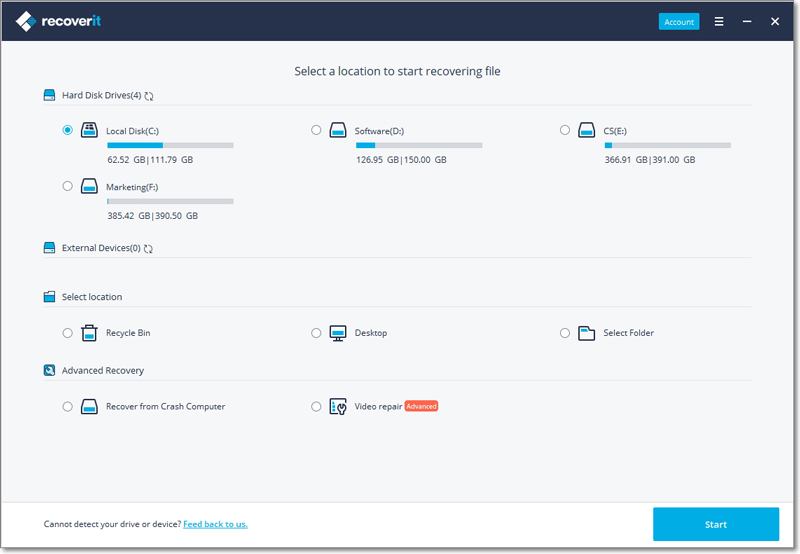 Step 2: Scan the Location
After you have chosen the location, Recoverit will begin scanning the location to find your lost files. In this step, you will have to wait for Recoverit to finish scanning and retrieving your lost files which can take few seconds or some minutes, depending on how small or big the files are in size.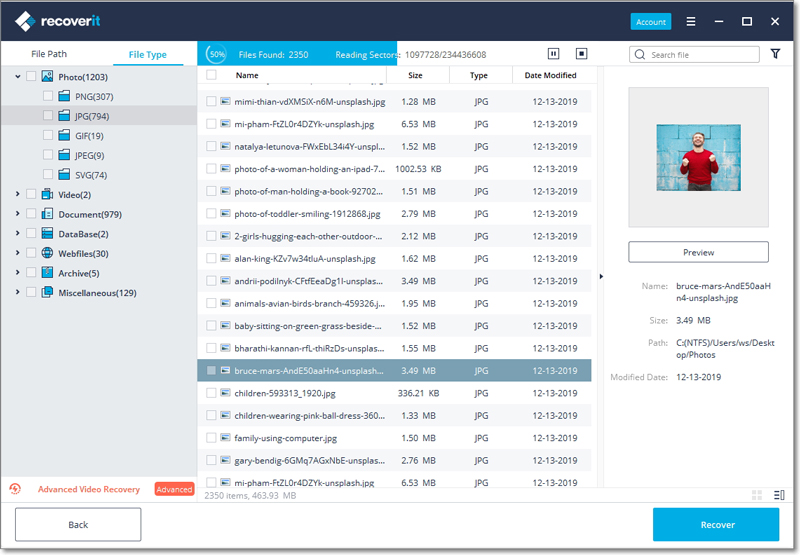 Step 3: Preview and Recover Videos
Here, you preview all the files that have been scanned and retrieved. Then you can go ahead to save them. To save your files, click on the "Recover" tab.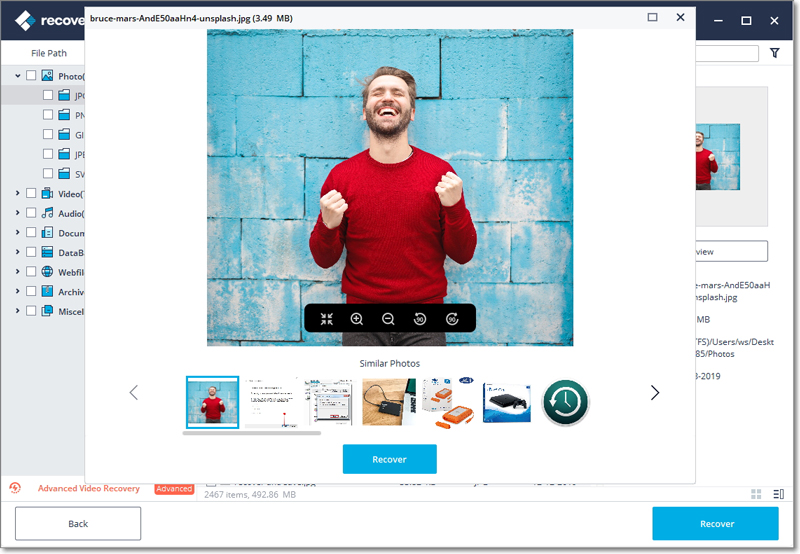 Advance Video Recovery: To perform an advanced video recovery, you will need an advanced tool. Recoverit has provided you with this tool through the "Advance Video Recovery" function of Recoverit Advanced. This function enables you to scan and recover your video fragments and even repair damaged video files. You can get back lost files from Drones, Digital Cameras such as your Instax Mini 8/9, camcorders, HDD, SD card, PC and so on. Another great thing about this feature is that it ensures that your recovered videos come back to you in their original form without getting corrupted.
Simply click on the "Advance Video Recovery" button to use this great feature as shown below: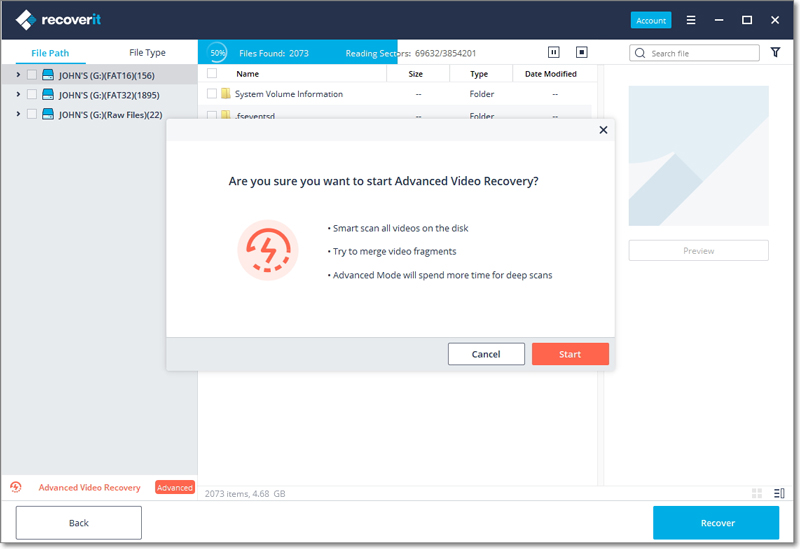 Repair Fujifilm Instax Mini 8/9 Data with Recoverit: When it comes to repairing and retrieving corrupt data from your Instax mini 8/9, what you need is Video Repair. This tool repairs videos in all major file formats such as MOV, MKV, MP4, MTS, M2TS, FLV, AVI, and 3GP. There is no limit to the size of files that can be repaired with Recoverit Video Repair as any number of damaged video files can be repaired with it.
The tool supports repairs in two modes. Quick repair enables you to repair minor errors found in your video files. Meanwhile, Advance repair makes use of sample video which is of the same format as your corrupt video in order to fix the damage done to your video files. The steps to repair corrupted video data with Recoverit are stated below:
Step 1: Add your corrupted videos
Launch the application on your computer. To repair your corrupted video files, you can add it through clicking Add button or "Add video and start repairing" area.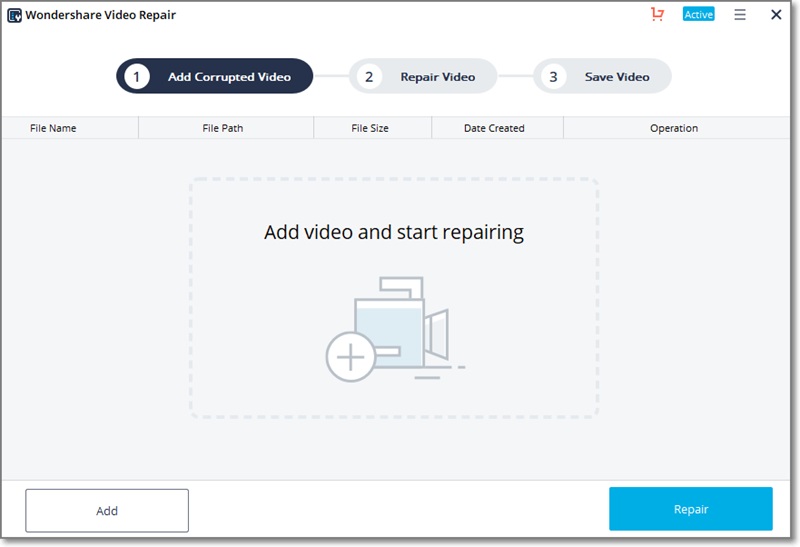 Step 2: Repair your videos
As soon as you have added all the corrupted videos, click on the Repair option to start the video repair process.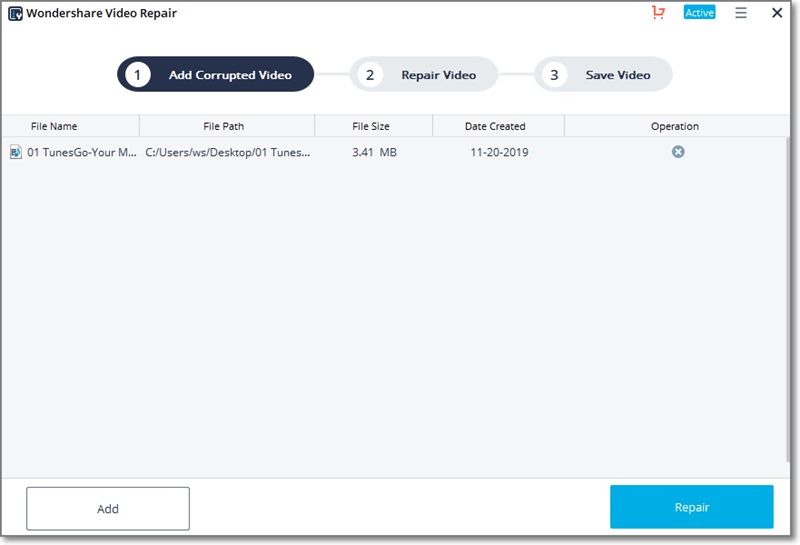 Step 3: Preview the videos
It will take some time to repair and once it has finished the repair process, a reminder showing info of successful fix will pop up on the screen. Press OK to close the operation.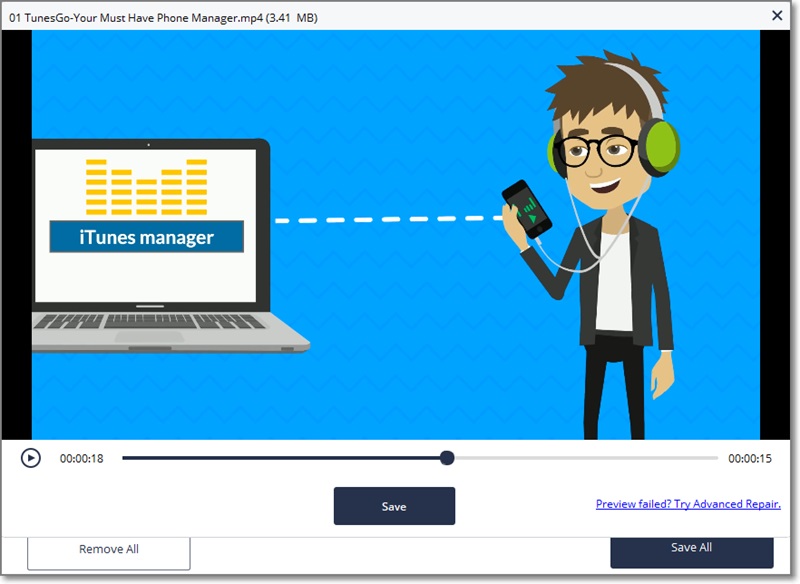 Step 4: Advance mode for severely corrupted video (optional)
If the videos are severely corrupted and not repaired successfully, please go to the advance repair mode. Just click Advanced Repair button.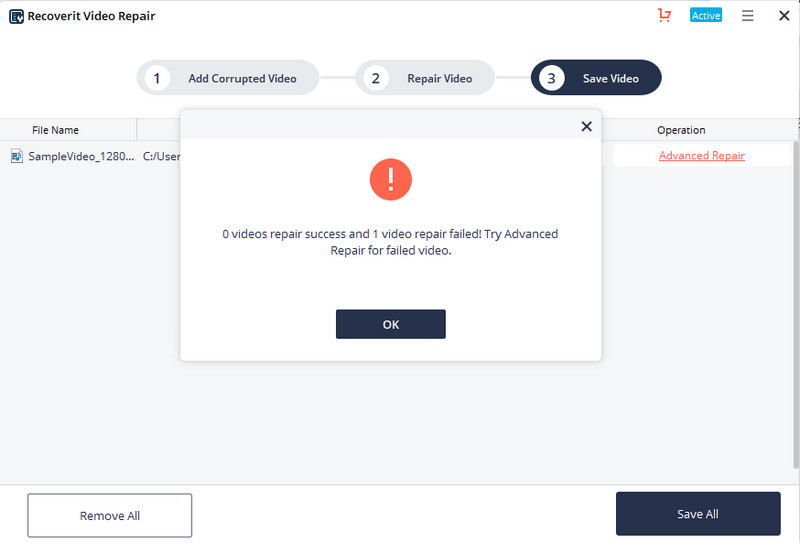 Then add a sample video and repair it now.
Step 5: Save repaired video
The advance repair will perform the repairing process and prompt a success message when the process is completely done. Now, you can play these videos and you will not see any error on the screen.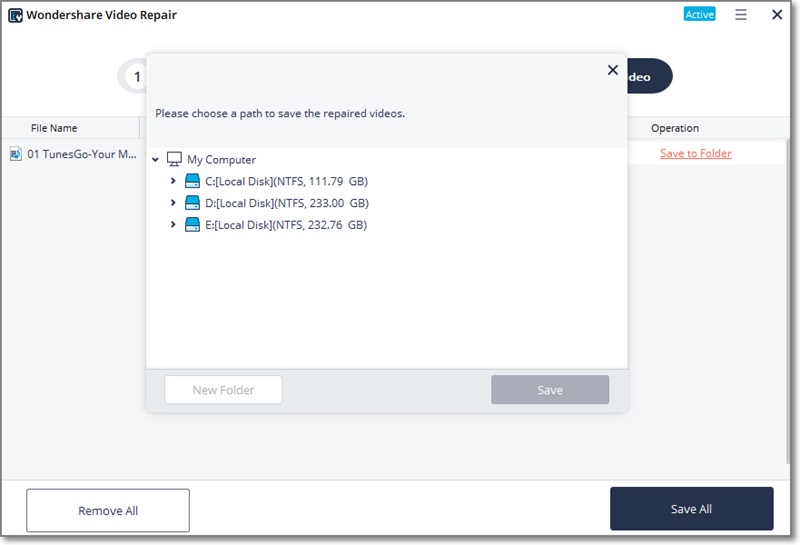 ---
Closing Words
This article has succeeded in introducing the Instax mini 8/9 cameras to you. In addition, the tips for Fujifilm Instax mini 8/9 troubleshooting, data recovery and repair, are quite straightforward as you have seen in the article. You can now fix your camera problems on your own.
Solve Media File Problems
Recover & Repair Photos

Recover & Repair Videos

Recover & Repair Audios

Recover & Repair Cameras