"How can I erase Google history on my computer? I have tried plenty of ways to delete history in Google, but I can't seem to make it work!"
If you are also going through the same problem or have an issue like this, then you have come to the right place. Lately, lots of readers have asked us about a foolproof way to erase Google search history or to clear history in Chrome permanently. This might surprise you, but there are numerous ways to do it. In this informative post, we will teach you how to erase Google history permanently with no scope of recovery.
We all use Chrome to browse the net and look for several things on the web via Google search. Most of the times, Chrome saves our account passwords and our search history. If you won't erase Google history, then this content can be accessed by someone else.
Part 1: How to Delete your Google Search History
To start with, we will let you know how to manually clear history in Chrome. Just like all the other popular web browsers, Chrome also provides a fast and easy way to erase Google history. To delete history in Google Chrome, simply follow these easy instructions:
Step 1.Launch Google Chrome and click on the hamburger icon (or three vertical dots) located at the top right corner.
Step 2.This will let you access various options from Chrome's menu. Out of all the provided options, click on "History".
Step 3.A new tab will open listing the history of your browser. From here, click on the "Clear browsing history" option.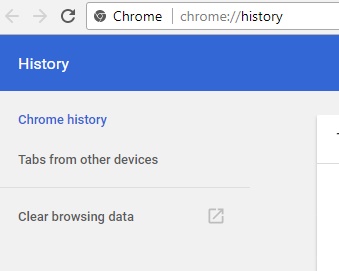 Step 4.This will land you to Chrome settings and open a new pop-up window.
Step 5.From here, you can select any duration to clear history in Chrome (like a day, a week, a month, forever, and so on).
Step 6.You can also select the kind of data you want to erase. For instance, you can erase Google history, cache data, saved passwords, cookies, and more. Simply make your selection and click on the "Clear Browsing Data" button.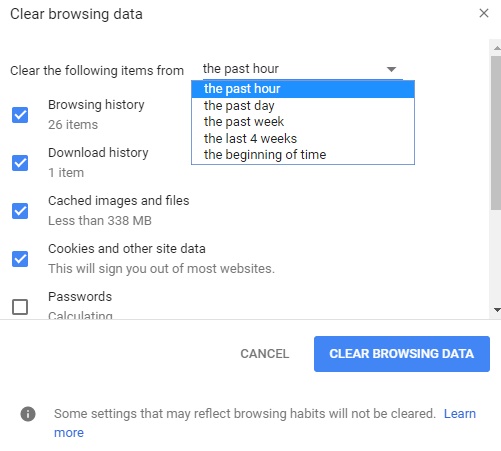 This will erase Google search history, cookies, cached data, etc. from Chrome. You can also do the same for any other web browser that you use. Even though this provides a seamless way to delete history in Google, it has a drawback. Your Google history won't be erased permanently from your system. Anyone can retrieve this data after using a data recovery tool. Therefore, if you really wish to clear history in Chrome permanently, then you need to take the assistance of a third-party data removal tool.
Part 2: How to Completely Erase Google Search History
If you are looking for a fast and reliable way to erase Google search history from your system without any scope of recovery, then you can simply try Stellar BitRaser for file. It is an extremely secure and easy to use tool that can erase your data files, internet activity, system logs, applications, and more permanently from your system. After performing a single round of data removal, no one would be able to retrieve it (even with a recovery tool). It can easily delete history in Google Chrome and other popular browsers within minutes in a hassle-free manner.
It can delete files and folders on your system of any format or type permanently.
The tool has a user-friendly interface and features different algorithms that can be selected from its settings.
Users can also perform a scheduled deletion of their files to automate things.
It also generates an erase certificate in the end to ensure the removal of data.
It can delete selective files, wipe an entire hard drive or external drive, clear system traces, internet activity, and more.
Compatible with every leading version of Windows and Windows server
Step 1: Launch Stellar BitRaser for file. From the left panel, you can see several options like erase now, system traces, internet activities, etc. To erase Google history, click on the "Internet Activities" panel.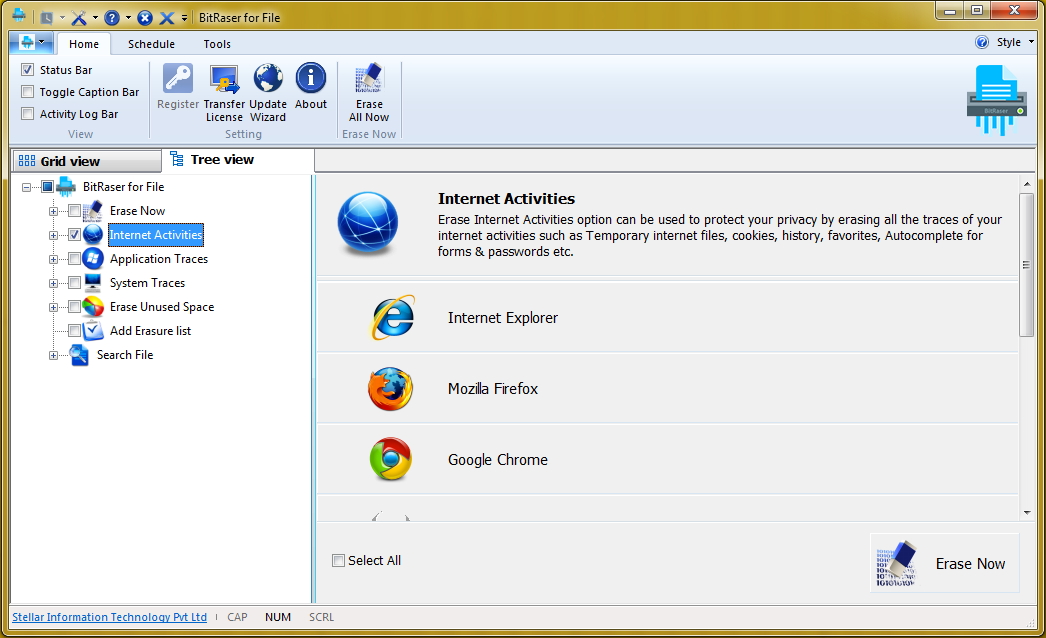 Step 2: Select Google Chrome, and of your choice (to erase its data) and click on the "Erase Now" button.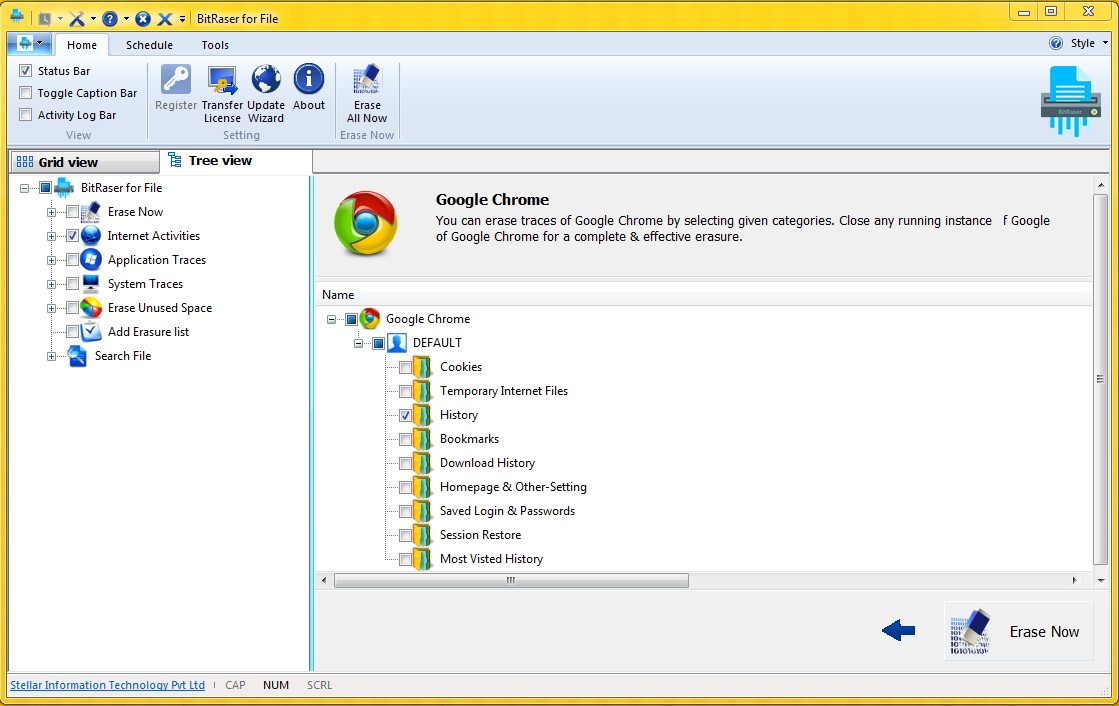 Step 3: Confirm your choice and wait for a while as BitRaser will delete the selected browser data permanently.
Furthermore, you can follow the same drill a few times to ensure that your Google history would be deleted permanently. Even though your data would be deleted the first time as well, multiple passes will provide an added assurance.
By following this stepwise tutorial, you would be able to erase Google history without much trouble. We have listed an example of Google Chrome, but you can do the same with other web browsers as well. BitRaser supports every popular web browser and will let you erase Google search history without any recovery scope within seconds.
Deleted Files Recovery
Office Files Recovery

Restore Files on Windows

Fix&Repair Files

File Manage Tips