How to Replace eMMC with SSD
Q: How to replace eMMC with SSD?
"I often hear about the SSD, but I know a very few words about eMMC. I want to know more about both these storages. Is eMMC as good as SSD? Is it possible to replace eMMC with SSD?"
With the different solid-state storage options, SSD tends to be faster than most of them. In most instances, laptops and cheap tablets have eMMC flash storage. On the other hand, we mostly find traditional SSDs in costly computers, and they tend to be faster than their counterparts. There are some similarities between SD cards and eMMC.
Below here, we are going to look at what SSD and eMMC are and their differences. It will also be easy to understand more about the two which includes; which one you should choose on your laptop. The post also explains whether eMMC can be replaced with SSD.
Part 1. What Is eMMC?
MultiMediaCard (MMC) storage is the predecessor of Secure Digital (SD) storage. Although MMC is still available, in most cases, you will find eMMC, which is its embedded version.
Two things about eMMC are that their performance is fast, and they do not have any moving parts. When we first look at eMMC, they tend to appear like solid-state drives. But they are multimedia cards that are MicroSD or sd cards.
Where is an eMMC storage mostly found? It is something that you could be wondering about at this moment. In most cases, you will see it in a compact, budget laptops, phones, and tablets. This storage is soldered on the motherboard of the device, and this explains the term 'embedded' in its name.
Another advantage of eMMC storage is that it has NAND flash memory that retains data without the need for power. It is also found in SD cards, USB thumb drives, and solid-state drives (SSD). eMMC and SSDs storage have a type of NAND memory, but they have their differences.
---
Part 2. What Is SSD?
SSD or solid-state drive do not have moving parts and is an electronic data storage component. It is normally used for long-term purposes. Solid-state denotes electronics here, which tend to use semiconductors.
There are less wear and tear issues, considering that these storage components do not have moving parts that lead to friction. SSDs are known for their fast performance in terms of moving data. The reasons are, there is no read-write arm or platters that spin to move to the data.
There are three form factors for laptops with SSD drives. They include; mSATA that resembles a card, 2.5-inch chassis like an HDD, and M2 that resembles RAM.
---
Part 3. eMMC vs SSD: Which Is Better?
In terms of physical sizes and form factors, these two are different. While eMMC is soldered to the motherboard, SSDs, on the other hand, can be removed and replaced.
It is quite essential to note here that these two are created for specific markets. With this in mind, which one should you choose? There can be three crucial things that you should keep in mind. They are capacity, speed, and price.
1. Transmission Speed
eMMC has standard storage of v5.1A. That allows it to offer 400MBs transfer speed which is almost the same with SATA SSDs. On the other hand, read rate in SSDs can range from 500MBs to more than 3,000MBs. When it comes to write speeds, they go between 300MBs to more than 3,000MBs.
Device performance is affected by various things besides the overall transfer rate. When eMMC storage is compared to SSD, the former operates with few memory gates. What does this mean? What it means is that eMMC can deliver at the same speed as SSD, but the volume will be lower. The volume is incomparable.
An excellent way to understand it is by comparing it to a road. Let's assume SSD to be a multi-lane road that delivers a higher volume than eMMC, which is much like a single lane road. They perform at the same speed, but the volume is different.
2. Data Capacity
The capacity of these two varies, and this is important. The largest capacity that eMMC offers is 128GB, and it could also be listed as Terabits (Tb). Even if it indicates TB, this doesn't mean it is in Terabyte. As a user, you must understand the storage capacity sizing. A terabyte is equivalent to 1000GB, while a Terabit is equivalent to 125GB. You will find eMMC is used on smartphones mostly.
The storage capacity of SSD is equally good considering its role in replacing HDD. That's why users prefer it highly because of its excellent performance in opening programs or files and in boot time. Its storage capacity starts from 128GB.
3. Price
An SSD laptop tends to be a bit expensive, more than an eMMC one. SSDs come with more parts that are not cheap to make, and price difference could be up to a few hundred dollars. The features of an SSD laptop are also high-end. For example, the device will have more RAM and better videos. If someone is looking for a computer to do more work than merely shopping or accessing social media platforms, it is preferable to get SSD laptops.
---
Part 4. When Need to Replace eMMC with SSD?
Can eMMC be replaced with SSD and which one is better? While comparing SSD vs eMMC, the latter seems to offer a budget laptop. A budget laptop does not mean you cannot do much with it! You can stream videos and surf the internet with ease.
However, eMMC is restricted within the consumer digital services and application on ultra-portable. It also does not have multiple flash memory chips, fast interface, firmware, and high-quality hardware.
For faster transmission speed and more significant volumes, SSDs are the best. It is the reason we see them in fully featured desktops and laptops. With this, users will have an excellent experience whether they are playing games or retaining bulk storage. It also applies when booting the operating system and handling significantly large files.
Perhaps, you feel that you need to upgrade eMMC on your computer. Is it possible to upgrade eMMC with SSD effortlessly? Well, this is possible, and it is not hard to do it. All you need is get a reliable disk cloning tool, such as AOMEI Backupper. It is the best disk cloning tool that is safe and will allow you to perform the upgrade. This tool is quite useful in managing a variety of hard drives in numerous ways. The advantage of this handy tool is that it is a flexible disk and partition management tool.
---
Part 5. How to Replace eMMC with SSD?
The time has arrived now, and you need to do an eMMC SSD replacement. Solid-State Drive has become more affordable by the years, which makes it easy to replace the eMMC storage. The first thing that you need to do is download AOMEI Backupper on your computer.
To upgrade eMMC to SSD, you use the "Clone" feature of the tool. Using the below-detailed steps, performing this task is effortless. It also takes less time.
Step 1. Download Software
The first thing that you need to do is connect the SSD to a PC and make sure it is detected. Next, download AOMEI Backupper, install and run it on your PC.
Step 2. Select Disk Clone
From the left-hand side, click on the "Clone" option. Then, pick the "Disk Clone" option.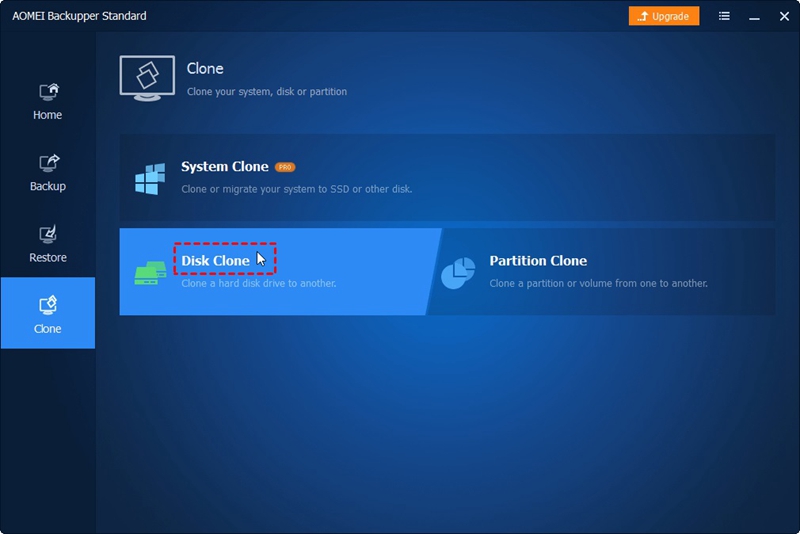 Step 3. Choose Source Drive
Before clicking on "Next," choose the 64GB eMMC, which is the source drive.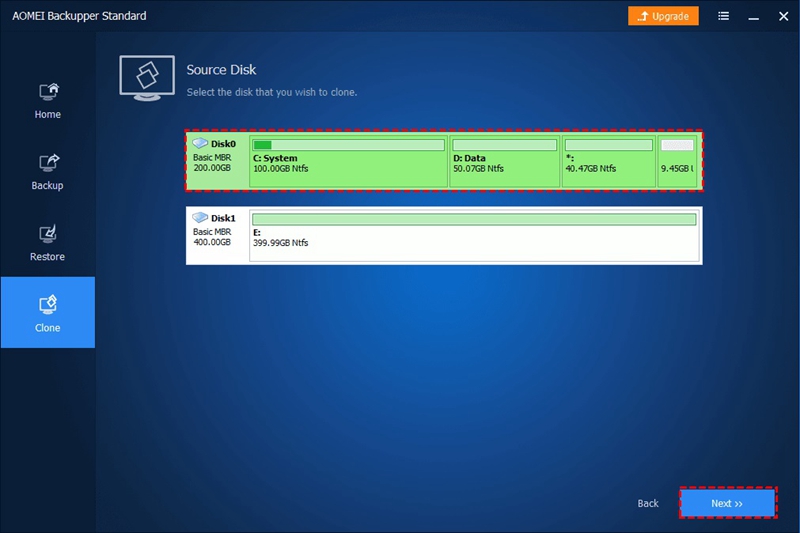 Step 4. Choose Destination Drive
You need to choose the destination disk. So, in this case, select the SSD connected to your PC. Click "Next."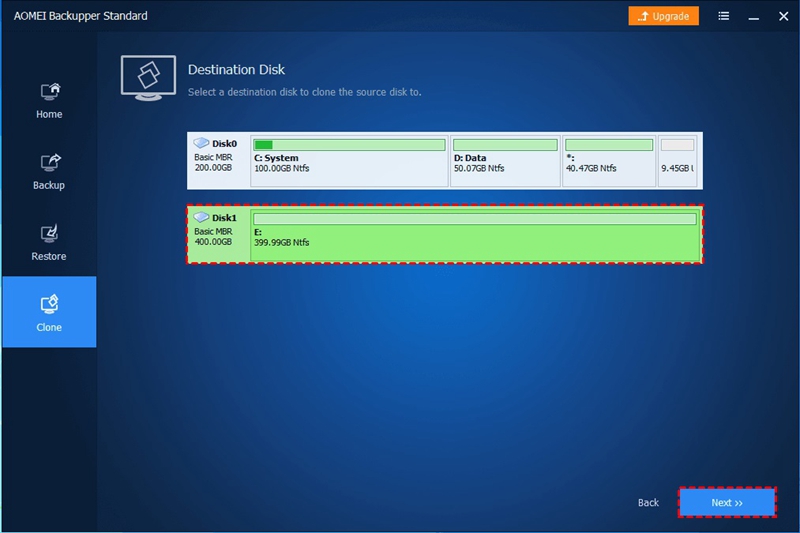 Step 5. Click SSD Alignment
It is time to increase the destination SSD read-write speed. Thus, you should select the box before the "SSD Alignment" checkbox. To start the cloning process, press the "Start Clone" button.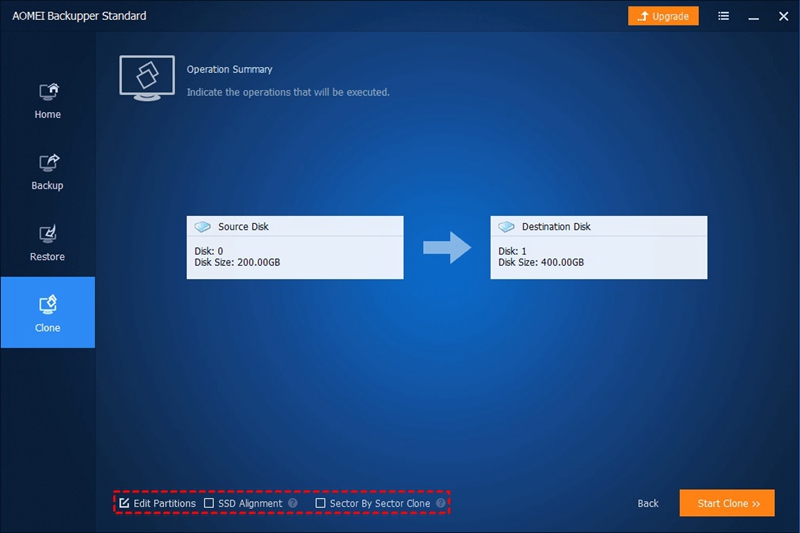 Step 6. Change Boot Order
This step is necessary, but optional. In BIOS, change the boot order once you finish the cloning process. You can as well put the cloned SSD in place of the old hard drive to boot from it.
Cloning eMMC to SSD is stress-free when you use the AOMEI Backupper. On your computer, make sure you save only one storage drive which should be the new SSD. This way, you will replace eMMC with SSD and make full use of the latter in the future. Windows automatically marks one drive as offline.
---
Conclusion
While transferring applications and OS, the copy and paste method is useless. It only works when moving photos, documents, and videos. On the other hand, AOMEI Backupper, which is a free cloning software, will help in this case. It helps in transferring all data by cloning, and also works as powerful backup software for Windows. The tool helps in backing up specific files and restoring them.
Even when the cloning process is in progress, you can continue using your PC. It is doable due to its Volume Shadow Copy Service (VSS). If you want to do an eMMC SSD replacement or replace an HDD with an SSD, the AOMEI Backupper is an excellent tool. You can also try it to upgrade a smaller drive to a larger one.
Data Backup Services
Computer Backup

Hard Drive Backup

Mac Backup

Cloud Backup