Photos chronicle our lives and serve as a permanent record of the past. For most people, the loss of cherished photos would be a great tragedy. But, the thing is, deleted photos are not gone forever.
In this article, we demonstrate how to recover camera photos on an Android phone.
Part 1. How Do Camera Store Photos on Android?
Depending on the Android phone settings and the device used to take photos, images are either stored in the internal memory or an SD card.
Storage in the Android Internal Memory
This is usually the default storage location for any photos taken using the Android phone camera. And, the default storage location for camera images is the Digital Camera Images folder which has the DCIM abbreviation.
The location of this folder is always the same. It is the DCIM/Camera folder. The full path to this folder is storage/emmc/DCIM.
However, you can opt to change the default location of camera images from the internal memory to an SD card. Do this by opening the default camera app and go into the camera settings menu.
Depending on your Android version and device Original Equipment Manufacturer (OEM) settings, there are various ways to get to this menu. You may need to swipe left while some devices/versions may have an options icon. Look for the option to change the preferred location and tap to select the SD card as shown below.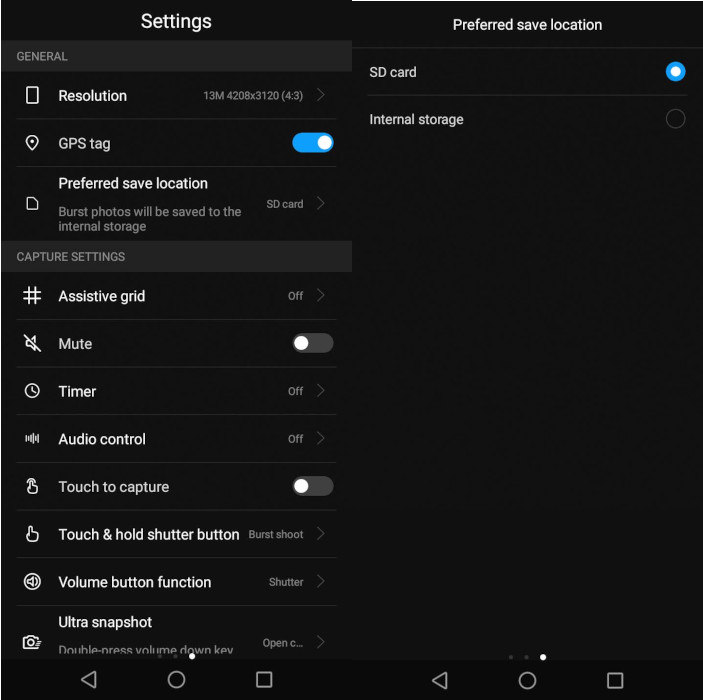 The full path to the DCIM folder on the SD card is always /storage/sdcard0/DCIM.
Storage of Digital Camera Pictures
Images taken using a digital camera are stored on an SD card. They do not change location even when the memory card is inserted into an Android phone.
Android Internal Storage VS SD Card Storage
There are several issues to consider when weighing the benefits and disadvantages of storing photos in the internal storage or on an SD card.
Speed: Images stored in internal storage always load faster.
Portability: Images stored on an SD card are more portable. You can quickly move the images from a phone to a digital camera, smart tv, or any other device.
Security: The portability of images on an SD card makes them less secure. Losing an SD card can mean losing your photos to someone with nefarious intentions. But if you lost your Android phone, you can always wipe it remotely using your Google account.
The choice to use the internal memory or an SD card to store photos depends on the priority you place on the three issues above.
Part 2. Recover Camera Photos on Android Phone Without Root
There are various pro methods to recover photos from the internal memory of an Android phone depending on the circumstances. And, all these can be accomplished without rooting your phone and voiding the warranty.
Method 1. View DCIM Folder on Android
This method applies where you can't view the photos in your Android phone gallery or the DCIM folder is invisible when you connect the phone to a PC.
.Nomedia File
.Nomedia refers to a file extension in the Android operating system. .nomedia files don't have a prefix. The purpose of including this file in a folder is to hide the contents from view.
Several privacy apps such as Telegram use this file extension to hide the app's image gallery from the normal gallery.
Also, in the process of tinkering around with some apps, you may accidentally turn on such a feature in an app causing it to add a .nomedia file in the DCIM folder rendering it and its contents invisible. You may then think that you have lost your photos.
Before you begin, you will need a free Android file explorer. If you don't have one, search at the Google Play Store.
To check if there is a .nomedia file in your DCIM folder, go to File Explorer/Local/Settings. Tap the Show Media Files option.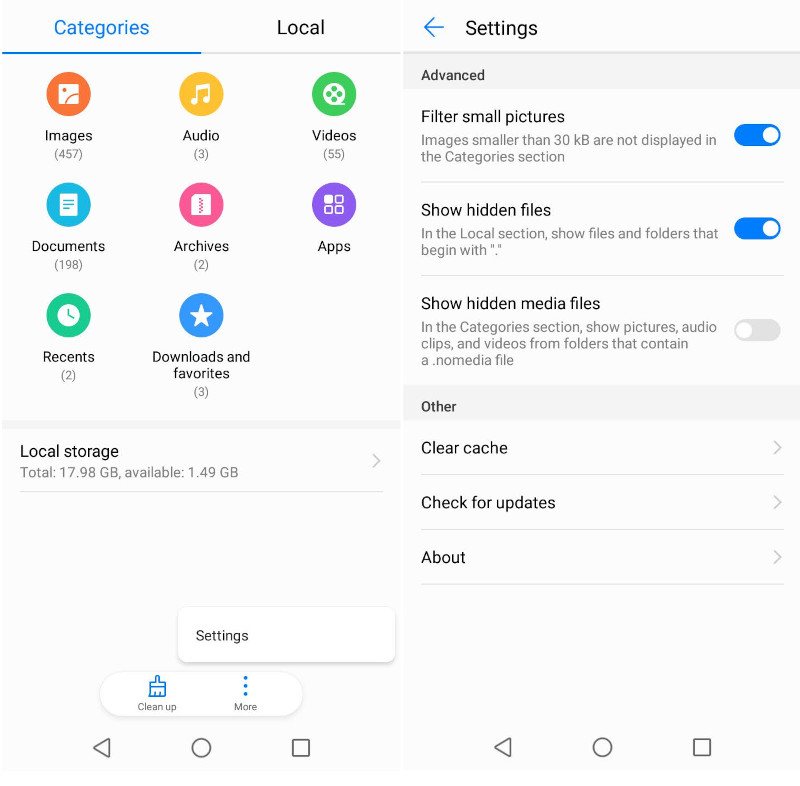 Next, go to the DCIM/Camera folder using an Android File Explorer and check to see if there is a .nomedia file. If you find one, delete it by holding it and tapping Delete.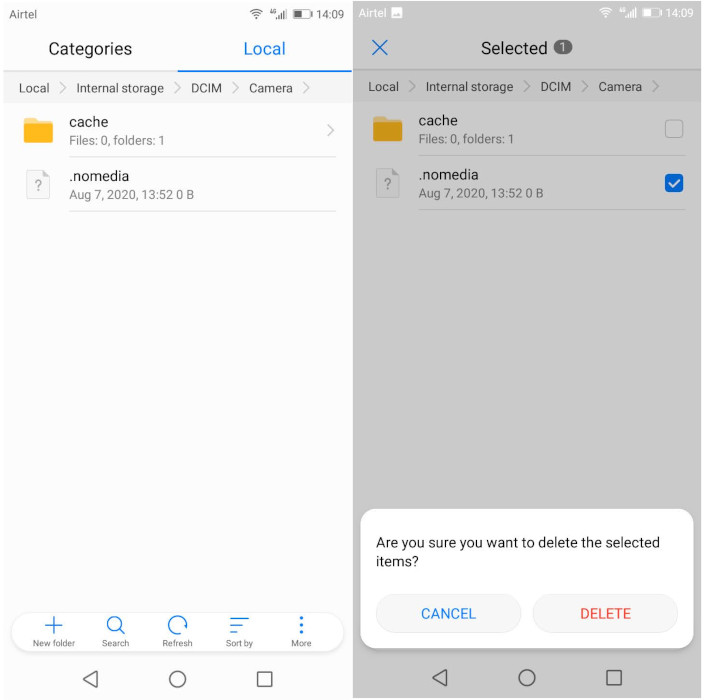 This makes your photos visible in the gallery.
Clear the Cache
If you can see the pictures in the phone gallery but the DCIm folder is empty when you connect your phone to a PC, you may just need to clear your cache.
To clear the cache memory, go to Settings > Apps & notifications > App info and tap the three dots at the top right of your screen. Select Show system files. Scroll down and tap Media Storage. Tap both the Clear cache and Clear data buttons.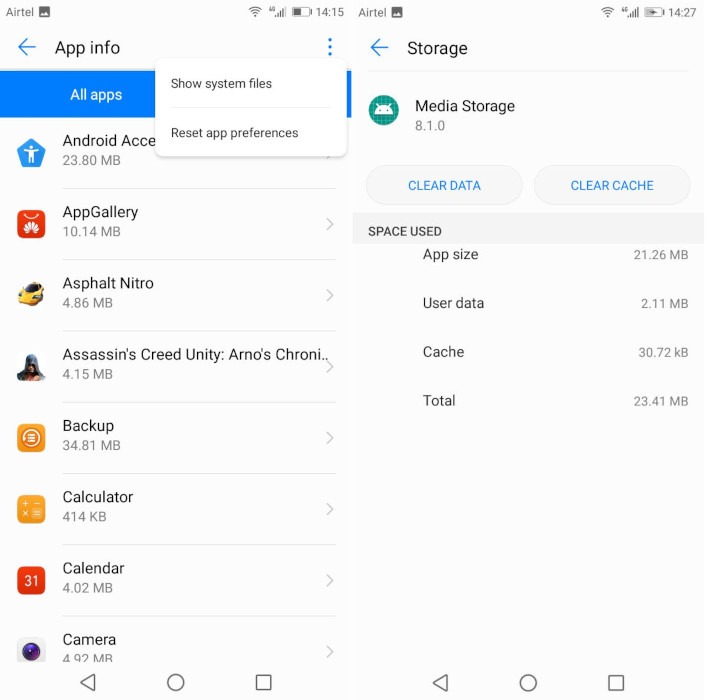 To complete this fix, reboot the phone and reconnect it back to the PC.
Method 2. Restore Android Internal Photos from Backups
The Android phone comes with apps that offer to backup your photos in the background. If this feature is turned on, then your photos may not be lost. You may only need to retrieve them from the cloud backup. Deleted a photo from the gallery does not delete the image from the cloud application.
Below, we examine how to recover camera photos in an Android phone from three of the most common cloud backup services.
Google Photos
If you have deleted a photo and you want it back, check your Google photos bin to see if you can find it.
On your phone or tablet, open the Google Photos app. Tap Library at the bottom then Trash.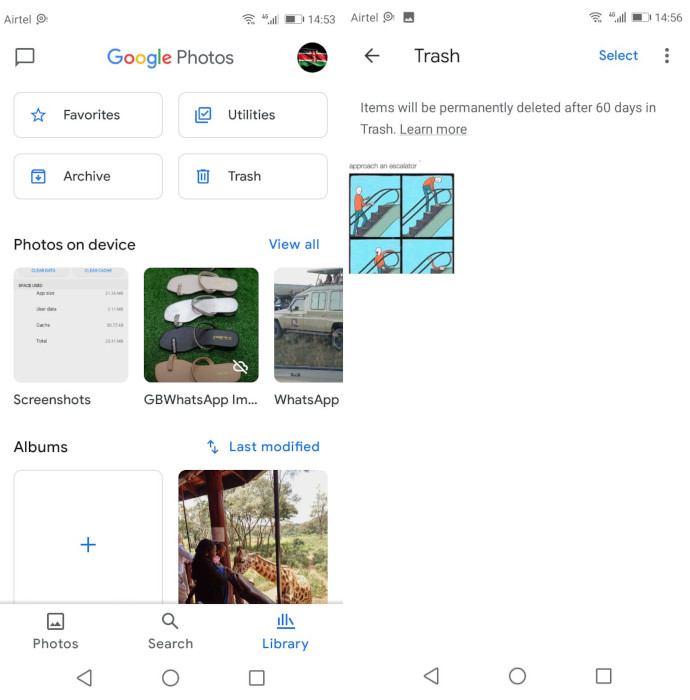 Touch and hold the image you want to recover and tap Restore at the bottom. The item will immediately be restored.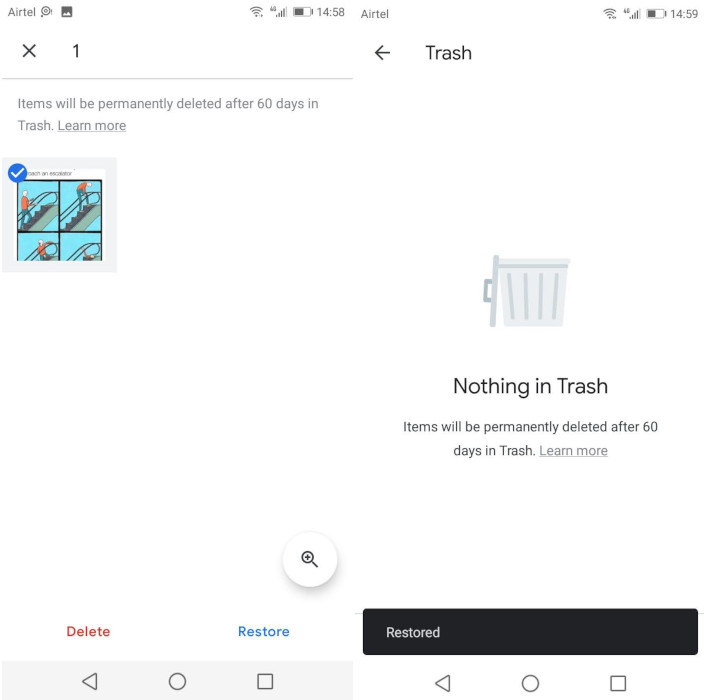 Take note that items in the trash are automatically removed after 60 days.
Dropbox
To recover a deleted photo from Dropbox in Android, navigate to Files > Deleted Files and choose the ones you want to recover.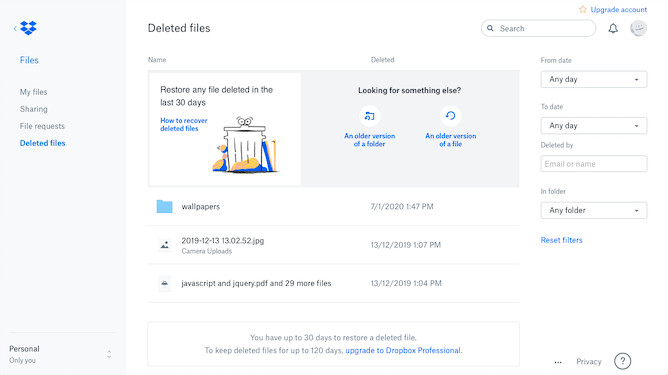 Dropbox keeps files for 30 days after deletion.
OneDrive
In OneDrive, open the application and navigate to Me > Recycle Bin. Select the photos you want to recover and tap Restore.

OneDrive also keeps deleted files for 30 days though they may be removed much earlier if the recycle bin bigger than your total storage space.
---
Part 3. How to Take and Store Camera Photos on Android Phone
The best way to avoid losing your photos is to take steps not to lose them in the first place.
Scenarios Where Camera Photos Get Lost
A few of the common scenarios where camera photos get lost include:
Losing the SD card:
If you misplace your SD then you can kiss your precious memories goodbye.
Corrupted SD card:
SD cards often suffer corruption due to physical and software issues. For example, when there is sudden power loss when an SD card is connected to a PC and performing data transfer. Software problems such as factory defects can also cause an SD card to delete files. Failure to take good care of the SD card such as leaving it in a dusty or damp area can also cause storage defects that lead to data loss.
Accidental deletion:
Images are often deleted accidentally. Tapping the wrong button or letting your toddlers play games your phone or tablet can lead to the erasure of cherished memories.
Tips That Can Protect Your Camera Photos
The best advice you can be given to protect your camera photos is to backup using any of the following services:
Always backup with Google Photos:
Google Photos is free and gives you unlimited photo storage for 16-megapixel images. It usually comes installed on Android phones. All you need to do is activate the backup and sync features in the app's settings. After that, the app does its job silently in the background.
Any other cloud backup service:
If you are not keen on using Google Photos, there are numerous other free camera apps in the Play Store in addition to services like Dropbox, OneDrive, Amazon, and similar.
---
Closing Words
And, that's a wrap! We have done our best to provide you with the most up-to-date information on how to recover camera photos on an Android phone. The takeaway from this is that you should always have a backup but if you can't find your photos, you can always recover them using Wondershare Dr.fone software.
Solve Media File Problems
Recover & Repair Photos

Recover & Repair Videos

Recover & Repair Audio

Recover & Repair Cameras