SD card is a necessity in today's digital age, as it plays a vital role in popular devices, like video game consoles, tablets, Android phones, digital cameras, and some other electronic instruments. But they can cause some serious problem, if they get corrupted due to some reason.
These SD cards are prone to damage, accidental formatting, corruption, leading to loss of stored images, audio/video files, and various other types of data. So, you might need SD card recovery for android to resolve such issues.
Here you will learn errors and causes of corrupted android SD card, methods to repair and recover SD card, and tips to avoid these issues.
Part 1: Errors and Causes of Corrupted Android SD Card
Are you experiencing any SD card corruption issue? Usually, this situation arises with an error message. If it is not handled properly, then it can lead to permanent data loss due to which the recovery gets more difficult. With a corrupted SD card, you cannot have access to your files stored in it.
The files stored in it can disappear; the card might not open or will not be recognized by your system. The usually seen factors are, removing SD card while writing files to it, interrupt data transfer, a virus infection, etc. If you see any of these signs, it means that your SD card is corrupted.
1. Various Signs of SD Card Corruption
There are many signs of SD card corruption, here are some of them:
Suddenly all your files and images on the SD card are lost, and it becomes empty.
You experience your SD card works slowly, camera lags, or the screen turns black while clicking pictures.
SD card is not opening, and the Windows constantly ask you to format the card before you can use it. It can happen if the directory or file is unreadable and corrupted.
When the SD card is not displaying in Windows Explorer as a removable disk, it may have got corrupted. Instead, it shows up as an invalid file system in Disk Management.
SD card is not recognizing the system and is showing no media in Windows Disk Management. This is also the sign of SD card corruption.
2. Can you recover photos from the corrupted SD card?
Yes, there are high chances to recover photos from a corrupted SD card, if the SD is showing up in Disk Management but you are unable to access it or if the partition is lost. While, there are certain ways that can help to retrieve images from the corrupted SD card.
But if your SD is not displaying up at all, then you can try to use some other card reader and connect it to another computer. If you still find the problem, you must take it to the experts for a manual repair.
---
Part 2: 6 Methods to Repair Your Corrupted Android SD Card
To fix higher levels of damage, it is recommended for an SD card owner to start troubleshooting from simple to complex. Although, some ways can help you to repair SD card issues. Here are some methods that can be beneficial to repair your corrupted Android SD card.
Method 1: Change the Adapter, Card Reader or a USB Port
Sometimes, power issues or connection issues can cause several SD card issues. Firstly, you must know about all the factors that can be fixed with some tricks.
Do you know how to connect a SD card on your computer? Always take advantage of something, which is accessible to you, such as a new card adapter or another computer, or a different type of USB port on your computer.
If by changing the connection device helps you to resolve the SD card problems, then you must take some prompt measures to prevent the data loss. Always try to make sufficient copies of your videos and photos from your SD card to upload it on cloud storage or some other safe place.
Method 2: Run the Windows Repair Tool
The another fast and easy way to repair your Android SD card is by running the Windows check and repair tool.
Step 1: Connect your removable SD card to your computer and then press Windows + E together to open Windows Explorer.
Step 2: Click on the SD card, open the properties, and select "Tools."
Step 3: Now, click on the "Check."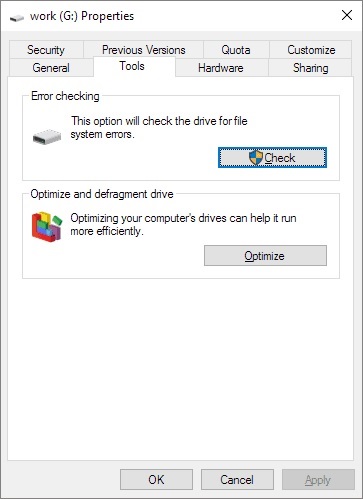 Step 4: The scan process will start. After the completion of scanning, close the scan window.
Method 3: Change the Drive Letter
If your Windows system does not automatically assign a drive alphabet to your SD card, because the drive alphabet is conflicted with other drives, and it will act as corrupted, or become unreadable. To resolve the issue, you can try changing the drive alphabet with the Windows Disk Management program.
Step 1: Open the Windows Disk Management by pressing the Windows + X keys.
Step 2: Locate your SD card and right-click on it, and then select the option "Change Drive Letter and Path."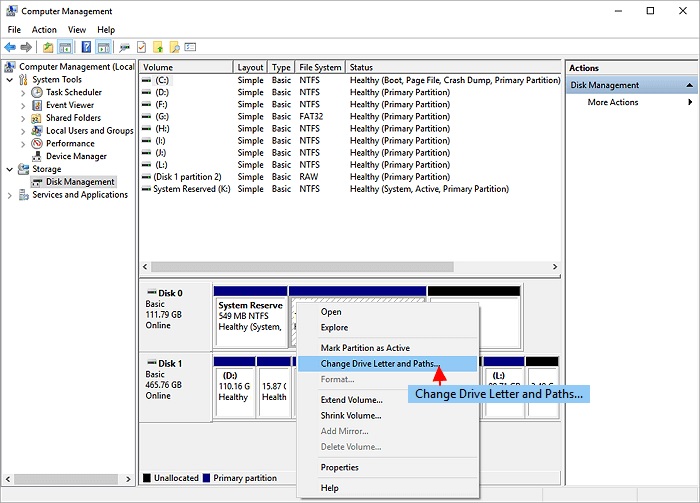 Step 3: Click on Add and choose a new drive letter, and then click on "OK" to save the changes.
Method 4: Run CHKDSK to Repair and Check SD Card Bad Sectors
As you all know, SD cards have short lifespan, just like the other removable storage devices. It can grow bad sectors after an extended period of use. With CHKDSK cmd, you can locate SD card file corruption problems and can also remove the bad sectors from it. Also, it is the most applicable way to repair your SD card without actually formatting it.
Step 1: Connect your SD card in your computer using a card reader.
Step 2: Open the Start menu, type "cmd" in the search section, and press Enter, and then you will see "cmd.exe" in the list of all programs.
Step 3: Click on "cmd.exe," then a command window will appear, which will allow you to repair your corrupted Android SD card without formatting it.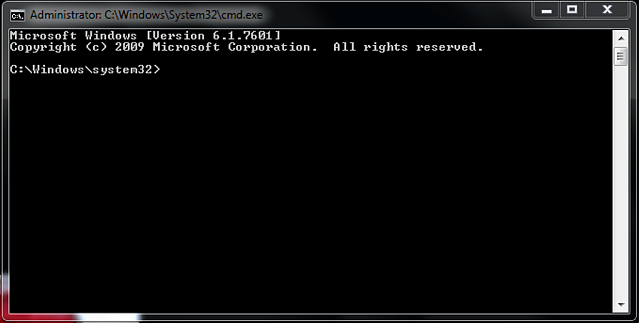 Step 4: Then type chkdsk [SD card alphabet]: /f, or chkdsk/X/F [SD card alphabet].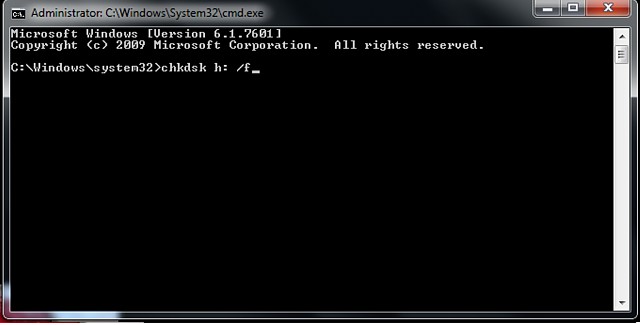 Once you have completed all these steps, Windows will start to fix and check the file system of the SD card. It can take several minutes to complete. After the completion, if you see "Windows has made corrections to the file system" in the CMD window, then the corrupted SD card is successfully repaired, and you can access your data again.
Method 5: Try Reinstalling the SD Card Driver
If your removable SD card is not recognized by your Windows at all, and you cannot locate it anywhere in Windows Disk Management or Windows Explorer. Then, you can try reinstalling the driver, so that it can appear again on the Windows Device Manager.
Step 1: Open the Windows Device Manager by pressing Windows + X keys.
Step 2: Expand the Disk Drives by right-clicking on your removable disk, then click "Uninstall."
Step 3: Click on "OK" and remove the SD card from your PC.
Step 4: Then, restart your computer. After sometime, re-connect the SD to your PC. The Windows will automatically start installing the latest drivers and will make the SD card readable.
Method 6: Format to Repair Corrupted SD Card
Formatting the disk mostly fixes some corruption issues related to the file system. It can also help you to reuse your SD card. You can try this method to recover your corrupted SD card.
Steps to format the SD card on your computer are:
Step 1: Connect the removable SD card to your computer and open the Windows Explorer by double-clicking on My Computer/This PC.
Step 2: Right-click on your SD card and select "Format." This will open the Format window.
Step 3: Then, click on the File System. You will receive three options, exFAT, FAT32, and NTFS. Select one option that you want to format.
Step 4: Click on "Start" to start the process.
If you are not able to format your SD card, then you can use any formatting software. These software can repair corrupt SD cards and will make them reusable.
Yes, formatting can fix the corrupt SD card, but during the process it will delete all your stored photos, videos, and other files on it. To recover the formatted files, you can use a professional SD card recovery software.
---
Part 3: 3 Methods of Recovering Photos from SD Card
Accidentally lost or deleted files and data from SD card is the common reason. If your data is permanently deleted from your SD card, don't stress, because the data stored on SD card will be still there if no new data is saved on it.
Some ways can help you to recover photos from the removable SD card in Android Smartphone.
Method 1. SD Card Recovery with Recoverit
To recover lost files from SD card, you must download Recoverit Data Recovery Application on your Windows computer. In this method, you will know about how to recover deleted photos from SD card using computer.
Steps you must follow to recover data are:
Step 1: Select Your Location
Connect your SD card to the computer to begin the recovery process. Select your SD card and then click on the "Start" button. It will begin the scanning to look for the lost files.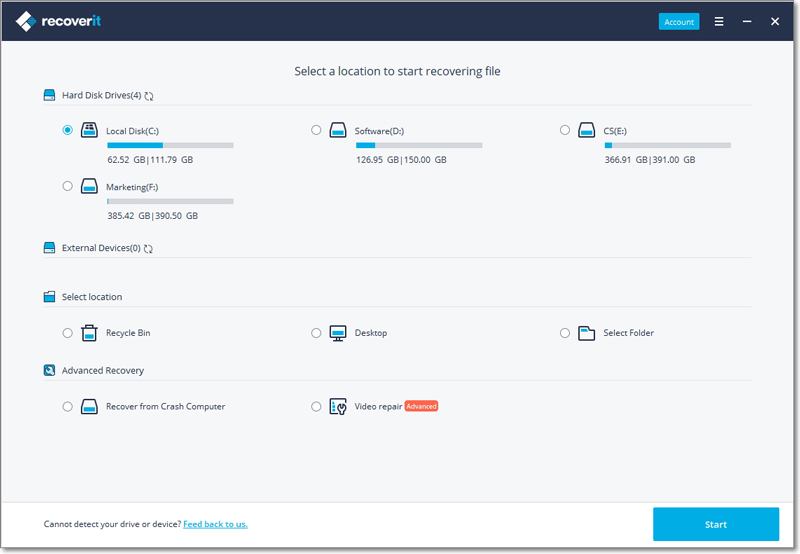 Step 2: Scan the selected location
When you click on "Start," the software begins the scan and shows the progress at the top. The time taken by the scanning depends upon the file size. You can even stop the scan in between if you see your lost files.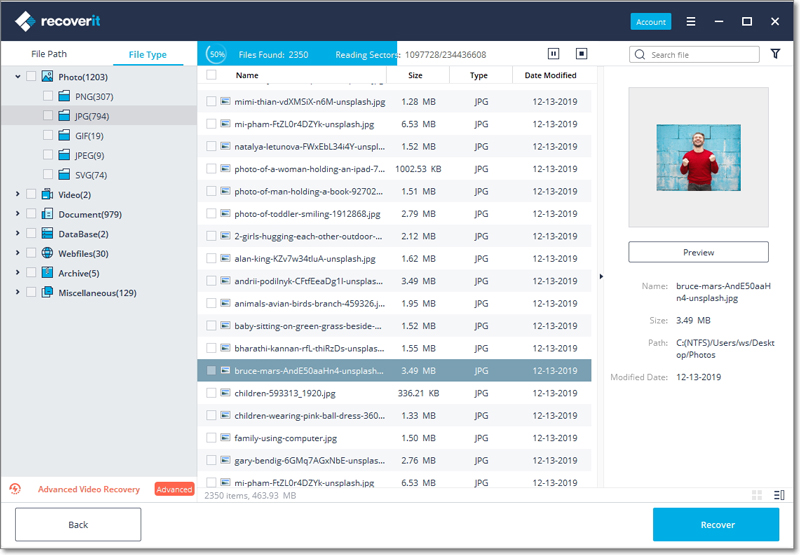 Step 3: Preview and Recover Deleted Data
After the scanning finishes, you can see all your recovered files and data. Then go to preview the recovered files like video, photos, and other files. Select your desired files and click on "Recover" button to restore them back.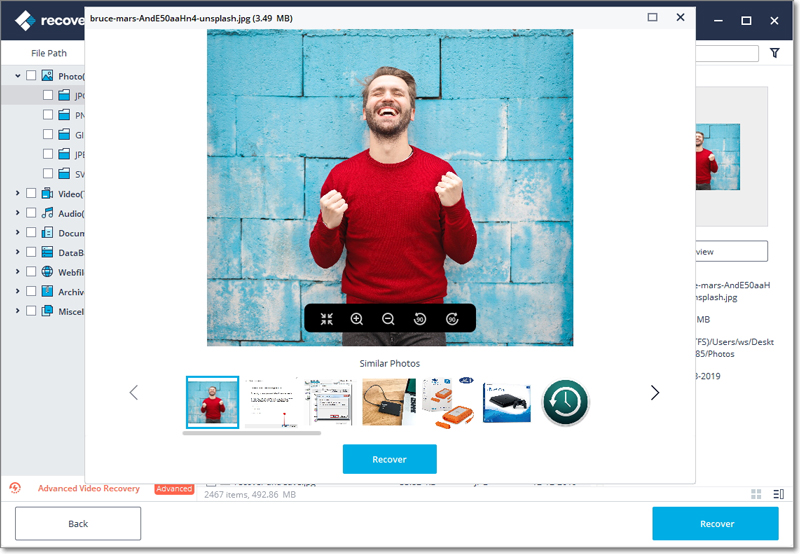 Note: Don't save any recovered data on your corrupted SD card again. As it can overwrite the data or cause severe data loss again, you must use a reliable external hard drive to save your data.
Method 2. Restore SD card Photos on Android Using Google Photos
Google Photos is the easiest method to back up and sync photos on SD card, and also to restore them back on Android device, whenever you have accidentally deleted your photos.
Once you have enabled the "Backup and Sync" feature in Google Features, you can easily recover your deleted photos from your SD card on Android. All you need to do is download the pictures from Google Photos to your device first and then transfer them to any external memory card. Here the steps to recover the data from Google Photos:
Step 1: Open the Google Photos app on your Android device.
Step 2: Open the pictures that you want to restore on SD card.
Step 3: Then press the three dots icon, located at the top-right corner of screen.
Step 4: Tap on "Download" to save the picture to Gallery.
Step 5: You can now transfer the downloaded photos to SD card.
Method 3. Run CHKDSK
The inaccessible SD card usually results in file system error. The solution to solve this problem is by running CHKDSK to repair and check the disk errors. If this doesn't work, then perform a SD card recovery and format it.
Also, if there is no partition on your SD card, then recover your photos from the corrupted SD card and format the device entirely. Here are the steps to recover data by running CHKDSK:
Step 1: Open Start menu and search for "cmd."
Step 2: Right-click on the "Command Prompt" and select "Run as administrator."
Step 3: Then type"chkdsk H: /f/r," instead of H, write the drive alphabet of your corrupted SD card.
---
Part 4: Tips to Fix & Recover SD Card for Android
Many users have experienced problems accessing their SD cards. When your SD card gets corrupted, damaged, or formatted, then all your data stored in it are lost. All of this starts with an error message. If this is not handled correctly, then you might suffer a permanent data loss.
The lifespan of SD cards is limited. It is better to change your SD card if you are using one card for several years. So, how to fix the damaged SD card in android?
However, two successful methods can help you to fix and recover the SD card for android.
Format the corrupted SD in your Android device to repair it.
Run CHKDSK to repair the SD card in your Android device.
How to do SD card repair:
Make an entire backup of all your data on that card.
Format the SD card using a PC.
Reinsert your SD card back into your Android device.
If the SD card is still undetectable, then format it on your device.
Connect it to PC and restore the data.
---
Closing Words
The possibility to perform recovery on corrupted SD card depends on the condition of that memory card. If it is physically damaged, then you must send it for repair. If no physically corrupted, there are higher chances to recover data from that corrupted SD card.
Hopefully all these methods can help you to recover photos on Android SD card storage. To avoid such a situation, always create backups and store them on cloud storage for an easy access.
Related Questions Searched for Frequently
1. Why does my SD card say corrupted?

A corrupted SD card contains damaged data that prevents it from working properly. The SD card can become unreadable, and you cannot have access to your data stored on it. SD card corruption mostly occurs from human error. Below are some reasons that can corrupt SD card:

Removing SD card directly from the card reader without ejecting.
Renaming, deleting, or opening files on the running memory card.
Removing the card reader, while the files and folders are open on a computer.

2. How to recover data from my corrupted memory card in Android?

There are several ways to recover data from a corrupted SD card in Android device. Here are some:

Run CHKDSK in "cmd" to recover your files from a corrupted SD card.
You can also use Google Photos to recover your data from SD card.
Try using recovery software like "Recoverit Data Recovery" to restore your data.

3. How do I fix a corrupted SD card?

There are high chances that you can fix your corrupted SD card. Try some of the methods to repair your memory card:

Run the Windows Repair Tool.
Change the drive letter.
Format the memory to fix the issues.
Try reinstalling the SD card driver.
Run CHKDSK to fix the bad sectors.

4. How do I recover photos from a damaged SD card on Android?

To recover photos from a damaged SD card, you must try using a data recovery software to retrieve your lost or deleted pictures. If your SD card is physically damaged, then you must take it to the experts for recovery.

5. Can Recoverit recover photos and videos from an SD card?

Yes, Recoverit is professional data recovery software that can be beneficial for you to retrieve videos and photos from a corrupted SD card. It offers a simple interface that even an amateur can operate.
Solve All Media File Issues
Recover & Repair Photos

Recover & Repair Videos

Recover & Repair Audios

Recover & Repair Cameras