USB flash drives have aided the storage and transfer of data since they were first introduced. Today it is hard to imagine life without them as they have become indispensable. As effective as USB drives have become, we often encounter difficulties with their use. Problems like ejecting mass storage devices rare their heads from time to time. Does this mean that you should stop using USB drives altogether? You don't have to stop its use for any reason. There are ways to address the issue and we will show you how in this article.
Overview of the Error

An ejecting flash drive issue may occur if you click the remove media button or the Eject option. Many frequent users of USB devices encounter this type of problem and for the most part, many of them don't know what to do about it. This  problem reveals itself in multiple ways such as
This device being used. Do well to close the program  using the device and try again
Windows can't stop the "Generic volume" program because it is being used. Close programs that might be using it.
Device "Generic volume" cannot be stopped now. Try stopping the device later.
These are some of the error messages you are likely to see.  What these errors mean is that the storage you are trying to eject is still in use and your PC cannot remove it safely. When you receive such a message, your system is prompting you to stop all actions before removing the storage device. This is a common problem that occurs because your files located in the USB storage are still open and in use by other programs. It may also be because it is being accessed by your operating system software. To protect the device from damage, your system will stop eject actions and reveal to you a "problem ejecting USB mass Storage Device" Error.
There are ways to overcome this problem. Here are four ways to resolve the issue.
How Easy to fix the problem of an ejecting USB storage Device error
Way 1- Safely unplug a removable device
If you forcefully eject your USB drive without the safe mode you may just kiss your data goodbye because your data may get corrupted or go missing. If the Remove hardware icon is giving a warning that loss may occur, follow these steps to safely unplug it.
Click "Show Hidden buttons" on the Taskbar and right-click "Remove Hardware and Media" icon. (A menu will reveal all the media connected to your PC).
Pick the Device you wish to eject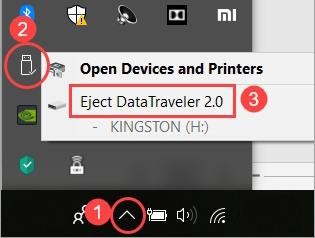 Remove the drive from your computer. The system will confirm that it has been removed successfully.
Way 2- Eject USB device in Device Manager
Your Device Driver lets you manage USB drives that are connected to your computer. You can also use it to eject a USB drive. See how to do this below
Right-click "This PC"- navigate to  Device Manager
Expand drives to view a list of storage media connected to your PC
You need to click the device you wish to safely eject. Pick the Uninstall device and tap OK to confirm. (Be careful not to accidentally delete driver software)
After the process is done, remove the flash drive from your PC
Way 3 – Removable Storage in Disk Management
Management is also helpful in Windows computers. It manages the external drives and disks inserted into the system. If you are a Windows 10,8 or 7, you can use it to eject a USB flash drive.
Hold down the Windows key + X key at once and pick Management from the options
Locate the drive you wish to eject and right-click to eject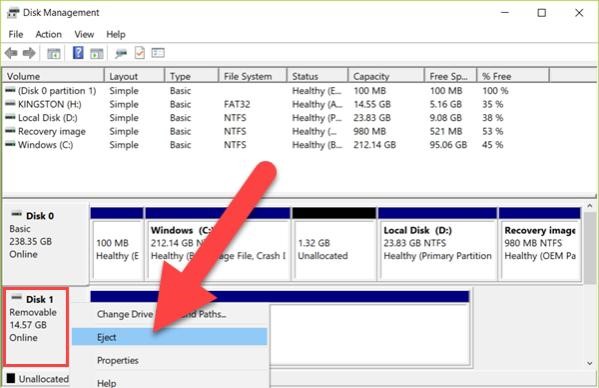 Way 4- How to Safely eject your device
Here are three simple steps to remove your device safely. You can use any of the steps that work well for you.
Step 1: Check the unclosed files or programs
Once you encounter a "problem ejecting mass storage device" error, the first thing you should is to check to see if there are any files or programs still running. Be certain that you have closed the files or programs on your storage device.
Check the Taskbar to see if there are any programs running or open files. Pay close attention to combined task buttons as they may be hiding an open file that you may not be aware of.
If there are no active files or programs, check the processes running in the background with the Task Manager.
Some processes play very crucial roles in your PC and closing them causes problems. If you are not sure about this step, please skip it to avoid causing another problem.
To open the Task Manager, click an empty space and select Task Manager
With Task Manager check a full list of all active applications and processes with the process tab. Take your time to scroll through any process that may be using your USB device. If you find any, close it
Right-click on the process and select End Task to close it.
Step 2: Sign out and log on your system
Applications and processes accessing your USB drive may cause ejecting problems and if you do not know how to close them the problem will persist. Signing out of your system is a clever way to shut them down. There are different ways to sign out of different Windows
To sign out of Windows 7, click your Start Button on the left corner of the screen. You will see an arrow close to the Shutdown button. Click it and log off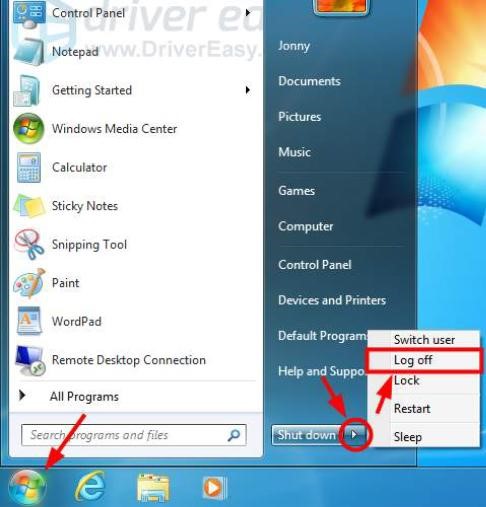 If yours is a Windows 10, click the Start button, select Account, and click Sign out.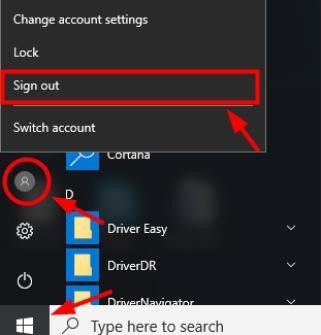 After you have signed out, sign onto the account again and attempt to eject the storage device. You will most likely not see this error again.
Step 3: Restart your computer
If all other steps fail, restarting your computer maybe your best option. A comprehensive Restart will automatically close all running programs so you can eject your USB device once the system comes back on.
As can be seen from this article, there are so many ways to fix an ejecting USB mass storage device error. All the methods and steps listed are effective but you can stick to anyone that works well for you.
USB Solution
Recover USB Drive

Format USB Drive

Fix/Repair USB Drive

Know USB Drive