Memory Stick is a detachable flash memory card type, and is also utilized in all-purpose to define the entire group of Memory Sticks. Added to the unique USB Memory Stick, this entire group comprises the Memory Stick PRO, a revised version that permits greater storage volume and fast file transferring speed; Memory Stick Duo, an advanced version of the Memory Stick and the Memory Stick Micro (M2). However, a memory stick will always have a chance to meet data loss. This article will show how to recover deleted, lost data from memory stick
Part1: Troubles of Memory Stick Data Lost/Deleted
A Memory stick is utilized for storing the images captured with a digital camera or any DSLR. For certain reason, memory sticks may get impaired during a power scarcity, or sudden removal done for the memory card while capturing images or viewing them from the memory cards, or other numerous and unfamiliar causes.Before knowing particular clarification about memory card recovery software the user must have a look on some other explanations for losing data or deleting files from USB external memory stick:
Accidentally formatting the external USB memory stick from the device when the stick is functioning.
Incorrectly removing images and other folders or files from external USB memory stick.
Harmful virus attacks or some kind of malware infection from the internet.
Disruption while conveying data from external USB memory stick to computer.
Using external USB memory stick on various types of devices or on numerous operating systems.
Part 2: The Best USB Memory Stick Data Recovery Software
Recoverit Data Recovery, the best USB memory stick data recovery software is remarkable memory stick recovery software application which allows performing USB memory stick media and data recovery procedure on Windows or any other operating system. The memory stick recovery application or software recovers media, file or data from corrupted and formatted external USB memory stick and assists you in recovering all types of media and data comprising your video clips, music files, image files and numerous other file formats. Apart from recovering and restoring data from external USB memory sticks, the memory stick recovery application also benefits you in recovering data from other types of storage devices like XD card, CF card, pen drives, SD card, hard disks and many other kind of devices on MAC, Linux, Windows PC having 2003, XP, Server 2008, Windows 7, 8, Vista, and other operating systems.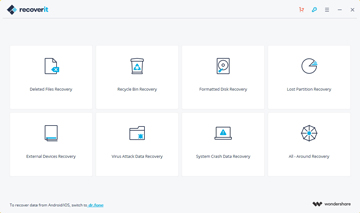 Recover lost or deleted files, photos, audio, music, emails from any storage device effectively, safely and completely.
Supports data recovery from recycle bin, hard drive, memory card, flash drive, digital camera and camcorders.
Supports to recover data for sudden deletion, formatting, lost partition, virus attack, system crash under different situations.
When you permanently removed or had lost some files from external USB memory stick, the USB memory stick data recovery within the drive won't erase the file data permanently. The folders and files you deleted or lost will still remain on the external USB memory stick provision for storage, but the folder or file is marked as removed or deleted and the space can be utilized by any new file that is transferred on USB Memory Stick. Thus, reestablish lost or removed files in USB memory stick data as soon as it is possible before any kinds of new folders or files such as images or videos using specific media files recovery tool like Recoverit. If this is not done, then new data captures the space where the deleted files or folders were saved causing data overwriting.
Part 3: Recover Recover Deleted, Lost Data from Memory Stickk
Once the user has corrupted his memory card, it is extremely suggested to end additional operations on the external memory card (e.g. capturing new images, or deleting or formatting the memory card). USB memory stick data recovery software like "Recoverit" is capable to recover the deleted, lost data from USB memory card in most circumstances.
Step 1 Download and launch Recoverit Memory Card Data Recovery softwar to your PC,and connect memory stick
Step 2 Select the recovery mode, here you should select the "External Devices Recovery" option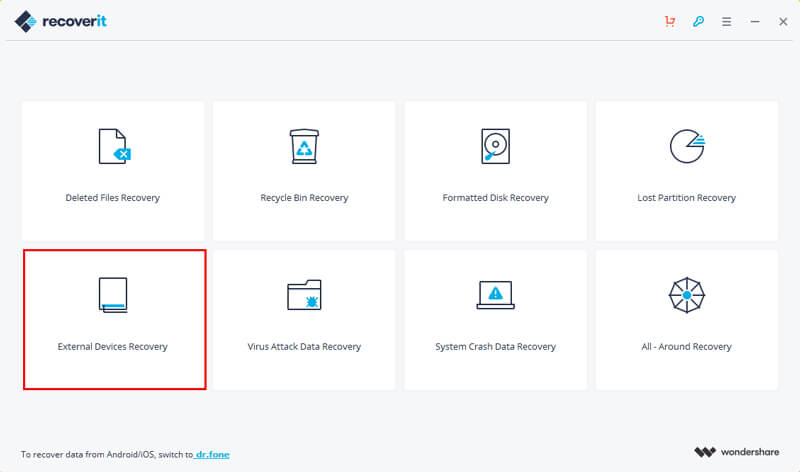 Step 3 Memory stick device will be display on the list, select the target location to recover deleted data from memory stick.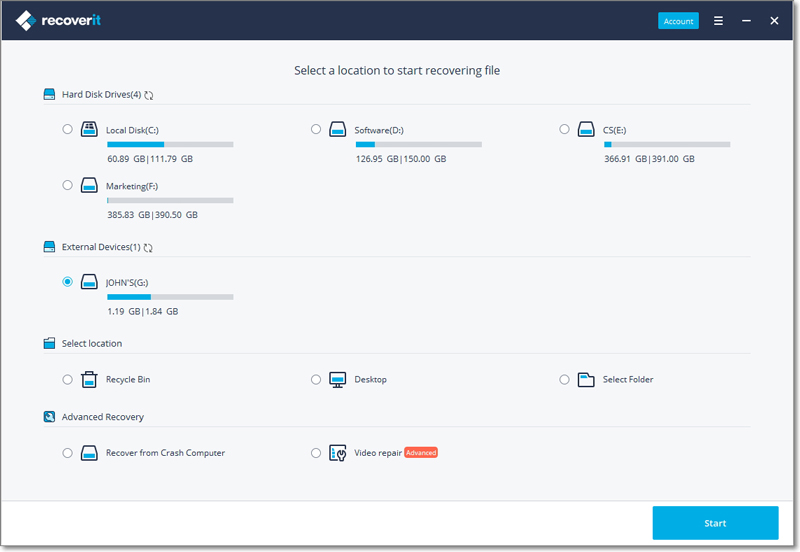 Step 4 Preview the lost files from memory stick , select the one to recover back.
Can a user re-use the corrupted memory card?
For data protection, Recoverit, memory stick recovery does read-only operations on the users' memory card and it does not modify the data on the external memory card, so it does not corrupts the memory card. If you need to, recover your deleted images from the external memory card, you can try to format the memory card before re-using it. It is recommended to complete enough read/write trials before using it for capturing new images. If you are anxious that the external memory card is unsteady and may cause more data loss, buy and use a new memory card. Your valued and unique photographs are more vital than memory card. A memory card is very inexpensive.
Part4: Tips to avoid memory card error and damage
Do not eject your memory card during image saving and viewing.
Do not eject your memory card when turning on and off your DSLR camera.
Do not try to change the memory card when the camera is functioning.
Stop capturing and seeing new images on low battery.
Use memory cards from the house of branded manufacturers like Sony, Kingston, SanDisk, Panasonic, Lexar, Olympus and numerous others.
If the memory card gets corrupted frequently then there are some issues with the operating system of the camera.