Q: My Fujifilm Camera is Broken, How Can I Repair it?
"I am faced with a challenge right now! My Fujifilm camera of few months suddenly stopped working; I think it's broken. Please is there anyone with suggestions on how to repair my camera?"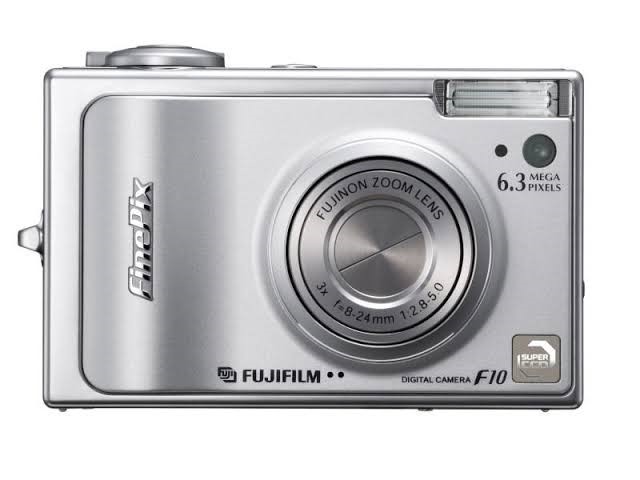 Summary
Fujifilm camera is a reliable equipment for shoots, but as reliable as it is, it may sometimes experience problems. These problems border on the camera not functioning as it should, photos appearing with stripes, battery challenges, as well as flash challenges. When you are first confronted with this challenge, you may become overwhelmed and think you cannot resolve them on your own. The reality is, sometimes these problems are minor issues which you can work around using some tips. This article will provide you with the tips you need for Fujifilm repair and troubleshooting.
Additionally, if your files get missing from your Fujifilm camera, you can recover them. Also, if they get corrupted, you can repair them. Both functions can be performed with the help of the professional software called Recoverit.
CONTENT:
Part 1: Introduction to the Latest Fujifilm camera
The latest addition to the Fujifilm categories of cameras is the new X-Pro3, which was introduced in October 2019. It has been described as Fujifilm's "most retro-leaning" digital camera ever produced. The camera is the newest in the X-series cameras manufactured by Fujifilm. At a first glance, the camera bares similarities with the X-Pro2. This is because both cameras share the same basic dimensions in size, are both retro-inspired with a design that is like a rangefinder. However, when you look closely, you will realize that the X-Pro3 has indeed been designed to give a replica of a film-like experience as can be achieved by a digital camera.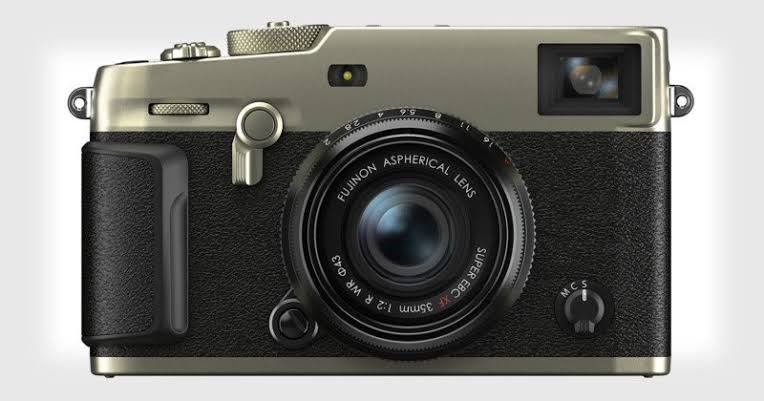 The capabilities of this Fujifilm camera are supported by its features which include:
The Fujifilm X-Pro3 camera has the ability to shoot HDR photos
Just like other X-Pro cameras, the X-Pro3 camera provides many different dials and manual controls which mimic how rangefinders in films work. They have been given the name "photographer's cameras" because of this feature. With its newly introduced display and features which have been tweaked, the X-Pro3 camera tends to lean more into this peculiarity. Also, it has evolved the only viewfinder in the world to be able to switch between both electronic and optical systems. In essence, it is a hybrid version of an advanced viewfinder.
Milled titanium has been used in designing the top and bottom plates of this camera. This is to ensure better durability. The camera has two options for color and each contains a special coating which is referred to as DuraTect. All these work to make X-Pro3 more resistant to scratching or other damage.
The interior is structured with magnesium alloy.
The exposure compensation dial has been considerably tightened in comparison with the loose dial of its predecessor, the X-Pro2.
Its EVF is 3.69-million dot OLED panel and this runs at a hundred frames per second, making for quite smooth visuals.
The camera has two screens, one on each opposing side of a 180-degree hinge. The first screen is an Ink screen which displays ISO settings and film simulation. The display can be configured to reveal exposure settings. The second screen is a 1.62-million dot touchscreen used for reviewing photos, navigating menus, and composing shots.
It is very portable due to its lightweight titanium coating
---
Part 2: Tips for Fujifilm Camera Repair and Troubleshooting
It is completely normal to discover that your Fujifilm camera has an error which you may need to fix without the clues derived from error messages. This part of the article will provide you with some tips you can use to repair your Fujifilm camera
Problem of Stripes on Photos: There are situations where the subject of the shoot is wearing a major check pattern outfit. Now the image sensor may make the mistake of recording a striped pattern over that of the subject. To combat this problem, a tip is to increase the distance between you and the subject.
The Camera is Unable to Properly Focus on Close-up Shots: The more preferable option for shooting with your Fujifilm camera is to use the Macro mode. Even with this mode, you may have to do a trial to test how close you can get to your subject without the output getting blurry.
Go through your camera's list of specifications. Here, you will see the minimum distance you can achieve clear focus for both macro and regular shooting modes.
The Camera is Unable to Read the Memory Card: Another problem you may face with your Fujifilm camera is its inability to read the data contained in your memory card.
Properly clean all the metal contact points located on your memory card. It is suggested that you use a soft and dry cloth to clean them as gently as possible.
Properly insert the memory card into the camera.
As a last resort, you may have to format your memory card. Note that this will wipe out completely, any photo that has been stored on the memory card. It is important to format the memory card on your Fujifilm camera because this problem of camera not reading the card could be because the memory card has been formatted on a different brand of camera.
The Flash Photos Don't Come Out as Great as they Should: Sometimes when you are using your camera's inbuilt flash, the backgrounds may be underexposed. If that is the case, then you should try the "Slow Synchro" mode to allow for more light into the lens. However, you may want to use a tripod stand when shooting on Slow Synchro mode. This is because as the shutter speed slows down, the photos may become blurry.
Use the "Night Scene" mode as an alternative solution.
You can include a flash unit from an external source. This will give your camera better performance and you will have more features to work with than if you are using only the inbuilt flash unit. However, this solution works for only some advanced Fujifilm cameras.
Autofocus is Unable to Work Quickly Enough: The autofocus of your Fujifilm's camera may not focus accurately; this can happen when you are shooting a subject through glass, a subject in a setting with poor lighting, or fast-moving subjects.
The smart thing to do is to avoid these subjects as much as possible. Position yourself in such a way that the impact of such situations will be minimized. An example is when you are shooting a fast-moving subject. In this situation, you can take care of the problem by shooting as the object moves towards you instead of shooting when it moves across the frame of your focus.
---
Part 3: How to Recover and Repair Fujifilm Camera Video
This section will be divided into two parts: one will show you how the Recoverit tool is used to recover lost video from your Fujifilm camera; two will teach you how to repair any corrupted video you may have on your camera, using Recoverit.
Recover Fujifilm Camera Video with Recoverit: If you lose files from your Fujifilm camera, you can use Recoverit Data Recovery to retrieve them back. This is a powerful data recovery software which helps you in getting back each and every one of your emails, videos, photos, audio files and valuable documents. The recovery process is quick and easy. You can recover lost files from your system's recycle bin/trash, laptop, external storage media, internal hard drive, as well as from a crashed computer.
Simply follow these steps to use Recoverit for your Fujifilm camera:
Step 1: Select a Location.
First, connect your Fujifilm camera to your computer and select the location from where you want to recover the video files.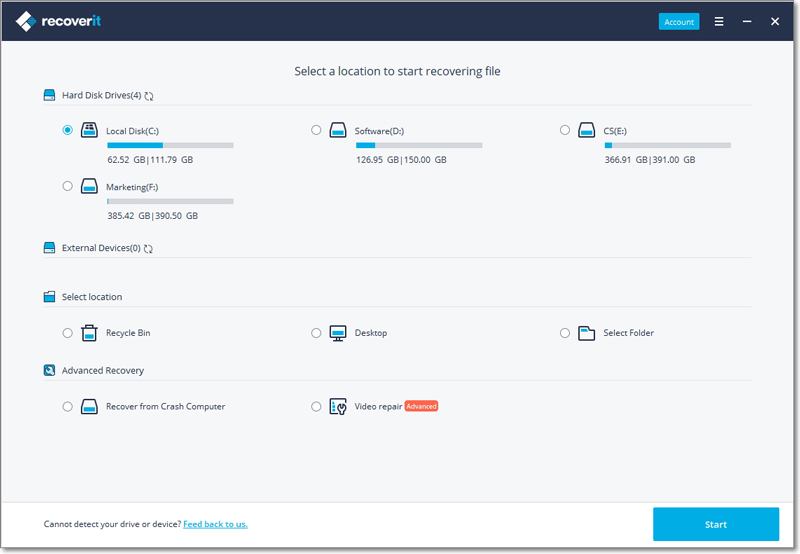 Step 2: Stan the location
Here, Recoverit will start scanning the location you have selected once you click to begin. This step is basically left for Recoverit to handle. All you need to do is to wait for the software to complete scanning and retrieving your data. The bigger the size of the data, the longer you have to wait.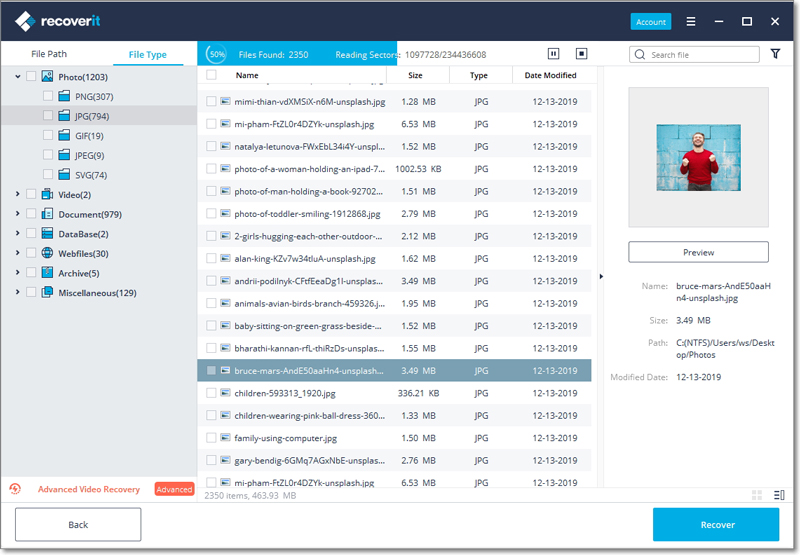 Step 3: Preview and Recover Videos
After all your files have been scanned and found, ensure you preview them. Next, select the files you want to recover and click on the "Recover" button. This will return all your selected files.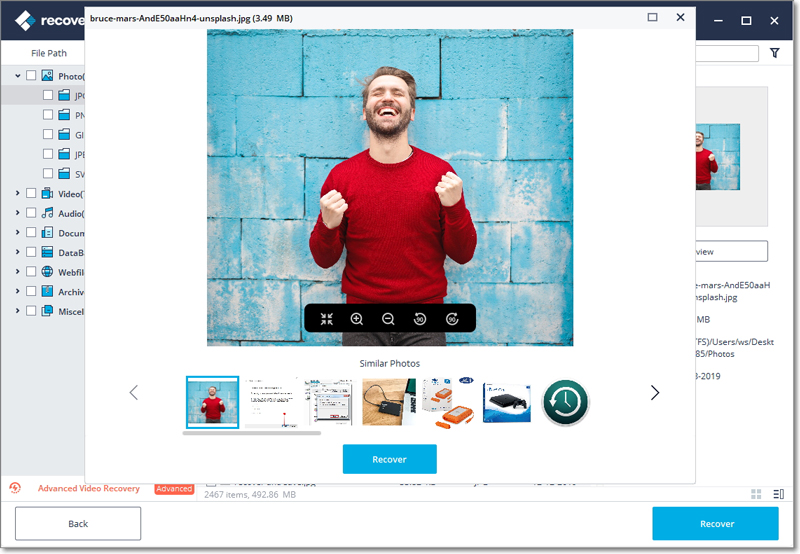 Advance Video Recovery: The Advance Video Recovery function of Recoverit Data Recovery Ultimate is what you need if you discover that your video is corrupt after you have previewed it. The Advance Video Recovery feature is an additional step you need to scan, gather and match the fragments of your corrupt videos. The feature ensures that most of your videos are recovered from Digital cameras, Action Cameras, Drones, DSLR, camcorders, SD card, Dashcams, HDD, PC, and so on. It recovers and keeps 95% of your videos intact. Video recovery with this advance feature is unlimited and without corruption.
To use this feature, all you need to do is click "Advance Video Recovery" and all your fragmented video files will be easily recovered as shown below: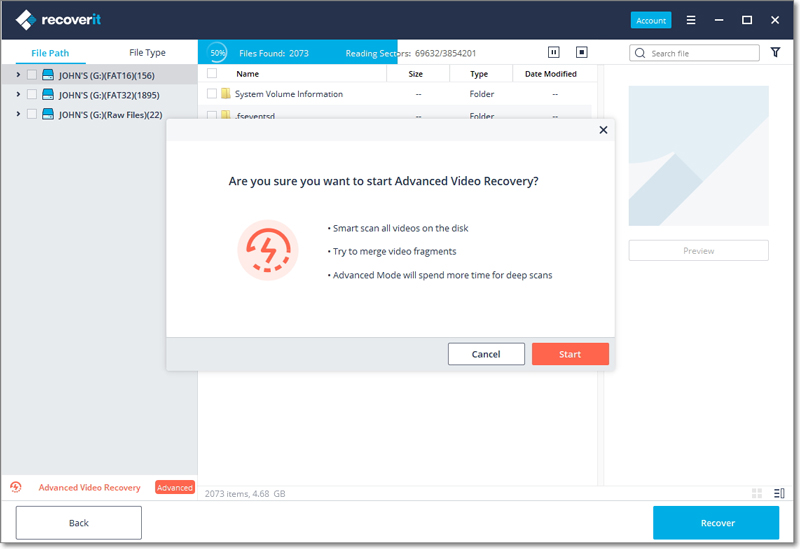 Repair Fujifilm Camera Videos:
Recoverit's Video Repair is another powerful video repair tool you can use to repair broken, corrupt, or damaged videos in the following major video formats: MOV, M2TS, MP4, MKV, 3GP, MTS, FLV, and AVI. It supports videos repair in two repair modes viz: Quick Repair and Advance Repair. Quick repair is used for repair of video errors. On the other hand, Advance repair repairs corrupt videos by analyzing the technology and data of a sample video which is shot by the same device. To use Recoverit Video Repair for your Fujifilm camera video, follow these steps:
Step 1: Add your corrupted videos
Launch the application on your computer. To repair your corrupted video files, you can add it through clicking Add button or "Add video and start repairing" area.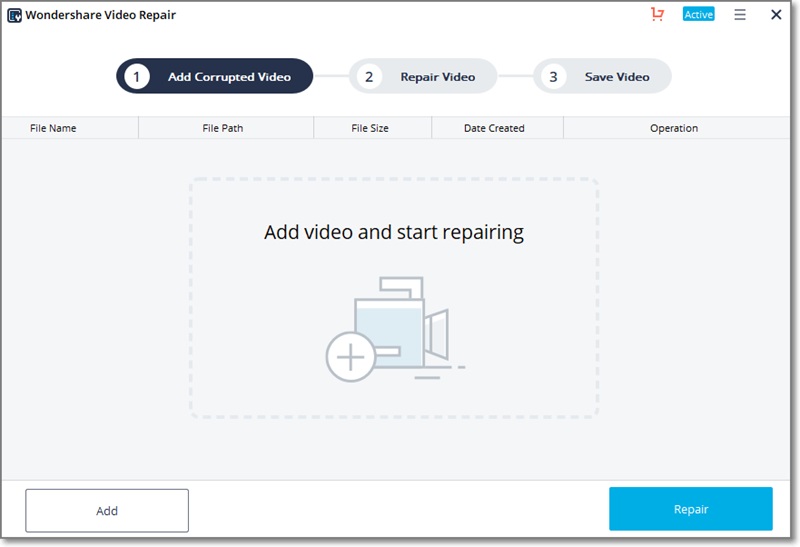 Step 2: Repair your videos
As soon as you have added all the corrupted videos, click on the Repair option to start the video repair process.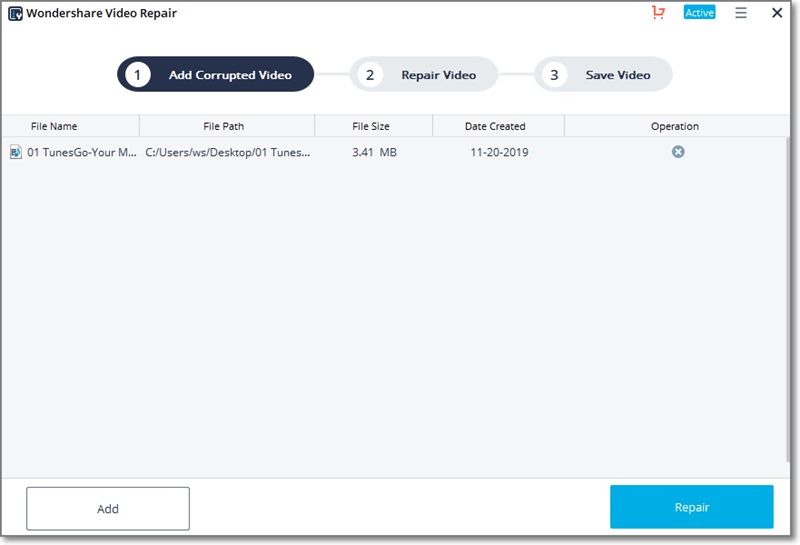 Step 3: Preview the videos
It will take some time to repair and once it has finished the repair process, a reminder showing info of successful fix will pop up on the screen. Press OK to close the operation.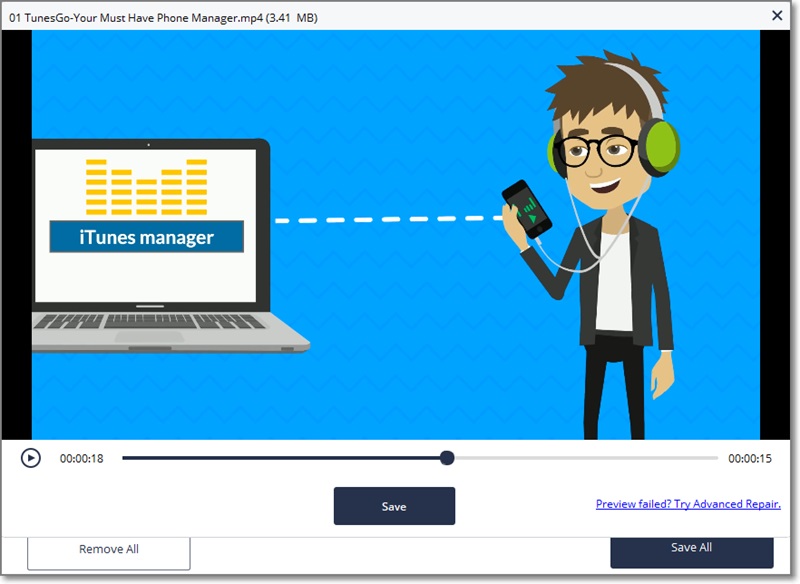 Step 4: Advance mode for severely corrupted video (optional)
If the videos are severely corrupted and not repaired successfully, please go to the advance repair mode. Just click Advanced Repair button.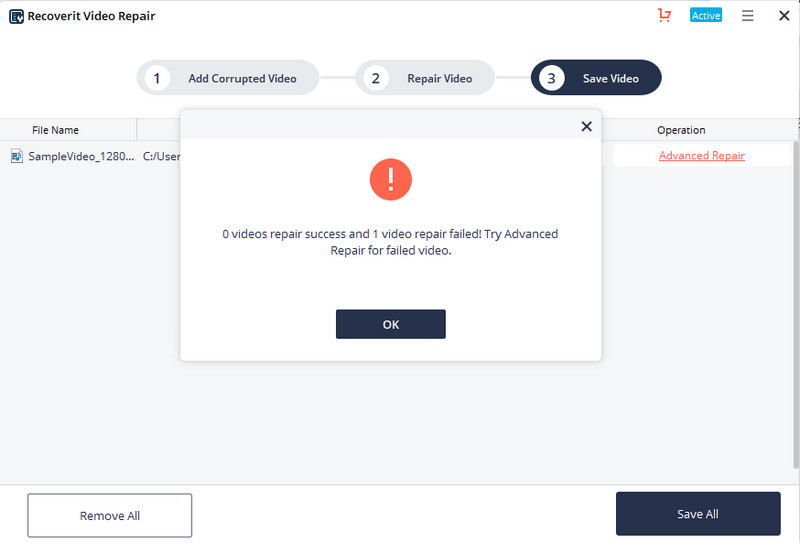 Then add a sample video and repair it now.
Step 5: Save repaired video
The advance repair will perform the repairing process and prompt a success message when the process is completely done. Now, you can play these videos and you will not see any error on the screen.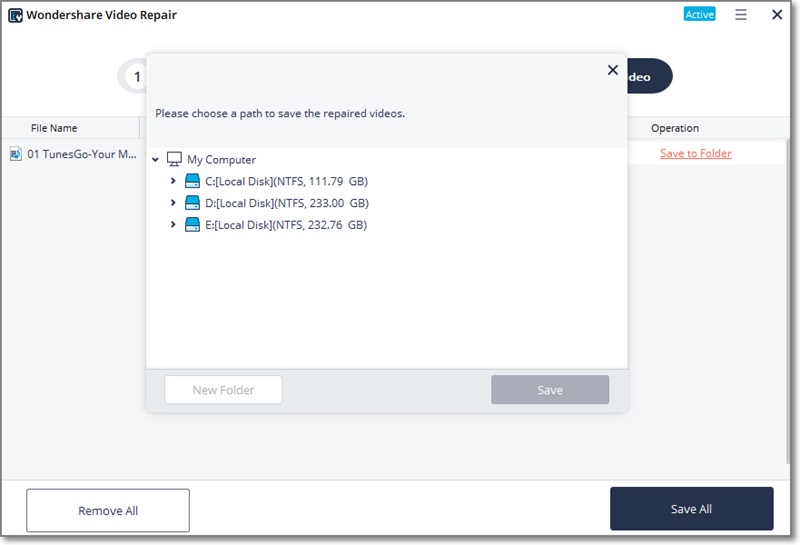 ---
Closing Words
You can now see that repairing your Fujifilm camera and troubleshooting is not as hard as you may have thought. More so, through this article, you now have an increased knowledge about Fujifilm camera. If you are looking to upgrade to the latest version, you now know what to expect.
Solve Media File Problems
Recover & Repair Photos

Recover & Repair Videos

Recover & Repair Audios

Recover & Repair Cameras