"How to recover deleted browsing history on an android smartphone? I accidentally erased all of the browsing records from my Android phone's Chrome browser and wished to recover them. Is it possible to perform such an operation?"
Our phone's browser history comes in extra handy when we intend to access a website that contains valuable information quickly. It should also be kept into account that Android phones have a universal issue with handling storage space, which tends to get annoying after a certain time. Sometimes for the sake of opening up storage space within the smartphone, we inadvertently erase all the data of our built-in apps such as the Chrome browser. Such an action leads to the direct deletion of browser history and account information that holds that history. And if you do now know how to recover deleted browsing history on android, then with this article, you will know the two simple methods to recover and extract browser history from the abyss.
Part 1: Can Android Browsing History be Recovered Once It is Deleted?
Through the convenience of modern technology, we can sync everything from personal files to browsing history across multiple devices. This technique of data synchronization within the Android phones allows you to save all the data on your Google account and other Google-based facilities such as Google Drive. It also plays a pivotal role in recovering such files or browsing data when you want to get them back in case of accidental deletion. So, it is very much possible to recover browsing history once you delete them from your Android smartphone, and we will show you how to perform such an operation via two methods.
---
Part 2: How to Find Deleted History on Google Chrome on Android:
In this part of the article, we will show you the two methods listed below to find deleted Google Chrome web files from an Android device:
Method 1. Recover Deleted Chrome History from Google account;
Method 2. Restore Deleted History on Android with Recoverit Data Recovery Software;
Method 1. Recover Deleted Chrome History from Google account:
If you have turned the Google synchronization on your Android to "ON," then it will sync each of your web files in the Chrome browser across all the devices that you own. Through your Google account, you can quickly recover your data back to the Android device instantly. Here is the method to perform the recovery:
Launch the Chrome app on your Android phone and enter the following link: https://www.google.com/settings/
Enter your Google account credentials and tap on the "Data & Personalization" option;
Press the view all button under the "Things you create and do" section and look for Google Chrome's icon;
Tap on it and then hit the "Download Data" option to recover the deleted bookmarks and browsing history.
Method 2. Recover Deleted Browsing History on Android with Recoverit Data Recovery Software:
If you haven't synced your android phone's data and browsing files, then there is no need to worry as Recoverit has got you covered. All you need to do is connect the phone to the PC with a power cable and let the computer treat it as an external storage device. Before that, it is vital to know a few features of Recoverit Data Recovery tool:
Recoverit app reads all phones, no matter they are Android or iOS-based devices, and treats them as an external storage disk, much like an SD card, and a USB flash drive;
It can read and retrieve everything from photos, document, video, to your browsing data;
It does not matter if your data is infected with some virus or not, Recoverit will bring them back in full shape, once you run a recovery scan on the device.
Please follow our three-step solution guide to recover deleted browsing history on android devices
Step 1. Select a location:
Connect your Android phone with SD card to PC and launch Recoverit. Make sure that you have properly connected the Android device with the USB port. You will see your phone with a storage card under the "External Devices" section, click on its icon, and proceed to initiate the scan.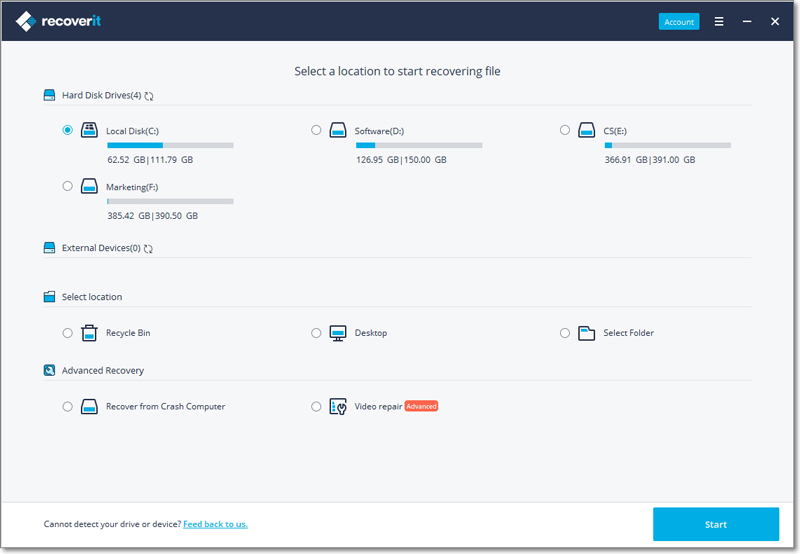 Step 2. Scan the location:
Once you hit the start button, the app will search every media to system file from the Android phone, including the deleted browsing history. The data size is on the lower side, and you would not have to wait long for the scan to finish the job.
Step 3. Preview and recover files:
You will be able to recover deleted browsing history on android instantly through the preview feature. Click on the "Recover" tab after checking the data and its validity. Save them back to your android phone
---
Tip: Back up Browsing History on Android to Your Google Account:
Creating back up of data, no matter if they are your browser or media files, is much better than recovering them upon accidental deletion. You can back up your browsing history across multiple platforms/devices only by syncing them on to your Google Account from the Chrome Browser. Here the steps to perform the deleted browsing history back up on Android:
Open your Android device and launch your Chrome app.
Tap on settings and tap on your account address.
Now press the Sync option and create a back up of your browsing history instantly.
---
Conclusion:
There are two conventional ways to recover deleted browsing history on android, and now you know the both of them. While it is essential to remain vigilant and continuously keep a backup of every file on your PC or Android phone, but if you somehow fail to save the data, then you can always consult to Recoverit and arrange for file recovery of more than 1000 file formats within minutes.
Phone Solution
Phone Recovery

Phone Tips