I can't format my SD card. I formatted it to NTFS earlier but now I can't format it back to Fat32, no matter what program I use, it just wouldn't format to Fat32. It says: "cannot finish formatting". Is there any way to format SD card to FAT 32?
Be called as storage device, the SD card is an external media that is going to store that additional information for you. Compatible with all the devices i.e. android, iOS, windows, sometimes the format working on SD card is not compatible with certain devices that needs to be fixed for allowing the functionality of this storage media. Hence, the easy and acceptable format can be a FAT32 and all you can do is simply format SD card FAT32 and change it to FAT32 SD card.
Below mentioned are the significant ways in which you can format SD card to FAT32 along with step wise procedures depending on the storage capacity of each SD card.
Part 1. What is FAT32 Format?
Before heading to the way to format SD card to FAT32, let's clear the concept regarding the FAT32 format. What it actually is. Starting with its abbreviation, FAT stands for File Allocation Table. FAT32 Format is said to be a disk formatting utility established to format the discs larger than 32GB in storage capacity with the venerable FAT32 classification system. Some operational systems program or experiments solely need or support FAT32. It's designed exclusively for Windows XP which strives quite a long way as compared to the other operating systems. This format is not compatible with CD and DVD drives as it only works well with the drives that comprises of 512 byte sectors. It efficiently works with all the available versions of Windows, game consoles, Linux and Mac. The attributes provided by the FAT32 format are Read-only, Hidden, System, Volume, Directory and Archive.
Now once you are familiar with this FAT32 format, next step is to move on the core point i.e. format SD card to FAT32.
So without any delay, here is what you need to know about different questions related to format SD card FAT32 with various storage capacities.
---
Part 2. Format 32 GB SD Card or Smaller to FAT32 with Windows Disk Management
Starting with the formatting option present on your device, the easiest solution is to use the windows disk management to format microSD to FAT32 i.e. a SD card with 32GB capacity or smaller. This build in tool is easy to use and one can also vividly understand the GUI for it. The Windows Disk Management offers NTFS, FAT, FAT32, and exFAT formats.
Here are the steps to follow that will format microSD to FAT32.
Step 1: Start with the Run diskmgmt.msc at CMD. There appears the Disk Management utility. Here you can find the SD card that you want to format and then select the option of Format from the right-click menu.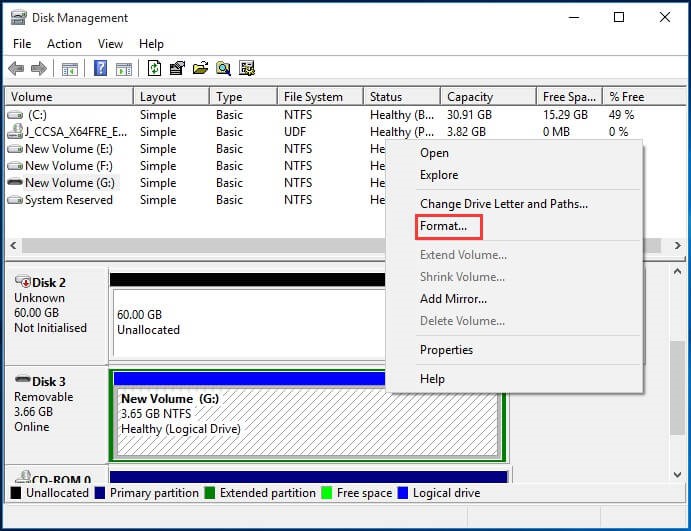 Step 2: In the format dialogue box, you can customize the volume label, file system, and allocation unit size. You can select whether you need to perform a quick format along with enabling the folder compression, now click OK to proceed.
Step 3: A disk management warning message will appear on your screen i.e. Formatting this volume will erase all data on it. Back up any data you want to keep before formatting. Do you want to continue? Here you have to select Ok to proceed with formatting microSD to FAT32.
You are all done with formatting microSD to FAT32 in mere minutes.
---
Part 3. Format 32 GB SD Card or Smaller to FAT32 with Windows Explorer
Apart from the windows disk management, there also exist a potential alternation with which you can format microSD to FAT32. Using windows explorer in this stance, all you have to follow is this mentioned step wise process and you will be done with formatting in few seconds.
Let's get started!
Step 1: You have to select Format in GUI with a right click
Step 2: next step is again you have to choose the file system & allocation unit size, enter a volume label, select quick format suitable for you. Click Start to continue.
Step 3: here you will witness a warning message saying 'Formatting will erase ALL data on this disk. To format the disk, click OK. To quit, click "CANCEL'. For continuing the format, click OK.

Once clicking Ok, the formatting process will start and soon you will be done with your desired action.
---
Part 4. Format 32 GB SD Card or Smaller to FAT32 with Diskpart
Using Diskpart for proceeding to format microSD to FAT32 (32GB or smaller) is a useful and quick fix to go for formatting. This is even going to work when the data in card is showing RAW. Let's check how Diskpart can help in this reference.
Step 1: Start with running the Diskpart as administrator. For this you can type Diskpart in search box or press Windows + R simultaneously, select Diskpart and click Ok. Diskpart will run as administrator.
Step 2: Nextly, you have to input the List disk to access all disk available on the device.
Step 3: Proceed with 'select disk n' command where 'n' stands for disk number of SD card.
Step 4: Create a list partition on SD card by running List Partition.
Step 5: now select the partition 'm' which is going to represent the SD card partition you need
Step 6: lastly run the 'format fs=fat32 quick' command and you are done with all actions.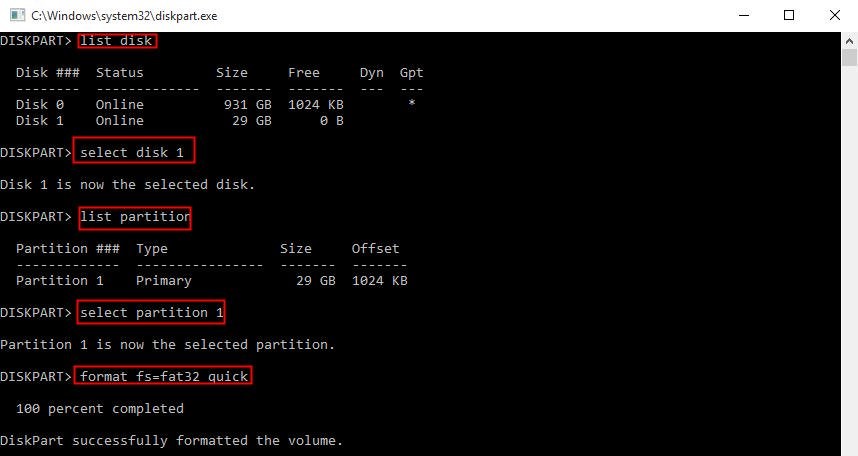 ---
Part 5. Format 64/128GB SD Card to FAT32 Using FAT32 Format Tool
One of the efficient FAT32 format tool, be it a third party application software, the FAT32 is at your service to format those larger USB drives or SD cards i.e. format 64GB SD card to FAT32 and format 128GBSD card to FAT32. It carries an option of portable app. So choice is yours. Either download and install the application on your device (PC) or get their app and you are free to use even on your mobiles.
Follow this step wise procedure to format 64GB SD card to FAT32 and format 128GBSD card to FAT32.
Step 1: Once downloaded, The FAT32 window will appear on the screen, select the drive and add the volume label. Now check the box of Quick format and click Start to proceed.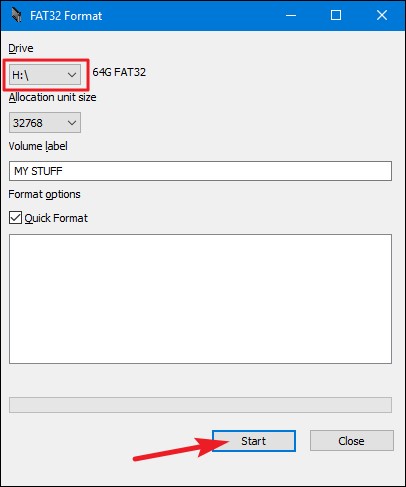 Step 2: You will get a warning message i.e. 'Do you really format the drive? All data will be lost!' Click Ok to continue formatting.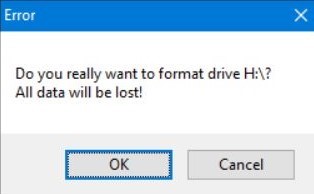 All done! Continue your desired actions. In case you are dealing with a 64GB SD card and you want to format 64GB SD card to FAT32, all the steps are same as mentioned above.
---
Part 6. Format 64/128GB SD Card to FAT32 with PowerShell
PowerShell is used to format SD card to FAT 32. It helps in action like format 64GB SD card to FAT32 and format 128GBSD card to FAT32. It facilitate the users to go for formatting without downloading the third party application software.
Below are the steps you can follow to format SD card to FAT32.
Step 1: Press Windows+X. Select PowerShell (admin) from the drop down and run PowerShell as administrator.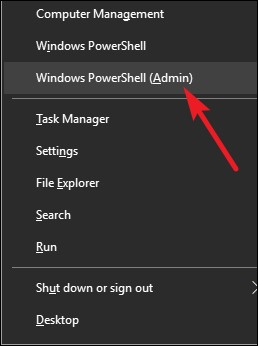 Step 2: In the PowerShell dialogue box, type a command i.e. format /FS:FAT32 X: and click Enter.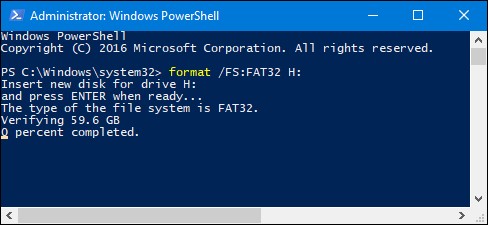 Step 3: The formatting action will start and would be completed in approximately one hour.
---
Part 7. How to Recover and Repair Data from Formatted SD Card
Dealing with repairing and recovering data from formatted SD card is quite a process. In reality, the data said to be formatted from the SD card is always there but only gets inaccessible. So in order to recover and repair the data from formatted SD card, you need a third party software. And what else can be beneficial than Recoverit data recovery!
Recoverit Data Recovery is powerful data recovery software which helps you get back all your valuable documents, emails, photos, videos, and audio files, quickly and easily from laptop,
recycle bin/trash, internal hard drive, external storage media and even a crashed computer. Recoverit Ultimate even helps you recover fragmented video and repair corrupt/broken/damaged video.
As a potential example of functionality for the software, here is the following:
Advanced Video Recovery function of Recoverit
Being an apt software for recovering the deleted videos from the formatted SD cards, RecoverIt provides recovered video with their original names and date of creation. Providing a wide range of compatible video formats you can recover the videos. It provides deep scanning and a preview before saving the data.
Following are steps to recover a corrupted video with RecoverIt.
Step 1: Start with selecting a location
Step 2: Proceeding with scanning the location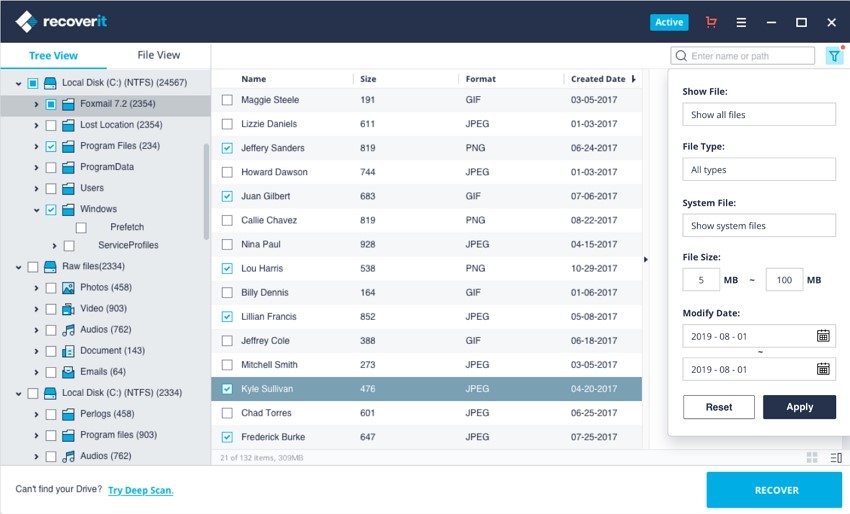 Step 3: Let the scan process to complete
Step 4: Once the scan is complete, go for looking the preview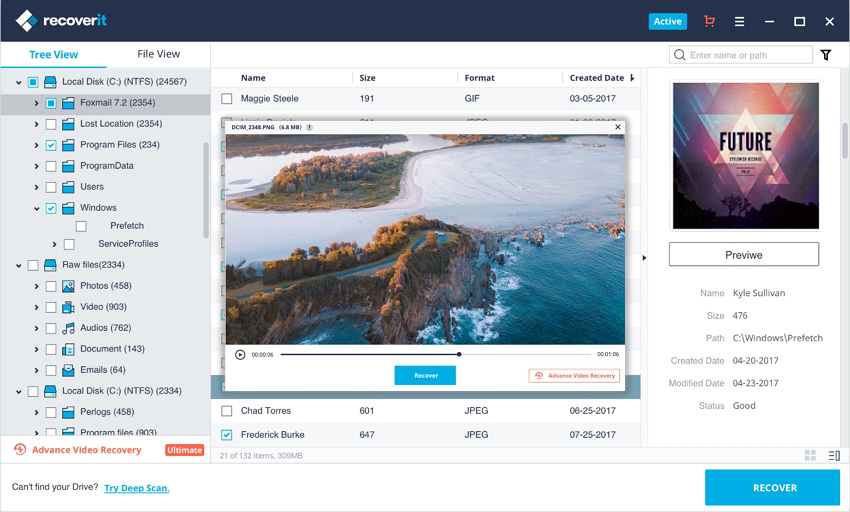 Advanced Video Recovery function of Recoverit:
Video files are different from any other type of data. Sometimes, you might find the video corruption after the preview using software. Don't worry from now on. If so, Recoverit reminds and works for you. Recoverit Data Recovery Ultimate supports Advance Video Recovery feature. It scans, gathers and matches the fragments of your corrupt videos, and thus ensures most of your videos are recovered from DSLR, Digital cameras, Drones, Action Cameras, Dashcams, camcorders, SD card, PC, HDD, etc.
Scan and match your video fragments
Merge the fragments from the same video
Recover your videos and keep 95% of them intact
Recover unlimited video files without corruption
Steps to Repair Corrupted Video with Recoverit:
Moreover, Recoverit's Video Repair is powerful video repair software for repairing corrupt, broken or damaged MOV, MP4, M2TS, MKV, MTS, 3GP, AVI, and FLV file formats. It supports two repair modes. Quick repair is to repair various video errors. Advance repair can repair your corrupt videos by analyzing the data and technology of the sample video shot by the same device.
Repair multiple formats of videos simultaneously.
Free scan for corrupt videos and preview repaired videos before saving them
No limitations on size of Video files for repair
Repair any number of corrupt Video files
Step 1: Add your corrupted videos
Launch the application on your computer. To repair your corrupted video files, you can add it through clicking Add button or "Add video and start repairing" area.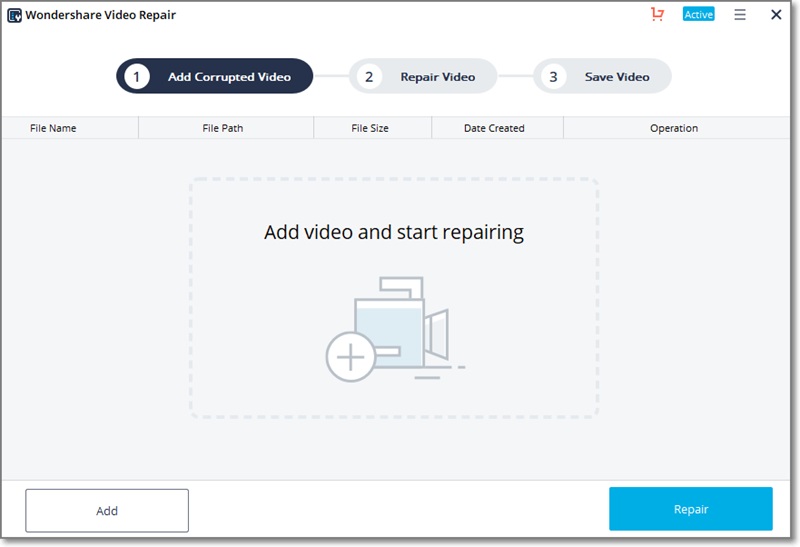 Step 2: Repair your videos
As soon as you have added all the corrupted videos, click on the Repair option to start the video repair process.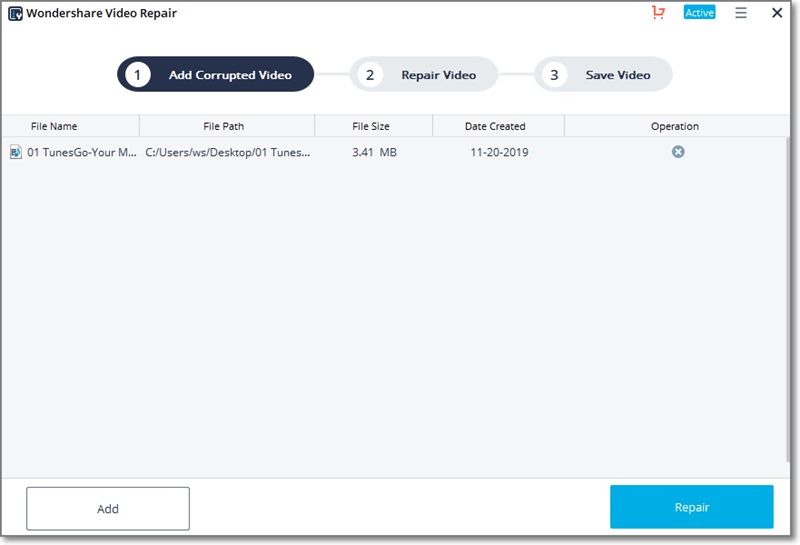 Step 3: Preview the videos
It will take some time to repair and once it has finished the repair process, a reminder showing info of successful fix will pop up on the screen. Press OK to close the operation.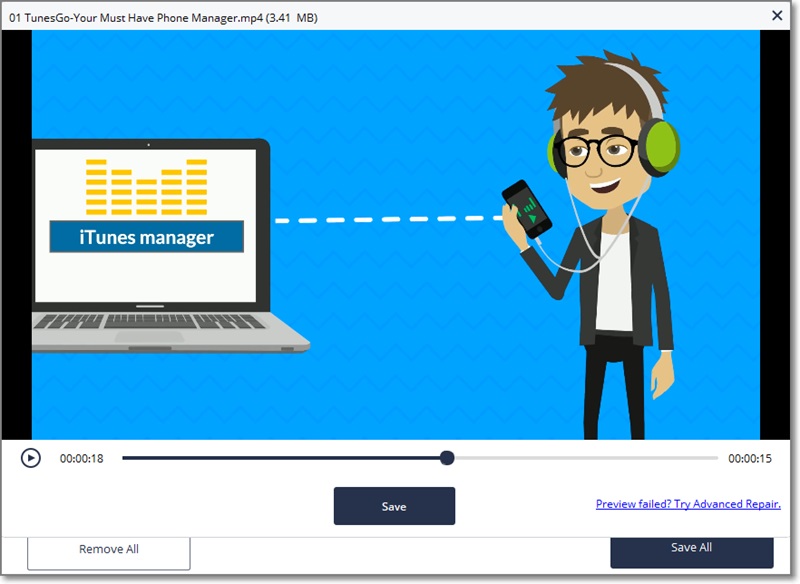 Step 4: Advance mode for severely corrupted video (optional)
If the videos are severely corrupted and not repaired successfully, please go to the advance repair mode. Just click Advanced Repair button.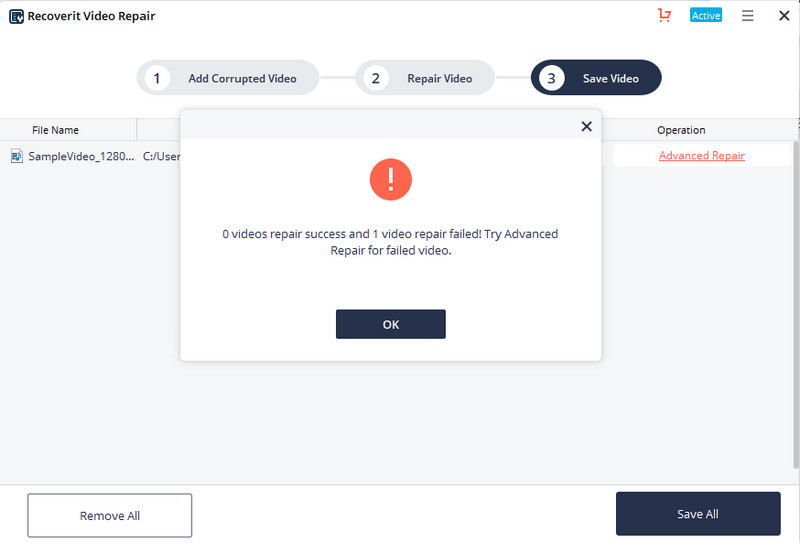 Then add a sample video and repair it now.
Step 5: Save repaired video
The advance repair will perform the repairing process and prompt a success message when the process is completely done. Now, you can play these videos and you will not see any error on the screen.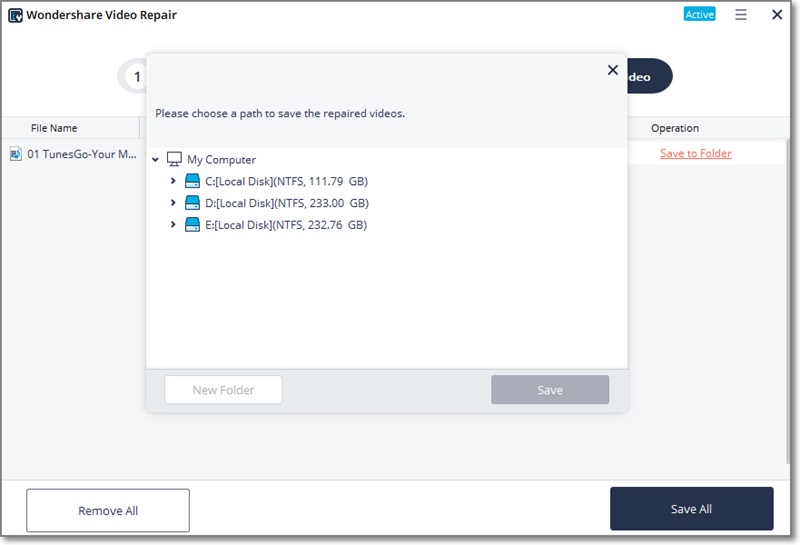 SD Card Recovery
Recover Card Data

Repair Card Errors