What are the benefits of deleting duplicate files?
When you download many file from the internet, more often than not downloads come in with duplicated file. You may not realize this until your computer starts running slowly. Duplicated files are mere junk and keeping them is just a waste of your hard disk space. There are several benefits of deleting duplicated files from your computer. They include
To recover wasted hard disk space
To minimize the constant need for other storage media for backup
To minimize time wasted while searching for files
To eliminate the need for duplicate file remover
To increase the speed of your computer
Having duplicate files on different location of your computer is a total mess. You don't know which version to use since they are all duplicates. Whenever you modify one file in a certain location, all the duplicate files are modified at the same time. Therefore, you need to keep a single file and clear the rest permanently.
Identifying duplicated files from the original ones and deleting them manually is almost close to impossible. Luckily, there are effective tools that can be used to find and delete these duplicate files from your computer.
Top 5 tools to find and delete duplicate files on Windows
5. Anti-Twin
Anti-Twin is a freeware which can search duplicate files and delete them. It a special file filter which excludes desired extensions and files sizes. This feature also allows you to search identical files with different extensions and the match percentage of files you want to be included. The duplicate files found can either be deleted directly or moved to the recycle bin.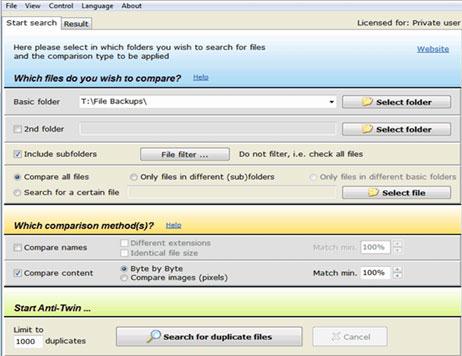 Rating: 3 Stars
4. Fast Duplicate File Finder
Fast Duplicate File Finder has one of the best user interfaces for duplicate finders and removers. It has a preview area for viewing text files and playing audios before deleting them. In addition, this tool allows you to search by similarity depending on the degree you choose. This tool also has an internal preview which supports videos, audios, binary files, texts and images.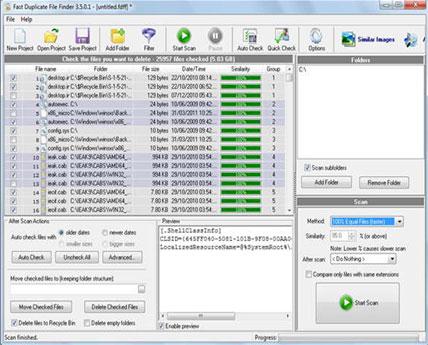 Rating: 3.5 Stars
3. CloneSpy
CloneSpy has a simple interface and compares two sets of multiple files by use of Pool 1 and Pool 2. This application has four modes for searching for files with same content, same name, same name and file and same content and name. It has multiple workspaces that can be saved as default when starting the program. This interesting tool is used for fast search and deleting duplicates without the need of setting many options.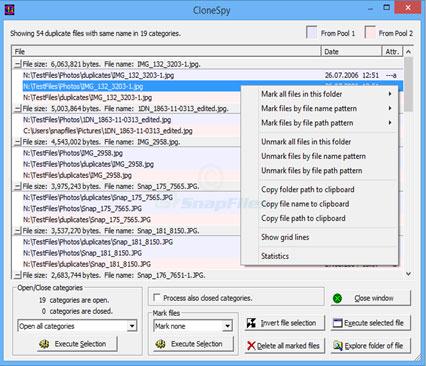 Rating: 3.5 Stars
2.AllDup
AllDup is a tool for finding and removing duplicate files from a computer. It features a fast search algorithm that finds duplicated file types including music, movies, pictures and text. It offers you alternative options to find duplicates by using the file size, file content, file name, last date modified, file extension and file attributes. You can also resort to it to clear duplicate playlist and library in Windows Media Player.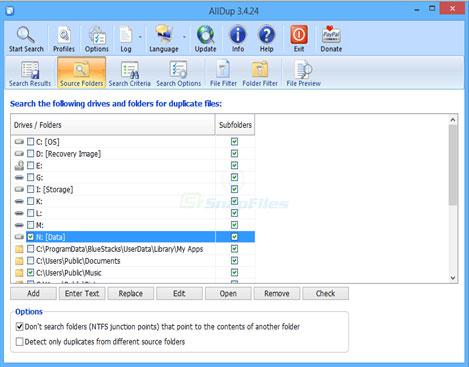 1.Auslogics Duplicate File Finder
This application tool has a modern interface that is easy to use by all users. It scans very fast the selected locations in the computer. This tool searches only the desired files by name, date or size. The scanning process can be pause or cancelled at any time. You can delete the results permanently or you can keep them in rescue center if need for getting back at them at a later date arises. This tool supports search in different folder location rather than a single folder.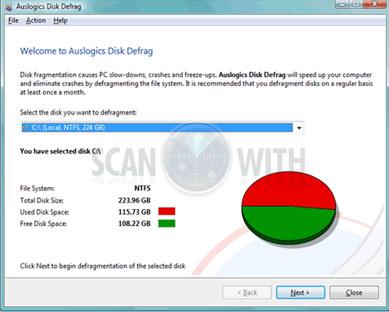 Top 3 tools to find and delete duplicate files on Mac
3. Easy Dupicate Finder
Easy Duplicate Finder is a powerful tool for finding and getting rid of duplicate music, videos, documents and photos. It has a wizard and assistant which makes duplicate file management easy. This application also has undo button which allows for emergency recovery and fast searches.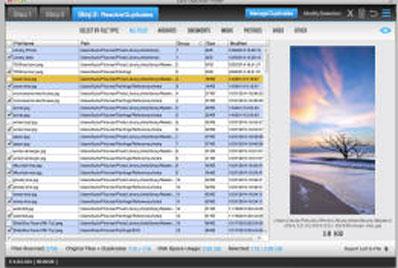 Rating: 3.5 Stars
2.Chipmunk
Chipmunk is the best application tool used to clean up Mac and get rid of all duplicate files. This application does not only look for files with identical names and creation date but also similar content. Moreover, the tool has preview features allowing you to preview duplicated files and fast scans. The scan results will show you which duplicates are occupying much space therefore you can delete or keep them in a secure folder.
Ratings: 4.0 Stars
1.Gemini
Gemini tops the duplicate file finder for Mac. This tool requires add or drag and drop duplicate files to to its interface. It deletes duplicates files by looking at their file name, file content, date of creation and modification and file location. It has a user friendly interface which is easy to use, understand and fast in deleting duplicates.
Ratings: 4.5 Stars
Things we need to take care of when deleting duplicate files
a. Do not delete duplicates of the system files rather delete the personal files including photos, documents, music, videos, and emails.
b. The application you download should do its primary functions without messing up with your system. There many freeware that works effectively.
c. Preview the files before deleting to avoid getting rid of more important files.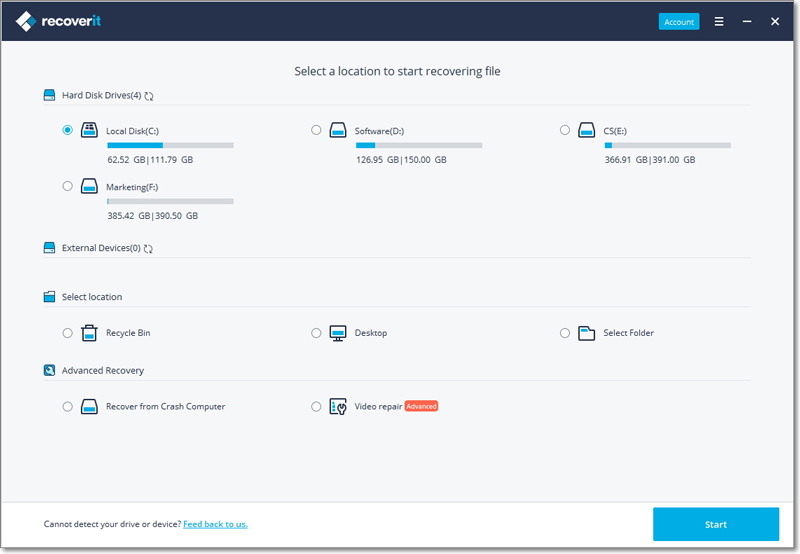 Recover lost or deleted files, photos, audio, music, emails from any storage device effectively, safely and completely.
Supports data recovery from recycle bin, hard drive, memory card, flash drive, digital camera and camcorders.
Supports to recover data for sudden deletion, formatting, hard drive corruption, virus attack, system crash under different situations.
Preview before recovery allows you to make a selective recovery.
Supported OS: Windows 10/8/7/XP/Vista, Mac OS X (Mac OS X 10.6, 10.7 and 10.8, 10.9, 10.10 Yosemite, 10.10, 10.11 El Capitan, 10.12 Sierra) on iMac, MacBook, Mac Pro etc.
3981454 people have downloaded it
Rescue & Fix Files
Recover Document Files

Repair Document Files

Recover & Repair More

Clear & Delete File