Gone are the days when our system's hard drive was enough to store our data. Now, most of us keep an external hard drive to backup our data and keep our content accessible on the go. Though, there are times when users need to erase external hard drive as well. If your external drive has sensitive data that you want to get rid of permanently, then you need to walk an extra mile.
You might already know that even after deleting your data from the drive (and the recycle bin) you can retrieve it with the help of a data recovery tool. Therefore, if you wish to permanently remove your data with no scope of recovery, then you need to take the assistance of a third-party tool. In this post, we will teach you how to permanently erase external hard drive without any trouble.
Part 1: How to Completely Erase External Hard Drive
There are plenty of ways to erase an external hard drive entirely. Even after formatting it, chances are that your data can still be retrieved. If you don't want to use a third-party tool to delete it, then you can always choose to physically destroy the drive.
Physically Destroy the Hard Drive
This is the simplest and cheapest method to get rid of your data entirely. By physically destroying the hard drive, no one would be able to use it to extract your data. There are plenty of ways to physically destroy an external hard drive. After removing the case of the hard drive, you can simply melt it. Setting it on fire is another safe option.
If you want to go extreme, then you can simply hammer the hard drive and break it into pieces. Some people also prefer to perform electrolysis to destroy the drive or simply shredding it into small pieces. No matter what approach you adopt, it will destroy your hard disk and its data forever.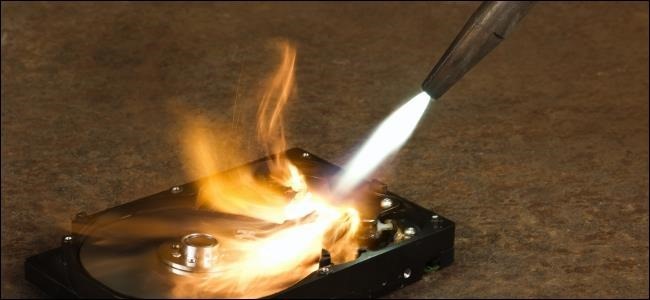 Though, it has a severe disadvantage that you won't be able to use the external hard drive to store your data after destroying it. Your data would be destroyed, but you would have to bear the cost of your hard drive. To avoid this, experts always recommend using a dedicated tool to erase external hard drive without physically destroying it.
Part 2: How to Erase an External Hard Drive with Eraser Software
Stellar BitRaser for file is one of the best eraser tools out there that can readily be used to wipe your hard drive's data entirely without any scope of recovery. Simply perform a deep cleaning of your external hard drive using this remarkable application and be sure to get rid of your data forever. It has an easy to use interface and comes with tons of features as well.
It can remove every type of file and folder from a hard drive without any scope of data recovery.
Furthermore, the tool can also erase internet activities, applications, system traces, log files, and more.
It works on a system's internal storage, USB drive, external hard drive, etc.
One can also set up scheduled erasing of data.
It features advanced algorithm and generates an erase certificate in the end.
Fully compatible with all the leading versions of Windows and Windows server.
Erase external hard drive with BitRaser
By taking the assistance of Stellar BitRaser for Files, you can easily erase external hard drive in no time. It provides an easy to use interface that will let you wipe your drive entirely in seconds. You can simply follow these instructions to do it.
Step 1: Free download and launch Stellar BitRaser for File on you PC computer.
Step 2: Connect your external hard drive to it via a USB cable. Wait for a while as your system will automatically recognize the drive.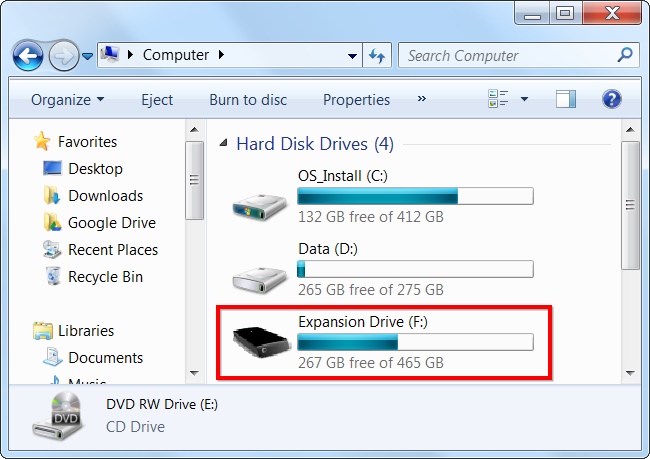 Step 3: Select the external hard drive and click "Erase Now" to start erase files from externla hard drive.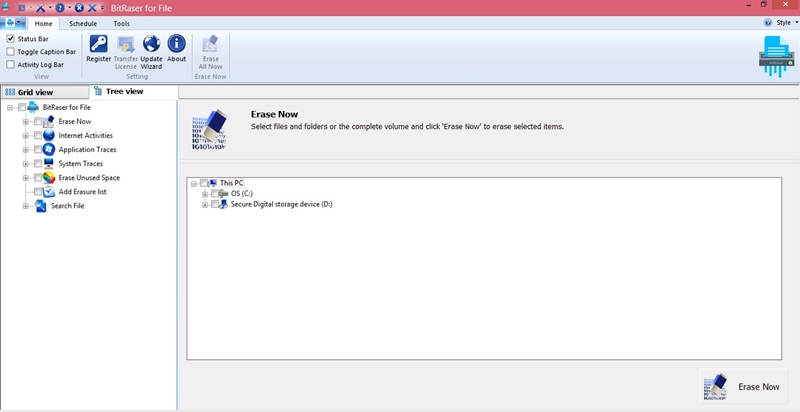 Step 4: Wait for a while as the application would permanently erase your external hard drive. It will let you know as soon as the operation is completed.
In a few simple steps, you can erase external hard drive by using Stellar BitRaser. If you have sensitive data on your drive, then you can also perform multiple passes. Follow the above-mentioned steps a few times to perform multiple passes (three times would be enough). This will make sure that your data has been removed permanently.
Tips for securely erasing an external hard drive
Only choose a secure and reliable tool to wipe your hard disk. There are plenty of third-party data eraser tools out there, but only a handful of them (like Stellar BitRaser) are considered reliable.
To make sure that your data is removed permanently, you can always do multiple passes of the erasing process.
Try not to physically damage your external hard drive, as this would make it inaccessible and might cause some accident as well.
Go with a tool that will erase log files, system traces, and application traces as well for a complete deletion of data.
Avoid formatting of hard disks on Windows, as even after formatting, your data can be recovered. Ideally, a reliable third-party tool should be used.
We hope that after following this informative guide, you would be able to erase external hard drive without any trouble. Stellar BitRaser is a highly useful application that will let you get rid of your data permanently without any recovery scope. Feel free to give it a try and let us know about your experience in the comments below.
Video Tutorial on How to Format an External Hard Drive
What's Wrong with Drive
Recover Your Drive

Fix Your Drive

Format/Wipe Drive

Know Your Drive