Disk partitioning is a process used by many to maximize storage and disk use. By partitioning your disk, you are creating digital shelves to keep your files more organized. This protects your data from getting lost if ever your drive becomes corrupted or encounters any system error. Typical users may find this task difficult and overwhelming, hence it is recommended to make use of partition managers.
Summary
Many users are now finding it crucial to have a program that will ultimately solve their disk partitioning needs and concerns. AOMEI Partition Manager is a program created by AOIMEI Technology, an up and coming software developer known for their programs creating disk and file solutions. It's a freeware download you can use to resolve any of your disk partitioning issues. It's a flexible tool used to create, modify and delete partitions within your computer's drives. In this artice, we provide a comprehensive, step-by-step guide on how to use the program.
AOMEI Partition Manager
AOMEI Partition Manager is an all-in-one powerful disk partition management software that allows you to create, resize, delete, merge and split partitions in your computer. It is one of the most trusted and most used softwares by many users. The program is free to download and free for both personal and commercial use which makes it ideal for running small businesses and offices.
Features
The software runs in Windows 2000 Pro SP4, XP, Vista, Windows 7, 8.1/8 and 10. It supports NTFS, FAT32, FAT16, FAT12, exFAT/ReFS, Ext2/Ext3/Ext4, Bitlocker and other file systems. It can be used in traditional hard disk drives (HDD), solid state drives (SDD), SSHD, and other external storage devices. It allows you to perform basic partition management, change partition size, perform system data migration, and allows you to allocate free space from one partition to another. With the standard edition, you'll be able to wipe an entire disk or partition, check bad sectors within a drive, check partitions, check letter, hide and unhide partitions, rebuild MBR and initialize disks. You can also create a bootable media by creating Windows PE bootable media without creating AIK/WAIK or install Windows 10 or 8 to a USB flash drive or any removable external storage media.
Pros and Cons
With any kind of software, you will encounter many pros and cons. It's only a matter of weighing out the benefits against its disadvantages. One of AOIMEI's advantages is that it is completely free to download both for personal and commercial use. Despite it being free, it is not lacking in features that are essential for everyone's disk partitioning issues. As previously mentioned, it supports a wide range of the current operating systems so it will surely be compatible to your computer. Despite the program being powerful, it is very user-friendly. It makes use of graphics to help you visualize the space taken up by drives in your PC. Users also would not have to worry about accidentally losing their data when using the program. Perhaps the only significant con of this program is that it offers a Paid Version which means that some features are limited or might not be available with the free download. It's also not equipped to convert primary partitions to logical partitions.
Many reputable tech review sites have also recommended the program. According to PCAdvisor, Aomei Partition Assistant Standard is a user-friendly tool that assists users in managing partitions in a computer's hard drive. It also provides many features that make the partitioning process easy and quick.
How To Use
If you've chosen to use this software, you might not know yet where to begin. Don't worry, this program won't take much time to get used to. Here is a detailed step-by-step guide on using AOMEI Partition Manager. Just make sure to follow the instructions carefully and you'll have the task done in no time.
To decrease the size of a partition so you can increase another partition's size
Step 1
Select the partition you want to resize and click "Resize Partition".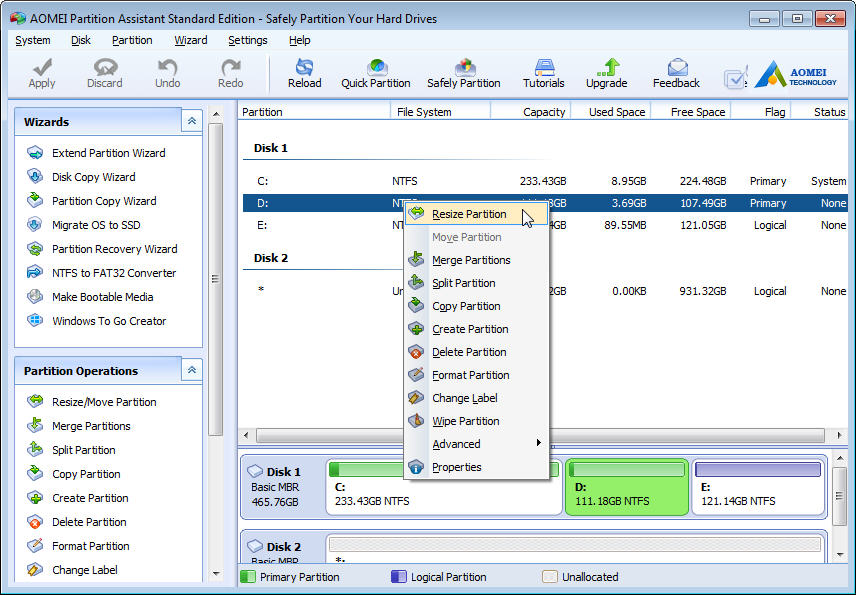 Step 2
Hover the arrow to the left border of the partition and drag. Select "OK".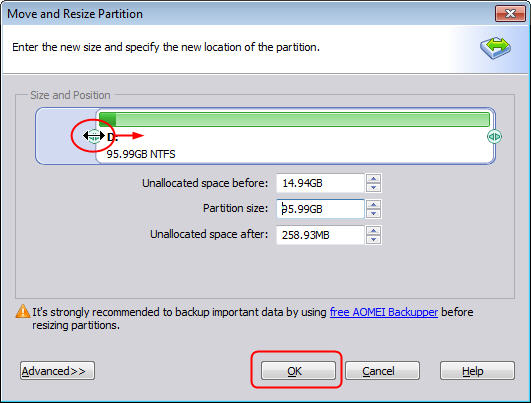 To extend a drive
Step 1
Resize drive by performing the steps above. This will add space to a particular drive. In this example, we are resizing Drive C.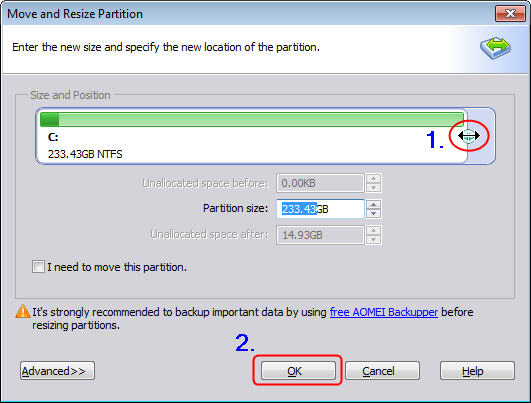 Step 2
Finally, click on the "Apply" button to apply the changes made.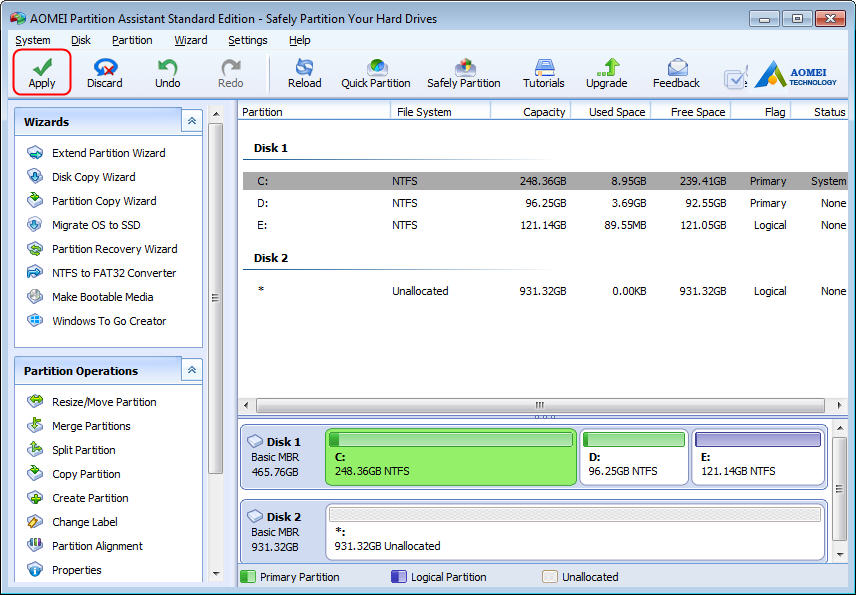 Conclusion
Hard drive and disk issues are quite intimidating to deal with. You don't want to experiment and do a trial and error when it comes to any of your drives. This might result to permanently losing your data. There are plenty of softwares you can download to resolve your disk issues. It is essential that you choose the one that best suits your needs and will easily and quickly do it for you. AOMEI Partition Manager is one of the best programs you could download for free online.
Partition Recovery
Partition Management

Solve Partition Problems

Partition Tips