In the world of computers, creating multiple regions on a hard disk is very rampant. Through such creation, the operating system of a computer can be separately managing the data stored in each of these regions. This practice is commonly referred to as disk partitioning. This is usually the initial step to have a newly manufactured disk prepared and before the creation of other files or directories.
Part 1: How to Create a Boot Partition on Hard Drive
Part 2: What is a Boot Partition
Part 3: The Best Hard Drive Data Recovery for Partition
Such partitioning allows a user to install multiple operating systems in one computer without having to worry about getting his disk space full. However, it may prevent the user from actually using the whole disk space because it is dividing the space into several parts with limited storing capacities.
Part 1: How to Create a Boot Partition on Hard Drive
There are multiple steps that you, as a user, needs to carefully follow if you will be creating a boot partition for your computer. The steps will vary depending on the operating system that is currently installed in your personal computer.
1. The following steps are for a Windows XP User:
You should click on Start, click Run, and then type "compmgmt.msc". You have to press Enter or click on OK so that you can open up the Computer Management page.

On Computer Management, you should select Storage and choose Disk Management.

Once you see an unallocated or available disk space, you should do a right click on it and select New Partition.

The New Partition Wizard will appear. You just need to follow the steps that are indicated in the Wizard and you will be able to successfully create one afterwards. These steps should be easy to follow.

2. For a Windows Vista/7 user, these are the steps:
You should first click on Start and select Control Panel.

In the Control Panel screen, you should click on System and Maintenance.

Afterwards, you need to select Administrative Tools and click Computer Management.

On the Computer Management screen, you must click on Disk Management under the Storage section.

You will then see your disk space and the ones unallocated or available. You should click on that space and select New Simple Volume.

The New Simple Volume Wizard will appear. You just simply need to follow the instructions that you will be seeing inside the box.
You will be asked to put in the size you want, in MB, for the partition you want to create. You should put in a size that is within the minimum and maximum sizes stated on the screen.

Afterwards, you will just have to wait until the Wizard finishes the process. You need to click on Finish to complete such process.

3. For a Windows 8 user, the following steps are useful:
You should press the Windows key + R so that you can open the Run Dialog Box. Afterwards, you need to type "diskmgmt.msc" for opening the Disk Management screen. You should always select Run as Administrator before you perform this step.
You will then see the list of unallocated disk space in your computer. You should select an available one, right click on it and click on New Simple Volume.

A New Simple Volume Wizard will appear. You just have to follow the steps on this wizard to complete the process. After the wizard finishes the process, it will then notify you by displaying the Completing the New Simple Volume Wizard box. You need to click on Finish.

Part 2: What is a Boot Partition
A boot partition is considered as a primary partition and also known as boot volume. It is a region in a personal computer that houses the boot loader. The boot loader is an important software that is primarily responsible for booting the operating system. It also contains the all the operating system files.
This partition usually exist with a system partition as both of them instruct the computer where to look and which files to load when a user turns on his computer. If the user only has one operating system in his PC, the boot and system partition may be the same region. However, if he has several operating systems, he should be familiar with the concept to differentiate which one is the boot partition and which one is the system partition.
A boot partition allows a user of installing multiple operating systems in his computer without any of them affecting the usage and functionality of another. Simply put, the operating systems installed are independent of each other. It is in the sole discretion of the user to decide which operating system he wants to use and load. For instance, he may have both a Windows Vista and Windows 8 operating systems installed in his computer. If he wishes to use his Windows Vista, he can just boot his computer in Windows Vista mode and the computer screen will appear as Windows Vista. The same idea applies if he will be booting up the Windows 8 operating system.
As a general note, the user will need to install the earliest operating system version first before installing another one. In the case mentioned above, he should be installing the Windows Vista first (if it is not yet set up in his computer), then, create a new partition. Afterwards, he needs to install the Windows 8. Installing Windows 8 prior to installing Windows Vista should not be the case.
In the previous years, most system administrators are always advised to create a separate boot partition for each computer. However, in the most recent years, it is no longer necessary provided that the user is not dealing with or not using an encryption like BitLocker Drive, RAID software, or LVM.
Things to Take Care of When Creating Boot Partition on Computer
There are times when the total disk space will not be enough for the creation of a new partition. For this matter, you will have to shrink the other partitions that are already active on the computer to free up some space. You should make sure that you will create a back up file for the partition you will be shrinking to avoid loss of data.
The creation of a new partition could be a complex process for a novice user. If you are a newbie and do not have sufficient knowledge about this process, it is not advisable for you to perform such steps alone.
You may need to install a third party program in creating a new partition on your system if you lack knowledge on this field or if the built in disk space is not enough.
Part 3: The Best Hard Drive Data Recovery for Partition
Create a boot partition often comes along with data lost from hard drive. With the wrong operations will damaged hard drive or formatted hard drive and inaccessible data. And before boot partition you do not have a recently data backup. Under these circumstances,you will need a powerful hard drive data recovery tool to retrieve your lost data back.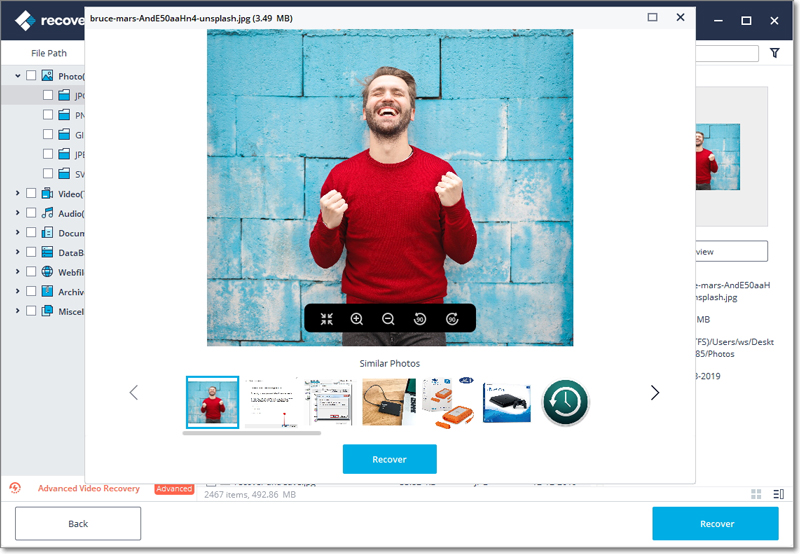 Recover lost or deleted files, photos, audio, music, emails from any storage device effectively, safely and completely.
Supports data recovery from recycle bin, hard drive, memory card, flash drive, digital camera and camcorders.
Supports to recover data for sudden deletion, formatting, hard drive corruption, virus attack, system crash under different situations.
Recoverit data recovery software can also called partition data recovery software. There are only three steps in getting back all those data: Search, Preview, and Restore. These three steps can easily be done as the system will also guide you in working with the steps. Example, searching the files could be done by answering the security questions that are asked to the users. This is used to locate all those that have been accidentally deleted, corrupted, or hidden by the viruses while in your hard drive. It will include those that have been swiped out during accidental formatting.
Partition Solutions
Manage Your Partition

Fix Partition Errors

Partition Tips