Partition Repair: How to Repair a Damaged Partition
How to Repair Damaged Partition and Recover Partition Data
A physical hard disk can be sectioned into several partitions to help you store data efficiently. They hold different sets of data and system files that are essential to boot your system. A common partition table usually consists of the primary partition and the extended partition. Although a disk may be of a high quality make, there are still possibilities for its partitions to get damaged. This can lead to data loss that could be disastrous to the user. This article will show you how to repair a damaged partition to keep your partition in a healthy condition. There are four main reasons that cause partition damage:
Computer virus: this is the most common cause of partition damage. The severity of the damage depends on the virus type and this will determine if you will be able to recover your data or not. Therefore, always make sure your antivirus is regularly updated to minimize damages.
Improper operation: new computer users often experience this as they use the disk improperly. This will cause the partitions to get corrupted and eventually the damages will become irreversible.
Defective software: a defective software installed in your computer can lead to damaged partitions.
Instant shut down or power failure: an unexpected disturbance in the power source will lead to damaged partitions. Therefore, make sure your computer is shut down after usage.
If your hard drive partition got damaged and corrupted, you can try to get your data files back first. The following we will offer the best solution to help you recover data from damaged partitions. Recoverit Data Recovery is an effective partition recovery software.
The Best Damaged Partition Recovery Software
Now that you have repaired the damaged partition, it is time to recover lost files. With Recoverit Data Recovery, you will be able to restore most of the data stored in the repaired partition. Here is a guide to help you recover formatted partition files:
The partition data recovery program can easily recover lost data files from damaged or corrupted hard drive partition. Undeleted files from partitions due to any data loss scenarios.
Video Tutorial of Recoverit Partition Recovery
Steps on How to Recover Files from Damaged Partition
Free download Recoverit Data Recovery on either Windows or Mac, with it, you can easily and effectively help you perform partition recovery, deleted file recovery, and RAW hard drive recovery. Follow the next simple steps to recovering data from damaged partition.
Step 1. Select the type of files
To recover data from the damaged partition, you can select the option "Lost Partition Recovery" mode to start partition recovery.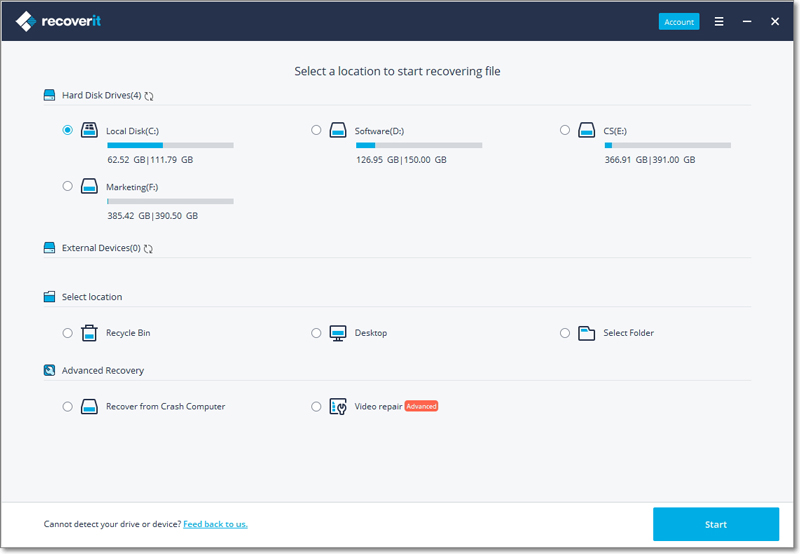 Step 2. Select the location
Select the damaged partition where you lost your files. If you cannot find the partition, you can click "try again" to select a partition.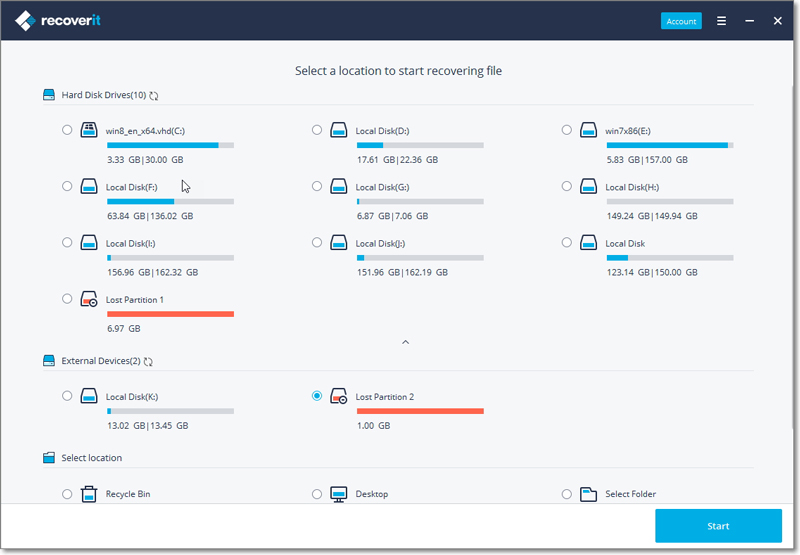 Step 3. Scan the damaged partition
Recoverit Data Recovery software will start scanning the damaged partition to searching data files. It will take some time to finish scanning.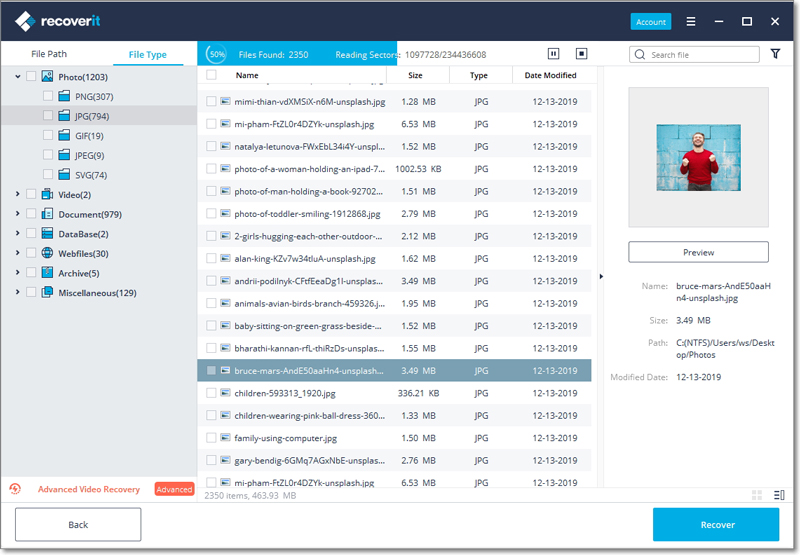 Step 4. Preview files before recovering
After scanning, you can preview the recovered files from the damaged partition and select which files you want to recover.
Please get a safe storage media to save all recovered data files, in case the recovered files get lost again. Recoverit Data Recovery software can easily access to the damaged partition and restore your data back. Download it as follow and get back your data now.
Part 2. How to Repair a Damaged Partition
It is not difficult to repair a damaged partition when you have the right solution to help you out. You can repair the damaged partition on a Windows computer. Following the solution, you can try to repair a damaged partition with built-in Windows CMD tools.
On the start menu, type in cmd in a search bar.
Right-click on cmd.exe and select the Run as administrator.
Type in chkdsk *: /f /r /x(the* is your drive letter which you need to repair.)
These prevention steps are very easy to do and will not take a lot of your time. In fact, most of these tips and tricks are habitual.
Tips & tricks to prevent your partition from damages
There are plenty of things you can do to avoid you from the need to perform partition repair. Here is a list of things you can do:
Since computer virus is the most common reason behind partition damages, make it a habit to always scan your external devices. This is especially true if you use your external devices on various computers as they are more vulnerable this way.
Avoid performing invalid operations on your disks as they lead to faulty and corrupted partitions. Therefore, only perform operations that you are sure of.
Do not install any software that is pirated by illegal operators. Yes, they are expensive, but installing software from trusted sources will not cause any irreparable damages to your partitions. Depending on the severity of the damages, partition repairs can cost more than buying unauthorized software.
Try to avoid performing sudden computer shutdown or power off as a lot of those may cause damages to the disk.
Tips & Tricks to protect your important data in a partition
Storing all your eggs in a basket is never a good idea. Here are some ways to protect important data stored in your partitions:
To protect yourself from losing files stored in your partitions, it is always a good idea to back important ones someplace safe. You can either duplicate the files and keep them in a different partition or store them up in cloud storage.
Maintain a recovery partition so that it will help you recover everything in the damaged partitions. This will make partition repair so much easier.
Partition Solutions
Manage Your Partition

Fix Partition Errors

Partition Tips
Other popular Articles From Wondershare